Last week, we profiled Cyrus Sutton–surfer, filmmaker, and the founder of Korduroy.tv, an awesome outlet for all things cool and offbeat in the skid life that we've been following since the premiere of Stoked and Broke. That film–a "roadtrip," on foot, through Southern California hunting for surf with a budget of exactly zero dollars–set the standard for Korduroy's DIY creativity. Not coincidentally, Cyrus himself has been DIY'ing his own life to a large extent, living out of a Ford E250 van for the past ten years and slowly modifying it to be the ultimate mobile work station, surfboard storage unit, living quarters, and adventure seeker. We asked him to explain how someone like us, or like you, should go about equipping the ultimate DIY adventure van in the video below:
"It's been ten years with this van, a 2003 Ford E250. I bought it when it was a year or two old. I had it forever as just a stock electrician's cage setup in the back and one sheet of plywood for a bed. It was a dungeon; metal and locking metal cabinets, you could never stand up, cooking was pretty much impossible. I didn't cook in it much, and when I would have to open the back doors. When you're in a supermarket parking lot trying to cook dinner, that's way too conspicuous.
RELATED: The Ultimate Guide to Setting Up Your Own Adventure Rig
Two and half years ago, I converted it into a proper home on wheels. Now I can stand up, cook normally, have a work space below and a sleeping area above that retracts. With that pushed back, you can stand up and move around, which is essential for long-term comfort in a van like this."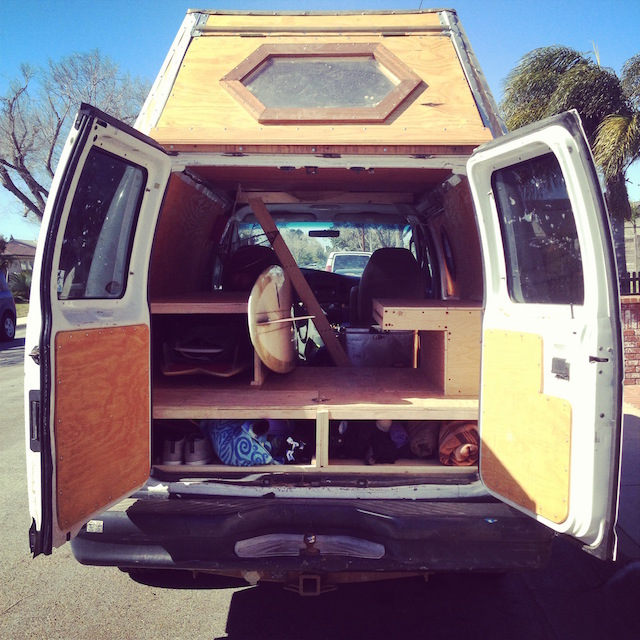 Cyrus' van can store multiple longboards up top and up to six shortboards underneath a cabinet. Cyrus Sutton photo.
"I designed a surfboard storage area underneath the wood floor where I can store 6 shortboards or guns up to eight feet. Longboards as long as 9'10" can go in the upper spot, with a foot lip that'll catch the boards and the back pops open so you can slide them in. You can sleep next to them or move your mattress to the ground floor and pile the boards in the top part. And the subfloor storage is great for organizing my camera and camping gear."
"Building was the best part. I'm lucky to have two friends who are professional carpenters and have experience converting vans. If I didn't have their expertise and access to their tools, this van would have never come together like it did. It's aerodynamic and structural sound with a frame of super strong one inch tube steel that's welded directly to the frame. It's well insulated too. I've slept in it in the snow, but it's still all about having a good sleeping bag. And the rust-proof aluminum roof reflects heat well in the summer."
Be sure to check out the entire Cyrus Sutton van life interview and be sure to check out our entire Base Camp column for more cool stories from outdoor people like you living in some unimaginable places.
From The Column: Base Camp
READ THE STORY
Dear Bumion, I've got a #skitownproblem, About three weeks ago, I Tinder matched with a beautiful woman. Her profile had pics of her doing adventurous stuff that made me feel like I knew her in a shallow, superficial way. It was love at first swipe. The first time we got together, we realized we were both climbers, and I was stoked to get out and send with her, until … we whipped out our gear. When I say I like climbing, what I really mean is that I like bouldering with my shirt off and
READ THE STORY
Alex Honnold, you better watch out. There's some hot new competition in the world of free-soloing and it's coming from this adorable raccoon. RELATED: Alex Honnold Free Climbs San Francisco What started out as a sad story about this raccoon being trapped on a ledge of the Town Square office building in St. Paul, Minnesota has turned into an incredible feat of athleticism: after maintenance workers unsuccessfully tried to coax the animal down, he started scaling the 25-story tower.
READ THE STORY
Do Alex Honnold and Tommy Caldwell have superpowers? It's up for debate. Just last week, the two made headlines when they beat the speed record on the Nose of Yosemite's El Capitan by a whole nine minutes, coming in at a time of 2:10:53. In the world of speed climbing, taking off that much of a time margin was almost unprecedented. Then, on Monday, they returned to the climb and did the unbelievable: they came in at 2:01:53. RELATED: Honnold and Caldwell Break Their Own Nose Record Now