It's your little piece of aerodynamic off-the-grid heaven... available 2016. Ecocapsule photo.
Slovakia-based Ecocapsule wants you to reconsider your fantasy mountain tiny house and think less "converted chicken coop" and more "Easter egg with a bed in it." With a mere 86 square feet of living space for two people, the Ecocapsule is by far the smallest abode we've showcased for our Basecamp column, but given its 15 foot length makes it trailerable (the company is planning to offer a trailer chassis by late next year), there's the possibility of making the Ecocapsule the most chic, eco-friendly (if a Prius has enough power to move it, or if a Tesla can pull it without ripping the trailer off going 0 to 60 in under four seconds) car camping setup out there. I recognize I just used the word "chic," so please feel free to email customerservice@tetongravity.com to complain. Thank you.

While the Ecocapsule might make for some aesthetically pleasing overnight glamping, it's actually set up for long-term, off-the-grid inhabitation. It's pre-rigged with a 750 watt wind turbine and a 600 watt solar panel built into the roof, all of which feeds to a battery that can store up to 9.7 kilowatt hour of electricity. The built-in shower, flush toilet, and kitchen sink is fed by a system that collects rainwater that falls on the unit, filters it, and stores it under the floor.
Naše nové bývanie @EcocapsuleSk #nakupilisme #Pioneers15 #pioneersfestival pic.twitter.com/O8ZKtHWR9R

— Michaela Szilvasova (@miszilvasova) May 28, 2015
We don't know what these ladies are saying, but they got plenty of headroom!
With a max height of over eight feet, there is enough headroom for even the most outsized American, and the couch folds out to provide what we guestimate might be a full bed, and a decent amount of storage is installed both within and outside of the capsule to house your bike or climbing gear, although we have no idea where your hitch rack would plug in.
Your muddy bike shit might not play well with the white interior. Ecocapsule photo.
The Ecocapsule is set to go on sale later this fall, with prices set to be competitive with RV's and mobile homes with "similar offerings." We can't imagine they'll be cheap, given shipping the capsule itself from Slovakia to the U.S. is itself supposed to cost over $2,300 .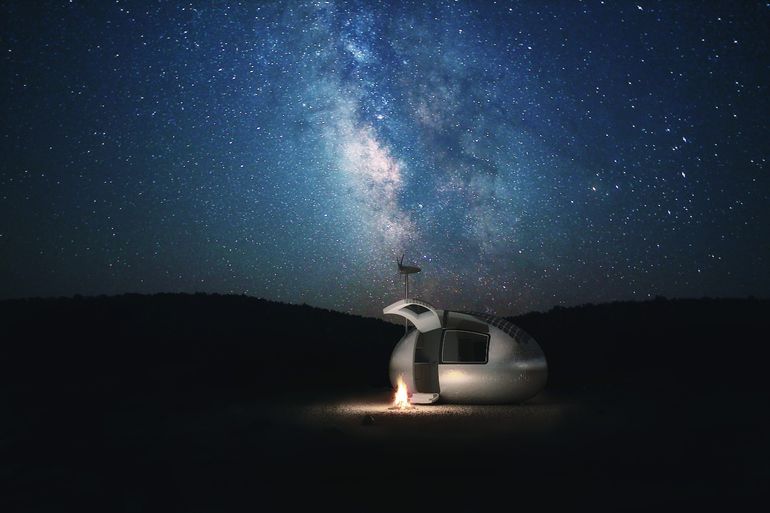 Wind, sun, water, fire–the Ecocapsule is covering all the bases. Ecocapsule photo.
But given that most of the adventure-tailored tiny homes we've featured are built to look like clapboard sheds or are, in fact, treehouses, the Ecocapsule is a bit more a modern take on the tiny living experiment. Would you inhabit it?
From The Column: Base Camp
READ THE STORY
As rent skyrockets in most ski towns, and the trend of mobile tiny homes continues to proliferate, more and more disgruntled ski bums are flocking to motor vehicles as their primary living quarters. The draw of the open road, chasing pow, and cheap living is one that lures these Kerouac spirits to the asphalt rivers of the United States. With so many different motor options out there for the would-be vagabond, we at TGR put a list together to say what your car camping vehicle says about
READ THE STORY
I feel it is particularly suiting that I should write a piece on the aprés scene in my hometown of Salt Lake City. I've joked with many a person on the ski lift that the only reason I became a pro skier was to enjoy beers with friends after ski days. Whether or not that is 100% the truth or just 90%, I take my aprés extremely seriously, and know Ski City's aprés options in and out. I am also passionate about Utah, and would like to dispel the incorrect rumor that Utah has a bad aprés
READ THE STORY
On New Year's Eve, a group of Polish mountain climbers set out to record the first winter ascent of K2–the world's second tallest peak–according to a report by Reuters. The team of 13 climbers will be led by 67-year-old Krzysztof Wielicki, who attempted a winter ascent of K2 in 2003 but was unable to reach the summit. Wielicki told Reuters the group hopes to begin climbing either Jan. 8 or 9 and will spend around three months on the mountain if successful, returning to basecamp by mid-March.