The dirtbag in his low-budget, tin-can throne. Mike Jennings photo.
Whether it's living in their car, bathing in hot tubs, or cooking the majority of their meals with a camp stove, the dirtbag seeks the maximum ratio of time enjoyed doing their passion sports to money and time invested to make that happen. Violations of hygiene standards and social norms are par for the course. The only tool they own is a roll of duct tape, they're employed less than half of the business week, and they wouldn't know where to buy laundry detergent if they had to. Here's 17 signs you might just be one yourself...
Sign #1: You try to pick someone up at the bar only to avoid sleeping in your car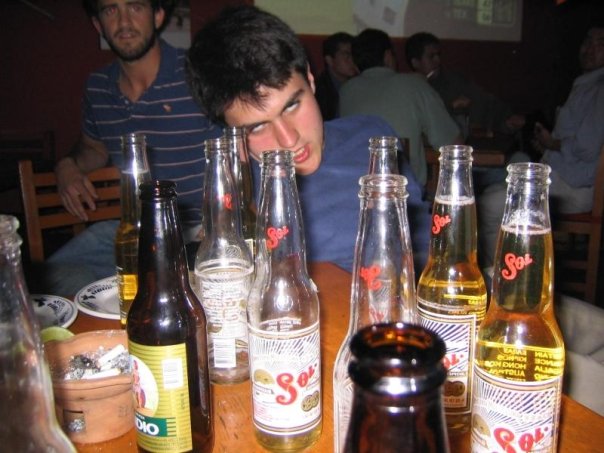 Tough luck–you're sleeping in the Legacy tonight. Ryan Dunfee photo
Some of you have been there, and some of you haven't, but if there's one thing we can all agree on—it's great to sleep in a real bed! Just remember, spooning often leads to forking. Also keep in mind, if you don't makeit happen, you'll be sleeping in your car. Again. In January.
Sign #2: You can cook gourmet meals on your tailgate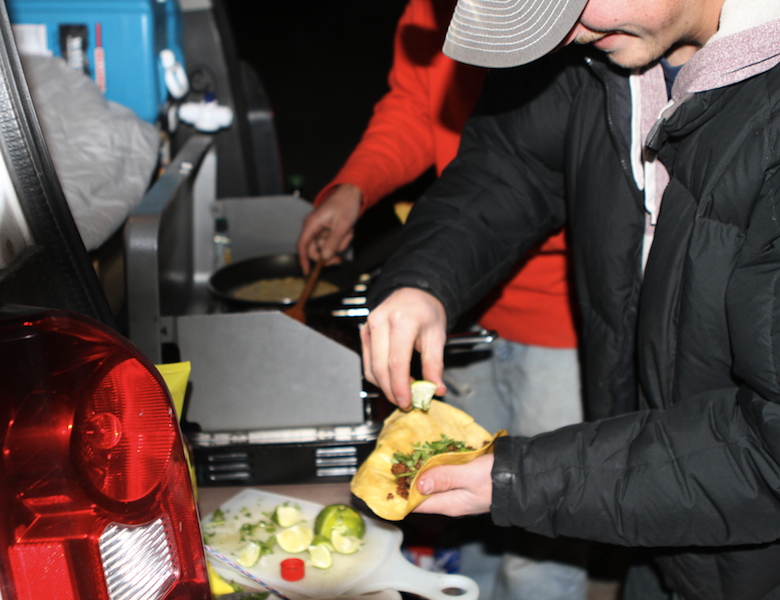 A dirtbag setup, but gourmet eats. Sam Morse photo.
Able to cook tacos, curries, and dutch-oven lasagnas on the tailgate of a Tacoma, the contemporary dirtbag has found ways to eat well just about anywhere (when they're willing to spend the money). You find it cute when football fans host pig roasts in the parking lot for a Sunday game in the fall, because you're out by the back of your car six nights a week, mincing garlic and broiling meats even at the height of a blizzard.
Sign #3: You consume most of your liquids from either a bottle or a can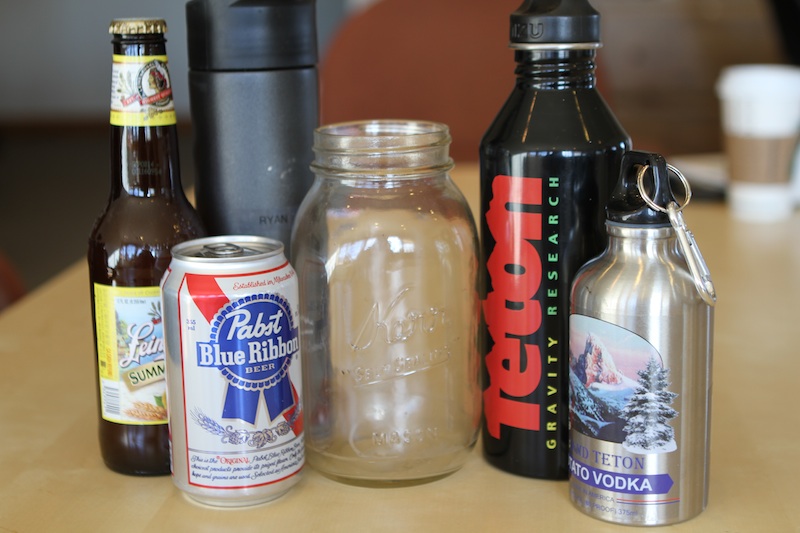 Do these look familiar? Sam Morse photo.
Whether it's a Nalgene, Mason jar, Klean Kantene, or some other alchoholic variant, dirtbagging necessitates an on-the-go mentality that is not conducive to fine glassware and ceramics. When guests come by for dinner, you're at a loss for water glasses, so you pocket a half-dozen Pepsi cups from the gas station to make do.
Sign #4: Your fridge contains more condiments and beer than actual food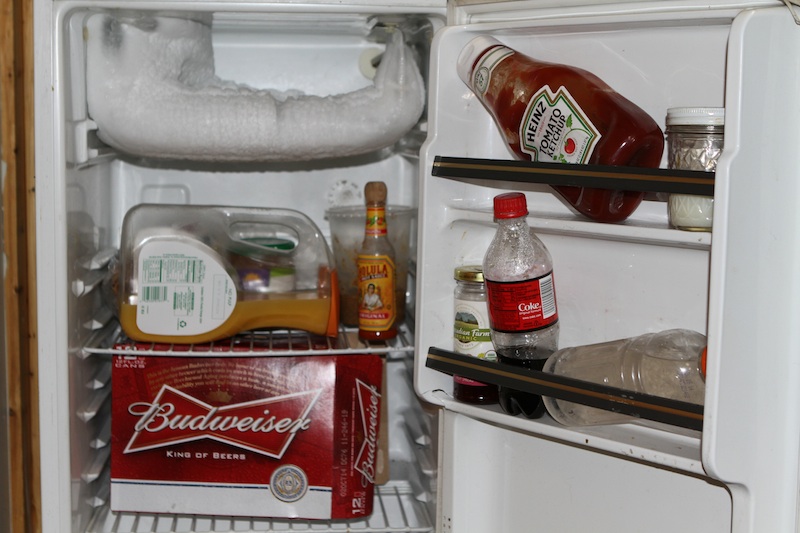 Ketchup, purple stuff... beer, all right!! Sam Morse photo.
Occupied only by hot sauce, ketchup, empty boxes of leftovers, and caches of bottom-shelf beer, the dirtbag's fridge is often depressing—if they have one to begin with.
Sign #5: Your version of fine linens is a double-wide Paco Pad and a down sleeping bag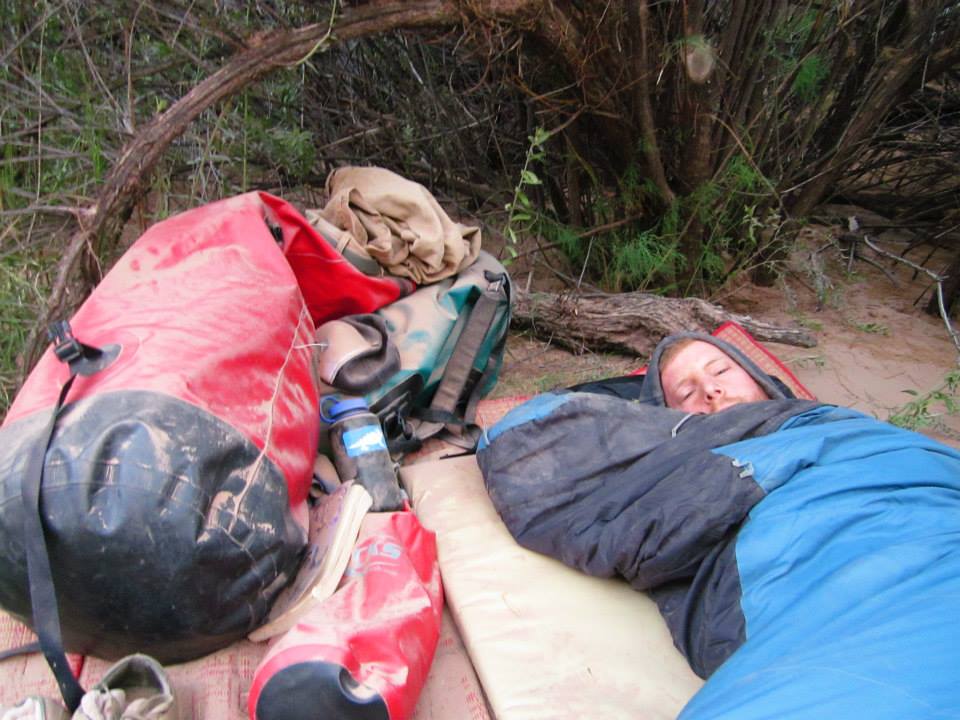 The author living in the lap of dirtbag luxury. Sam Morse photo.
In the back of a truck, the pub parking lot, at the crag, or maybe on the side of of a river somewhere, a Paco is one of the worthiest dirtbag investments around, and its sturdy, durable build and supportive structure, when combined with a down sleeping bag, can turn any corner of the outdoors or an unheated garage into your personal St. Regis suite. If you're sleeping on one for more than a month each year, you're probably a dirtbag.
Sign #6: Your plus-one is always a Dog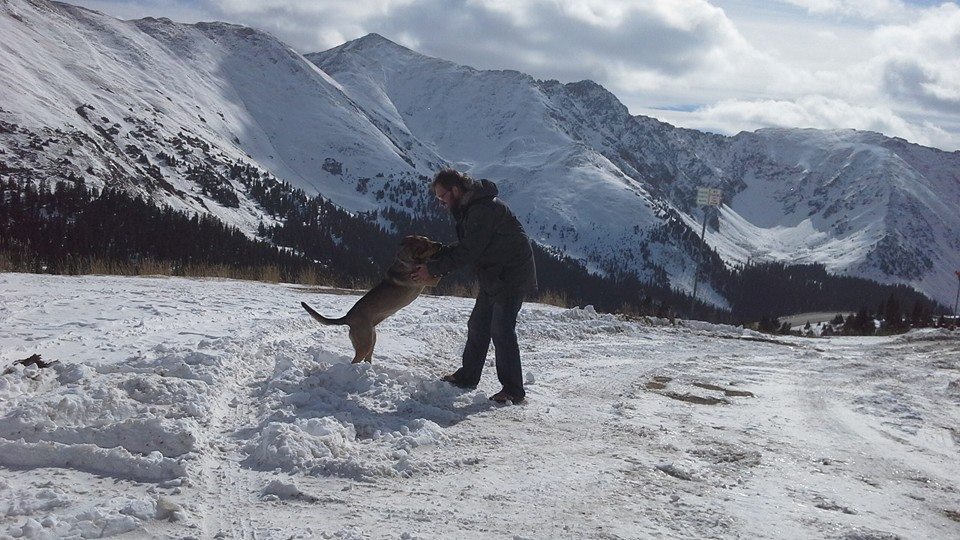 "You smell worse than I do, but I still love you, human!" Sam Morse photo.
The end-all epitome of mountain-town companionship, they double as wireless heaters. They also love you no matter what–even when you're being a total dumbass, living in your car, and haven't showered in weeks. You go everywhere together, except when you can't—then the poor pup stays with your friends who may or may not know how much to feed them, and gazes sadly out of windows until your return.
Sign #7: You have a tendency to wear costumes all the time, and for no reason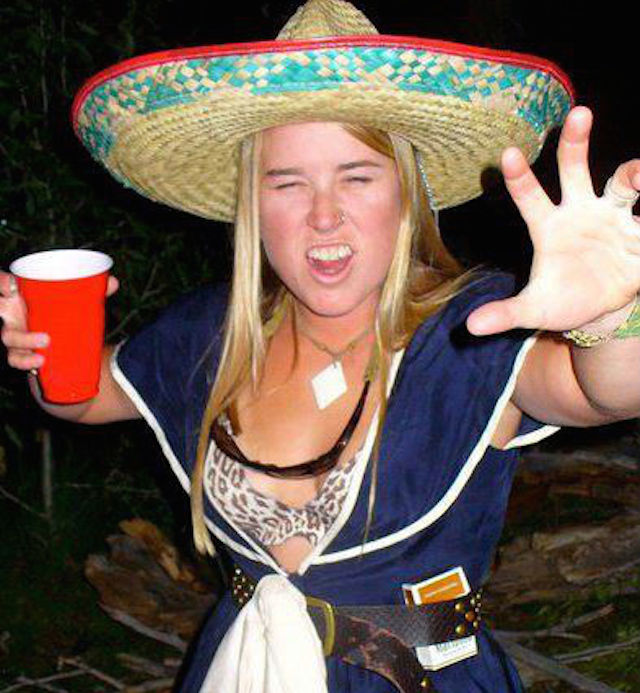 If it's a Tuesday night, and you're in the woods, and you're wearing a costume... you're a dirtbag. Emilie Gooch Tweardy photo.
Halloween is more of a lifestyle for you than a yearly occurrence. You feel the need to dress up even in the wilderness, and usually there's alcohol involved. The river pirate above is in excellent form–she buries treasure along with bottles of whiskey, ya know... for later.
Sign #8: You use duct tape to patch up clothing, furniture, vehicles, and everything else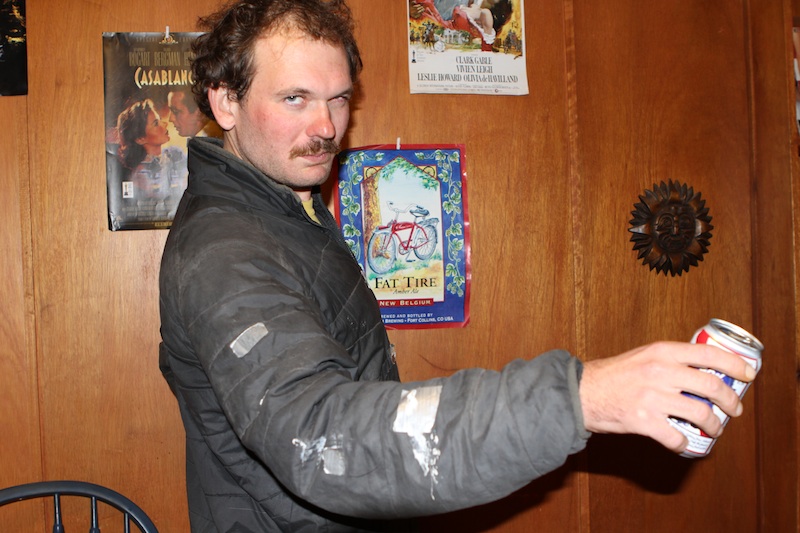 Blue Steel never felt this dirty! Sam Morse photo.
One of the best visual indicators that someone is in deep, the duct tape on the down puffy jacket is a legendary form of clothing maintenance, and its utility there often discourages dirtbags from investing in appropriate maintenance of all kinds of things, from furniture to cars to wounds inflicted on the trail. If you have duct tape but no tool kit, sewing kit, or Band Aids, you're a dirtbag.
Sign #9: You can cook almost anything with a Jetboil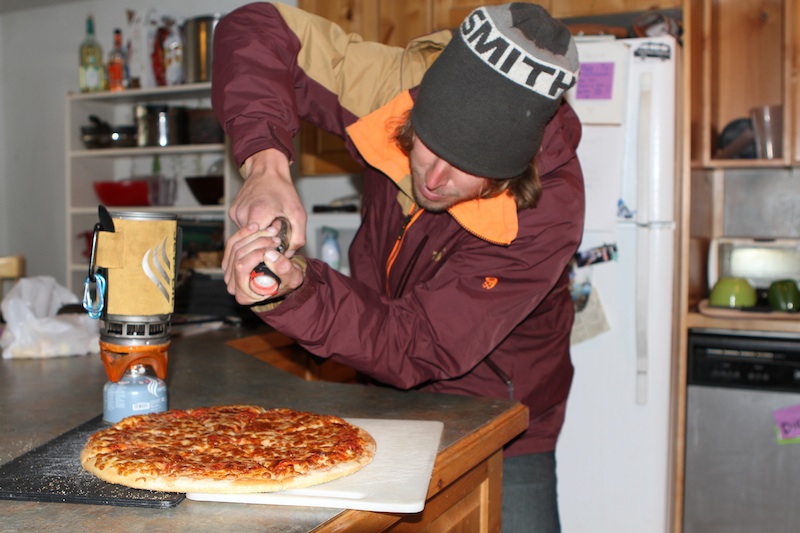 Yes, that's a pizza from a Jetboil. Don't ask questions. Sam Morse photo.
Incredible ingenuity with this high-powered camp stove is a hallmark of the dirtbag lifestyle. Extravagant creations that others would need full kitchens for are whipped up casually, even pizza. Even if there is a kitchen available, you still resort to putting the Jetboil on the counter and getting to work while everyone stares at you awkwardly.
Sign #10: You think of beer and weed as a legitimate form of currency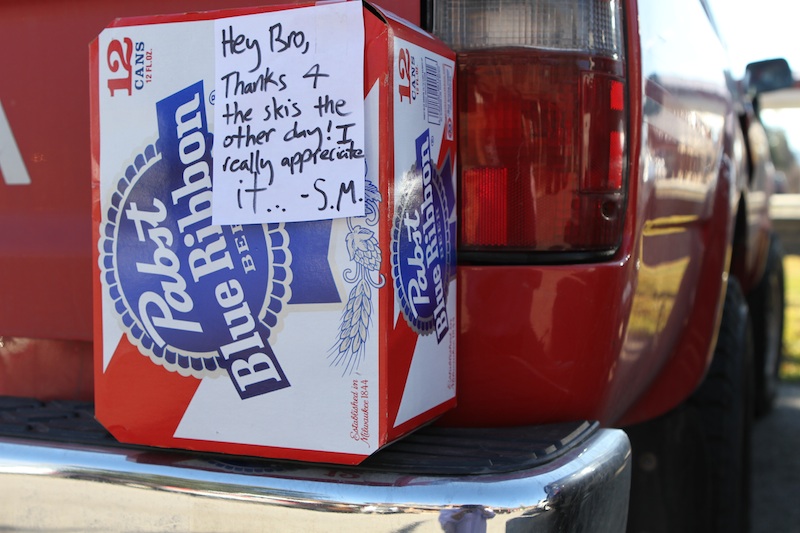 It's like real money in a box! Sam Morse photo.
Somewhere below Bitcoin in terms of practicality, 12 packs and herb sacks have been greasing the wheels and stoking out transactions between dirtbags for generations. If this is how you pay for your ski tunes, used gear, or day tickets, you're a dirtbag.
Sign #11: You've Squeezed The Amenities of A Full Apartment Into Your Car... And you're Proud of It
Backseats are removed and repurposed for the sitting area of your storage unit. Sam Morse photo.
No matter how many trips to the hardware store it took you, the end result is always worth it. Creating a home away from home—away from home—is an immensely liberating experience, especially when rent in your ski town is $1000 for a studio apartment and you make $8 an hour.
Sign #12: You think of milk crates and crash pads as legitimate furniture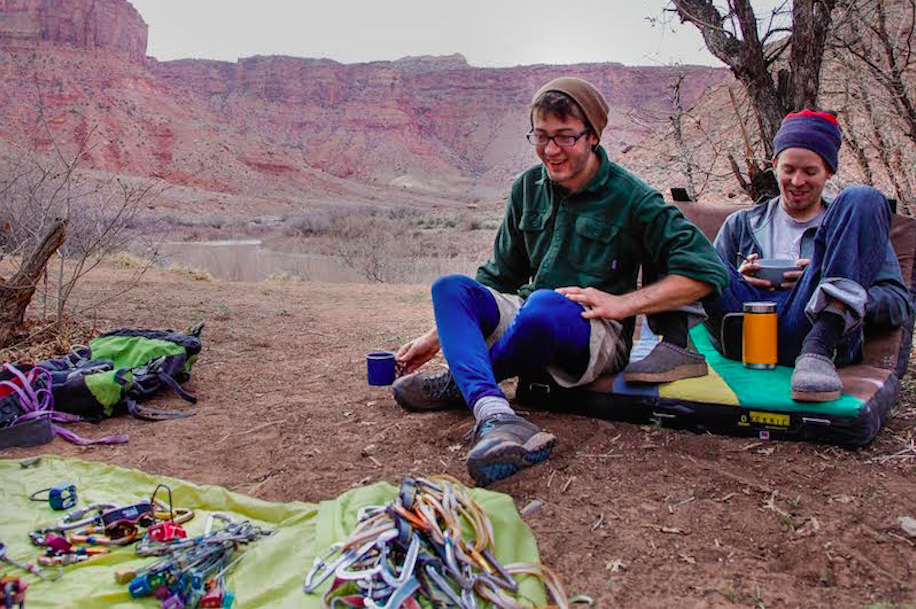 It's like a couch you never have to clean! Leslie Hittmeier photo.
Perfect for just about any situation, crash pads can act as furniture, even in your actual living room, and are way more durable than futons. Milk crates are great as end tables, and you can even use them as storage for your stuff when you get kicked out of your place when the landlord realizes you're the 8th person subleasing their two-bedroom condo.
Sign #13: You Only Bathe In Hot Tubs Or Pools (That You Poach)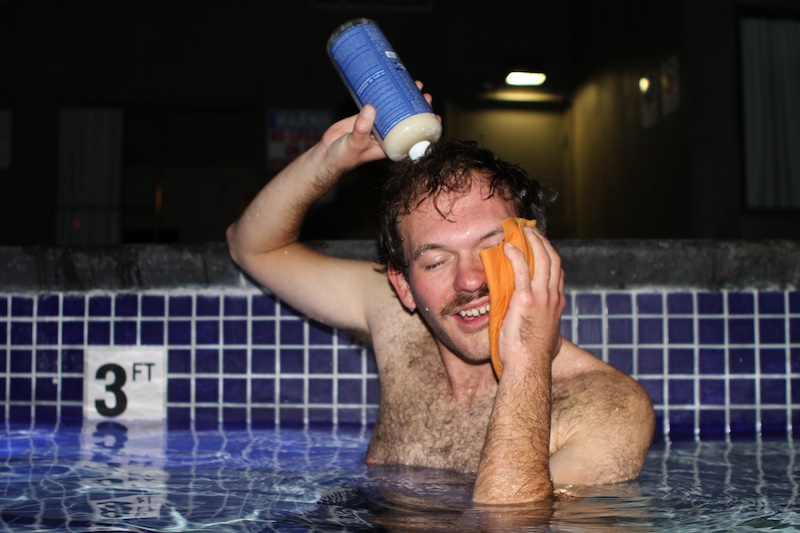 Hmmm...now where are the towels I usually steal after this? Sam Morse photo.
An entirely clandestine affair, secretive pool scrubbing is often the only way in an urban or ski town environment that a dirtbag like you can rinse the gunk off, as even paying for a YMCA membership to utilize the showers is out of the budget. Buying powder skis/climbing gear/kayaks takes priority, so when it's time to freshen up for that rare job interview or date, jumping fences into hot tubs and pools is the only way to get some hot water going and a solid lather build up to scrub away the stink.
Sign #14: You're reading this list on a library computer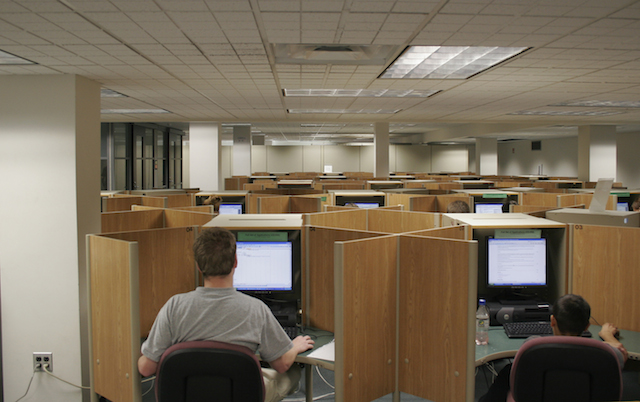 Who needs an iPhone? Photo via Wikimedia.
Finding a house, a job, a new camper to move into, or simply to find out what the hell happened in the world outside of Bozeman, Montana in the past six months, a dirtbag's lifestyle has forbidden regular access to the internet. Throwing down for wifi, a smartphone data plan, or a laptops would mean funds for that road trip to climb Red Rocks would be sucked dry.
Sign #15: Doing laundry consists of cycling through the flannels on your floor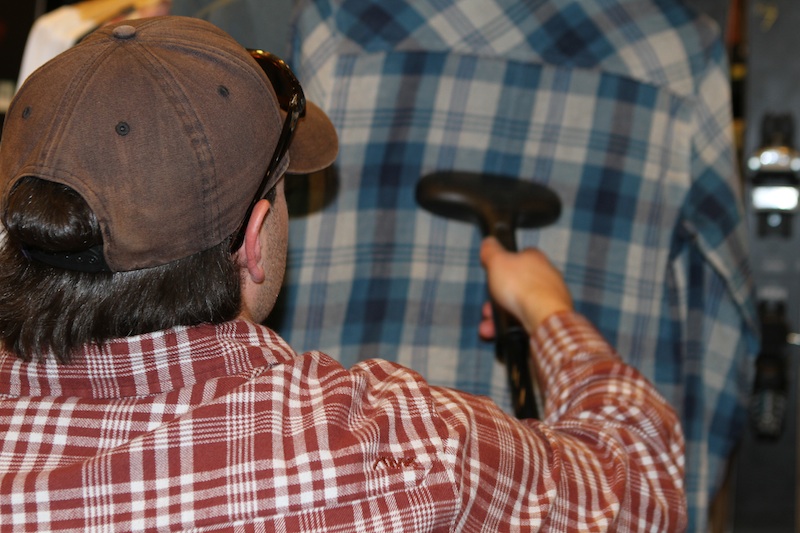 This is great for wrinkles, but what about the mustard stains?? Sam Morse photo.
In your mind, 'clean' is a relative term, and in reality, refers only to different levels and progressions of dirty. Wrinkles can be mitigated with aggressive steaming when needed, and in most other cases, Febreze is all that is needed to bring the next flannel on the floor back to life for your shift at the coffee shop.
Sign #16. You buy used gear at the thrift store in order to flip it at the consignment shop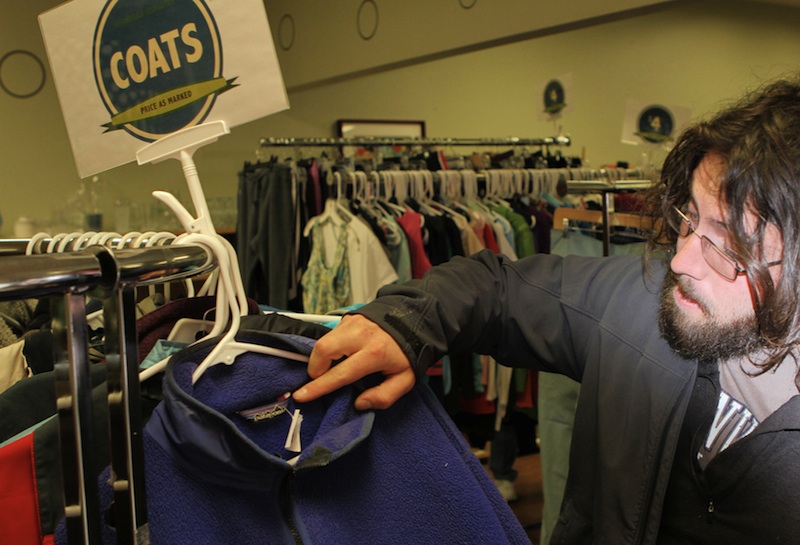 Patagucci?? Score!!! Sam Morse photo.
You forage through racks looking for anything with a Patagonia or a The North Face label, but you'll settle for Columbia if you have to. You then walk a few blocks over to the consignment store, ask them to sell "your user gear," and hope to flip $5 into $30.. If the gear is almost new, you might even try to return it for store credit after complaining about the color, even though you're wearing mismatching socks.
Sign #17: You Just Bought Bulk Ramen Noodles
Look familiar? Photo from Theomart
Despite the abysmal nutritional value and genuine destruction this dirtbag staple food does to the human body, you still can't pass up buying a week's supply of food for $2.40. Besides, you're in your twenties, and at some point you'll have a stable job with an income that allows you to buy real food that doesn't chew away at the lining of your stomach.
---
Oh, so you're a dirtbag? Well then, see also:
The Dirtbag's Guide to Backcountry Hot Tubs
The Dirtbag's Guide to Surviving The Off-Season
The Dirtbag's Guide To 4X4 Home Conversions
The Dirtbag's Guide To Road Trip Partners
6 Things You Need to Survive Ski Town Homelessness
From The Column: The Bumion
READ THE STORY
MOUNTAIN TOWN, USA — A ski bum's clandestine eat-for-free scheme was busted Thursday when resort cafeteria workers noticed the man pocketing an abnormal amount of saltine crackers and condiments. After being detained, the ski bum confessed that he has zero remorse and "can't wait to get back to crushing Saltine Sammies." According to law enforcement transcripts, 25-year-old Tony Koekkoek had been surviving on nothing but "saltines, condiments and whatever else people left behind on
READ THE STORY
TREBLE CONE, New Zealand — An American couple on ski holiday in New Zealand nearly broke up Wednesday after a fight erupted over the impressive size and girth of a random stranger's powder turns. The argument occurred as Mary Ellis, 28, and her 29-year-old boyfriend, Matt Partridge, were riding up a quad chairlift at New Zealand's Treble Cone Ski Area when she offhandedly complimented another skiers "technique." RELATED: Does The Size of My Boyfriend's Skis Matter? "Some random skier was
READ THE STORY
goes on sale March 5th Ready to unlock your next winter of adventure, the Ikon Pass is back for the 19/20 season with 38 unique destinations and more ways to get you on the mountain. Every lap up the lift means more unforgettable experiences on the slopes, and that means more memories that you can take home. With an Ikon Pass in your pocket you can seek out adventure from west coast to east coast, north of the border and south of the equator, up and down the Rockies, and across the