Ryan Dunfee rolls through the big wallride in Park City's city-run Trailside Bike Park. Jon Grinney photo.
This spring, the good folks at Park City Lodging and White Pine Touring are offering a badass Park City mountain bike getaway for the person who posts the best Trip Report this spring. The person voted by the community to have put together the best Trip Report from the months of April and May–regardless of the sport(s) it covers–will win 3 nights of lodging in downtown Park City for two and two full days of mountain bike guiding, including a high-end bike rental, from White Pine Touring, allowing you to get down with however many of Park City's 400 miles of mountain bike trails you can handle.
SEE ALSO: The local's guide to mountain biking Park City
Trip Reports from around the world have long been part of the experience of the TGR Forums, and we're seeing them in The Stash in increasing numbers as well. Whether they're aboutexploring Escalante National Monument on foot, skiing Sicily's volcanoes, or photo touring in South Africa, they bring a wealth of inspiration and beta to our audience and community. Since the fall, we've been sporadically hosting contests to award the best trip report producers in honor of the late Liz Daley, who died tragically in an avalanche in Argentina last October and who inspired people through her trip reports like few others could under the handle of BettyDee.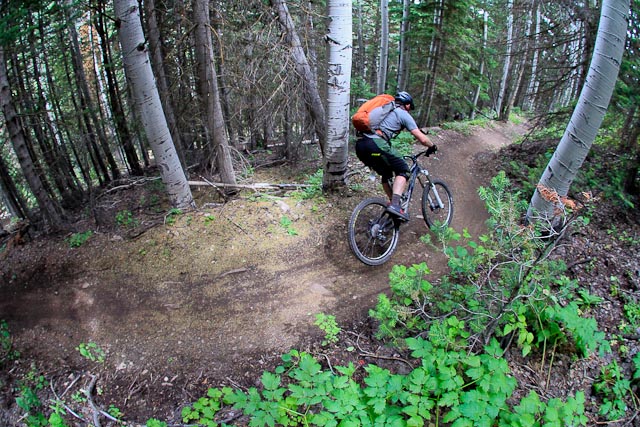 Jim Harris blasts through Holly's in The Canyons bike park. Ryan Dunfee photo.
In order to keep the TR stoke going, this spring our partners in Park City will be handing out this awesome prize package to the person (and their friend or significant other) who is voted by the community to have put together the best trip report during the months of April and May. Here's how it'll work: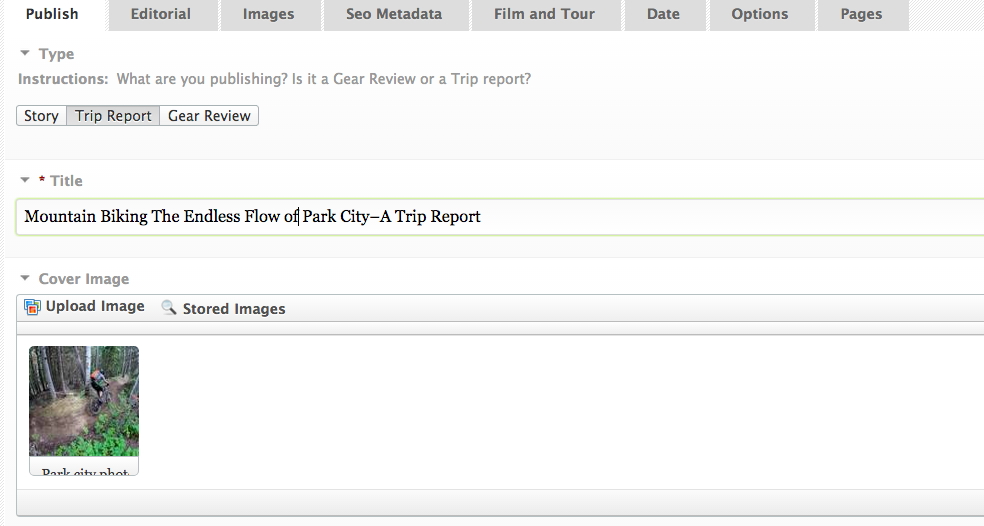 1) Submit your Trip Report in The Stash (make sure it's a story and published as a Trip Report, see screenshot above) or in the TGR Forums Trip Reports section. Submissions are open from now until Sunday, May 31st, at midnight. If you haven't already registered for a TGR profile, do so here, then hit "Upload > Post a Story" in the black bar at the top of the screen. Publishing it this way, through The Stash, will be easier for first-time users than going through our forums. Anything posted in April or May of this year will qualify.
2) After midnight on May 31st, our editorial staff will choose what they think are the 5 best trip reports from the spring, based on the quality of the photos, the entertainment and/or comedic value of the story told, and the adventure enjoyed within.
Park City local and Diamondback pro Eric Porter leans into a tacky corner in The Canyons bike park. Ryan Dunfee photo.
3) We'll then put up a poll–announced on our social media channels–asking the community to vote for their favorite TR. After a few days of voting, we'll close the contest and send our winner off to Park City!
So dig through your computer to see what you got for a story from this winter, or grab your gear and head out on an epic adventure this spring, or fail miserably in your objectives and entertain us all with your abject failure. Good luck! For reference, you can also see past BettyDee Trip Report winners like Klar's The Inbetween Season and Kyle Miller's On The Road: A Year Traveling Abroad as a Splitboarder.
READ THE STORY
As rent skyrockets in most ski towns, and the trend of mobile tiny homes continues to proliferate, more and more disgruntled ski bums are flocking to motor vehicles as their primary living quarters. The draw of the open road, chasing pow, and cheap living is one that lures these Kerouac spirits to the asphalt rivers of the United States. With so many different motor options out there for the would-be vagabond, we at TGR put a list together to say what your car camping vehicle says about
READ THE STORY
Ever get scared that you're going to come up short on a jump, put in a few pedal strokes, and send it to the moon? A few days ago, Utah-based freerider and athlete Jaxson Riddle took a fall that would simply break most of us in half after going just a too deep. After building a ramp on the side of the 50-foot-tall Salt Lake City Natural History Museum, he teed up a run and ended up sending it literally to flat, exploding on the pavement below. Somehow, the young gun was able to get up and
READ THE STORY
Flight Attendant promises to revolutionize how your suspension works on the trail. | SRAM photo. Rockshox has always been on the forefront of mountain bike innovation, and they just took a quantum leap into the future with the release of their all-new Flight Attendant system. Flight Attendant is an automatic electronic suspension adjust system that listens to and responds to your riding in real-time. With sensors on your fork, shock and cranks, it claims to adjust your suspension settings