Canfield's Lithium on its namesake trail. | Lily Krass photo.
When someone asks me what my favorite home trail to ride is, the answer is easy. High atop Teton Pass, after a shuttle drop and a bit of pedaling, lies a 3.5-mile ribbon of singletrack that drops nearly 3,000 vertical feet back to the valley floor. This superhighway of steep loam, rock tech, and substantially-sized jumps is aptly named: Lithium. In reality, it's a bit of a miracle drug for those of us who need a little equilibrium brought back into our day. The trail is the closest thing we have to a true DH track, best ridden on a long travel bike that devours high speeds and big impacts - but keep in mind that you need to pedal for quite some time to even get to the drop in. It's no surprise that Canfield, a brand long known for its heavy-hitting bikes, decided to name it's newest long travel 29er bike after the trail it was designed for. Better yet, they sent us one with a simple request along the lines of: "go ride this on it's namesake trail and tell us how it does." So we happily obliged and put the very unique 2021 Canfield Lithium through its paces.
Tech:
First off, what's the deal with Canfield? The boutique mountain bike brand, now based in Fruita, Colorado was started by mechanical engineer, pro downhill racer and former Rampage rider Lance Canfield who started tinkering with frame designs way back in the mid 90's. With help from his brother Chris, who spent years racing bikes on the World Cup circuit and has a sharp mind on his own when it comes to suspension design, Canfield Bikes gained a cult following over the years thanks to their futuristic designs, keen attention to detail, and a desire to do things a little differently. Today, that hasn't changed, and the all-new Canfield Lithium is a prime example of their design philosophy - carefully curated design features tied together to create one hell of a machine.
Chunky rocks and roots are the Lithium's snack of choice. | Lily Krass photo.
The bike in a nutshell: 170mm front, 163mm rear travel. 29-inch wheels. Aluminum frame with CBF suspension. Long and slack(ish). Coil Shock. Shred Machine.
The bike is centered around the Canfield Balance Formula suspension system, a patented multi-link rear linkage layout that's designed to do a few things uniquely well: give immediate and direct power transfer from the pedals by decoupling the drivetrain from the suspension forces, stay active under braking (no brake jack!), and be sag independent (meaning that a rider doesn't need to run a pre-defined amount of sag for the suspension to work as intended, more on that). It works with coil and air shocks, and allows for different riding and setup styles to work well on the same platform. For more nerdy and in-depth information on how it all works, check out Canfield's page.
As we got it, the bike was built from the frame up with a very unique kit. This is a boutique bike, after all, and few of the components were ones I had ever ridden before. Suspension comes in the form of a 170mm MRP Ribbon fork and the MRP Hazzard Coil shock (a shorter stroke shock can be fitted to reduce rear travel). Brakes are the powerful TRP Quadiems. The cockpit is made up of a 810mm wide 31.8mm clamp Answer carbon bar mated to a 40mm Pro Taper stem. Wheels are Canfield's own Special Blend AM29 alloy rims laced to quick-engaging Spank hubs wrapped in Maxxis Minion DHF EXO+ tires. Drivetrain duties go to a full SRAM GX Eagle 12-speed kit, and the build is rounded out with a 170mm SDG Tellis dropper post and Radar saddle.
Trail:
In Canfield's own language, the bike is designed to be "the drug of choice for gravity junkies afflicted by big climbs standing between them and their fix." In other words, it's a bike designed to go up before it goes down. That's not really news in today's long-travel 29er category, but I was particularly curious if the CBF suspension mated with the bike's geo would set it apart from the pack somehow. So after setting up the suspension, up Teton Pass we went. A note on the suspension setup: the MRP Ribbon fork is an interesting one to set up properly due to its independently tunable positive and negative air chambers. It took a few tries to get it right.
Canfield's CBF suspension is meant to stay active under heavy braking, though the speed the bike comfortably carries kind of makes that a moot point. | Lily Krass photo.
My first impressions as I hopped aboard were centered on how long and tall the bike felt. While it's geo numbers are relatively similar to a bike like the Rocky Mountain Altitude, the relatively high bottom bracket and tall stack height gave me the feeling of sitting much higher off the ground. While initially a bit weird, I quickly got used to it, and actually appreciated the extra BB clearance while climbing - I haven't had a pedal strike yet. I ended up slamming the stem to drop the front end a bit. The seated climbing position is very comfortable, with a steep 76.7-degree seat tube angle that makes it easier to keep your weight forward enough for steering traction. I rarely felt the need to use the rear shock's climb switch, as the CBF suspension works remarkably well in decoupling pedaling and suspension forces. It's no spry mountain goat, but the bike will comfortably get you wherever you want to go. I'm sure lightening the build up by a few pounds would make it feel even better.
While the bike provides gobs of traction, it does feel particularly easy to get off the ground to pop over roots and small trail gaps. | Lily Krass photo.
When it finally came time to point the front wheel into the chaos that is Lithium, I couldn't wait. The trail begins with a mile or so of high speed flow that is unfortunately completely destroyed by brake bumps by July - and feels like a mogul run by September. The fork and shock performed admirably, and the Lithium kept begging for more speed, particularly on the long straightaways. The CBF suspension's claims lived up to the hype - it's pretty fun to be able to pedal hard over chewed up sections of trail to go even faster without feeling much feedback through the cranks. In loose corners, the rear end stayed absolutely glued to the ground, providing traction I've rarely experienced on that section of trail before. The bike holds speed effortlessly if you don't touch the brakes, but I did notice that it feels harder than usual to accelerate back out of turns or put in a few pedal strokes before a lip. While it provides limitless traction, the bike's rear-end responsiveness, particularly through loose surfaces and moon dust in Lithium's notorious steeps, is mind-blowing. Despite it being a 29er with a 475mm reach and 1248mm wheelbase, the machine's super short 430mm chainstays make it turn on a dime and respond with a heel click, a salute, and an "ay ay captain!" when you tell it what to do. Finally, on big hits or relentless chunder, the suspension feels absolutely bottomless and the bike just keeps on going.
It's pretty refreshing to ride a bike with some boutique components. | Lily Krass photo.
This is the first aluminum-framed bike of this caliber I've ridden in a few years, and I must say I was pleasantly surprised at the ride quality. I've gotten pretty used to the stiff, dampened feel of carbon, but the Lithium's aluminum frame did not feel flexy at all, in fact it felt like it tracked and held a line as well as anything else. Besides, I'm a big fan of the very visible welds and industrial, machined looks of the frame.
Above all, however, the bike truly stands out when not touching the ground. Any 29er enduro bike should be good at ripping steep, gnarly trails at high speed (that's how you win enduro races, after all), but what's missing from so many big bikes is a sense of poppiness and agility. Somehow, Canfield managed to incorporate the best of both worlds and created a bike that stays glued to the ground when it needs to, yet will pop and float over anything you ask it to. I attribute it to a combination of suspension design and the fact that the head angle, at 64.5 degrees, is slack enough for high speed stability but not too slack as to sacrifice the front end never wanting to leave the ground. Truth be told, I'm not usually the first to go seek out jump lines, but the Lithium certainly rekindled that desire. It's a combination of rally car and trampoline in one, and will happily huck to flat.
From a component standpoint, it was very refreshing to be aboard a bike with some lesser-known parts hanging off it. The MRP Ribbon fork is a very interesting piece of engineering, assembled by hand in MRP's Colorado facility. It features comparatively skinny 35mm stanchions, a reverse arch, and has air bleeder buttons on the back of each leg. It's also much lighter than a Fox 36 or RockShox Lyrik at 1950 grams (the Zeb tips the scales at 2275 grams). With an independently tunable positive and negative air spring, you can set up sag, then tune the top-end feel of the spring to be either stiff or supple. Add more negative air pressure, and the fork will essentially push itself into the first bit of travel giving it incredible small-bump compliance. Brake bumps cease to exist. Then, the MRP Ramp Control knob will allow you to fine-tune how progressive the air spring feels as it goes deeper into the travel. As mentioned earlier, setting the fork up takes a little while, but once dialed in, the fork feels incredibly active, offering loads of traction, and doesn't dive much under braking. One thing that does take some getting used to is how loud the fork is as it cycles through the travel due to oil moving through the twin-tube damper design, though that did seem to go away after a few weeks of use.
Grab your full-face, let go of the brakes, and enjoy the ride. | Lily Krass photo.
On the back, MRP's Hazzard Coil is also one the best coil shocks I've ever ridden. It's a bit heavy, but is perfectly appropriate for a bike like the Lithium. I ran a slightly stiffer coil spring than what was recommended by Canfield (550 vs. 500) and thoroughly enjoyed the extra pop it provided. I did not think it compromised any small bump compliance or mid-stroke feel, which I'll attribute to the fact that CBF is sag-independent.
I've reviewed the TRP Quadiems in the past, and must say they are still one of my favorite 4-piston brakes on the market. In a nutshell, they have a great, consistent lever feel, and provide more than enough stopping power.
There were two component choices that left me scratching my head, however. Running dual EXO+ tires on a bike with these intentions seems risky. In fact, the rear tire was mangled within minutes with a 2-inch sidewall tear while riding at the notoriously destructive Targhee Bike Park. Easy fix, but thin tires have no place on a bike like this. Secondly, the lack of a chainguide on the stock build is also a bit weird, and I did drop the chain more than once. The frame comes with ISCG mounts, but a stock chainguide would add a lot of peace of mind.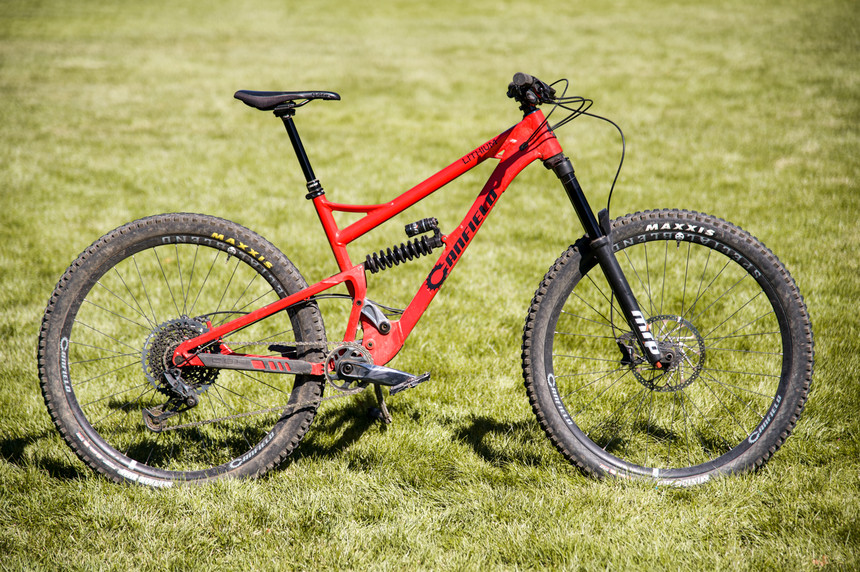 I'll admit the bright red colorway took a little getting used to (it's also available in black), but the clean lines and fast silhouette make this bike a looker. | Max Ritter photo.
Bottom Line:
In the Lithium, Canfield managed to create a beast of a machine that does in fact stand out from the crowd. With no idler pulleys, no particularly complex suspension linkage, and wheels that are the same size (gasp!), the bike's silhouette may not scream "innovation." But in the wild, the simplicity of its design and its perfect execution gives it a commanding presence particularly when the trail ahead contains a whole lot of everything: flow, chunky steeps, and big jumps. I know what bike I'll be grabbing for laps on my favorite home trail for the rest of the season.
Want your own Lithium? Get it from Canfield here, starting at $5600 for a complete bike.
From The Column: TGR Tested