Race Face Turbine 2014 - 2015
Part 1 - Drivetrain
Introduction
Race Face's Turbine component group is a value-priced alloy group targeted at trail/AM riders. New for 2014-14, the Turbine group receives the attention-grabbing Cinch crank interface giving value-oriented customers another choice for their 1x options. Turbine components should continue Race Face's momentum of turning out new lustworthy product and winning business not only in the aftermarket but also in the OE market from discerning companies with good taste as buyers see a no-nonsense company building tough, superlatively well-thought out product that's tested, ridden, and abused in Vancouver, Squamish and Whistler.
Part 1 presents and reviews the Turbine's drivetrain related components (cranks, chainring and BB). Part 2 reviews assorted Race Face components for a near-complete bike refresh (wheelset, cockpit, saddle and pedals).
---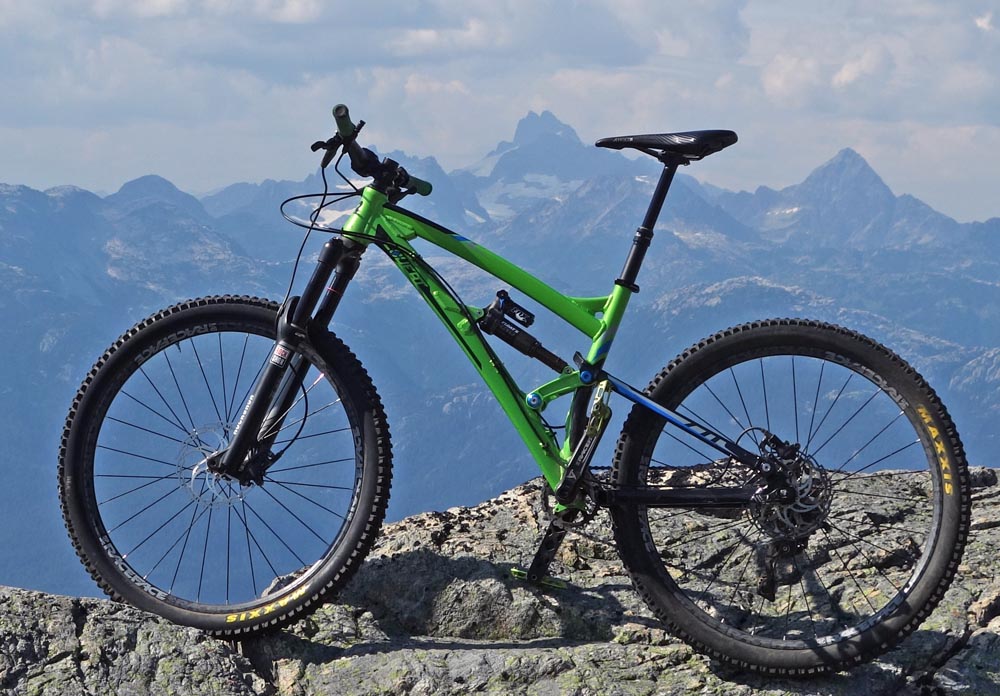 Product testing in the alpine. My test sled is a Transition Covert 27.5 2014 (review), Before its Race Face makeover the bike was 14.83kg/32.69lbs (freedom units) After its Race Face makeover the Covert weighs 14.14kg/ 31.17 lbs - not bad at all.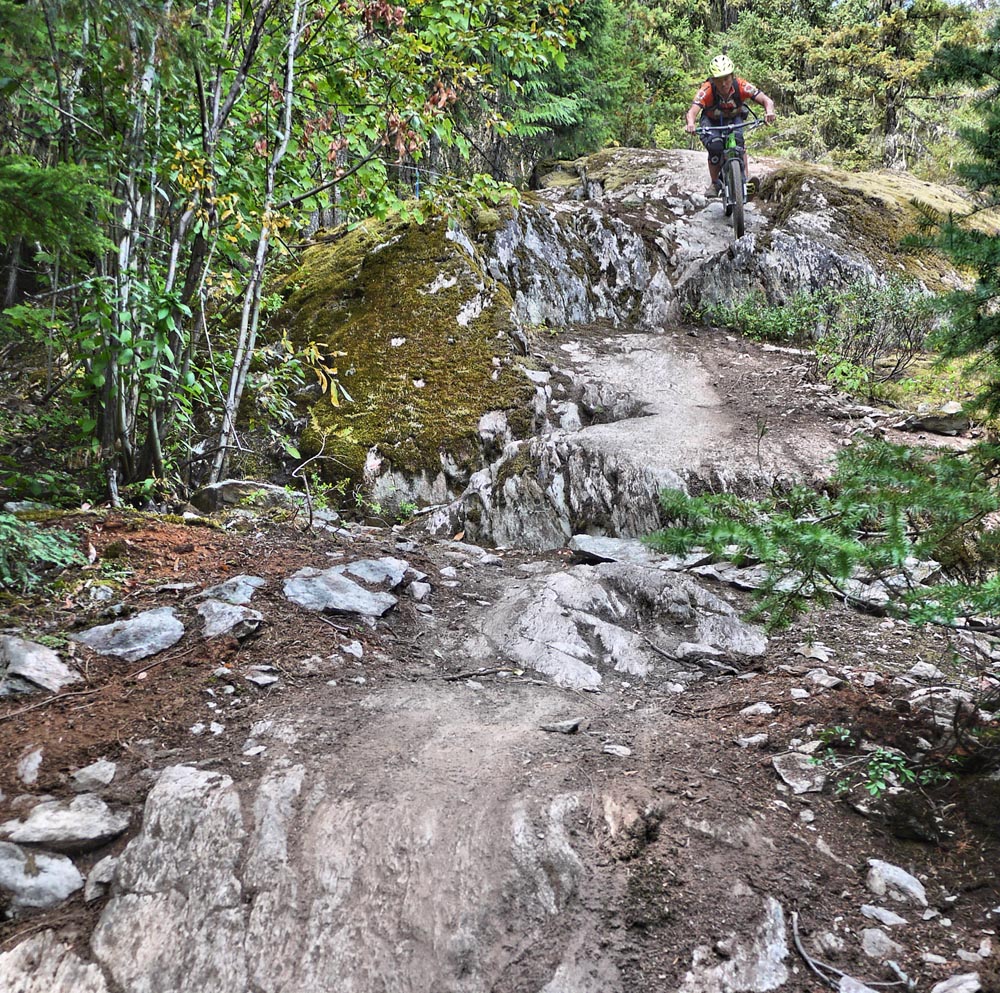 Product testing on rockrolls - picture Jaclyn Delacroix
---
Turbine Cinch Cranks and BB
A machinist friend of mine paid a high compliment after he saw the bling new Race Face Turbine cranks I had just installed. Quote: "That's so well thought out and such a good deal that even the Chinese wouldn't find it worthwhile ripping it off". Cinch is basically a three piece crank built around a 30mm BB interface. The three pieces (crank arms, spindle and spider) can all be parted and exchanged for other pieces. Pretty much unlimited configurations are available in spindle (24mm and 30mm spindles offered, also in different lengths), in rings (single rings as small as 26t!!), 1x, 2x and 3x systems) and crank arms.
Enough has been said about the need to collectively kick the bike industry in the nuts for the disrespect they pay to the term "standards" (there are at least 7 main BB standards (and more subvariants) just for mountain bikes and you can bet there will be more). Race Face has 10 different BB SKUs. The Cinch system allows their cranks to fit many of these BB's by interchanging among different crank parts. No doubt there will be other ring and crank and spindle standards as the bike industry can be depend on to collectively not get its head out of its arse. The benefit to Race Face with Cinch is that just a single crank arm set can be designed and SKU'ed which will then work with any chainring or spider. Race Face should also be able to machine new spiders or rings to accommodate future standards or customer demand as deemed necessary.
Tested are the Race Face Turbine cranks in black, 175mm length with a 30t single ring attached to a Cinch BSA30BB. Some noteworthy aspects follow
- As previously mentioned the spindle is removeable allowing for different lengths (fatbike anyone?)
- Turbine spindles alloy are the same as for Next SL; claimed to be 20% stiffer than T7075
- An alloy spider holds the 1x ring on which is then cinched down using a lockring having the same pattern as a standard BB tool
- The backside is machined away for weight savings. It's been too dry to see if they'll be a mud catcher but if you care about that some heli tape will do the trick.
---
Race Face Turbine cinch crank with 30t included narrow/wide ring - crank boots are an available option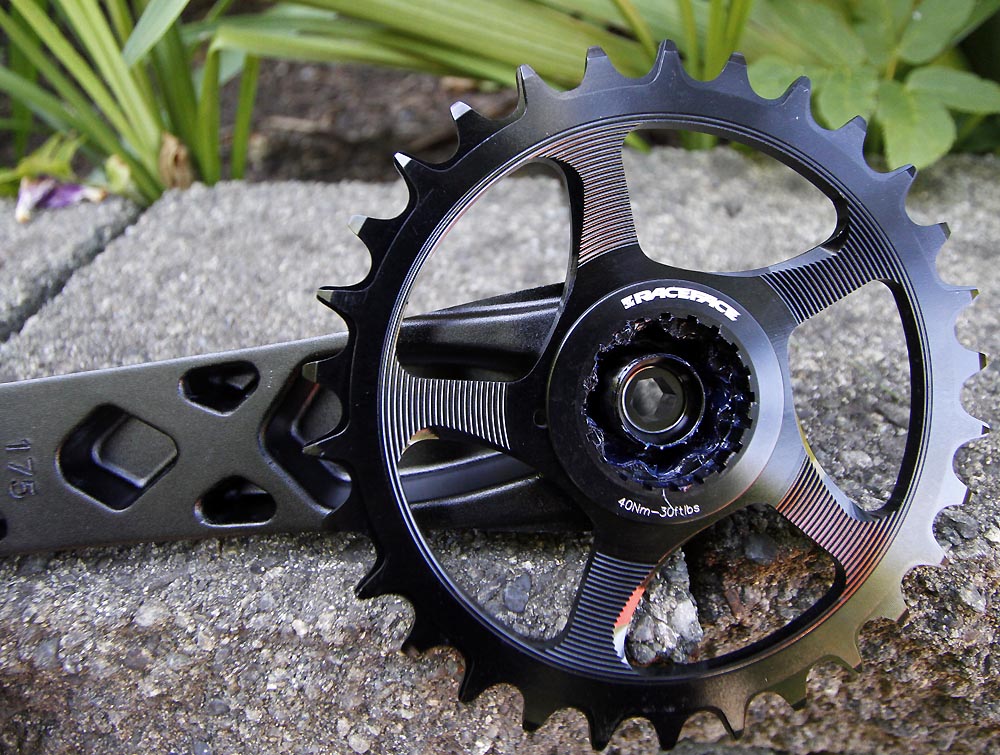 You have to take the driveside crank off to remove the ring but that's not hard to do. Simply use an 8mm allen. Then use a standard BB tool to remove the ring
---
Narrow/Wide chainring
Even though it's integral to the Turbine crank more need be said about the 1x ring (aka the narrow-wide ring). Unlike chainrings which go on multiple ring cranksets (eg the standard 2x or 3x chainring cranksets) the N/W (narrow wide) ring has no shifting ramps (which aid a chain in derailing or moving from one ring to another). Instead the N/W ring's teeth are designed to keep the chain on the ring. Sizes are from 26 to 36 in even numbered increments.
Colours are black. But red, blue and other ano colours will be offered (Coming Soon! Subscribe to Race Face's Instagram feed for more colours of every rainbow), Last but not least the N/W ring is 9, 10 and 11 speed compatible.
---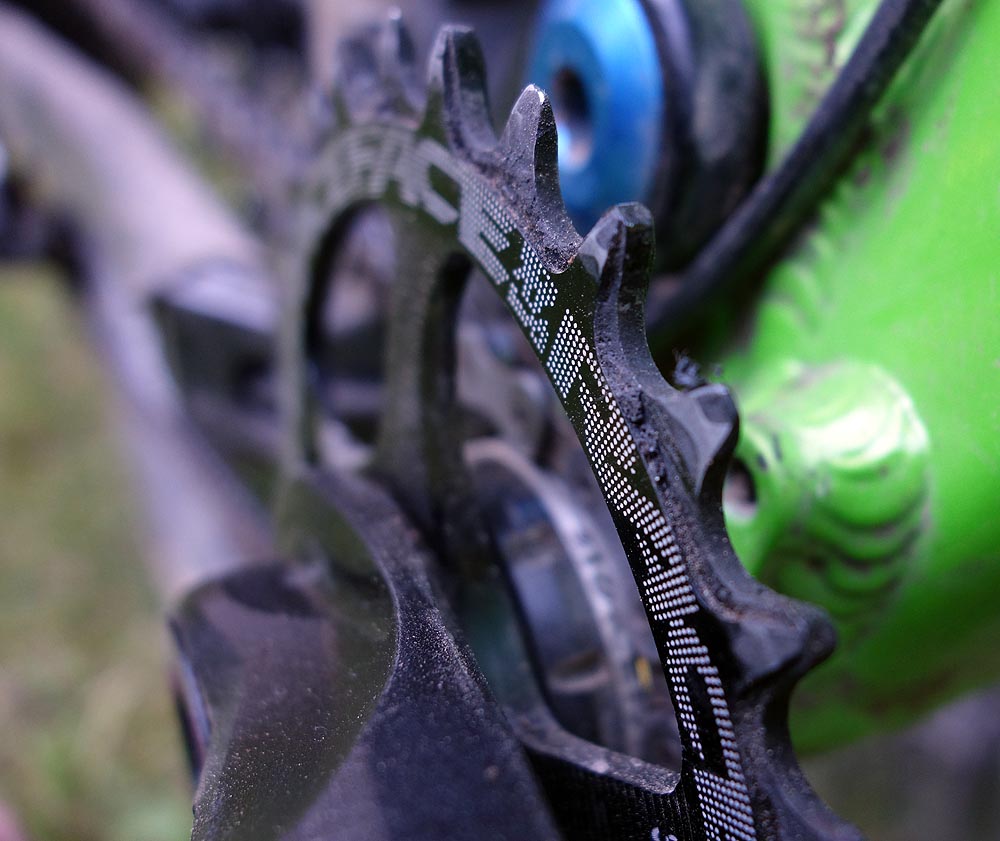 Gee wonder why they call it the narrow-wide ring
Terrace BC rock slabs
---
Bottom Brackets
Turbine cranks were installed on using a Race Face BSA 30 BB on a Transition Covert 27.5 with 73mm threaded BB shell. There are those who will beat the drum of terrible Race Face BB's of old but my experience with RF's X-type BB's of this decade are overwhelmingly positive. Race Face seems to be doing all the right things for BB longevity; keeping them factory-filled with Phil Wood grease, using Ti-coated bearing races and triple wiper seals.
Installation was a snap. Despite internet chatter it's noteworthy that the tool to install this BB is not proprietary. It's just different than the more common standard Shimano BB installation tool. Shimano BB splines are smaller (the bearings used in BSA30 BB's are bigger than Shimano bearings) . To install the Race Face BB I used an old Pfizer tool bought from MEC (Enduro, Rotor also make this tool; its also available online from Bikeman) and simply followed instructions. Don't be afraid to give the cranks a few firm whacks with the mallet to install. Sometimes the spindle gets a bit hung-up on the plastic sleeve as tolerances are tight. Also don't be afraid to tighten the system again after riding the bike as things will loosen up a tad.
It's beyond the scope of this article to discuss every possible BB, chainring, bike and crank permutation and combination required for installation and use of the various combinations of the Race Face Turbine system so if you have specific questions ask in this article, in this thread or search the Race Face Next SL discussion thread (Next SL cranks also use the Cinch system).
---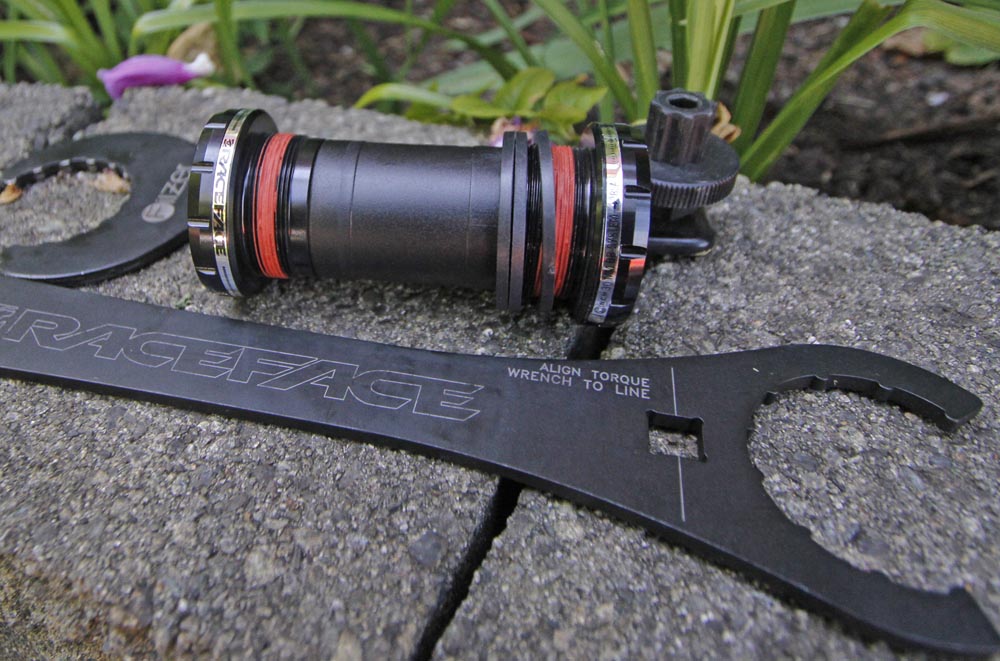 Race Face BSA30 BB tool, MEC Pfizer tool and Race Face BSA 30 BB
---
Details and Review
Installation for all components was problem-free. Manuals are clear, helpful and graphically clear. Not being enduro-rad I didn't drop chains after the 1x conversion and setup until I forgot to engage the derailleur's clutch. Faster riders may still want to use a chain guide to ensure no chain drop.
Turbine cranks are stiff. There's no perceptible deflection (eg scuffs against the chainstay or vagueness) even riding the test Covert hard through fairly aggressive terrain.
Prices (USD and CAD are same for 2014) and further information are as follows. For the weight weenies all these components came in within 1 % of claimed or lower - pretty good QA!
Component
SRP (USD)
Weight (g)
Notes
Turbine Cinch Crank (30t N/W ring, 175mm)
269.99
619
Narrow wide ring - black, red, blue.

Cranks - black. 170/175/180

BSA30 Cinch BB
59.99
91
BB options with Turbine - BB92; BSA 68/73; BSA 100; PF30
Crank Boot
9.99
14
Black
READ THE STORY
There is no arguing Sage Cattabriga-Alosa's status as a skiing legend, known for his confidence on the gnarliest of lines, and countless appearances in TGR films through the years. While his claim to fame may be skiing, Sage is equally passionate about mountain biking, and can be frequently found riding his hometown trails and his backyard 'pedal-track,' in Bend, Oregon. Between his pow skiing exploits, Sage shared some thoughts with us on mountain biking, turning his backyard into a
READ THE STORY
What do skiing and cycling have in common? Well…not that much, unless of course you are using a bike to get from peak A to peak B. It may sound absurd but for a group of four adventurers this vision became reality when they decided to bike pack 100 pounds of backcountry ski and snowboard gear, food, water, and camping gear parallel to the Eastern Sierra all the way to Whitney Portal via US Route 395. At the brim of the east side of California the Eastern Sierra stand as some of the
READ THE STORY
For the last three summers, anyone with an eye on the internet has been treated to the two-wheeled antics of Colorado's Nate Hills and his #followcamfriday YouTube series. Now already past its 120th episode, the series has essentially defined a new genre of mountain bike filming: chasing your buddy down a gnarly trail at insane speeds, trying not to hit them or the trees flying past you. The series has brought Hills all over the world, from Whistler, to New Zealand, Bolivia and even through