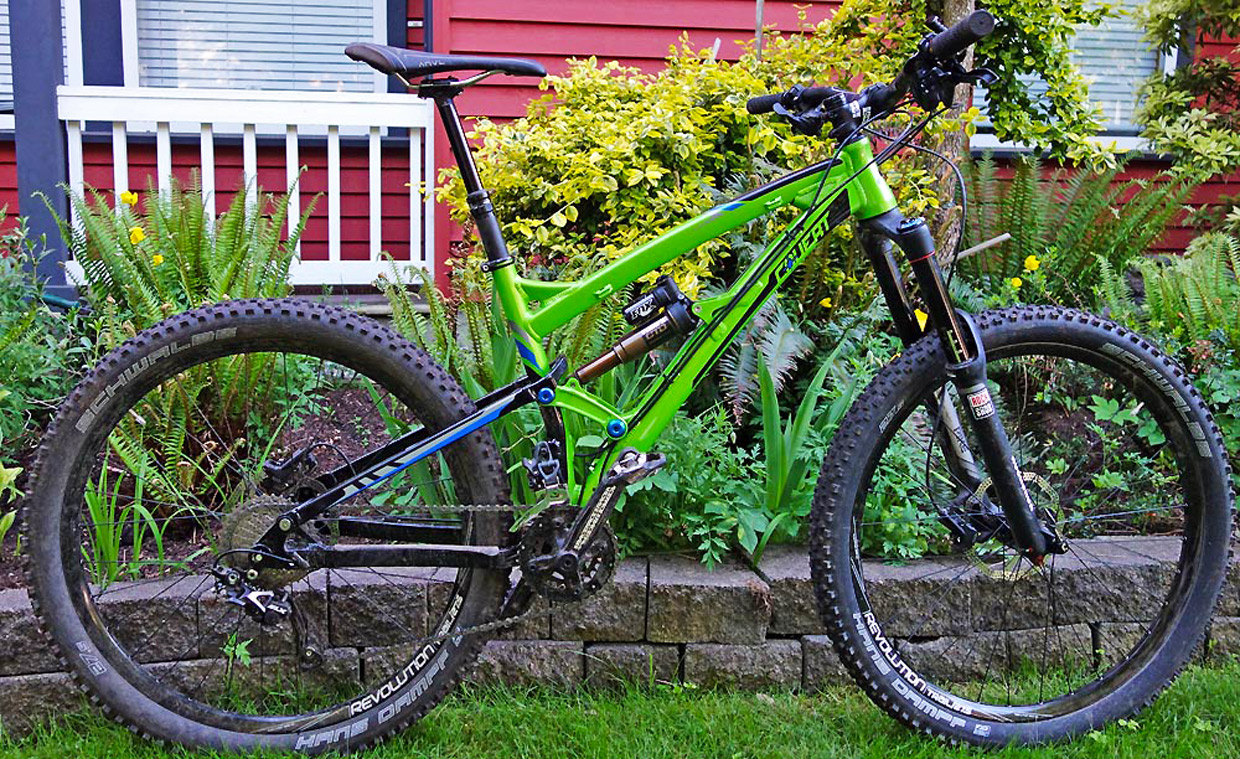 I've known the good people at Transition Bikes for some time. They ride bikes. They have fun riding bikes. They're competent businessmen . They do a lot of trail work/advocacy; and I have a huge soft spot for trail fairies.
After basically admitting to fanboy'ism, I'll also disclose having reviewed the Bandit and Bandit 29 in the past and loving the bikes. Rather than accusing me of being a biased fanboy, in my defence I would argue that I like Transition bikes because, at heart, I love riding bikes. As a coincidence, while they have been known to gear nerd (rememeber C.O.C.K and B.A.L.L.S technology?), Transition's ethos is to build bikes for people who love riding bikes; so perhaps its more the case that I'm the target customer.
Ths review is about a mature design in their stable - the Transition Covert. Designed to be a pedally bike that perhaps most showcases the founders' (Kyle Young and Kevin Menard) emphasis on bikes that shine for the down, in the 2014 model year the Covert receives a re-design to also add the 29er and the 27.5 wheel size. I'm on a Covert 27.5 in build kit 3 opting for the RockShox Pike and stealth dropper post RockShox Reverb upgrade.
The Covert 27.5 is essentially an alloy full suspension linkage-assisted pivot with 160mm of rear travel. It pedals reasonably well uphill but is biased towards downhill performance.
Lee's Biases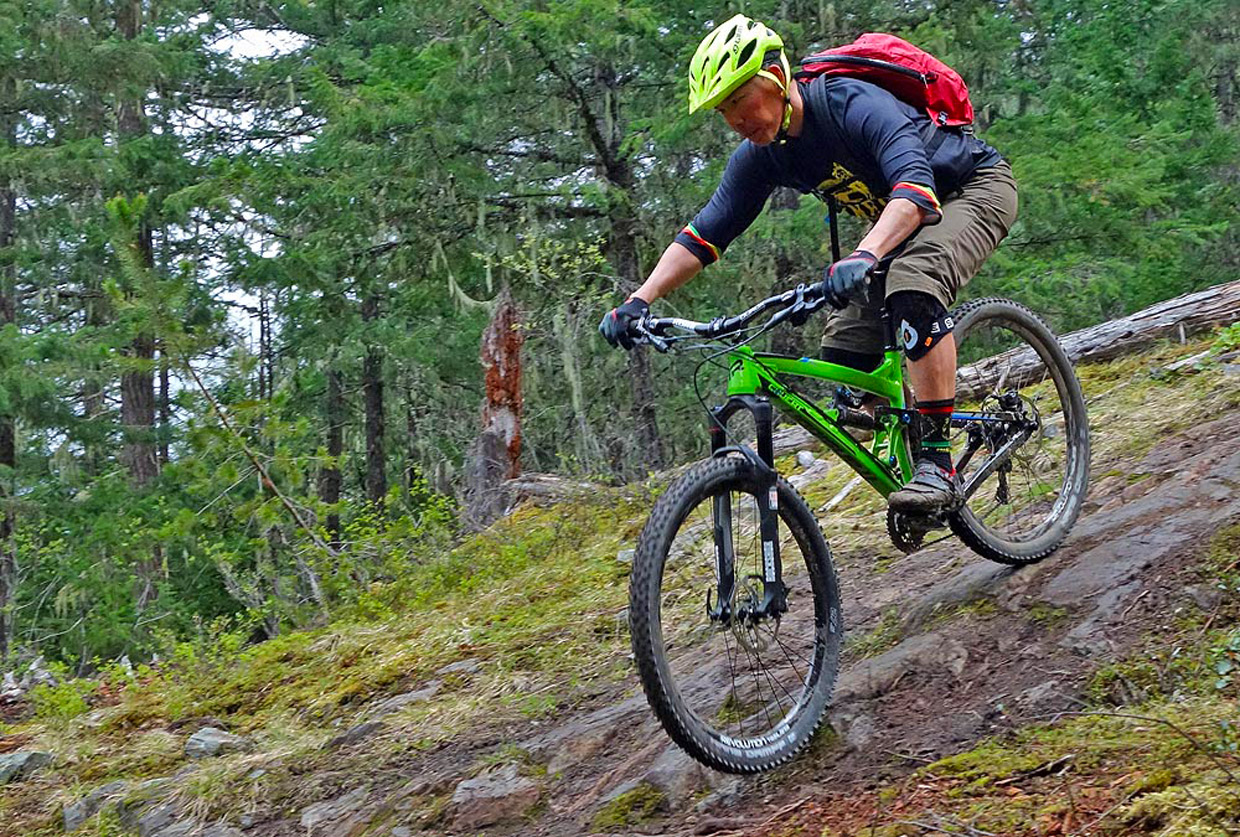 Lee Lau: stand-up tech lawyer and our most experienced crass bike tester.
I'm 160 lbs, 5'11" and have had over fifteen years of experience riding bikes in North Vancouver, Squamish, Whistler, the Chilcotins and many other areas in B.C. and Alberta. I've also made many bike trips to Switzerland, Tyrol, Utah, Washington, Oregon, California and the Yukon, so I've had some experience biking in a variety of terrain. My bias is towards pedaling up, and unlike many people who learned to ride bikes on North Shore trails, I actually enjoy riding (and sometimes bushwhacking) uphill.
My personal bikes are a Turner Czar, Pivot Mach 5, and a Specialized Demo 7. I've had some experience in the 27.5/650b category. This is a test bike that will be given back to Transition at the end of the test period. I am not sponsored by Transition and have no commercial association with the company. The bike ridden is a size medium.
Frame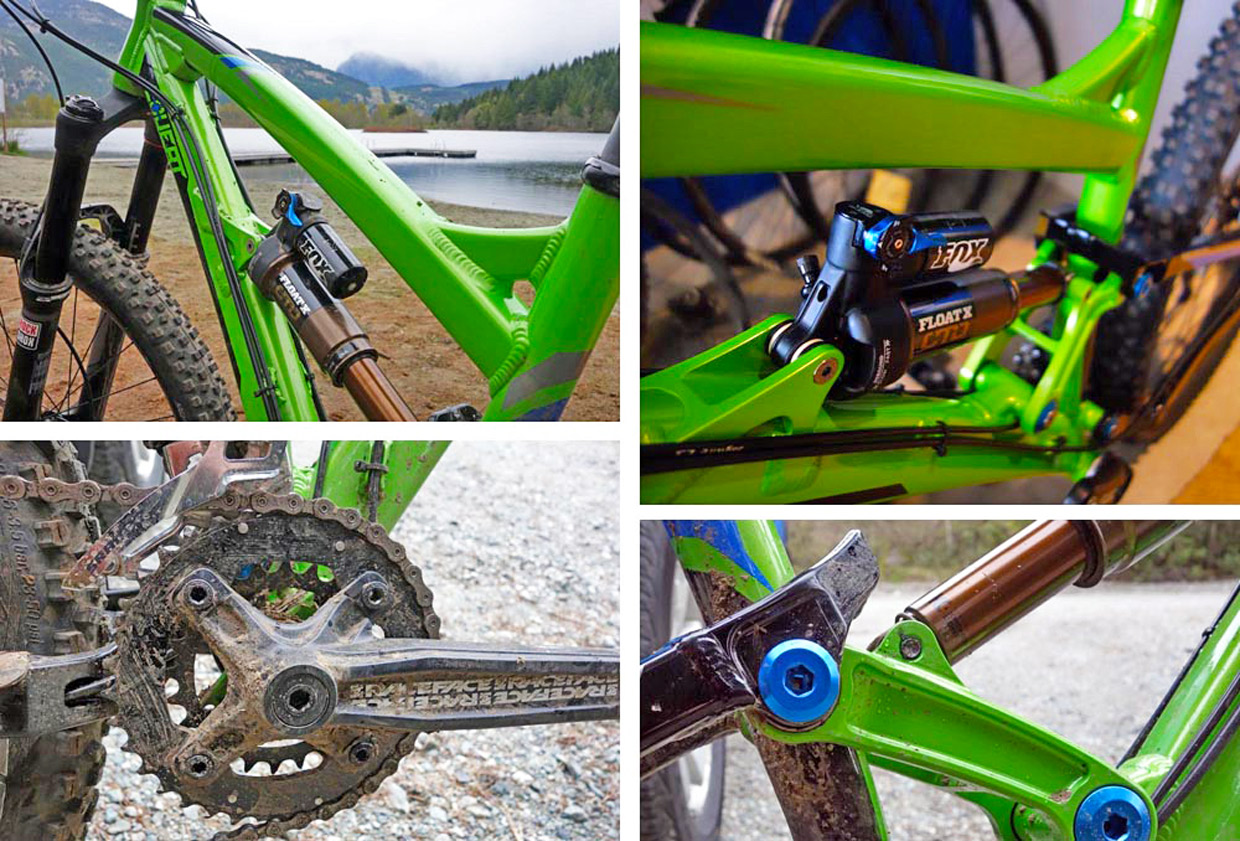 From top left to bottom right going clockwise: Fox Float CTD rear shock; the by-now familiar Transition linkage-assisted single pivot design; and Race Face components sprinkled throughout.
The Covert's frame is well-thought out with clean welds, nice paint (I've banged it through a few rock gardens), beefy looking gussets & flowing lines. With its subtle tube shaping the Covert's looks can be referred to as classic . While not as sexy as its carbon brother it still looks like it means serious business. Here are some highlights:
Sizes are S/M/L/XL (16.5, 18, 19.5, 21)
6061-T6 aluminium frame
Custom hydroformed tubes
Tapered internally welded headtube and tapered tubes throughout the bike
ISCG 05 chain guide tabs
Internal dropper post cable routing
Completely straight seat tube. Can accommodate long seat posts yet drop the seat all the way down too.
The Covert's linkage driven single pivot design is simple. Rear wheel movement activates a link in front of the seat tube which then actuates the rear shock. It's beyond the scope of this article to dissect the intricacies of suspension design (look here for a good one) but some of the advantages Transition squeezes out of this design include simplicity, ability to handle square edged hits, smooth travel (side loads aren't applied to the shock), supple/active suspension and a stiff rear end.
From the numbers the Covert has many hallmarks of newer frame designs being low and slack. Its theoretical top tube length is on the short'ish side for bikes these days but I went with Transition's recommendation to go with the same sized Medium frame that I've tried in the past. The bike felt fine both on the up and down so I guess they were right. Some comparables to other bikes that I picked purely at random are offered below:
Components
From top left to bottom right going clockwise: Bike weighs 32.7 lbs with pedals tested; Avid Elixir 1 brakes and 142 x 12 axle rear end; SLX and Deore drivetrains seems to be the de facto smart choice for budget-conscious build kits; tapered stiff front end with Rock Shox Pike upgrade and fashionably wide 770mm bars.
In Build Kit 3 the Covert's component spec is biased towards durability rather than light-weight and especially slanted towards the downhill (ie wider bars, shortish stem). Lots of room is available for upgrades if the buyer is so inclined but I rode the bike "as is" but with some Transition offered upgrades. Highlights are as follows:
Fox 34 Float 160 CTD and Float suspension CTD front and rear suspension; I upgraded the front suspension to a RockShox Solo Air Pike
Shimano SLX and Deore drivetrain
Controls are a mix of RaceFace Ride, Kore and Transition house-brand
Wheelset is Transitions' house brand
A stealth Reverb is available as an upgrade
Uphill And Flats Performance
General criticisms of single pivot designs (such as the Covert) are that they are are plagued by excessive bobbing when climbing. My rear shock (a Fox Float CTD) was run with 30% sag. In that setting there is some bob on fire roads or smooth climbs; that's the tradeoff you get for having a active/playful rear suspension. The bobbing got more pronounced when I pedalled using flats or started pedalling squares on technical up-and-overs; or when I was hanging on for dear life for traction on steeps. The rear end's suppleness does result in very good small bump absorption on more rooty or bumpy climbs. If you're grinding up smooth trails it probably won't be a bad idea to reach for the rear shock's Trail or Climb switch.
The Covert's active rear comes alive in flat technical trails. On those situations and on downhills are where you will really notice the playfullness associated with Transition's stable of bikes. Every feature seems to be an excuse for cheap air; every bump is something to be pumped; every rootball is an excuse to find a double.
Downhill performance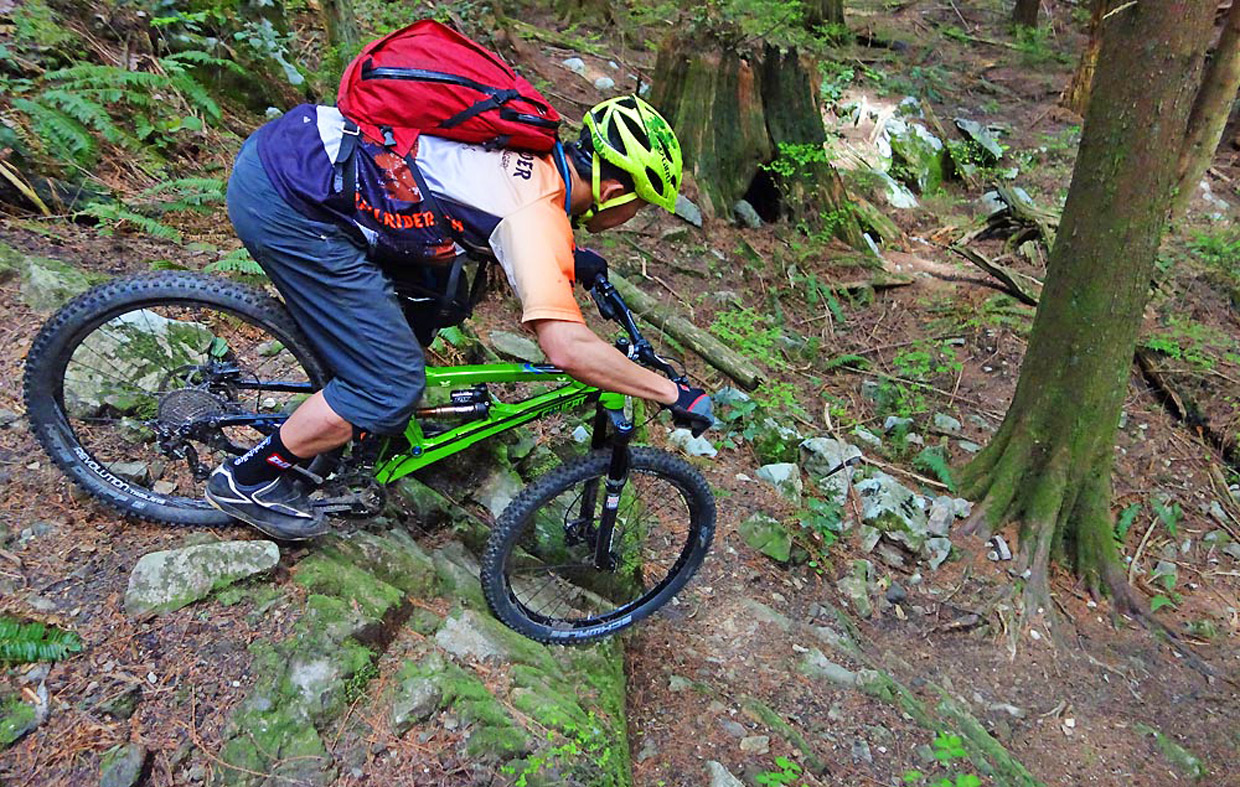 It won't surprise that the Covert shines in downhill. It's especially stable in air and at speed. Noticeably the Covert tracks exceptionally well, an attribute that's no doubt due to the overall stiffness of the frame and the smart component choices (the RS Pike is all it is hyped to be and then some). While this is perhaps more an observation about suspension than anything else the Pike's compression damping was so good that there is literally almost no mid-stroke wallow while small bump absorption is exceptional. To match the Pike, I rode the rear Fox Float CTD in Trail position most of the time. It's not a criticism of the Covert but perhaps a feeling that the bike is so active that it benefits from a bit more rear compression damping.
It's also noteworthy that, like many aggressive bikes, the Covert seems to attacks best when you get low on the bike. In that situation there's a propensity to buzz your rear with the tire; govern yourself and your taint accordingly. This is knock on the Covert; it's more a limitation of the larger wheel sizes which can hamper a rider who gets low.
The Bottom Line
Transition's bikes have a reputation of being solid, uncomplicated, businesslike bikes biased towards the downhill, and the Covert is no exception. If you don't need or want to pay for latest and greatest (although you do get 27.5" wheels!), are open-minded to classic suspension designs (i.e., are not of the mindset that if it's old, it's useless), and are on a budget, the Covert should enter the conversation. I've only had twenty or so rides on the bike but have dumped it on the ground every now and then. The paint is fine (noteworthy since paint chipping was a past criticism of Transitions) and there's no creaking or noticeable wear whether of frame or components. There is no reason to think that the Covert won't be a long-term durable ride at a reasonable price point.
Transition's bikes have a reputation of being solid, uncomplicated, businesslike bikes biased for downhill and the Covert is no exception. If you don't need or want to pay for latest and greatest, are open-minded to classic suspension designs (i.e., are not of the mindset that if it's old, it's useless), and are on a budget, the Covert should enter the conversation.
The Covert 27.5's frame with a Fox Float X CTD with a Kashima coat is available for $1899 US. With the upspec (Reverb and Pike) the bike costs USD $3849. Without the upgrades, it comes in at $ 3149 and all varieties can be viewed on Transition's website and purchased through its dealers.
---
More bike reviews from TGR:
-Layman's Review: Rocky Mountain Thunderbolt
-Women's specific mountain bikes: made for you or marketing?
-Layman's Review: Norco Sight Carbon 7.1
From The Column: Layman's Review
READ THE STORY
According to a reports from the mountain bike world, several athletes have tested positive for doping during last season's races. Two names were released yesterday: two-time champion Richie Rude and one-time champion Jared Graves. RELATED: EWS Racer Jared Graves Diagnosed With Brain Tumor On May 13, at the Olargues, France stop of the EWS, nine racers were called into a French Anti-Doping Agency control station to be tested. Both Rude and Graves returned Adverse Analytic Findings (a positive
READ THE STORY
The snow may be falling and those first turns of the season are here for most of us, but don't forget about that special person in your life (let's be real, that can include yourself) who just won't give up hunting tacky singletrack. Whether they've just gotten into the sport and are newly obsessed, or are a seasoned veteran searching out all-day epics and hitting the biggest jumps, the following selection of everything mountain bike-related will surely keep them happy. Men's Bike: Evil
READ THE STORY
Hounded // Paris Gore: Professional MTB Photographer From shooting World Cup DH races to hanging out with the Trailer Park Boys in Chicago, Paris Gore has more than a few good stories. The professional photographer talks about his middle name and relives the time he was featured on Jerry of the Day while playing a round of Neglin. About the Series: Hounded is an interview show hosted by 's Managing Editor Jann Eberharter and the beloved office coonhound Lucy. Between a few beers and a