Editor's Note: Local mountain bike nerd and founder of Earlyups.com, Jeff Brines (aka JeffreyJim in the forums), breaks down the hottest news going on the bike internet today - the introduction of Yeti's new Switch Infinity suspension system, which is supposed to further progress their current Switch system while enticing bike nerds the whole over to freak the eff out.
Today Yeti Cycles announced a new bike, the SB5c, and with it the company released an entirely new suspension design dubbed Switch Infinity. Borrowing from the company's trail-specific eccentric Switch system and, in part, the company's rail system long featured on Yeti's downhill bike, the goal was to bring small bump compliance, mid stroke support, ease of tunability, and favorable pedaling characteristics into one holy-grail of a trail bike.
Eyes glazed over yet? Marketing lingo have you cringing? Check out the video for a bit more insight as to how the system works... be prepared to say "huh?"
So what the hell is going on here? To start, anyone involved in the sport of mountain biking will quickly pick up on the Fox Kashima coating on what appear to be two "shocks" that drive the main pivot point. Further inspection reveals these are not in fact shocks, but Fox Factory engineered-sealed Kahima bushings that drive the position of the main pivot.
The new Switch Infinity system is parked just above the SB5c's bottom bracket.
In essence, it behaves similar to the company's rail system; allowing the pivot to re-position in an infinite number of spots along a line as the suspension cycles. Although it looks heavy, the company says it actually saves about a 100 grams over the previous Eccentric Switch system the company has utilized on its SB66, SB75, and SB95 bikes.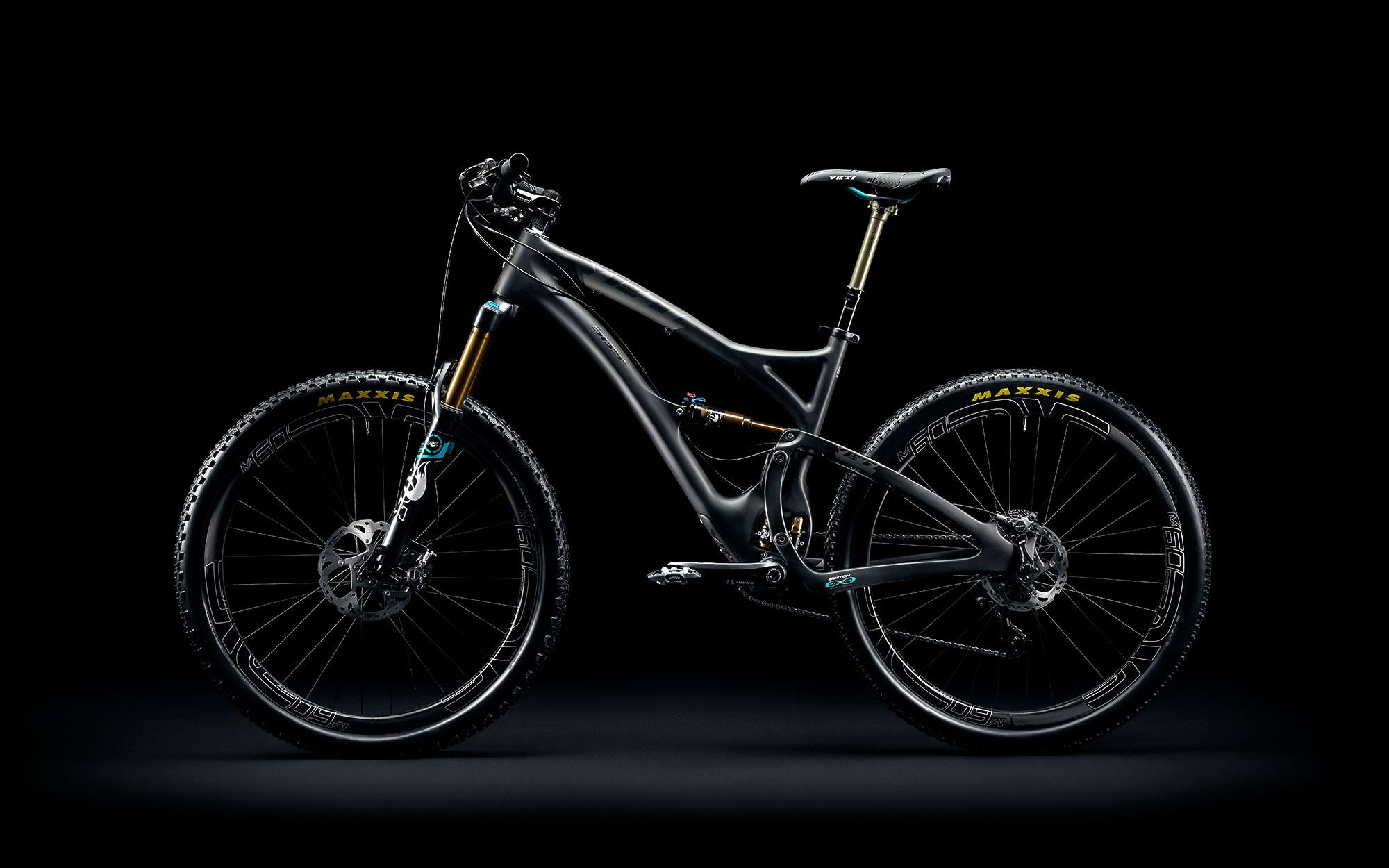 So whats the point? Well, there are a couple reasons Yeti claims there are a number of reasons they've engineered Switch Infinity:
1) Certain riders noticed the current eccentric Switch system demonstrated less than desirable attributes. According to Yeti's PR, "During successive hits, as the eccentric link tried to switch directions, it would sometimes stiffen up."
2) The current eccentrically driven Switch system was somewhat difficult to manipulate and tune from an engineering perspective, being that it's essentially a small link. This new system allows more tunability & "engineerability." The company claims it allows them to tune the bikes anti squat and leverage ratio curve independently. Wow.
3) It is lighter. Nuff Said.
4) The current eccentric system was prone to creaking. While the verdict is still very much out on this one, Fox & Yeti claim has been tested using various methods, including a demanding one million cycle dirt-slurry immersion test that's also performed on FOX's forks and tested for over 3 years with good results.
Yeti team rider and marketing dude Joey Schusler always manages to make riding-especially in Colorado-look rad as shit, and he does so again in the SB5c "Proven Here" video
For now, the company has engineered the system to work with a new 5" travel 27.5" hooped bike dubbed the SB5c. A svelt 5 pound and change trail bike with "mini DH" bike geometry. We'd be shocked to not see the system trickle into other platforms.
Media impressions have been positive, as has been the response from Yeti pro riders who have ridden the bike. Still, those are far from your standard "non paid/affiliated rider" impressions. So, what does the collective think? Marketing gimmick or suspension progression (pun intended)?
Built bikes start at $6599 and go as high as $10,599 if you decide to throw some ridiculously expensive ENVE carbon rims on it. For more check out Yeti's site.
READ THE STORY
Max Fierek tested positive for Lyme disease when he was nine years old, since then he has fought fatigue, lung capacity, muscle fatigue, short term memory loss and mood swings. For Max, living with Lyme disease for half his life has taught him empathy for others and to cherish his time outside in nature which helps him stay positive and fight for his love of mountain biking. Lyme disease is a tick-borne illness caused by the bacterium Borrelia Burgdorferi. If Lyme disease isn't treated
READ THE STORY
This year, director and excellent human Jeremy Grant worked with TGR to bring you The film chronicles how some of your favorite riders made their way onto a bike. Old film flashbacks show athletes like Hannah Bergemann and the McCaul brothers in their early days figuring out what was possible on two wheels. A story of connection, innovation, freedom, and at some points loss, has viewers on the edge of their seats, hugging their own trail dogs, and even in tears. Follow these athletes from
READ THE STORY
Over the last couple years, bike parks have been popping up all over the United States. In May of 2019, Loon Mountain Resort, one of the most premier and well known resorts in New England, decided to join the movement. The New Hampshire resort broke ground on a multi-phase plan to build a network of over 15 miles of downhill mountain biking trails at their location in The White Mountain National Forest. Having just finished up their second season of operations, the public was blown away by