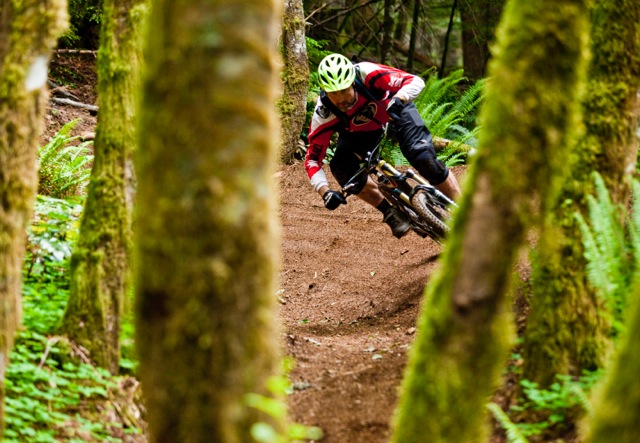 IMBA Trail Care Crew member Jason Wells riding in a fresh berm in Oregon's IMBA-supported Sandy Ridge Trail System. Leslie Kehmeier/IMBA photo.
I cut my mountain-bike teeth riding the Don Valley trails in Toronto, Canada. Running the ridges of a narrow swath of woods through "COT" (City of Toronto) land, the trails were and continue to be the subject of a seemingly constant battle, articulated over forums and in trailhead banter about what makes a good feature, what's safe, and how dare the city come in and tear down the work of our friendly neighborhood trail gnomes.
It seems there is always more fuel for the fire as competing interests collide. Rumors fly about ticketing officers, bulldozers versus the dirt jumps and work crews arriving via four-wheelers to take apart lawsuits waiting to happen ladder bridges. Clearly, the idea of trail building is open to interpretation (like any art form) and in some communities, it's become almost as popular a sport as mountain biking.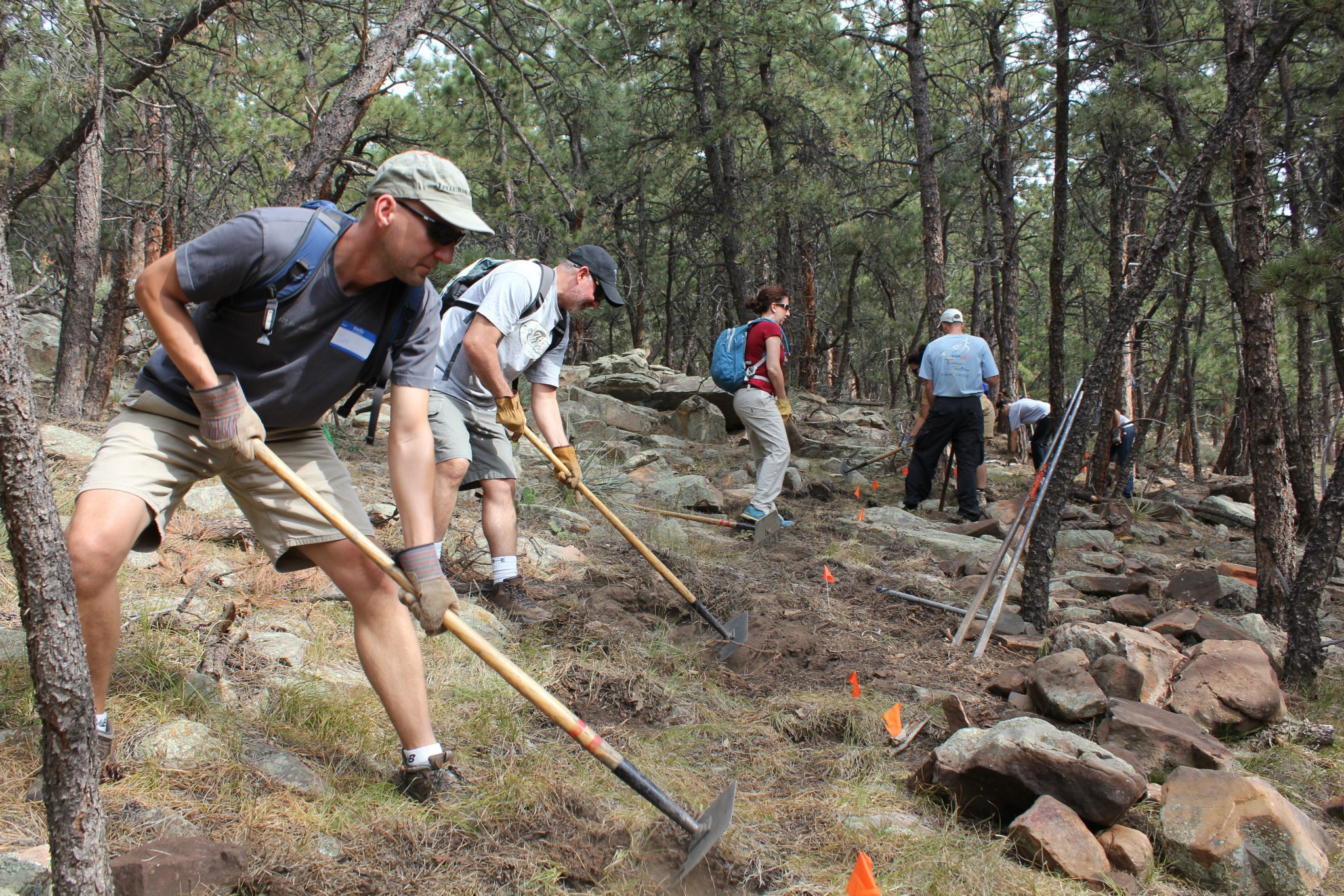 IMBA and volunteers work on a rocky section of trail–mostly to improve flow and drainage, but also the organization gets criticized for grooming out techy trails across the country. IMBA photo.
To be a truly successful trail builder, first you need the skills. Also, the equipment. You need to know how to make the best of the palette nature provides. And most importantly, you need permission. Or inevitably, you'll watch again and again as your hard work and masterpieces are dismantled, smoothed out or blocked off.
Seeing a need, the International Mountain Bicycling Association (IMBA) was formed in 1988 to help advocate for trails, promote volunteer trail building, and liaise between landowners and managers and the mountain bikers and their destructive trail builders, as the perception can tend to go. But 26 years down the road, some in our community say the advocates we applauded have become the problem, rather than the solution. Does IMBA build boring trails for beginners? Can we continue to trust IMBA with the progression of the sport?
A 2013 blog post by Gene Hamilton, President and Founder of BetterRide, shows he doesn't think so. He wrote, "They [IMBA] have also dumbed down quite a few trails that I once greatly enjoyed. I realize some of this was done to make the trails more sustainable (which is good) but often it seemed like it was done to feed someone's ego as the great 'Trail Dictator'… I and thousands of other riders were not consulted and they obviously don't know what I like!"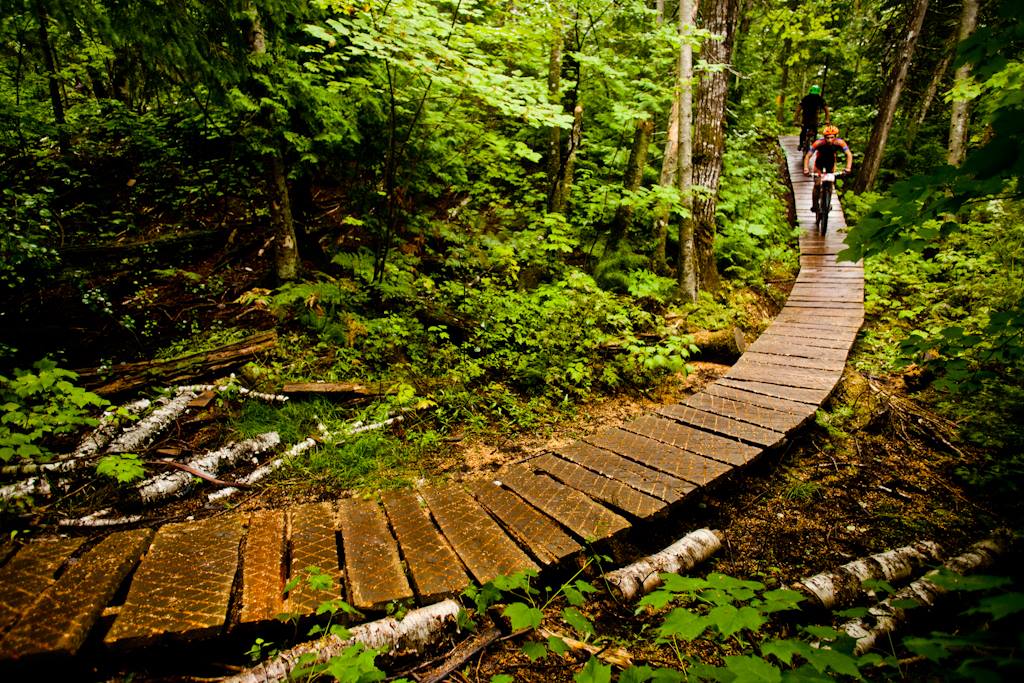 IMBA-supported trails wind through the forest of Copper Harbor, Michigan. Copper Harbor Trails Club photo.
With this criticism in mind, we talked to Chris Bernhardt, Director of the Trail Solutions program at IMBA to find out more. Trail Solutions is the professional trail-building arm of IMBA, made up of people who have been mountain biking almost as long as there has been mountain biking, and trail building all along the way.
How do you meet the competing demands and definitions of what makes a good trail?
We work closely with each community of riders to understand what they want, but then we also need to look into the future to know what people will want to ride. Simply put, we don't want to build the trails that people rode five years ago, we want to build trails that people will still find challenging and interesting 10 years from now. Unfortunately, trail definitions are tough to pin down when talking to riders: XC, Freeride, DH, Enduro, All-Mountain; these are bike types or race formats — not trail types. So we hope to have people describe the experience they want and then interpret that info to create the best trail for the community.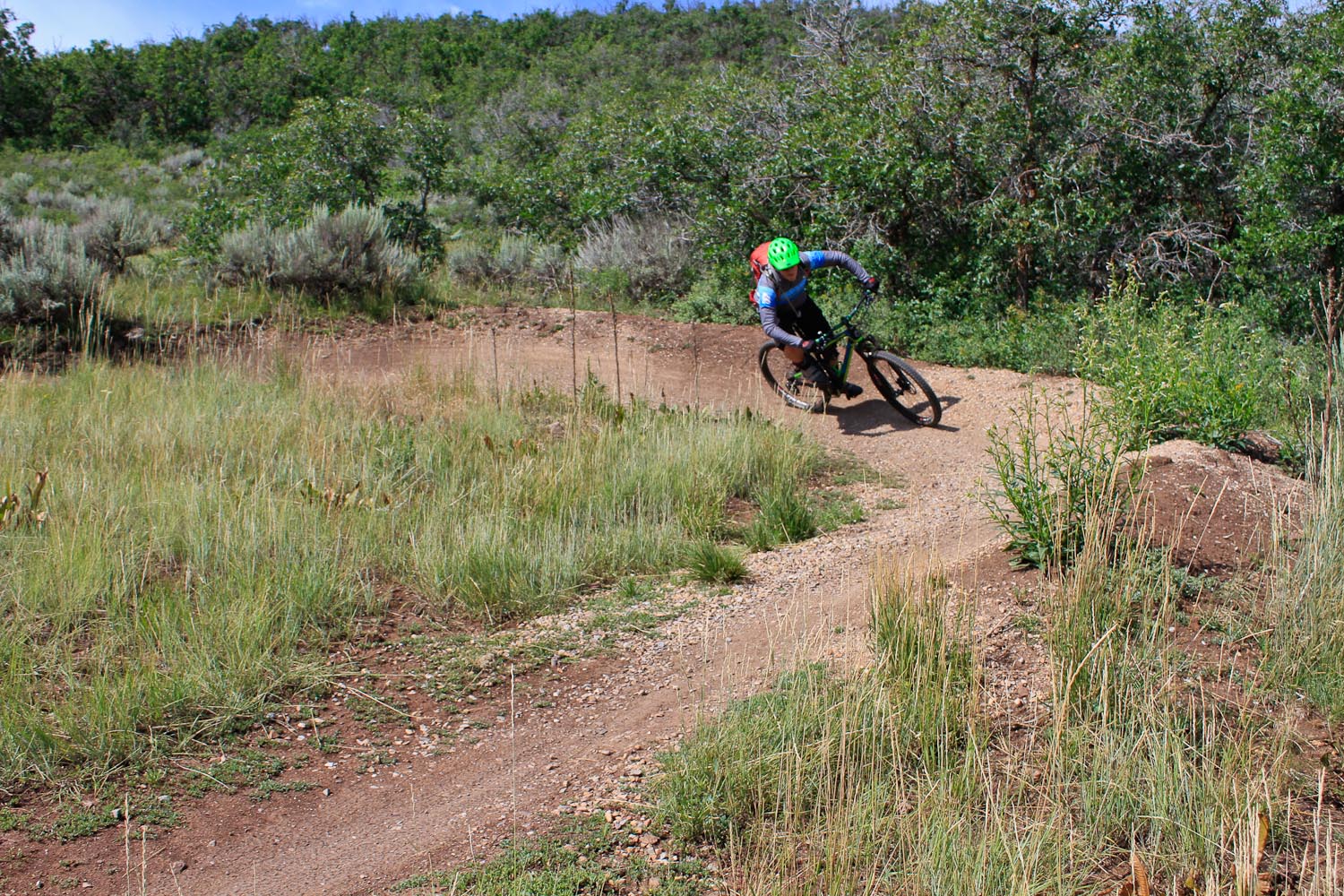 White Pine Touring's Scott House banks through a trail in Round Valley, part of Park City's 400-mile singletrack network that is IMBA's only Gold-Level Ride Center.
In Park City, a town known for its shit-eating-grin-inducing range of mountain bike terrain, we caught up with prominent local guide and rider, Scott House of White Pine Touring for his take: "I think people are blowing it out of proportion just a little bit," he said. "Keep in mind, the majority of people riding bikes out there aren't advanced riders. And to be able to expand our advanced trail system—you know, the super rowdy and technical trails—we need to build a user group that knows how to ride them. And IMBA I think is doing a fantastic job with their Trail Solutions of building a really great base trail system."
Keep in mind, the majority of people riding bikes out there aren't advanced riders. And to be able to expand our advanced trail system—you know, the super rowdy and technical trails—we need to build a user group that knows how to ride them.
Sustainable trails that cater to beginners and intermediate riders entering the sport are important. But that doesn't mean IMBA Trail Solutions stops leveling-up at "family fun."
How do you collaborate with a range of stakeholders to create trails that meet diverse needs and riding styles while also having a reduced impact on the land?
We use good ol'-fashioned stakeholder outreach to achieve this. We speak with the identified, vested communities (e.g., IMBA chapters, land managers, other trail users) but we also use our network to get in touch with bootleg trail builders and riders who would not otherwise be in the process. We then find the sweet spot that provides the most opportunity for the most people. For example, flow trails do a good job of meeting a wide range of riders' demands.
To keep impact to the land minimal, we work in settings where the trails will fit in easiest to the landscape. Bike parks are usually in urban, developed areas and frequently next to ball fields or a skate park. To use Sandy Ridge in Oregon as an example, the landscape is third-generation industrial forest, so moving a lot of dirt was not incongruent with the landscape. In other locations, we use old roadbeds that have already been disturbed.
IMBA Trail Solutions never acts alone, partnering with local volunteers, clubs, IMBA Chapters and professional trail design companies to deliver sustainable new single track across the country and around the world. Projects are often competitively bid on by other professional trail building outfits and IMBA awards its contracts to the best team for the job, taking into account the communities' needs, balanced with the land manager's expectations.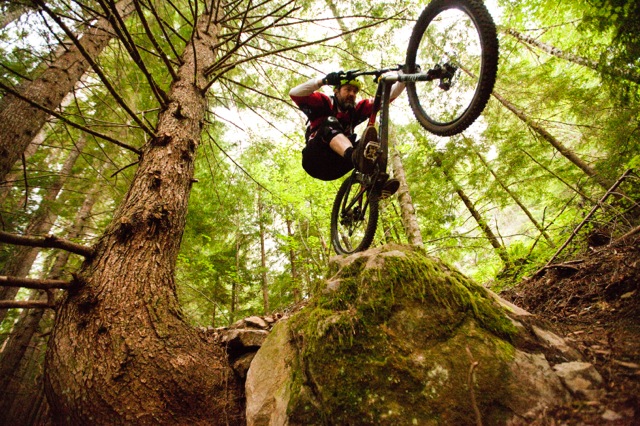 "IMBA has tried to develop a standard of trail building. Sometimes people misconstrue that as overly-groomed trails, taking all the rocks out, but I don't think that's true." Jason Wells sends some IMBA-supported gnar in Oregon. Leslie Kehmeier/IMBA photo.
FlowRide Trail Design is based out of Denver, CO and has earned a number of IMBA Trail Solutions contracts, most recently at Spirit Mountain in Minnesota, where they're building a new advanced-level technical connector trail as well as a skills area at the base of the adventure park. "IMBA opens up a ton of opportunities for local clubs to develop trails and bike parks, and they open up a lot of opportunities for other trail building companies to have a chance to work on these designs and build projects," said Shea Ferrell, project manager and co-founder at FlowRide. "IMBA has tried to develop a standard of trail building. Sometimes people misconstrue that as overly-groomed trails, taking all the rocks out, but I don't think that's true. They build trails that progress beginners into the sport of mountain biking but I know they also do a lot of work on behalf of more advanced riders. They're all about building towards whatever the needs of the local riding communities are."
How do you make the most out of limited terrain—especially when that terrain already has an established network of trails?
We can build trails that are hyperkinetic; that is, they require a lot more work to ride them for a given distance. While a traditional singletrack trail may require an exertion level of a five out of ten to ride, our trails constantly dip, turn, weave, juke, etc. It's game on, for sure, and you're more at a level-eight exertion.
To use Sandy Ridge as an example again, there is a segment that is just over a mile with top Strava times of 3:20-ish. At the end of it, you can barely hold onto your bars–you're so wrecked.
Representing a community is challenging. Especially one that is growing as fast, and in as many directions, as the mountain biking community. IMBA has been a part of that growth, and has worked tirelessly to harness the energy and enthusiasm of mountain bikers of all kinds almost from the beginning. Its mission–to create, enhance and preserve great mountain biking experiences–has subjectivity built right into it. What "great" means is up to us as riders. That means participating in the conversation is up to us, too.
To find out how to get off the sidelines and get involved in your community, connect as a volunteer, or find volunteers to bring your vision to life, visit IMBA.com.
Utilizing its experience not only in construction but also in community advocacy, IMBA worked with our chapter, the Routt County Riders, to bring dirt jump and gravity riders into the conversation about building new lines at the existing Bear Springs Bike Park in Steamboat Springs. Working to balance the needs of the various groups while simultaneously protecting the city's interests required extensive negotiations and several redesigns before a final layout could meet the available budget and site constraints. IMBA then managed the work of volunteers, city employees, and subcontractors to execute a high-quality, sustainable expert-level track that will be the highlight of the 2014 IMBA World Summit in this iconic Colorado mountain community.
READ THE STORY
Ever get scared that you're going to come up short on a jump, put in a few pedal strokes, and send it to the moon? A few days ago, Utah-based freerider and athlete Jaxson Riddle took a fall that would simply break most of us in half after going just a too deep. After building a ramp on the side of the 50-foot-tall Salt Lake City Natural History Museum, he teed up a run and ended up sending it literally to flat, exploding on the pavement below. Somehow, the young gun was able to get up and
READ THE STORY
Mullets are back in style—at least on mountain bikes. This year Juliana/Santa Cruz introduced its first-ever mixed-wheel bike, making their flag-ship enduro bike—the Roubion—even rowdier. Katie Lozancich photo. At the end of 2018, the UCI got rid of a rule that banned mixed wheels on race bikes. Unbeknownst to the organization, they opened the door to something bigger entirely. Racers started introducing mixed wheels into UCI DH and EWS events, and they caught everyone's attention. Why?
READ THE STORY
Flight Attendant promises to revolutionize how your suspension works on the trail. | SRAM photo. Rockshox has always been on the forefront of mountain bike innovation, and they just took a quantum leap into the future with the release of their all-new Flight Attendant system. Flight Attendant is an automatic electronic suspension adjust system that listens to and responds to your riding in real-time. With sensors on your fork, shock and cranks, it claims to adjust your suspension settings