It's no secret that professional skiing is a sport historically reserved for men. Lucky for us girls, there has been a recent change of attitudes towards women in sports, as Mikaela Shiffrin brings home gold medals at an age where most girls are worrying about what to wear to their senior prom. Angel Collinson destroys the boys in her TGR segment, and Lynsey Dyer crowdsources and produces a ski movie that features girls who rip. This generational change is clearing the way for ladies of all ages to get out there and send it huge.
As much fun as it is to ski with the boys, sometimes we just get tired of waiting at the base for them to catch up. Lucky for us women, there are a huge variety of women's-specific camps that give you the chance ride with your fellow girls while learning in a pressure free environment. This short list gives ideas for ladies of all ages who just want to get out there and explore, better their technique, or drink wine at the local bars when the ski boots start hurting.
#1: Jen Brill's Silverton Sisters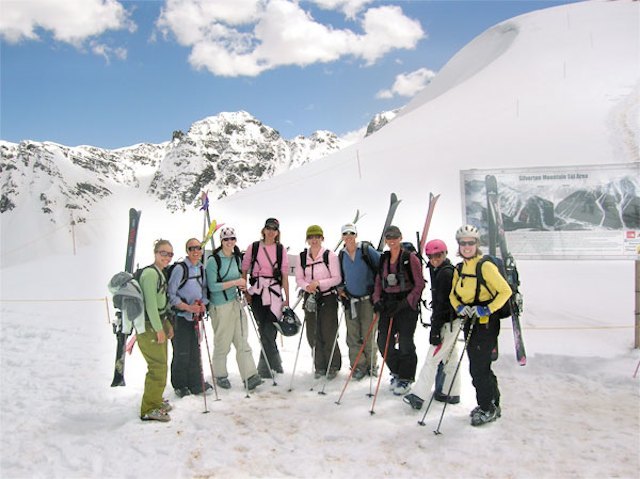 The Silverton Sisters camp provides access to some of America's rowdiest mountains. Jen Brill Photo
What: The most badass girl's weekend ever.
Who Should Go: Intermediate to advanced skiers looking to up their G.N.A.R. game, or just explore this rad area in the San Juans.
Silverton Mountain in Colorado is one unique place, with a single chairlift that accesses only advanced terrain. They won't even let you on the lift if you left your avalanche beacon at home. Once a year, this little gem of a town is taken over by Jen Brill and her team of ladies knows as the Silverton Sisters. This "camp" caters to the more advanced lady shredders who may be intimidated by some of the bigger stuff that Silverton has to offer. The whole idea behind Silverton Sisters is to bring a group of ladies to this unique spot, and let them run the show. A few female guides show up to support the event, but they aren't coaches, and they're not there to give you pointers unless you want them.
Silverton Sisters runs for the weekend of April 4 th-5th, and cost of attendance includes two tickets to the Annual Brewski event and sweet deals on lodging. Bring your girlfriends, leave the men at home, and join Silverton Sisters for the most badass weekend of your life… because a girls weekend doesn't have to mean a trip to the spa.
#2: Ski with Kim Reichhelm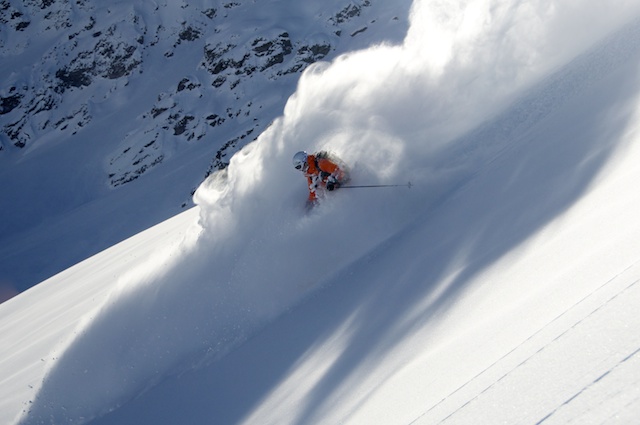 Blower pow, ladies only. Kim Reichhelm Photo
What: A ladies-only mini ski vacation.
Who Should Go: You, your mother in law, or the girls from the office.
If you're looking for a luxury weekend on the slopes, look no further than Kim's camps in Vail and Aspen. These weekend getaways are great for ladies that want to learn more about the sport, improve their skills, and just have a weekend away from their significant others. These camps cater to all ability levels, and the smaller numbers per camp mean that the coaches are always available to give pointers. Kim herself attends every one of her camps. The close-knit atmosphere of support, fun, and adventure keeps the ladies coming back to Kim's camps year after year.
For their 26 th season, Ski with Kim is excited to introduce a brand new ladies-only heli ski adventure to the lovely Ruby Mountains in Nevada, March 30 th-April 3rd. For prices and availability, check out Ski With Kim here.
#3: Keely's Ski Camp for Girls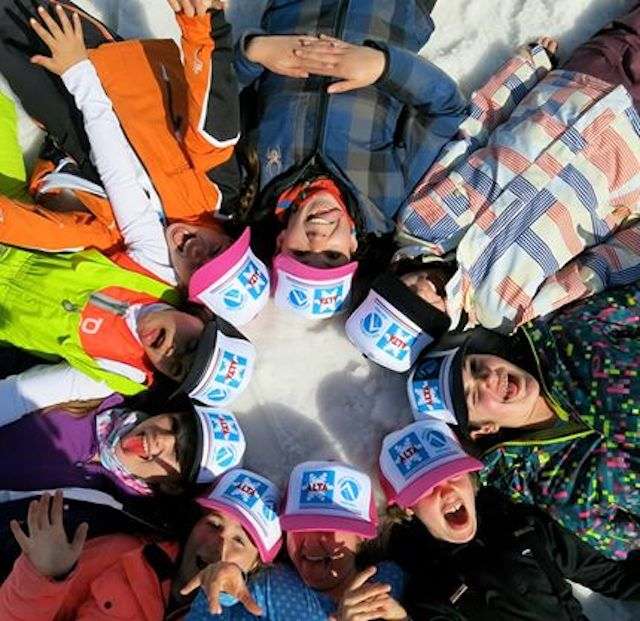 Keely Kelleher photo.
What: The best thing a teenage skier can do in the summer.
Who Should Go: Anyone who is lucky enough to look like they're under 17.
When: Race Camps run in the summer, big mountain in the spring.
Our mission is to empower, inspire, educate, and connect the next generation of girls in skiing.
One thing is for sure, I wish I were 17 so I could hang out with Keely Kelleher. After competing on the US Ski Team for eight years, she took home the Super G Championship title in 2010, and then she made the switch to big mountain skiing. She founded Keely's Ski Camp for Girls in 2011, and watched as it has blossomed into the single most badass camp for young girls. Chicas ages 10-17 are welcome to join her race and big mountain camps, and this year marks the start of her first ever backcountry camp for girls ages 14-17. When registration opened, the camp filled up within a week!
The race camp runs in the summer in Mt. Hood, Oregon, home of the best summer training west of the Mississippi (or East of it, for that matter). The week long sessions include up close and personal training with ladies who are at the top of their ski racing game, some U.S. Ski Team inspired dry land training, and an all-around good time.
Spring big mountain camps happen in Alta and Big Sky, and are focused on helping intermediate to advanced skiers get that extra confidence boost that they need in a totally pressure-free environment.
#4: Momentum Ski Camp's Girls Week 2015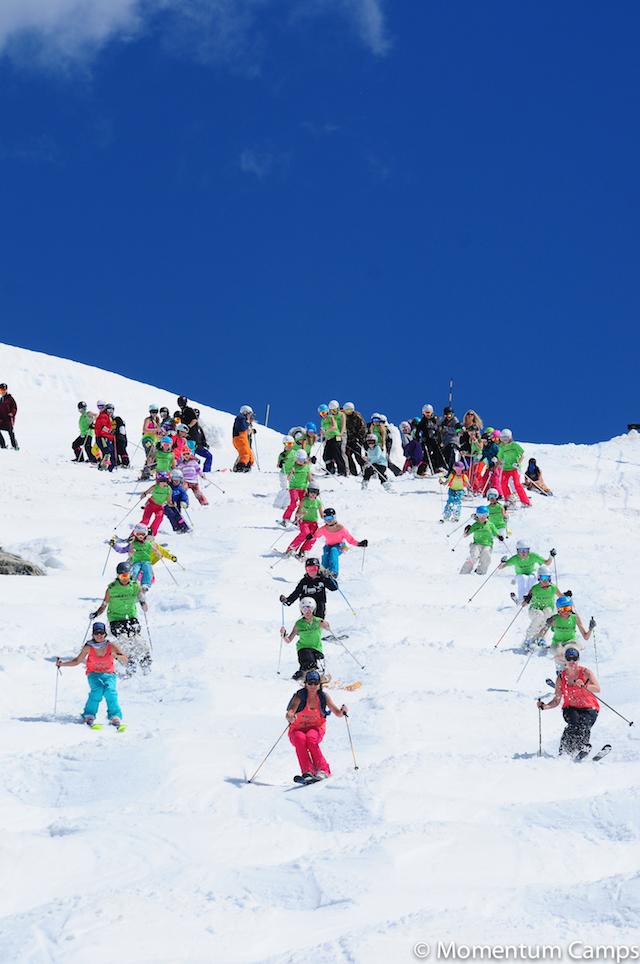 If you're looking to improve your zipper line technique, Momentum's the place to go. Momentum Camp Photo
What: freeride, slopestyle, moguls.
Who Should Go: Girls (and grown up girls, too) who are serious about taking their abilities in any of these disciplines to the next level.
This Whistler-based camp is devoted to learning more about the arts of slopestyle, half pipe, and moguls. One week a year–this summer it's July 3rd through the 11th–is devoted to female athletes, and while the boys are allowed to stay and ski, a special focus is put on the female participants. Athletes will have to opportunity to be coached by greats such as World Cup mogul skiers Tami Bradley and Jackie Brown, as well as many other kick-butt women.
The "Spirit of Sarah" Scholarship is available to a female participant in memory of former momentum coach Sarah Burke, who was key in getting Girls Week started. The first four summer sessions are geared to youngsters, but at the end of the season, adults can come and play too.
#5: KEEN Rippin Chix Camps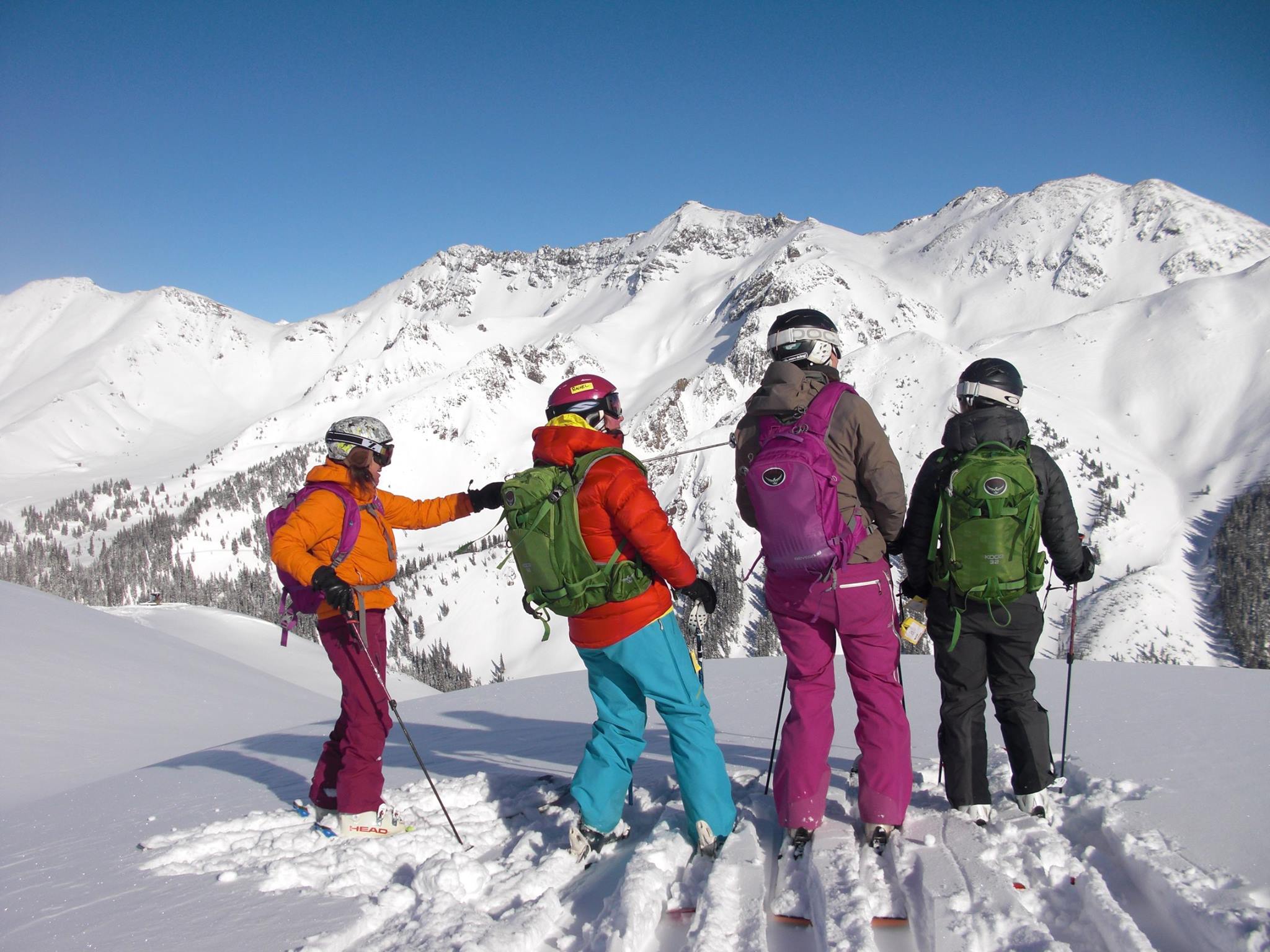 Rip some big, deep terrain with Alison Gannet, see stoke level rise precipitously. KEEN photo.
What: "No-frills bike, ski and surf clinics for real women and girls
Who Should Go: Upper Level Skiers looking to add a few new feathers to their caps
Alison Gannet's Rippin Chix Steep Skiing Camp was named the "Best Gals Adventure of 2014." There are multiple camps throughout the year that help you build up your skill set in ice, crud, bumps, steeps, pillows, chutes… you name it, they'll ski ya down it. Participants are free to bring their choice of gear, even free-heelers.
If these camps don't change your life, your money is refunded. For a list of camps, check out the website here.
#6: Freeride Ski Camp with Ingrid Backstrom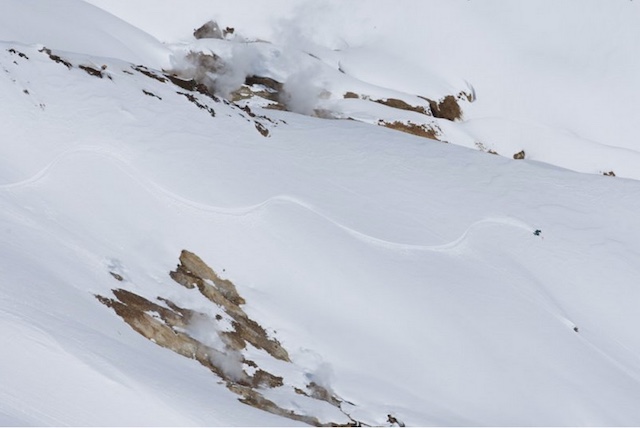 Want to rip pow in the summer amongst Chile's thermal vents with freeride legend Ingrid Backstrom? Yeah, so do we... Adam Clark photo.
What: Summer freeride camps with Ingrid in exotic Chile (it snows there in our summer if you're a more geography-challenged member of our audience).
Who Should Go: Advanced intermediates to advanced female skiers
PowderQuest has teamed up with Ingrid Backstrom for a womens only ski camp in Nevados de Chillan, Chile. They'll teach you not only to shred, but the process that goes into choosing a line, and how to look at mountains in terms of backcountry safety. Stay at a beautiful ski-in, ski-out hotel, and sample all the delicious Chilean wine you can get your hands on in this eight-day adventure to the Andes.
#7: Exum Guides Womens Camps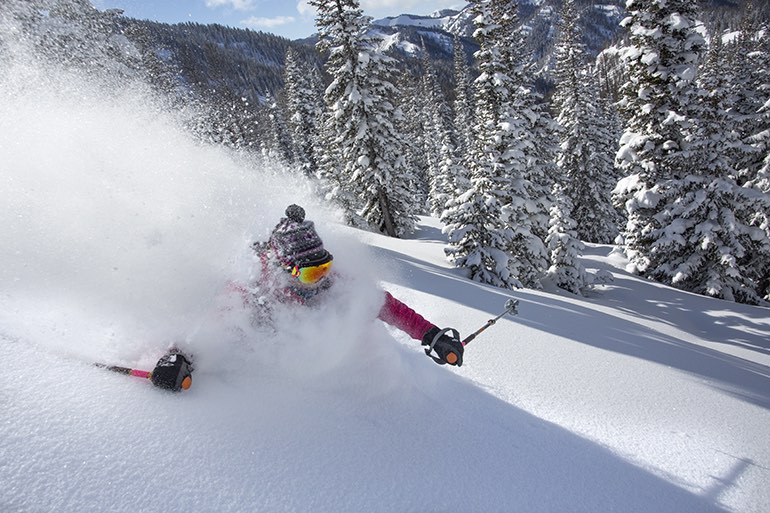 Jessica Baker gets shacked in the backcountry of the Tetons. David Stubbs/Exum Mountain Guides photo.
What: Backcountry Ski Trips in the Tetons.
Who Should Go: Everyone. I mean, no one. Jackson's the worst. We don't think it snows there anymore.
Partnering with Ski Diva's founder Jessica Baker, Exum Mountain Guides–the famous mountain guiding operation based out of Jackson Hole, Wyoming–offers a week of backcountry exploration the Tetons. The camps includes six nights of lodging, and skiing OB at Jackson Hole, touring in the Tetons, and a half day at Jackson Hole's smaller cousin, Snow King. Sessions take place throughout the winter, but women's week is actually going down right now, February 8-13th (sorry we didn't publish this sooner!).
Exum also runs private programming, so get a crew together and pioneer your own experience!
#8: Backcountry Babes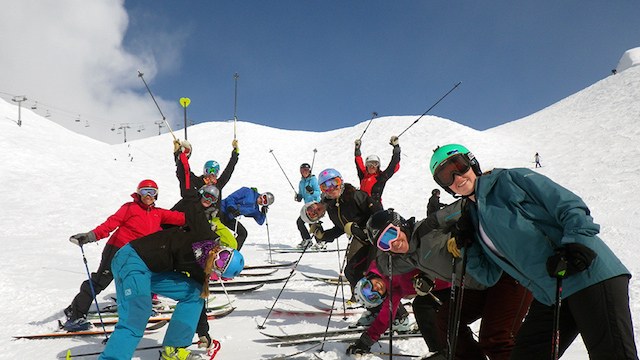 The "Babes" in their natural habitat.
What: A company that "specializes in women's programs"
Who Should Go: Everyone and their mother!
Unlike many of the other camps available, Backcountry Babes isn't a women's specific camp that is part of a larger, co-ed program. Rather, they truly are a ladies only company (sorry boys) with programs in the mountains, on the rivers, and anywhere else you can think of.
They also offer women's only AIARE Avalanche Level 1 courses and refreshers, and trips run in Canada and the United States.
#9: "20 Under 20" Girls Do Ski
What: It's all in the name, really.
Who Should Go: 20 female skiers under the age of 20.
This one-day camp brings together twenty young girls for a day that teaches you not only the ins and outs of ripping the hill, but also a workshop on how to use social media to further your skiing career, a cinematography session, and info on how to get sponsered.
This totally free camp happens every January 17th at Revelstoke Mountain Resort.
#10: Snow Sisters in Haines, AK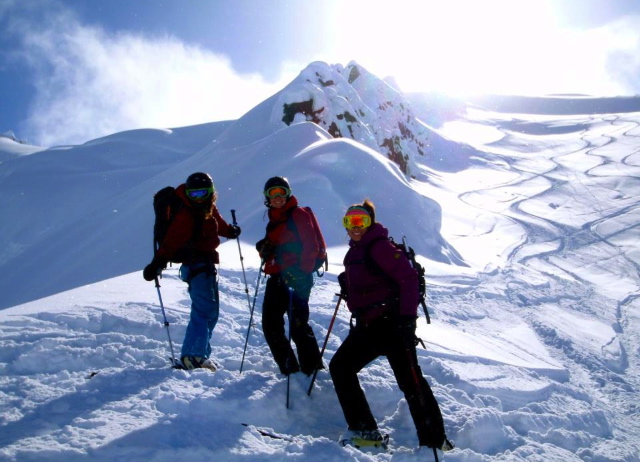 Get in a heli, shred pow, smile, repeat. Snow Sisters photo.
What: Big Mountain Heli Ski/Snowboard Week
Who Should Go: All ripping women out there!
Snow Sisters heliskiing camps take the fluff out of your usual heli trip and provide a more affordable week of shredding at one of the most legendary spots in the world. Meet the Shades of Winter girls Matilda Rappaport, Sandra Lahnstein and Rachael Burk, ski, do yoga, ski, sleep, and repeat for seven days… If weather permits, a day of dogsledding is thrown in there as well, if you're so inclined.
Their informational site is so full of exclamation points that even just reading the trip descriptions got me stoked!!!
From The Column: Women in the Mountains