Moab Utah to Frutia Colorado
Both have a rich history of mountain biking and both have reached cycling legendary status. For us, we had just returned from an Alaskan expedition. It was a roller coaster of mind blowing deep, steep spines to being stuck on a remote glacier and battling an intense, threatening storm. This had us seeking the desert's dry, warm, sunshine to decompress and find grounding again.
The storms rolled in and the clouds dropped precious moisture on a thirsty desert eco system.
The most classic; slickrock trail. You to could rent this Specialized Enduro from White Pine Touring in Park City UT. Such an incredible desert bike, rides it all like a boss.
This trail is perfect to ride if its raining in the desert. Its mostly solid rock and there is very little mud. Full of punchy climbs, steep descents, and crazy views.
We followed this ride up with awesome food from Moab Diner and watched a flash flood rush down main street. It poured the whole next day and so we spent it traveling to Fruita where the trails had been transformed to tacky hero dirt.
The bench of the horse's thief parallels the colorado river and overlooks the western side of Colorado's national monument.
Full of shelvey shale, berm corners and canyon washes.
Plenty of features to make this trail one for the books and worthy of an annual ride trip.
18 road- the perfect combination of ridge riding, canyon washes, and camping. Its no wonder Fruita CO is a renowned MTB destination.
Here you can get in a dozen laps with camp in between making it perfect to take Yoda Bear on a ride and then let him rest for another.
Joe's ridge is cut real nice and can be linked into "lunch at joes" for miles of pure pleasure flying.
Zippity doo da gives roller coaster butterflies with swooping lines and the access climb has un-real vistas.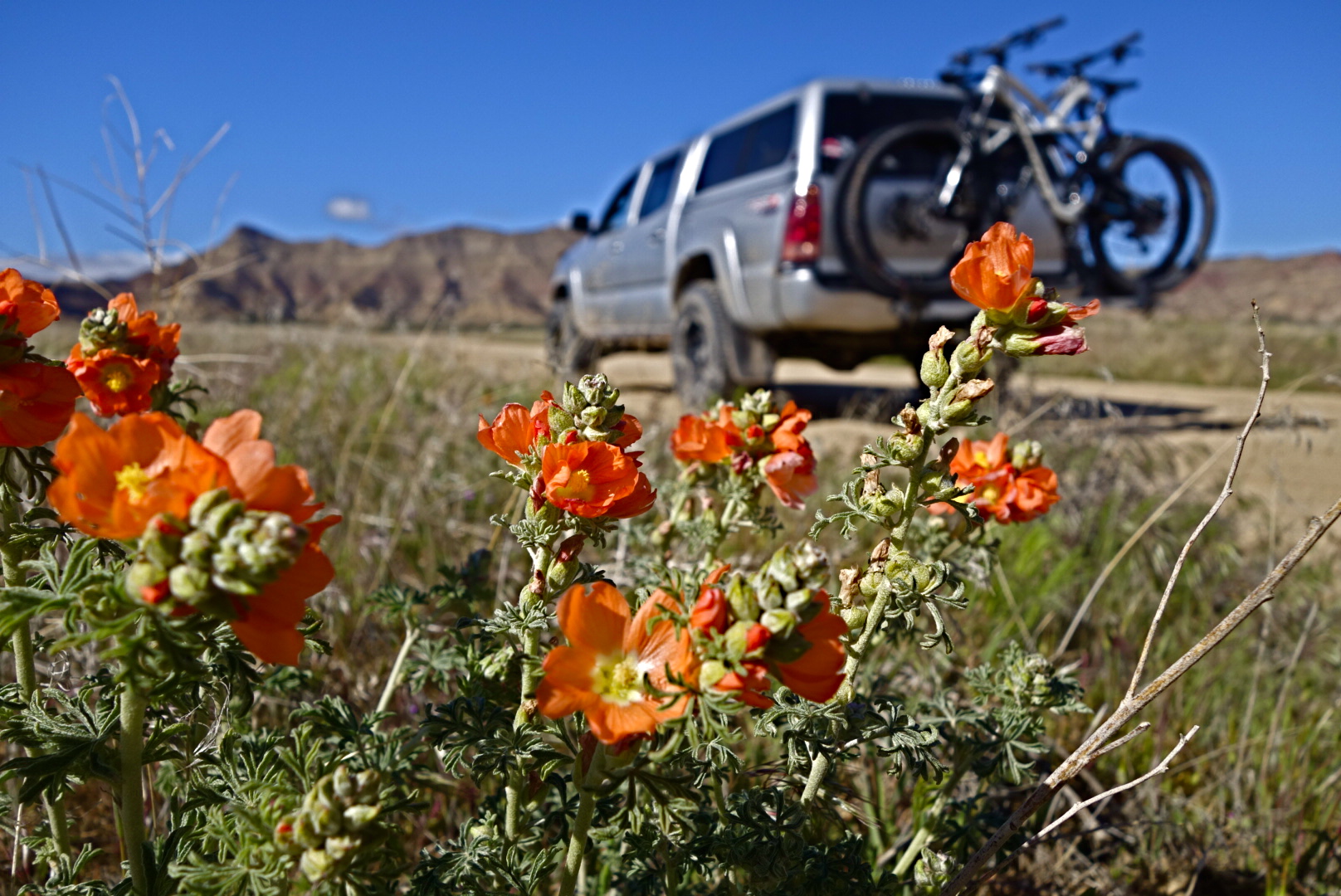 The desert was good to us and we found exactly what we were seeking and more. But, when home is the only gold level IMBA MTB destination in the world and the trails there are bathed in wildflowers; it was time to return to the Wasatch. In part 3 of our series we will show you what 500 miles of single track accessed from the backdoor is like; stay tuned.
READ THE STORY
Ever get scared that you're going to come up short on a jump, put in a few pedal strokes, and send it to the moon? A few days ago, Utah-based freerider and athlete Jaxson Riddle took a fall that would simply break most of us in half after going just a too deep. After building a ramp on the side of the 50-foot-tall Salt Lake City Natural History Museum, he teed up a run and ended up sending it literally to flat, exploding on the pavement below. Somehow, the young gun was able to get up and
READ THE STORY
Mullets are back in style—at least on mountain bikes. This year Juliana/Santa Cruz introduced its first-ever mixed-wheel bike, making their flag-ship enduro bike—the Roubion—even rowdier. Katie Lozancich photo. At the end of 2018, the UCI got rid of a rule that banned mixed wheels on race bikes. Unbeknownst to the organization, they opened the door to something bigger entirely. Racers started introducing mixed wheels into UCI DH and EWS events, and they caught everyone's attention. Why?
READ THE STORY
Flight Attendant promises to revolutionize how your suspension works on the trail. | SRAM photo. Rockshox has always been on the forefront of mountain bike innovation, and they just took a quantum leap into the future with the release of their all-new Flight Attendant system. Flight Attendant is an automatic electronic suspension adjust system that listens to and responds to your riding in real-time. With sensors on your fork, shock and cranks, it claims to adjust your suspension settings