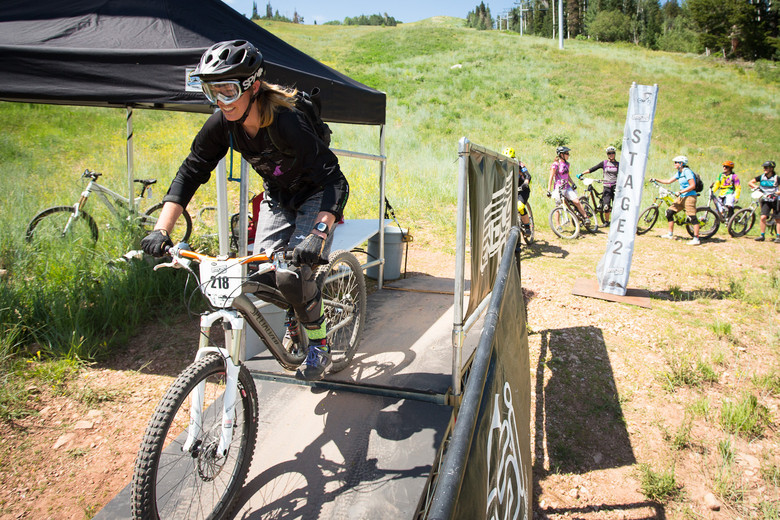 It's all about smiling and riding. We're serious. Mt. Snow Enduro photo.
You've been riding with friends, you're feeling pretty rad, and a few of your buds have mentioned racing. Or you've read about it and want to try it out.
You absolutely should try racing. It's some of the most fun I've ever had on a mountain bike. I have friends all over the country and the world I've met racing. It's fun, it hones your skills, you meet new people, and there's prizes and almost always beer.
Below are a few different types of races and structures–pick the right flavor for you. I've also laid out tips leading up to race day. You could read whole books just on strategy, nutrition or training, but save that for after you're thoroughly hooked. Really, there's not much more you have to do than just show up.
At all races, you're never up against pros or people who are out of your league (though you'll see pros and be on the same course at the bigger races, which is super cool). There will be quality riders to test yourself against. Races are a great environment to expand your own envelope.
XC (Cross Country)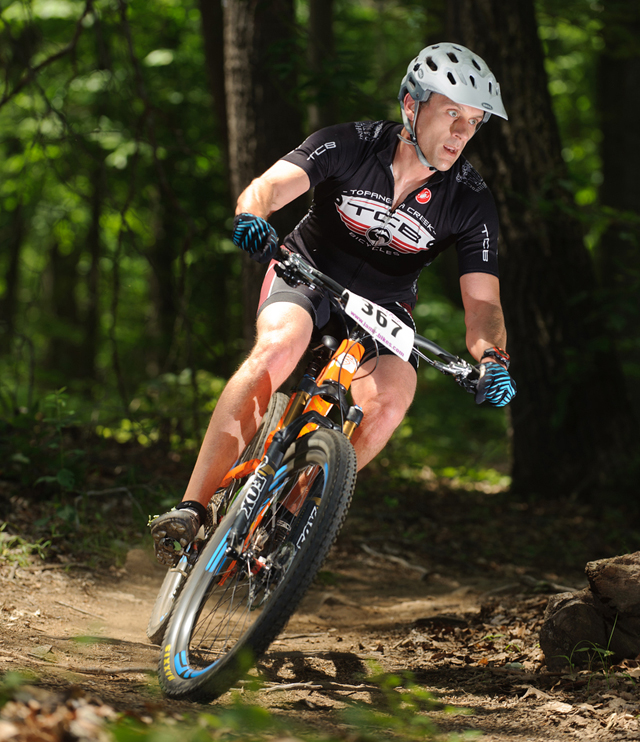 This is where most people start. It's the least technical, the most aerobic, and races last an hour to an hour and a half. XC races are usually held on buff single and double-track. Speed, climbing and fitness carry the day here. XC uses mass starts with riders grouped by age and ability going off together. Should you wear lycra? Meh. If you like lycra, by all means wear it–you'll see a lot of it at these races. If you ride a hardtail or short travel bike, these races are for you.
Enduro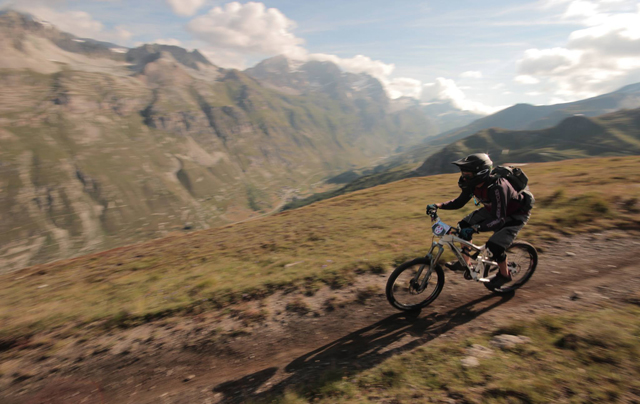 If you like your all-day riding aggressive, scary, and fun, enduro is for you. Trans-Savoie photo.
Enduro races are structured to feel like aggressive every-day riding. They tend to be more descent oriented and technical than XC. Enduro races are made up of 3-5 short (5-10 minutes usually), timed runs with untimed 'transfer' stages in between, where you climb or make your way to the start of the next stage. Riders usually start each segment alone at 30-second intervals, or with reasonable spacing and a timing chip. Editorial Manager Ryan Dunfee did a nice piece last summer on what he learned from racing his first enduro, which you should read if you're itching to try mountain biking's trendiest race format.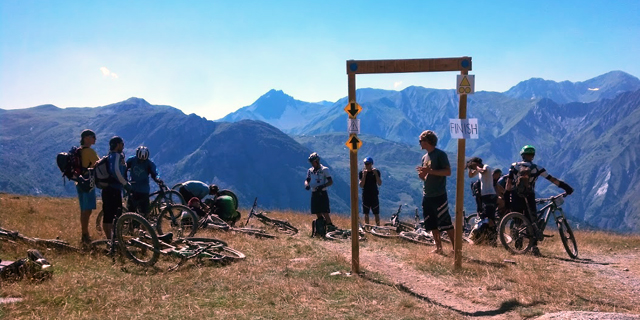 Enduro segment finishes can be simple spots. Gunnar Waldman photo.
Guts and descending skill go a long way at enduros. But fitness helps, as most timed segments have climbing in them and you do have to pedal to the next stage without help. Baggies and kneepads are what to wear here. Some folks rock full-face helmets, some do not. If you like rough stuff, rock gardens, going downhill and have an 'all-mountain' or 'trail' bike, check this out. The popularity of this format has driven MTB marketing the last couple years.
Endurance
New Hampshire's 24 Hours of Great Glen is one of a big bucket of endurance races held every summer. Great Glen photo.
For those that want all day adventure and a fitness test. This is usually XC-type riding for long periods of time. To me these feel like a festival–some, like 24 hours of Old Pueblo, almost have a Burning Man vibe. At any event you can do 6 hour, 12 hour or 24 hour races. I've done 12 hours with teams of 3 people with everybody switching off 10-mile loops, so you do one loop on for about an hour, then take two off. I've done a 6 hour event solo.
RELATED: get your bike's cockpit set up right
Solo lets you find out just how far into the pain box you can go. Hardtails do fine here, but in my humble opinion, shorter travel full-suspension XC or trail bikes crush it, as they're bikes you'll be comfortable on all day. For those of you who like group or team Spartan events, or who are super fit, this is for you. You can get a few friends together and build a team for a day. The Whiskey Off Road and SoCal Endurance are two good West Coast examples.
There are long multi-day enduro-style endurance races popping up as well. Do NOT do these as your first race, they are epic, bucket-list kind of events.
Downhill
If this isn't what your daily setup looks like, you shouldn't jump into a downhill race. Eastern States Cup photo.
Don't do this as your first race unless you started as a DH park rat, are comfortable at high speeds over incredibly sketchy terrain, own a double-crown sled and body armor. If this is you, have at it.
How to Find A race
You can find local racing a bunch of different ways. USA Cycling, Bike Reg, through sites like East Coast Enduro, Big Mountain Enduro, and literally thousands of others. Google your town or county and 'mountain bike race'. Everything from an ad hoc shop ride enduro to full-on championships. Your local shop can be helpful finding a good one.
Registering
Pre-register online at Bike Reg or USA Cycling or wherever you found the race, there will be a link to registration. Of course you can just show up and pay the entrance fee at many races, but if you pay money and set the date aside you're more likely to go–and popular ones do sell out in advance. Some require a one-day USAC license, which you buy at registration/check-in for a small additional fee. When registering, you'll select your age group, generally by decades: 20s, 30s, 40s (they slice it up a bit for teens, 10-14, 15-18).
Each age group is further divided into categories: Pro, Cat 1 (expert), Cat 2 (sport) or Cat 3 (beginner). Some races even have a 'first time racer' category. The better the category, the longer the race. Take careful note your group's start time. XC races stagger times throughout the day by category, then also by age group.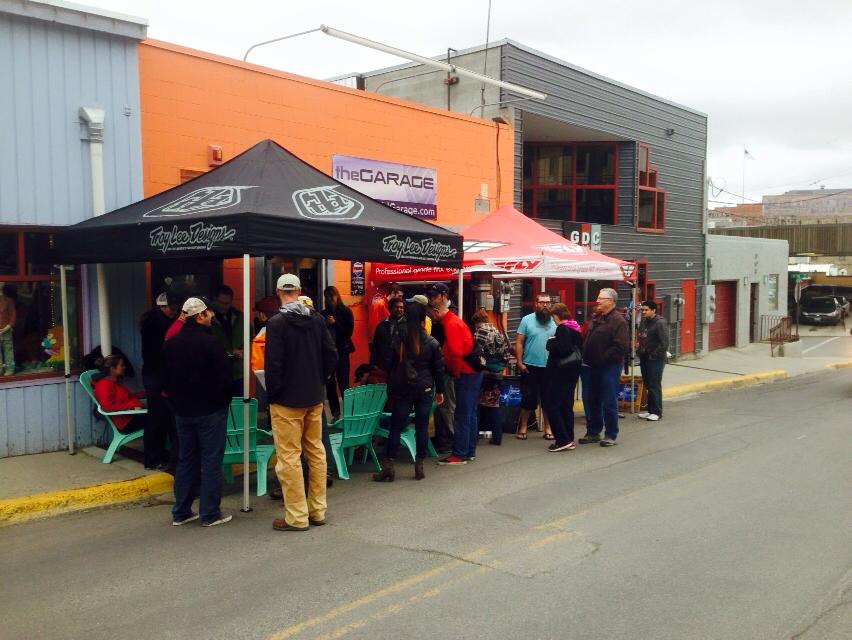 Show up early and check in. Montana Enduro Series photo.
Enduro races don't really have massive group start times, everyone goes off at short intervals. You'll arrive and check-in at those at the same time as everyone else.
Training
You've picked an event, wahoo! There are a million training programs out there. Let's keep it simple–once or twice a week, go full gas on your local trails and don't take breaks. Work cardio and carry a little more speed over features you might usually pick your way though. No stopping for selfies, pix of your bike leaning against stuff or jibber-jabber at trail head. Pick a loop and go, push past your comfort zone. Take notice of when you get thirsty, need an energy gel or if you get unmotivated.
If you're doing an XC or endurance race, practice getting gels or bars out of your pocket while riding. Some folks tape them to their top tube or tuck them into the legs of their shorts for easy access. Pre-open bars before you ride so you don't have to wrestle with the wrapper. Practice getting drinks from your bottle or pack while riding.
RELATED: how to tune your bike's suspension the way you want
A big part of racing is mental, urge yourself through those down moments as well as the burning in your legs. Try recovering on the bike by shifting into an easier gear and spinning lightly for 20-30 seconds or longer rather than getting off to rest. If you're on a group ride, get psyched to mash the pedals and be the first to the top of a hill and/or first back to the car. It's ok to pass people while riding. If you're behind someone, call out you'd like to pass and then wait for a safe, wide spot and hit the gas. Get used to passing and being passed while riding. It's no big deal (unless you're being passed, then murder should creep into your heart and fire into your legs).
Goal setting
If this is your first race, don't worry too much about goals. Pedal hard, have fun, stay safe, finish strong, make friends. After you get a few races under your belt, try improving finishing position in your category - from bottom to middle, middle to upper or podium. Just ride your best race and you should be happy. The more fitness and technique you gather over a season, the better you'll do.
Pre-race
A week before your race, taper down your workouts or rides. You want muscles ready to rock, not all beat up and sore. Recover, do some light spins if you want. If the race is near to you, drive up and pre-ride the course. Race directors usually set courses the weekend prior to the event. Pre-riding helps a lot. You won't get caught in the wrong gear as a fast section turns a blind corner and points uphill, you'll know whether to go around that rocky section on the left or right. It's tragic on XC races if you can't make the time but, if you're doing an enduro, I'd strongly (strongly) urge you to pre-ride. Also take the time to get a tune or make sure your suspension and cockpit are totally dialed in.
Race day
This starts the night before. Get your shoes, helmet, gloves, gels, bars, lube, tools, pump all in a 'race bag'. Check your tire and shock pressures. Fill your water bottles or hydration pack and keep them in your fridge. Get the directions into your phone or GPS. I don't want to think about anything on race day other than getting there and having a fun ride.
Don't try new supplements or other stimulants, just stick with what you're used to. Get there early, register or check in.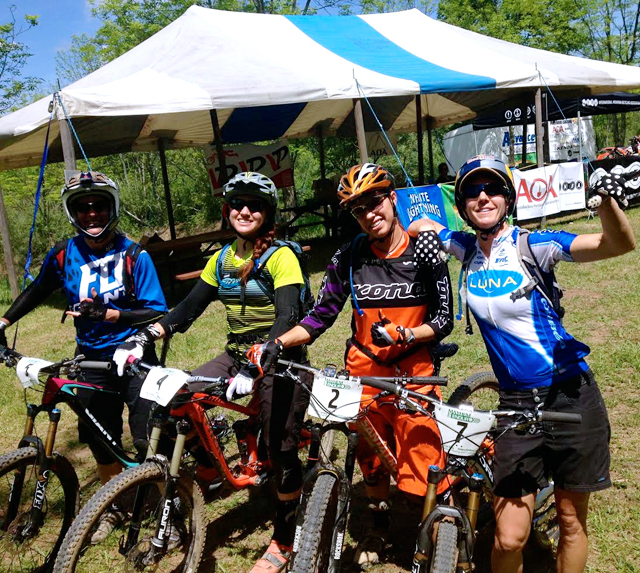 Registered and ready. Mayhem Enduro photo.
Get your number plate attached to the handlebars, then warm up a bit on the course.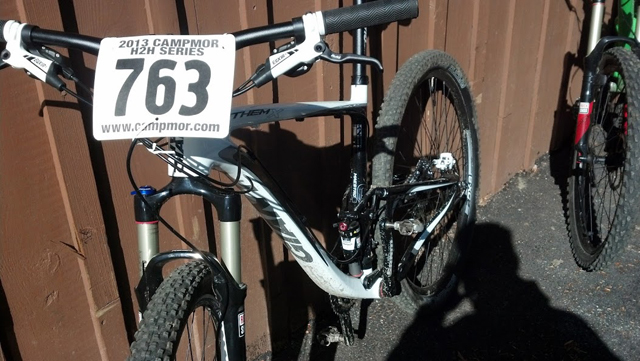 Get that number onto the bars. Gunnar Waldman photo.
Stretch out after warming up. Maybe keep warm with another half mile right before the race. Drink enough to not be thirsty before you start. For enduros, you usually wear a pack and there are transfer stages, so don't sweat hydration or where to eat. In an XC race, you reduce weight as much as possible, so think about how many bottles you need (I usually need one, two if it's hot). And carry gels. Endurance racing is all about calories and hydration, so if you're doing one of those you'll stage bottles and food at the start/finish area to grab as you loop around. They will tell you at registration if there are good staging areas for bottles or coolers.
Starting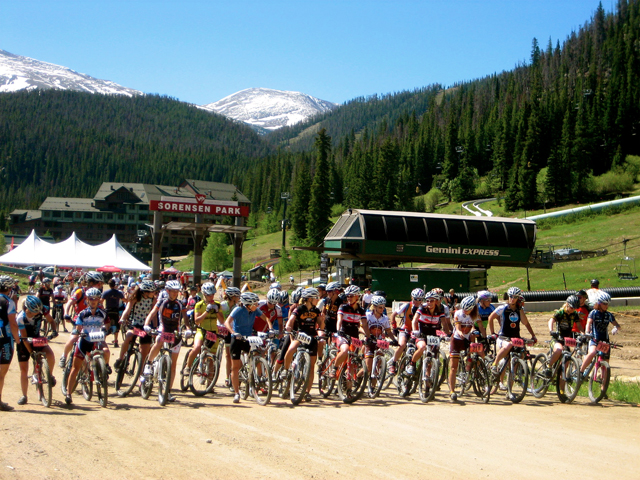 This is the most nerve wracking part of the whole thing. USAC photo.
Know where and when your group is starting. For XC and endurance races, you're bunched together by age and category and there's a mass start. You are elbow to elbow and there's some tension. Yeah, you can feel your heartbeat a little. But just be cool, listen for the gun/horn, get on your pedals and go fast and it'll all smooth out quickly. Don't win the race in the first quarter mile, just ride and let the jackrabbits take off. You'll pass them later.
For enduro, you start individually at roughly 30-second intervals. So you're alone. There will be a list with start order and times (they still group people by ability and age).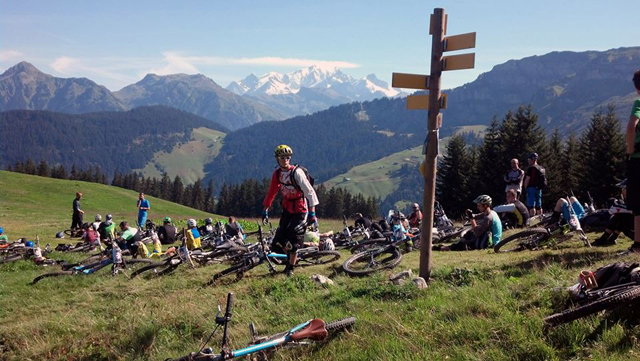 Enduro starts can back up a little, so make sure to time your transfers so you're not waiting too long and getting cold and stiff. Gunnar Waldman photo.
There can be some waiting around to start that first stage, so don't get distracted and miss it. Even if you do, some races have timing chips and you can start whenever. Breathe, do some positive self-talk: "You GOT this." And go when you're ready.
Then you're off! Have fun.
If someone is in front of you, crush their soul by catching and passing them. If someone dares to come up behind you, drop them like your crazy ex-girlfriend.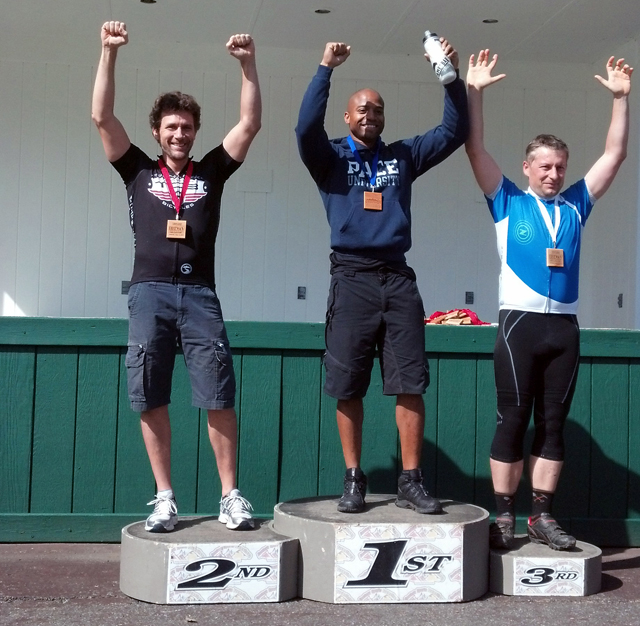 It might take a few tries to be standing up here after your race, but in reality, that's not the point. Gunnar Waldman photo.
READ THE STORY
First off, we're so stoked that Tom Van Steenbergen is alive after taking this slam. He managed to come out of this most wicked of slams with a broken femur and rib, a punctured lung and some pretty bad internal bleeding…but says he's on the mend. Healing vibes to you, sir. From Tom's Instagram:
READ THE STORY
Adrian Montgomery photo. A few weeks ago there was an article published on Pinkbike titled, "Not Her Older Brother's Hand-Me-Down." The cover photo is of Vivi: an adorable, grinning itty-bitty and her custom-painted Juliana balance bike. Yeah, the story talks about all the tech details of Vivi's bike - it is equipped with a Chris King headset, ProTaper bars, and XTR disc brakes - but there's a lot more to the story than just a badass, custom push-bike for a toddler. The article was
READ THE STORY
We Are One is a small brand manufacturing carbon mountain bike parts out of Kamloops, BC. Check out our thoughts on their Union enduro wheelset. Max Ritter photo. Last fall, we ran a roundup of some of our favorite carbon fiber mountain bike wheels here on TGR Tested and found out just how different the ride quality and durability can be across the board when it comes to putting high-end hoops on your bike. This year, we wanted to dig a little deeper into this special little segment of