Editor's Note: The world premiere of unReal is only hours away in Vancouver, and we're about to see the final film for the first time here at TGR headquarters in Jackson Hole. So we thought we'd bring some pointers on drifting for you guys so you can relive your own version of the drift track segment on your home trails.
Drifting a mountain bike–that tenuous exercise in which a reckless amount of speed overpowers the ability of your bike's tires to hang on in a tight corner, resulting in a fear and dopamine-inducing slide as you and the bike hurtle sideways towards the edge of the trail before gaining traction again and ripping out of it–is one of the sexiest moves you can lay down on a bike if you can do it intentionally, and at the same time is one of the hardest to master. Skidding it is not; the drift is almost entirely a brakeless move, and, executed well, is one of the sure signs of a bike Jedi.
Huge, high-speed drifts in British Columbia by Steve Smith and Brook MacDonald were the highlight of Mind the Gap Episode 4, part of our ongoing look behind the scenes of the making of unReal. If you missed it, go watch it right now. Or just watch it above. For these guys, it's second nature to lay out the back of their bikes and spray up a wave of dust.
Smith, being a World Cup racer, doesn't usually have the opportunity to go out with his sole intention being 45 mph drifts on a trails designed specifically for that purpose. "The reason that film shoot was so cool is because it's not something I go out and do all the time. Usually you are just out riding and it happens," he said.
While riding a ferry on his way to Whistler, Smith was kind enough to share some of his insight for those wanting to get drifty.
It's Not About Using Your Brakes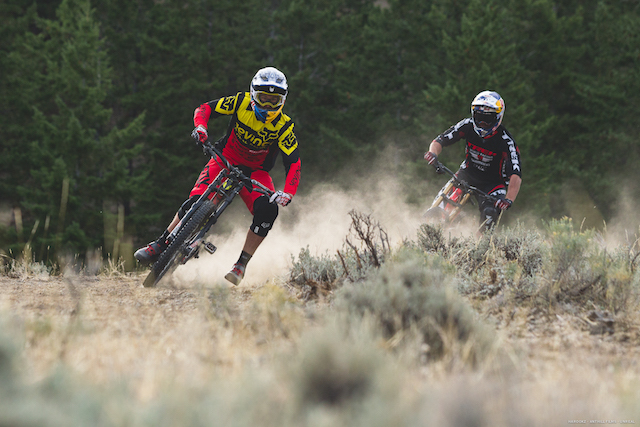 Drifting isn't skidding. It's about having enough speed, leaning the bike over, and getting your weight far enough forward that the back tire breaks free on its own. Harookz photo.
"It's probably better to start slow and work your way up riding a corner. Don't just go balls out first go," says Smith. Better to practice the techniques laid out in this piece at increasing speeds, letting you get comfortable with the position, your line, and everything else until you start to feel the back wheel start to give out. Remember, drifting should only happen with your back wheel; the front should stay in control.
It's probably better to start slow and work your way up riding a corner. Don't just go balls out first go.

Smith sometimes feathers his brakes as he approaches a corner, but rarely in the corner unless he is going way too fast.
"Some people like going into a corner really fast and using the brakes to get sliding, but if you can hit a corner going full pace and get the bike leaned over, it slides on its own," he says. "Ideally, you try and find your braking point early. Usually you don't brake into corners. You can definitely exit a corner way faster if you enter it without brakes."
And as opposed to a skid, where you might slam the back brake with all your weight on the back tire, drifting is helped by keeping your weight a little bit forward. That way, the back wheel becomes slightly unweighted and is more willing to drift.
Riding Clipless? You Can Still Drop A Foot
Fellow drift track rider Brook McDonald shows perfect drifting technique: foot out and ahead of the cranks, bike leaned over, counter-steering with the front tire, eyes ahead. Harookz photo.
Everyone has their preference for flat or clipless pedals; Smith usually runs clipless, but is equally comfortable using either. While filming the drift segment for UnReal, he was rocking flats, since he was coming off of an ankle injury.
RELATED: 7 tips for bringing The Force to your trail riding
This of course raises the question: when do you want to put your foot down and is it harder if you are clipped in?
For Smith, taking his foot out of a clipless pedal is no problem, but riders who have recently switched over might want to go back to flats when perfecting their drift technique.
For Smith, taking his foot out of a clipless pedal is no problem, but riders who have recently switched over might want to go back to flats when perfecting their drift technique.
"Once you are used to riding clips it is almost second nature. I would say my foot comes off the pedals nearly as easy as with flats," he says. "I never go into a corner with taking my foot off in mind, I let it happen depending on how it goes."
Keeping your foot out and in front of your cranks is the proper position, as that puts you in the best spot to save your drift if your wheels slide out too much.
Drift A Dusty Parking Lot First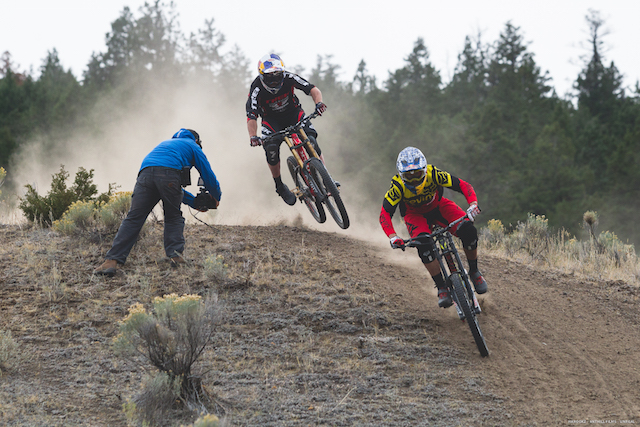 Watch Brook and Stevie put on a drifting clinic in unReal–the world tour gets underway tonight. Check unReal tour dates here for when it's coming to your hometown. Harookz photo.
Let's face it, very few riders have access to a drift highway built for pros in interior British Columbia, so where does the average Joe go to start getting loose? If you have access to wide, double-track trails you might have some luck, but don't hesitate to spend some time in a dusty parking lot.
"We were able to find our limits and push our limits [at the drift track] without getting too risky, Smith says." For someone trying to get loose, maybe hit up the parking lot."
Once you have a feel for throwing the back of the bike around, find some nice dusty berms on your local trails and throw yourself into them like Stevie. Keep your eyes up and looking past the exit of the turn. That's good technique regardless of what you're doing in a corner, but for drifting, you're going to feel much more stable and calm if your focus is far down the trail, versus looking at your front tire, when your rear starts to drift.
"Drifting isn't always the fastest way around a corner, but a lot of the time it's the fun way to do it, depending on how a corner is designed," he says.
If you find that you're overdoing it, and sliding completely out, use your front wheel to counter steer like you would in a car, which will keep your back tire from sliding out much more than it has already.
READ THE STORY
A grizzly bear attacked a mountain biker in Montana earlier this week, leaving him in critical condition. Wikimedia photo. A Montana man was attacked by a grizzly bear while riding his mountain bike outside Big Sky, Montana on Monday. According to the Billings Gazette, the attack occurred on a trail on private property in the Spanish Peaks community. The man was riding alone and likely surprised the bear while rounding a sharp corner on the trail. A Montana Fish Wildlife and Parks
READ THE STORY
Slab City is a single black diamond trail located at Sentiers du Moulin, a fast-growing enduro mecca located just 15 minutes outside of Quebec City, Canada. The trail bears its name from the off-grid Californian community and reflects the unique experience anyone will have venturing past the trailhead. Only punctuated by a few ladder bridges and some rock arrangements, the trail truly feels like you are riding down a mile of continuous rock, weaving its way through the forest. Its porous
READ THE STORY
Who's ready for some bike park laps this summer? Katie Lozancich photo. Bike season will go on, thanks to a new announcement from Grand Targhee Resort that they'll be opening their bike park for the summer. Things won't be completely the same, with many of their popular events like Targhee Fest and The Bluegrass Festival canceled due to COVID-19 concerns. But despite these challenges, the resort has been working on a summer operation plan that aligns with state and local health guidelines