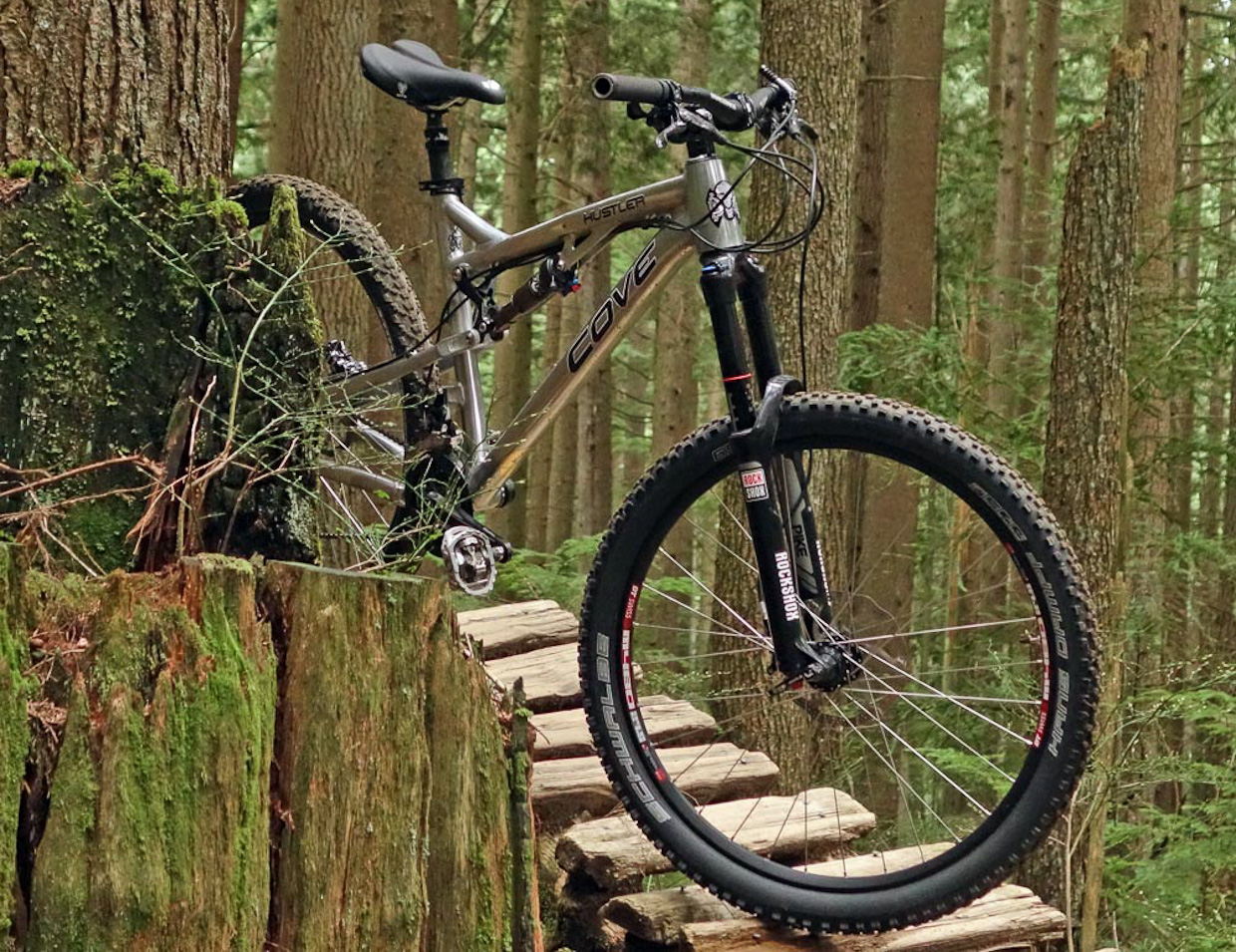 In the early 80s a group of British Columbia's bike nuts living in North Vancouver wanted to ride bikes. Chaz, Nummers and Dewey started importing bike parts and bikes from California to their home in Deep Cove and Vancouver's first bike store was born (more on the history of Cove in this backgrounder). Since then Cove Bikes has set up on Main Street in North Vancouver, growing, then shrinking, then growing again. This North Shore institution has been pretty quiet on the product front in the past few years staying with tried and true designs but the new Cove Hustler 650b 150mm travel dual suspension Horst-Link bike changes this.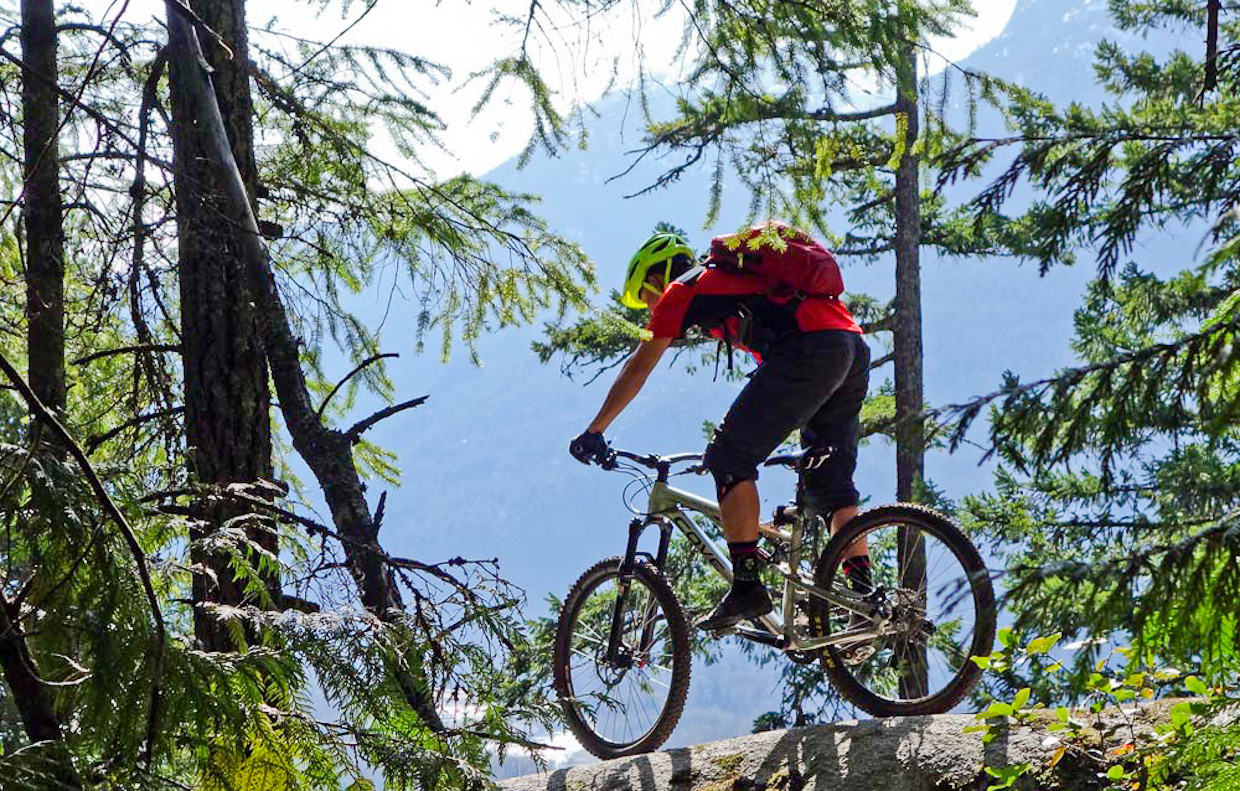 Tons of frame standover - which was killer this April in Squamish, when the rock faces were somehow already dry.
Author's Biases
Classic North Shore log drops in Pemberton, B.C.
I'm 160 lbs, 5'11" and have had over 15 years experience riding bikes in North Vancouver, Squamish, Whistler, the Chilcotins and many other areas in B.C. and Alberta. I've also made many bike trips to Switzerland, Tyrol, Utah, Washington, Oregon, California and the Yukon, so I've had some experience biking in a variety of terrain. My bias is towards pedaling up, and unlike many people who learned to ride bikes on North Shore trails, I actually enjoy riding (and sometimes bushwhacking) uphill.
My personal bikes are a Turner Czar, Pivot Mach 5.7, and a Specialized Demo 7. I've had some experience in the 650b category. This was a test bike that was given back to Cove at the end of the test period. I am not sponsored by Cove and have no commercial association with Cove. The bike ridden was a size medium.
The Frame
Weighing in at 7 pounds, (13.15kg) the Hustler's core is a made-in-Taiwan alloy frame. There's been more than the fair share of internet armchair quarterbacking a la "Looks like a Kona" comments, so I asked Steve Edgar of Cove more about the Hustler's design philosophy. Cove worked with German designer Stefan Stark on the new Hustler frame, tweaking the standard Horst-Link design to include a certain amount of antisquat into the bike's initial travel; a feature intended to mitigate the tendency of certain HL implementations to be over-active and bob while pedalling (hmmm -- shades of Norco's ART suspension philosophy anyone?).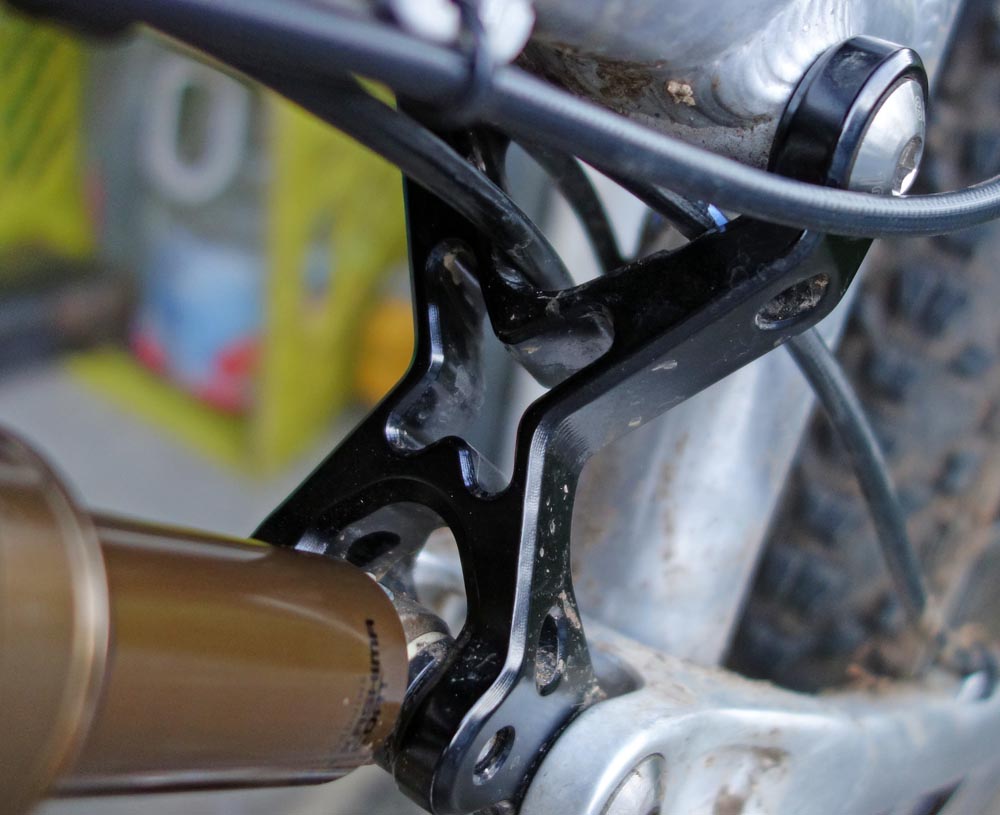 The Hustler's machined XXX-Werks rear link is baaaadass looking, and no doubt makes this one stiff ride.
There's a lot to like about the frame's geometry. Head tube and seat-tube angles are suitably aggressive for descending and climbing. Relatively speaking, the bike is long and low. The X-Werks link is beautifully pimped piece of machined and no doubt, contributes to the overall stiff feeling of the bike. The main triangle has the ability to fit a full-size water bottle cage. The top tube has a convenient carrying handle for those hike-a-bike sessions, and the frames are offered in small, medium, and large, and all with exceptional standover clearance.
The Build
Some frame & component details from top left going clockwise: BB pivots on sealed bearings with lots of rear tire clearance; RaceFace Turbine 2x10 cranks; SRAM X9 drivetrain; RaceFace Turbine front cockpit & surprisingly good Avid Trail brakes along with beefy tapered front end; (iv) 142x12 stiff rear end; note the chunk/beefiness of the oversized alloy tubing.
The Hustler's RaceFace Turbine-centric component group is beautiful-classic black complimenting the silver burnished-alloy look of the Hustler's frame (admit it - who doesn't want their bike to look good?) although if you want to accessorize and match your Evoc pack, pick the Hustler in neon green. The Hustler's component spec is unabashedly biased for toughness and built around Race Face, another Vancouver staple. Highlights are as follows:
RockShox's dual position 160mm travel Pike with Fox Float CTD rear suspension
RaceFace Turbine cockpit, cranks, and seatpost
Reasonably light DT wheels (350 hubs, M480 rims).
Maxxis Ardent tread (I swapped for a Schwalbe Hans Dampf front)
SRAM shifters and Avid Trail brakes (much to my gratification, the Avid brakes performed faultlessly)
Generally the Hustler's kit doesn't seem to need much alteration and is shreddable as is.
Geometry
From the numbers the Cove Hustler follows modern thinking being fairly long and low. Angles are right about what one would expect from a 150mm travel bike designed for tech trails. Despite the low BB I didn't bash pedals any more than expected. Some comparables to other bikes are also offered below.
Geometries for all Hustler sizes (I was on a size Medium):
Uphill and Flats Performance
Lots of standover clearance helps for the North Van equivalent of an uphill: teeter-totters!
The dominating characteristic of the Hustler is how comfortable it felt right off the bat; a trait that is relevant for how the Hustler performs on the down as well as the up. At 31.5 lbs or so, the Hustler is a well-mannered uphill climber in the sense of having decent small bump absorption and rear wheel traction, especially when crawling up technical terrain. Having anti-squat characteristics seems to allow it to also ride high in its travel.
This is all relative of course as older HL designs had an annoying habit of being optimized for one ring (usually the middle) while bobbing for apples in the other ring (usually the granny). What this meant was that older HL designs had the trait of wallowing low when you needed them to not do so; resulting in pedal and BB strikes on that root or rock you were trying to scale. The Hustler's anti-squat does its job though, in the sense that you can settle into lower gears on those technical climbs and crawl up terrain without smashing into obstacles; so much so that I usually left the rear shock in descend mode and never changed it.
Cruising on the Hustler 650b, which felt comfortable right out of the box.
The Hustler felt good, actually great, on technical flats. The overwhelming impression was that of a bike that wanted to drive forward and get busy. It's perhaps a combination of the bike's rear end stiffness and how it fits like a glove (imparting rider confidence no doubt). The suspension design, its high anti-squat, rearward-based axle path (another tweak of the HL design by Stefan Stark for Cove) and excellent small bump compliance lets you get fast on technical terrain.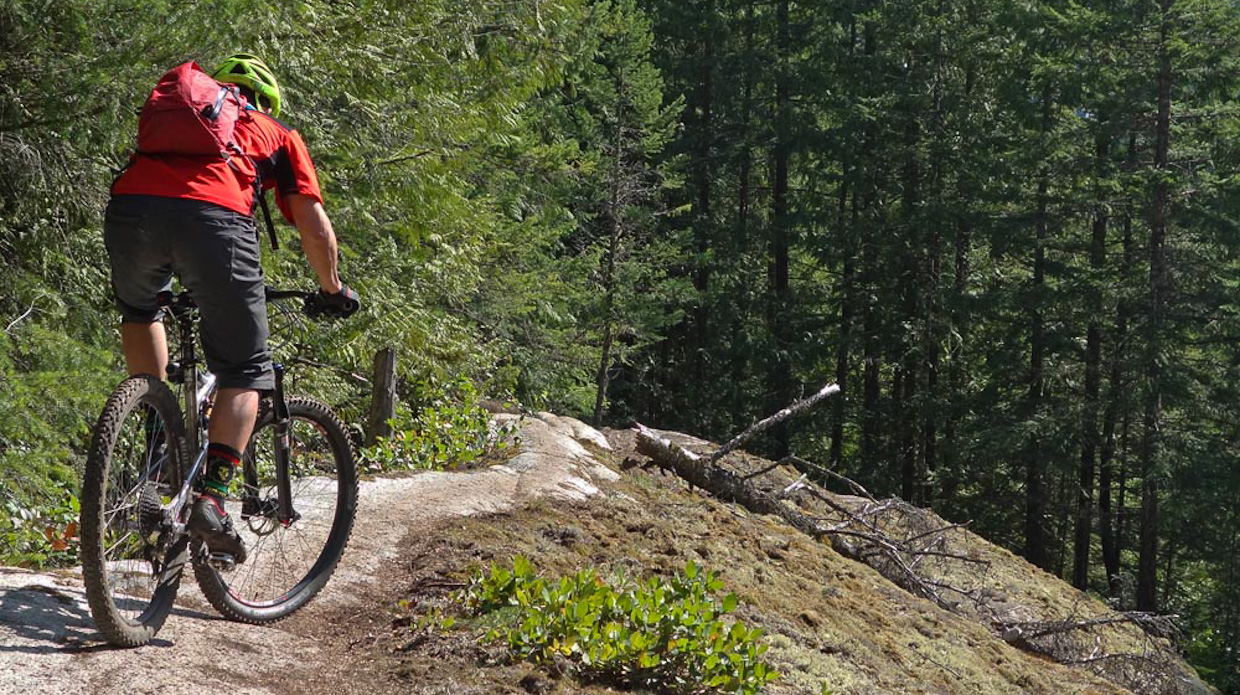 The Cove inspired lots of confidence on sniper rock rollovers.
Downhill Performance
Given Cove's North Shore heritage, I would have been exceptionally disappointed if the Hustler wasn't comfortable in steep rock rolls to awkward run-outs.
It would be astoundingly difficult for Cove to put out a bike that wasn't fun on the downhill, and the Hustler is no exception. It was blast sending the bike into steeps, weird tight tech turns with abrupt rolldowns to rock-strewn transitions, down rock spines, off drops to flat, and ripping through fast trails. The Hustler did it all, and always comfortably. Simply put, the useable downhill scope of this bike is amazing.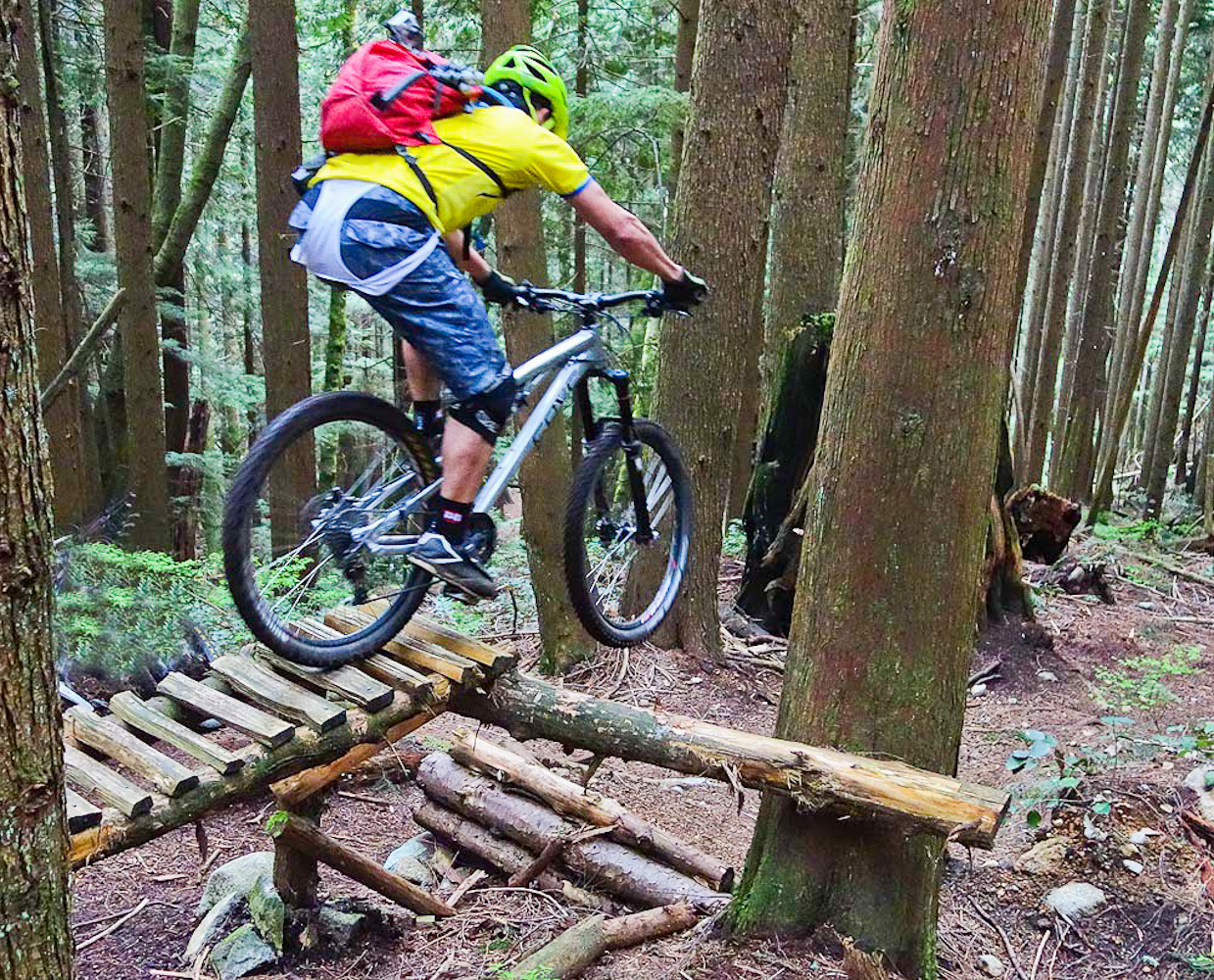 The Hustler gives even middle-aged lawyers the gonads to send narrow log drops in the woods.
In struggling to come up with something intelligently negative to call out, I would say that all suspension designs are about compromises. Horst Link bikes with anti-squat like the Hustler won't go as deep into their travel or be as active or playful as bikes that are purposely designed to have that trait. This may mean that the Hustler might feel a bit damp, as the suspension does its job smoothing out the trail. Accordingly, the Hustler's bump absorption capability means it might not be as playful a bike as, say, a single pivot design, but in return you get a bike that's a bit more quiet in fast chunk and chunder.
The Bottom Line
Built around a Horst-link alloy frame, the Hustler is a 150mm travel full suspension bike with SRAM and RaceFace Turbine components. If you want a bike that feels like an old friend, one that navigates tech with confidence and which climbs reasonably well, you should be looking seriously at Cove's Hustler. This is an exceptionally well-balanced bike with a very good component spec. The Hustler has Shore tech in its DNA, showing astounding comfort in tight, technical, difficult terrain.
Priced at CAN $4199 (add $275 for a Reverb), the Hustler is a worthy consideration for the technical trails one-bike-to-do-it-all purchase. Frame and shock are also available for CAN $1850.
From The Column: Layman's Review
READ THE STORY
There is no arguing Sage Cattabriga-Alosa's status as a skiing legend, known for his confidence on the gnarliest of lines, and countless appearances in TGR films through the years. While his claim to fame may be skiing, Sage is equally passionate about mountain biking, and can be frequently found riding his hometown trails and his backyard 'pedal-track,' in Bend, Oregon. Between his pow skiing exploits, Sage shared some thoughts with us on mountain biking, turning his backyard into a
READ THE STORY
What do skiing and cycling have in common? Well…not that much, unless of course you are using a bike to get from peak A to peak B. It may sound absurd but for a group of four adventurers this vision became reality when they decided to bike pack 100 pounds of backcountry ski and snowboard gear, food, water, and camping gear parallel to the Eastern Sierra all the way to Whitney Portal via US Route 395. At the brim of the east side of California the Eastern Sierra stand as some of the
READ THE STORY
For the last three summers, anyone with an eye on the internet has been treated to the two-wheeled antics of Colorado's Nate Hills and his #followcamfriday YouTube series. Now already past its 120th episode, the series has essentially defined a new genre of mountain bike filming: chasing your buddy down a gnarly trail at insane speeds, trying not to hit them or the trees flying past you. The series has brought Hills all over the world, from Whistler, to New Zealand, Bolivia and even through