There are dreamers in this world, and there are doers. The best things happen when you put the two together. This process has come full circle several times in the mountain bike mecca of Whistler. In between one of North America's premier destination bike parks and Vancouver's North Shore—that hub of cycling culture 1.5 hours to the south—there's a fine piece of adventure-centered real estate called the Sea to Sky Cooridor.
The cooridor is a point of attraction for backcountry skiers, mountain bikers, rock climbers, paddlers and kiteboarders, plus it's unofficially recognized as the outdoor recreation capital of Canada.
If you take a left off the highway just north of Vancouver and board the ferry in Horseshoe Bay, you'll step into a whole new world of awesomeness on the Sunshine Coast. This is home to the Coastal Crew, a fine young band of bikers that ride better than you do—and build trails to match that talent. For years, they've built flow-centric singletrack on the perfectly pitched, loam-laden mountainsides between Gibson and Sechelt—both sleepy towns just 25 minutes apart and only a 40-minute boat ride from the big city.
And as of this summer, they've got their own bike park.
Cut into the loamy hillsides of the Sunshine Coast, the Coast Gravity Park promises to bring the Coastal Crew's legendary trail-building efforts to the masses... year-round! CGP photo.
The Coast Gravity Park comes as a reaction to this community's younger generation leaving this tranquil chunk of mainland British Columbia, accessed only by boat, for bigger places and better jobs. It's a movement that's been gaining momentum for a decade. Ten years ago, Capilano University, based in North Vancouver, took a serious interest in BC's outdoor industry and launched a campus in Sechelt, creating, amongst other programs, a two-year diploma dedicated to mountain bike operations, tourism management, maintenance and trail building.
Lydia and Gary Jackson run Off the Edge Adventure Sports, Coast Gravity's local bike shop and Sechelt's one-stop-depot for bike stoke and trail beta. Lydia guides all over the Coast and teaches at Capilano. Gary will get you set up with a bike and a map, along with many good-natured tips about where to ride.
The local vibe is truly open and welcoming of visitors—something that's occasionally absent in our territorial, secret stash-hiding communities.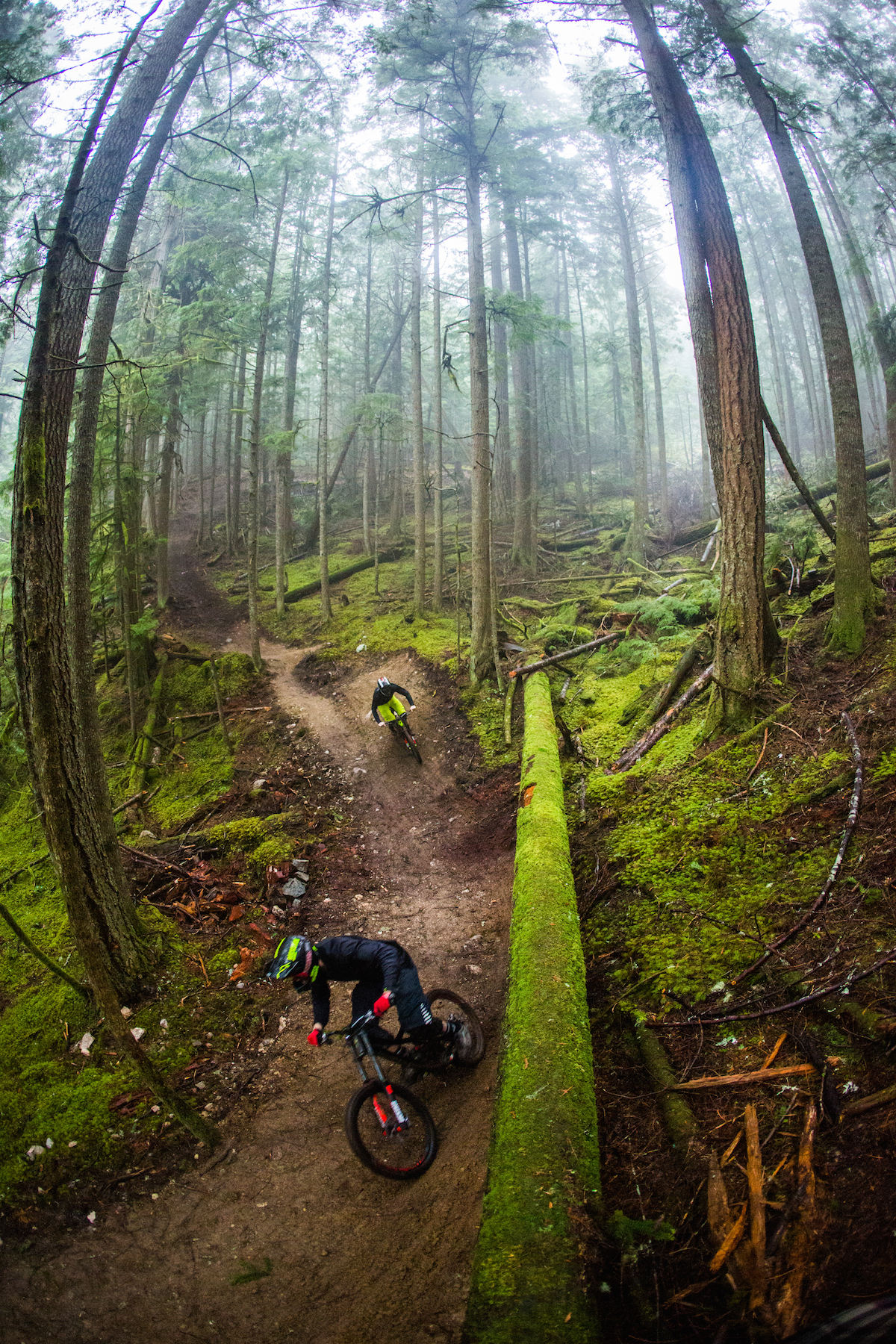 The moist dirt and undulating terrain makes for amazing trails at the newly-opened Coast Gravity Park.
Fortunately, around here, sharing is caring, and the Coastal Crew, whose members have been riding and filming to much acclaim around the world since 2008, are excited you're coming to visit.
Dylan Dunkerton, Curtis Robinson and Kyle Norbraten headline the homegrown riders that build throughout the region, which is now home to over 180 kilometers of mapped singletrack.
More is on the way, but it's either secret or in the works; it doesn't matter, because what does exist is expansive and challenging. At Coast Gravity Park, there is some of the best, and it's specifically designed to be shared with you, your buddies, your significant other, your kid or your parent—no matter the shred-level to which you and they subscribe.
They're dreamers, the Coastal Crew, and thanks to their persistence, coupled with a group of local investors and several skilled tradesmen and machine operators, the Coast Gravity Park has been in full operation since late last spring. With 12 trails of varying complexity, an amphitheater of jumps (as seen in Arrival and Rad Company) and a BBQ station right next to the shuttle lineup, the day-to-day operation is about as smooth as it gets.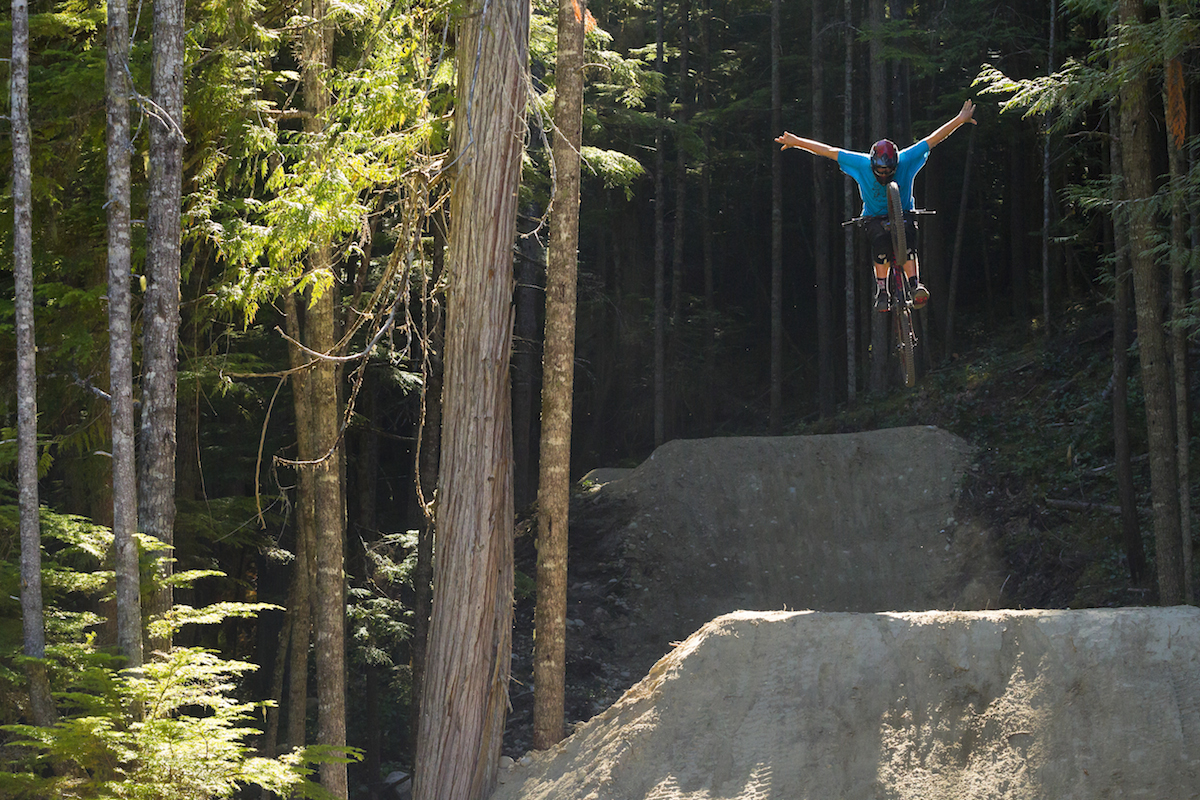 Butter-smooth jumps that have caught the fancy of even Anthill Films are among the stellar creations of the Coastal Crew at their signature bike park. Coast Gravity Park photo.
Once you're parked and rolling, you sign in with Sara, a North Vancouver transplant who's found her happy place—then you get in line. Weekends are busy, but Jeff James, the park's operations manager, says they usually max out at about 60 riders–pre-booking is required, as CGP does put a firm cap on the number of riders per day a la Silverton Mountain. But even on a busy weekend, you'll expect to get in 3-4 runs per hour; more than enough to tire you out over the course of the 10-4 operating hours. Weekdays are quiet, and you'll ride till you drop.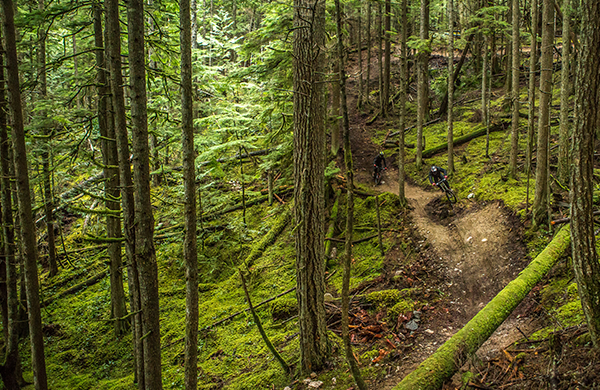 Lush all around, with tacky dirt to boot, at Coast. CGP photo.
There is a chairlift in the dream pipe, something that would establish the CGP as the only bike park in the world that doesn't double as a ski resort in the winter (the park operates at only 400 feet above sea level, so even though we're in Canada, believe it or not, this place runs year round without snow!). Currently the uphill is dispatched with a perfectly ragtag set of trucks and trailers, with just enough of a nod to safety and security to keep things reasonable. With all that said, things are remarkably under control; the place is less than 20 minutes from the hospital, and the network of forest service roads gets the park patrol to within 200 feet of any downed rider in mere minutes.
You're better off keeping the rubber side down anyway, because the trails are perfect: easy-going flow like Mr. Green, Dirt Wave and Hot Lap are complemented by the techier Hand Job, Devil's Elbow and Dynamite Panther. Things get positively amazing if you have to the courage and skills to throw yourself down the double-black pro lines of Coastal Cruiser and Flight Deck—the kind of trails where things go oh-so-smooth or oh-so-wrong.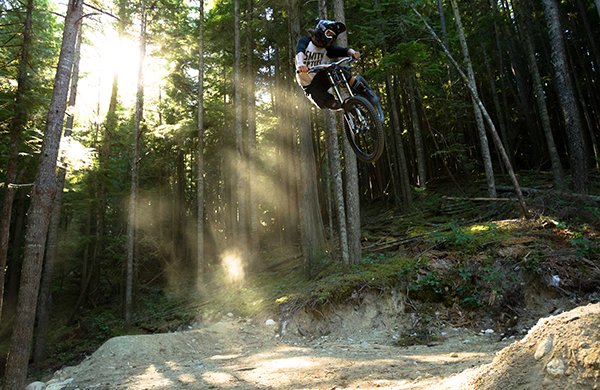 Blasting whips on jump-laded Flight Deck. Coast Gravity Park photo.
Back at the shuttle tent, there's gourmet feed on the menu, courtesy of tattoo-laden, happy-go-lucky John Montgomery, who up-and-moved here from Vancouver with his family last year and looks more like a punk rocker than a private chef.
It's a fun place, and again, one that shines a bright light for the mountain bike community as a whole. The park was funded in part by the $95,000 raised on Indiegogo from over 1000 investors, not to mention the volunteer time and donations that continue to support the fledgling operation.
If corners are your gig, you'll be hard-pressed to find cleaner ones than those at Coast. CGP photo.
For a $50 day ticket, you really get what you pay for. When you couple the park with a trip to the coast to ride Halfmoon Bay and the glories of Roberts Creek, you'll have a bloody good weekend on your hands. Whether you're the shuttling type that's never ridden a bike without a triple-crown fork, or love nothing more than the purity of a hard-tail, you can ride here and enjoy yourself.
The surrounding area is classic small-town goodness; pretty campsites, nice beaches, quaint restaurants, and great local beer. Live music is plentiful on summer weekends and outdoor adventures are a dime a dozen if you're looking to branch out away from the singletrack.
Next time you're in Vancouver, or thinking about heading to Whistler, adjust your schedule and take a good look at the Sunshine Coast. You may be on your way to the Mecca of biking, but go a little further and a newer slice of heaven is just a boat ride away.
READ THE STORY
A view of Hoff's Bikesmith, Jackson Hole, WY. The mechanics here welcomed me easily and it was especially at Hoff's I found myself missing working in a bike shop. Izzy Lidsky photo. In November of 2020, I took my old commuter bike from college for a ride on the park road in Grand Teton National Park. All the singletrack trails here in Jackson were too snowy and muddy to ride already so for one last two-wheeled hurrah, I decided this was the best option before setting my bikes aside for
READ THE STORY
Mountain biking with your partner usually results in one of two things. Option A: you have a great time and are stoked that you can go on these kinds of adventures with them. Option B: the bike ride becomes an impromptu counseling session and someone has a mental breakdown. For your relationship's sake, we hope it isn't the latter. Comedian Katie Burrell reminds us of what option B looks like and man did she get it spot on.
READ THE STORY
There's a cardinal rule in mountain biking: no dig, no ride. But honestly, it doesn't fully explain why we dig in the first place. The whole point of creating fun bike trails is to share them. Whether it's with the community, our friends, or other riders, fine trail craftsmanship is best appreciated in the company of others.