The SpeedFox is BMC's new 29er do-all trail bike, slotting between their 150mm enduro-masher Trailfox and the very capable XC-racer Fourstroke. In its previous life, the SpeedFox was BMC's mid-travel 26" bike, unless you're talking about 2012, when it was their 29er 100mm XC machine... All clear?
In 2013 BMC made a firm decision to use only 29" wheels (their "Big Wheel Concept") after engineering studies showed larger wheels were faster. BMC knows engineering. They've gone back on that a bit by releasing a 27.5 150mm "Trailcrew" version of the SF for next year.
They also know racing; XC champ Julian Absalon won a world cup on a BMC and former mountain biker Cadel Evans won the TdF on a BMC. It's worth noting that their past 26" bikes, especially the Trailfox, were simply phenomenal.
Check out: TGR's comprehensive mountain bike buying guide
That being said, BMC put a ton effort into making the SpeedFox not perform like a 29er: short chain stays, low bb (35mm lower than the axles), short-ish wheelbase (if you compare BMC's medium with other manufacturer's large, as they recommend) and stubby head tube. I rode a medium, which at 5'11" fit me fine, but BMC might be skewing the recommended size down a bit so if you're on the cusp, the bike stays playful.
There is so much 29er re-alignment engineering going on with this bike, I want to bring BMC in for a hug and say "it's ok to love your 29er son just how he was born."
The Bike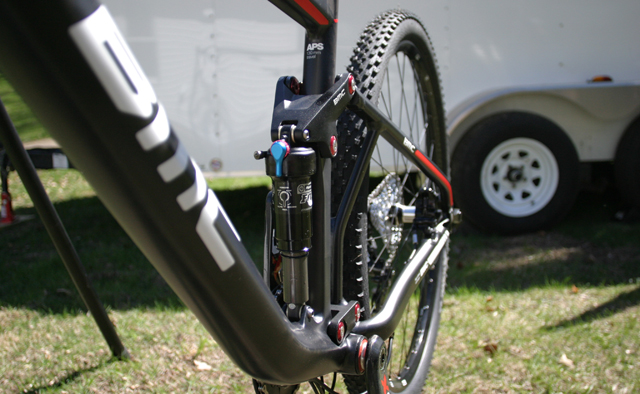 The clean design and the 130mm Fox Float CTD shock.
BMC's fit and finish look like someone's design portfolio. Elegant tubing, anodized hardware, sleek cable routing, molded protection elements, a custom chain guide and slick paint scheme. Roll into the lot with the SpeedFox on your rack and somebody will say something. If Bond villains rode mountain bikes, they'd have on one of these. 007 might get one too.
Also, I have to give BMC credit for not slacking out the SpeedFox's head angle too much. 68.5 degrees is plenty slack, but agile and precise to steer.
The tires are tubeless-ready (rim tape on it and everything), though mine was brand new and had tubes. Of course, when you buy one the shop will set it up tubeless. The front 2.2 Continental Mountain King is great. The Conti X-king on the rear is fine, but Mountain Kings front and rear would not have been tragic. Early-season dampness caused a slip or two but nothing to write home about (unless my mom reads this, in which case I guess I have written home about it), and with lower pressure, probably wouldn't have happened. DTSwiss M1700 wheels are solid and the hubs ratcheted well in slow, rocky situations. I wondered a little what a wider internal rim-width would have be like on the bike, but that's just because I'm trying to be trendy.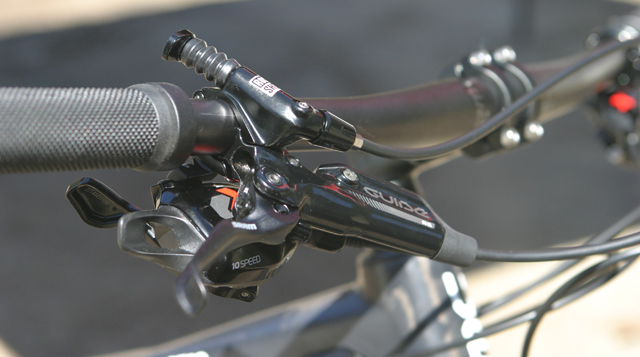 The phenomenal Avid Guide brakes and rockshox dropper lever.
The Avid Guide brakes are phenomenal. I've used Elixer CR brakes for years and (unlike a lot of other folks) never had many complaints other than having to fiddle with them a bit and replace some parts when the pistons jammed – but THESE are a whole new animal. Smooth, sensitive and powerful. Perfect.
The Goods:
Carbon Front Triangle/Alloy Rear Triangle
27.7 pounds as tested
Fox 32 Float CTD 130mm Fork
Fox Float CTD 130mm Shock
XO 2 x10 22/36T Chainrings, 11-36 Cassette
XO Front and Rear Derailleurs & Shifters
Sram Guide Brakes with 180 rotors
BMC Aluminum 720mm Handlebar
RockShox Reverb Stealth Seatpost
Fizik Tundra M5 Saddle
DT Swiss M1700 Spline Wheels
Continental Mountain King 2.2 (F) X-King 2.2 (R) Tires
Wheelbase (M) 114.9cm
Head Angle 68.5
Integrated Chain guide and bash guard
MSRP $5999 USD
Ride report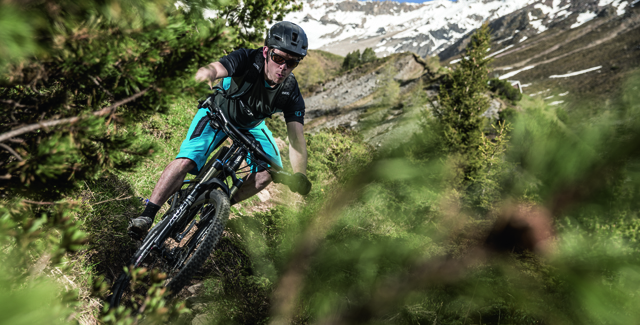 Heidi, come down from the mountains. The BMC experience is clean and efficient.
I rode the SF02 at two different locations; both east coast rocks and roots trails with a fair amount of twisty and tech-y sections, and some nice long, sustained climbs. Bikes can't be shipped from the factory with a bunch of Stan's in the tires, so I ran tire pressure in the mid-30s. I'll update with a more comprehensive report after I'm on the bike for a while, but there are some good things to say right away.
I've seen a review or two on the SpeedFox that complained about not being able to lift the front wheel up onto tricky features on climbs. I had the opposite experience, this is the first place the bike noticeably shined for me. Out east we get a lot of directional changes with larger rocky features coming up suddenly and no time to ramp up speed before tackling them. The SpeedFox encouraged mashing straight at large slabs and step-ups - it gets over big features easy. Three-foot boulder-y step-ups are cake on this bike. This thing climbs awesomely.
The Speedfox encouraged mashing right at large slabs and step-ups - it gets over big features easy. Three-foot boulder-y step-ups are cake on this bike. This thing climbs awesomely.
Also, once you're moving, flow-y turns were a lot of fun (well… yeah) and the bike is snappy edge-to-edge.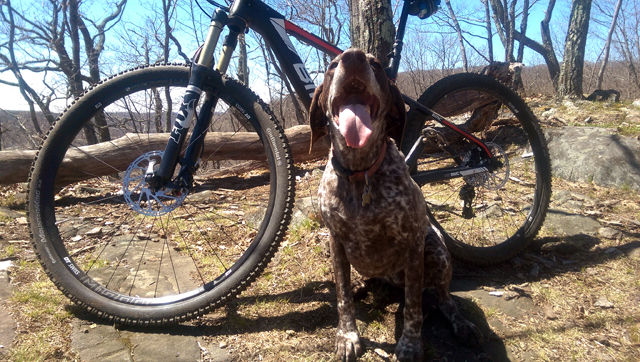 The SpeedFox climbs great, so the dog can get his cardio on.
The bike tends to feel more confident at speed than negotiating some of the slower, pickier stuff. That tends to be true of most 29ers, but BMCs in general feel designed for wider-open spaces.
Everything that's good about 29er wheels holds true for this bike. Rolls over stone walls and rock gardens well. Log-overs are not a problem.
RELATED: How to set up your mountain bike's cockpit
My SpeedFox was set up 2x10 – 22/36 chain rings with an 11-36 cassette, which kind of put my chain-ring shifts square in the middle of the tightly-geared cassette. There were moments I totally appreciated a small ring, nothing like getting a breather on a climb. But on undulating trails with a lot of short, punchy climbs and quick swoopy descents you're grabbing gears a lot and, for me, two chain rings creates fiddling and thinking, especially the way the ratios are set on this bike. If there were a wider range to the rear cassette, that would be nice. But, again, in wider-open spaces or longer more sustained climbs, tight gearing becomes an asset.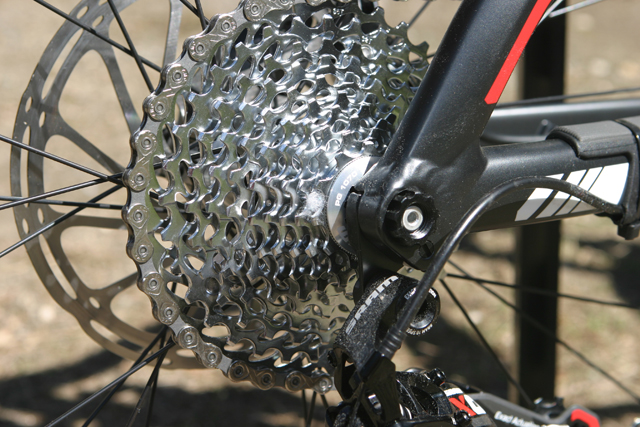 The 11/36 Rear Cassette, maybe just a couple more teeth on the high end.
When I whined about the lack of 1x11 option to Liam O'Brien, BMC's northeast manager, he said something very enlightening - they didn't design it for me, they designed it for everyone. A person who lives at altitude in Europe or the Rockies might need a 22-tooth chainring to spin up those oxygen starved steeps and a 38 to descend wide-open tracks. This was an excellent point, reviews often get carried away with their own primacy - but it also reminded me that the best thing you can do to improve any bike's riding is set it up the way it fits you. I'm looking forward to giving you all a more in-depth report on drivetrain once I get settled into the bike.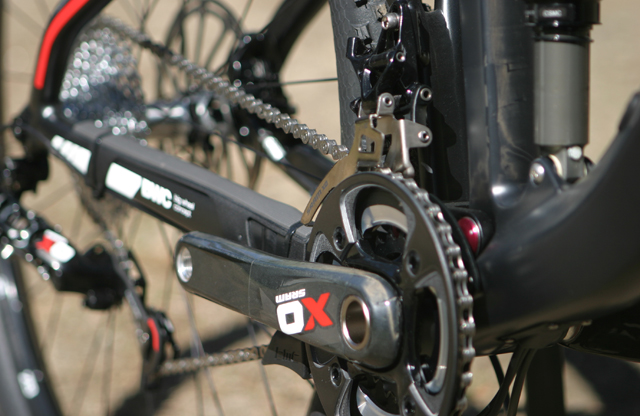 Double chainring, but super nice touches like chain guide and bash ring.
There was one happy accident (happy for me, not for Liam or Mike Ahearn who had to fix it); I damaged one of the chainrings with an inopportune shift or whatever. Um... I mean I was just riding along and, suddenly, one of the chainring teeth bent for no reason. No reason. Shocking. So I rode the bulk of the 2 nd day through burly terrain and more technical features with just one ring, and was much happier.
MAYBE THINK ABOUT...
If you buy the bike , think about dropping a chain ring. Swap in a narrow-wide of your choice (30 maybe) and throw a one-up 42 cog on the back and dump the front derailleur/shifter. Just sayin'. I might try that and let you know. But, if you ride in a state with some altitude or long ascents or descents, then keep the 2X.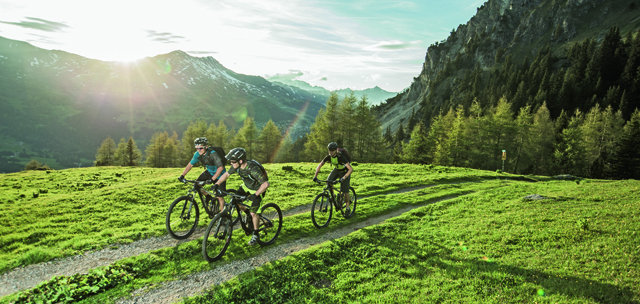 These guys are lovin' the 2X
Also, for me, the 720mm handlebar was not quite wide enough, but for others it might be great. You have to lean a 29er over more in turns, so I'd have liked to see a 760 or 780 to encourage that. Here's a pro tip: when buying a bike, it's totally reasonable to negotiate parts swaps to fit yourself. If you're wider of shoulder or longer of arm have them swap in a wider handlebar or shorter stem.
RELATED: How to perfectly adjust your mountain bike's suspension
I have a hate/love/meh relationship with the 32mm stanchion fox float fork. It's a solid fork, and a good way to keep weight down, but I've come to think 32mm stanchions are a tough fit on anything over 25lbs or over 120mm travel. I rode the same fork on the GT Helion (playful XC bike 110mm travel) and it was just perfect. I rode it on the 125mm Santa Cruz 5010 (about 24 lbs) and it took a solid month to get everything where I wanted it, or maybe I was just used to it by then. The SF02 is pushing 28lbs - though it doesn't feel heavy, it feels great - and is a 130mm travel 29er. My first day on the bike the fork felt supple, but outgunned. Even with the sag set properly at 25-30% it dove. The second day I put more air in it, reducing the sag to 20-25% and it felt MUCH better. So maybe it's that you have to take a bit of time and get pressure, rebound and compression damping just right and it'll work great. This is another place I'll make sure to revisit in the follow-up.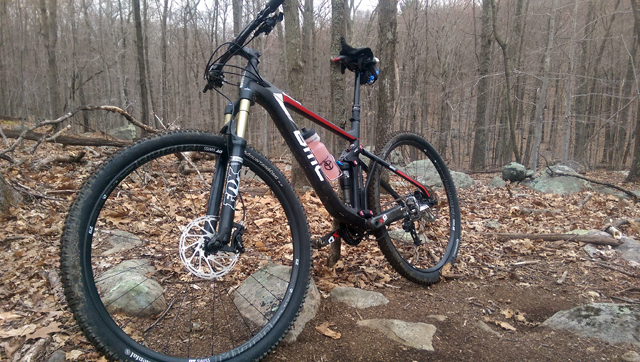 The Fox Float 32 CTD fork isn't the highest spec offering from Fox but still made the trail roll smooth.
Overall, this is a darn pretty bike that will do most everything. If I were to buy a new bike today, the SpeedFox would be in the running. Nice fast wheels will be even faster once you own it and it's tubeless. Climbs and corners as fast as an XC bike. The 29 wheels and 130mm travel means its is incredibly capable of rolling over rock gardens. This is absolutely for folks who only need one bike. You can be on it all day, it'll be light enough and comfortable and handle whatever comes up. And you could absolutely race it.
Pair this bike with a nice crisp German pilsner.
From The Column: The Goods
READ THE STORY
First off, we're so stoked that Tom Van Steenbergen is alive after taking this slam. He managed to come out of this most wicked of slams with a broken femur and rib, a punctured lung and some pretty bad internal bleeding…but says he's on the mend. Healing vibes to you, sir. From Tom's Instagram:
READ THE STORY
Adrian Montgomery photo. A few weeks ago there was an article published on Pinkbike titled, "Not Her Older Brother's Hand-Me-Down." The cover photo is of Vivi: an adorable, grinning itty-bitty and her custom-painted Juliana balance bike. Yeah, the story talks about all the tech details of Vivi's bike - it is equipped with a Chris King headset, ProTaper bars, and XTR disc brakes - but there's a lot more to the story than just a badass, custom push-bike for a toddler. The article was
READ THE STORY
We Are One is a small brand manufacturing carbon mountain bike parts out of Kamloops, BC. Check out our thoughts on their Union enduro wheelset. Max Ritter photo. Last fall, we ran a roundup of some of our favorite carbon fiber mountain bike wheels here on TGR Tested and found out just how different the ride quality and durability can be across the board when it comes to putting high-end hoops on your bike. This year, we wanted to dig a little deeper into this special little segment of