Yeah, I guess zip ties won't fix this. Jordanboostmaster photo.
So, you want a new bike. Me too. Unfortunately, the ones I want cost more than most cars I've owned. Also not helpful is how the objects of my desire change as companies roll out ever-sexier product. 27.5+ carbon long-travel trail bike? Sproing! 22 pound 29er XC bike that can handle rough terrain? Schwing!
Remember that advice from your dad about how new cars depreciate 20% the moment you drive them off the lot? Well, he kinda had it right. A quick glance at online boards finds me a nice 2014 carbon trail bike at about half the price of a new one. I'd rather buy after that depreciation rather than before. If you can do without that new bike smell or the first ride on a factory-waxed chain, you can pick up a sweet ride for a lot less money.
RELATED: Finding the right bike shop
Along with savings, there are other advantages to buying a used bike; You're not getting something a manufacturer threw together based on market pressure, with specs that might be ridiculous in a couple years (I'm looking at you, full-suspension fatbike). A year removed from marketing hype, you'll know which bike is a proven, researched winner. You'll have heard a year or two worth of talk and maybe even ridden it once or twice.
Before we get started: if you're thinking "Hey, Wal-mart or Toys 'R Us has NEW bikes in my price range," please immediately stop thinking that. Those bikes offer a low pricetag, but their value is even lower. Without getting into it, they are absolutely terrible.
Also, let's assume you know the kind of bike you're looking for. If you don't, please first reference this handy article about what bike is right for you:
RELATED: How to find the right mountain bike for you
You want a hardtail, fatbike, full-suspension trail bike or DH rig – And you just need to get a smart deal.
Tip #1: Do not buy a stolen bike
And don't forget, if things go wrong buying a stolen bike, you could be out the money AND lose the bike. Ouroboros photo
Meet the seller at a home or work address, not in a public place like a park. Do they look like they could be the owner of the bike they are selling? Are there pictures of that person riding this bike on Facebook? Get the frame number (under the bottom bracket), and check it here to make sure it is not stolen.
Note the number embossed on the bottom bracket. GW photo.
Ask for the original receipt. To be honest, I'd be hard-pressed to find my old receipts, but if the seller DOES have it, you're clear. Does the bike in question look like someone tried to paint over it or change how it looks?
If shopping online, does the listing have photos of that exact bike, or are they manufacturer's stock photos? Is the price ridiculously low? Be aware for anything that sets off your internal bullshit meter. And if you do buy the bike, ask the seller to give you a written receipt–hey, you might want to sell it someday.
TIP #2: Identify 2-3 Solid Favorites You'd Be Happy With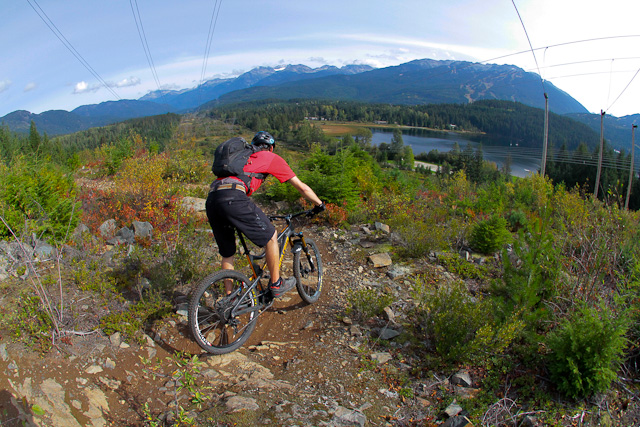 A "large" will vary in size from brand to brand, so get a sense of how you fit that specific company's bikes. Ryan Dunfee photo.
There are a lot of great bikes out there, and identifying a few options is smart. Know your size in each bike. I'm large in Santa Cruz (and most bikes), a medium in Niner, and right on the cusp in a BMC. Read reviews to see if they fit small or large. Demo ride any chance you get. Also, decide on the desired components or build for each bike.
As you research, start to hone a range for what a good deal is on these favorites, so you can pull the trigger when you find one. Know the last time a model changed dramatically - if it just went through a major overhaul, make sure you know the year you want.
Tip #3: Know Which Components Can Be Changed Cheaply And Which Cannot
Better versions of things like a rear shock or crankset will not come cheap. Jon Grinney photo.
In the hunt for deals, you'll likely have to be flexible. To get your ideal build, some things can be easily and cheaply swapped out after you buy, and some not so much.
Don't sweat things like tires, handlebars, stems, grips or saddles. In fact, saddles are kinda personal for some people. Don't worry if the seller wants to keep his or hers. Upgrades that won't come cheap include suspension, wheelsets, adjustable seatposts, drivetrains and, to a lesser extent, brakes. Your used bike candidates should have the expensive stuff, but if your dream bike doesn't have wide bars, that's easy to fix.
If it's missing expensive stuff, it might be better to walk away and wait for the next opportunity. But if you really do want to buy THAT bike and swap one of the bigger-ticket components, the same forums (as below) will also allow you to find forks, wheelsets, drivetrains etc.
Tip #4: Know What a Good Deal Looks Like
Be ready to pounce if the deal is right. But you will not get a deal on ENVE or i9 carbon wheels; sorry. Ryan Dunfee photo.
This involves some homework. Bicycle Blue Book was a great way to figure out what a bike is worth, but it's down right now (re-launching late summer). Find your bike's original price and compare online listings for that bike on ebay, cragslist, northeast bike classifieds, pinkbike, the pro's closet, or our own bike forum to give yourself a range. Scope out what generally causes price swings in that model–aftermarket upgrades, heavy usage, small or XL sizes.
Write it all down: "Bike A, with components B, in C condition–pull trigger at X dollars."
A few years ago I bought a cyclocross bike; I researched what I wanted, found a guy near me that had my size, and I didn't negotiate other than to show him other Ebay listings of similar bikes. The whole thing went very smoothly.
Tip #5: Find Bikes Near You to Check Out In Person
Nice new cockpit–a good sign. Gunnar Waldman photo.
I have bought bikes on Ebay without touching them, but the seller had documentation, a TON of original hi-res pictures of the bike, and said there was a refund within a couple weeks (I'd pay return shipping, of course)–and it was still a risk.
RELATED: How to get the most new mountain bike for your money
When you go, take a camera and a notebook. Look at the frame carefully for cracks, no matter if it's aluminum, steel, or carbon (look hard at weld points for metal frames).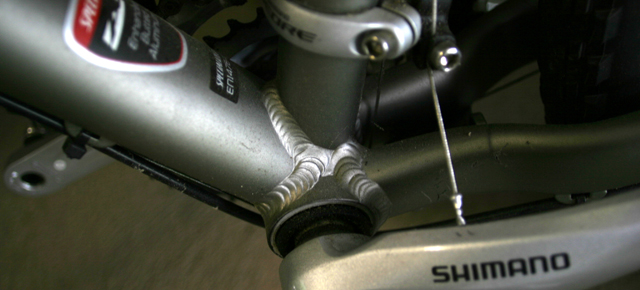 Solid welds? It's a winner. Gunnar Waldman photo.
Touch up paint on small nicks are usually okay; it just means the guy is anal about his bike. Check out the underside to see if it's taken major strikes from rocks.
Look at high-stress areas like chainstays, bar ends, and handlebars. If it's got a couple custom parts that differentiate it from the manufacturer's standard spec, ask why. Maybe the guy cares a lot about building a great bike, or it could be he replaced stuff because of a crash.
Seatstay crack? Do NOT buy this bike. Gunnar Waldman photo.
Make sure wheels don't have 'hops' (flat spots), dings, or are radically out of true. Spinning the wheels or taking the bike for a driveway ride while watching the wheel spin underneath you will tell you that. See if the drivetrain and components have some life left, or if they've been beaten like a rented mule.
Abused like a red-headed stepchild. Gunnar Waldman photo
Check derailleurs, brakes and cranks to see if they've got major dings or scratches.
Be sure to also ask your local bike shop if anybody is looking to sell–if you're lucky, an OCD bike mechanic will be selling their meticulously maintained, year-old carbon bike.
Tip #6: Keep Watching The Classifieds
Come on... get cheaper! Tana Hoffman photo.
Lurk, stalk, spy. It's okay to lose a few bids. Don't get antsy if you see a couple that look good right away. The idea is to be comfortable pulling the trigger on the one that feels like a no-brainer. Move fast once you see it. Once you buy it, a buddy of mine says it's normal to have a seller take pictures as he's packing it up to ship–to prove what condition it went into the box.
I've noticed prices go down in winter. People's fancy turns to snow sports, or they are just more willing to let a bike go when they're not riding it.
Tip #7: Wash It, Tune It, Dial It In
Clean it up, dial in the small parts you want to upgrade, and hit the trail! Jon Grinney photo.
After you buy, give it a nice wash, a tune up, some new grips, and maybe some new tires, too. If you need to swap anything out to make it fit better, like a stem or saddle, take care of that, too.
Done–go out and ride. Any questions?
From The Column: The Goods