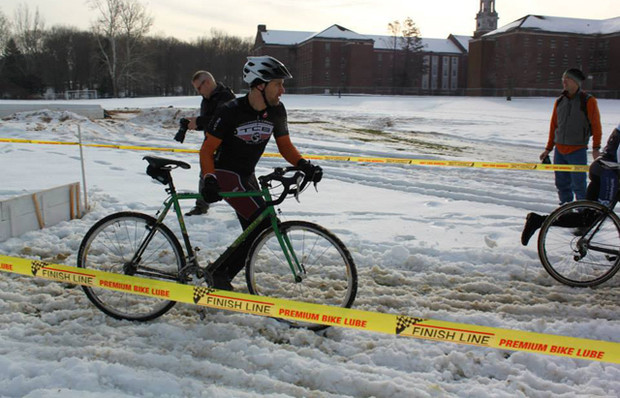 I own a road bike. Of course, I still ride it in the muck. Pete Scannell photo.
Mountain biking is pretty well-evolved and we are confident our flavor of cycling is far superior to all other disciplines. But, even though road bike designs have changed relatively little since Starley's Rover in 1885, road cycling still generates bigger stars and more money than MTB. And where there's money there's development. So our asphalt brethren can offer a few highly-evolved product and practices to steal.
I think rear-hub pegs and the running start are prime for a comeback. Wikipedia commons.
As well as some to deride, like fingerless gloves or shoes without treads (pshhhhh... roadies).
Whether or not you want to sneak into a roadie's garage at night with your gym bag and take stuff is up to you. If you've already adapted one or more of these or have other suggestions, fantastic, hit us up with them.
1: Arm and Knee Warmers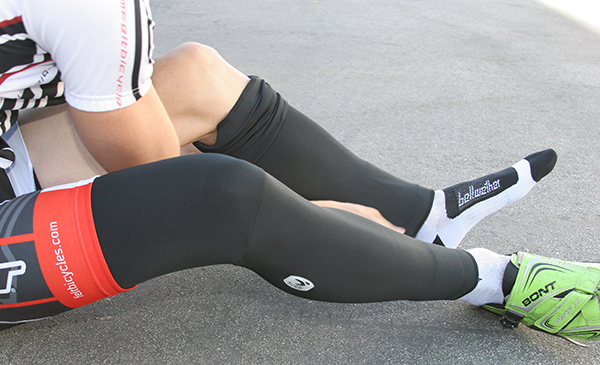 I feel pretty, oh, so pretty. Sugoi photo.
Yes, I throw a quick glance around while I'm pulling warmers on or off to see if anybody is watching. It's a little weird, like I'm putting on women's lingerie, but this is true of most things roadie.
Arm and knee warmers stretch your regular riding kit into shoulder seasons, when you're contending with a little coolness. Light knee or arm pads keep your joints warm the same way, but not everyone wears pads for everything. And, even if you do, you can throw the warmers on underneath on chillier days.
Warm joints are less likely to be strained or injured from overuse. And late in the season a little extra TLC for knees and elbows that have been cranking all season can't hurt.
2: Embrocation
Holy cow, where has THIS been all my life? You rub it on and it makes you warm. Not in the greasy, nasty way tiger balm does. High-end embrocation from Mad Alchemy or Chamois Butt'r feels somehow science-y.
Aside from providing heat, it also blocks wind; most formulas contain beeswax or some other ingredient to create a barrier against that bitter wind chill.
A couple tips: Put it on last, after chamois cream (if you use that) and your shorts. You don't want it on your man or lady parts.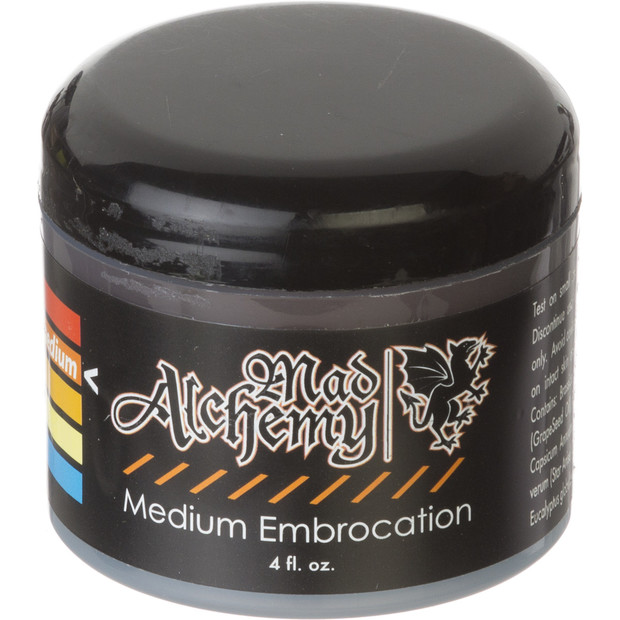 Mad Alchemy stuff is quality. Check it out.
Really work the the product in, don't just slap it on like bug spray. It takes 10-15 minutes to activate anyway. Embrocation DOESN'T absorb into your skin like lotion. It's a layer. It makes getting out of the car or onto that first mile of trail, when you sometimes wonder why in the hell you even do this, a bit easier.
Many products can stain light colored clothing, so be careful if you're precious with your stuff and it's not black. Also, don't just get the hottest version to start with, you'll regret that. Ease into it with a light or medium formula.
3: Roadie Shirts
On occasion, roadies can look pretty badass. Wikipedia commons.
Ok, I know we all roll baggy and loose. XC riders are generally hip to this tip, though race courses are getting shorter and pocketed shirts are disappearing even from world cup circuits.
But there's something perfect about a roadie shirt's three rear pockets. Put an extra water bottle in it. Or a whole banana or a sandwich. And a tube in the middle, over your lower spine, kinda feels safer, even. The shirt will allow you to avoid that backpack unless absolutely necessary.
If you're personally carrying a few pounds extra then, yes, it will make you look like a sausage. In the spring, pulling one on is always a test of just how much I should lose before the season gets serious.
4: Bib Shorts
Sombrio's excellent Smuggle bibs.
Screw that uncomfortable waist-band. Companies like Sombrio are making great bib shorts with gear pockets sewn in the back. I've actually gotten a little addicted to them.
MTB specific bib shorts now exist for both men and women; but your standard flavor roadie bib shorts work great. Unless I'm racing XC, I generally will use a roadie shirt OR bibs with little pockets in them, not both. That's too much. The lack of a tight waistband is great, and I don't really notice the shoulder straps after a minute or two wearing them.
I actually haven't bought a pair of non-bib padded shorts in years.
5: Those stupid hats
Bonus points if you can find a retro 7-Eleven hat.
These are one of the MOST iconic bits of roadie gear and could easily cause you to be mistaken for a full-on leg shaver, but hear me out on this one. Of course you can't ever, ever, wear them as a serious around town. Ever. HOWEVER, they block wind when worn under a helmet and pack down pretty well in a bag.
Caps like these from superbbicycle are kinda cool. Remember, ONLY on the bike.
Sure you could get a fly merino wool toque from rapha or something like that. But standard roadie hats are available for around 10 bucks. You'll only need it when it's cold enough for a jacket or the afore-mentioned arm and knee warmers. Toss it on, put the helmet on over it. Flip the little brim up or down as needed.
You are allowed to wear it for a few minutes while changing into 'transition wear' (after bike but pre-shower, 'beer in the parking lot' couture). But once that first beer is finished, it has outstayed its welcome.
6: Seat bags
Don't get one that's too big or it might bump your rear wheel with the dropper down. Speedsleev photo.
I had a bit of a discussion about this with my LBS guys just the other day. They were against seat bags for fear of contacting your rear tire. But I've only had that happen ONCE, on a coil-over bike at a lift park. With every other type of bike and seatpost, it's worked fine. I prefer an Awesome strap, or speedsleev. Get a small bag to put a tube, CO2, tire lever and maybe a quicklink under the saddle and keep weight out of your pack. It can look a little goofy but, again, so do most things roadie. You'll get over it after you realize it makes your life better.