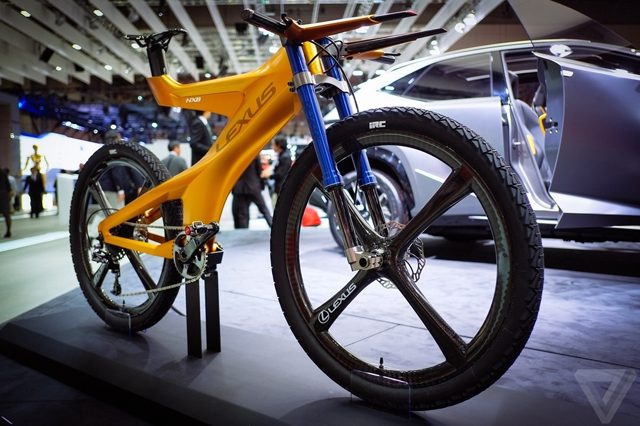 Dafuq? We don't want to know how much extra price the Lexus branding & rocket launchers add to this thing.
So… the best value for bikes… this is a tough one. Value is relative–if you're a hedge fund manager, fuck it, buy a Santa Cruz, BMC or Specialized carbon superbike with Enve wheels, ceramic bearings, Di2 shifting, ROTOR cranks and titanium spokes (and HANG YOUR HEAD when I pass you). If you're easy-going, crushing it on your current ride, and just need the wind blowing through your hair, keep riding what you got.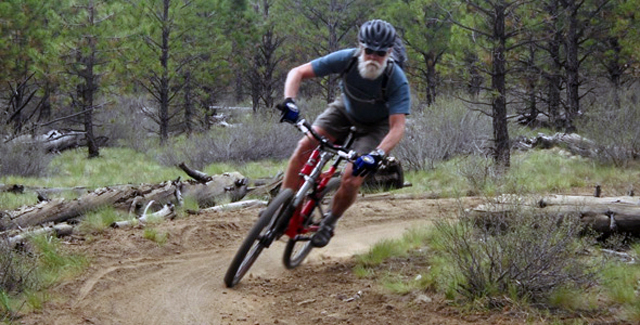 This guy! Flossing corners on a bike as old as his beard. Don't forget that. photo: BetterRide
The rest of us need to find the sweet spot that's above buying crap and below just getting more carbon for the sake of it. One strong suggestion: if you woke up this morning and decided to buy a new bike, DON'T DO IT. Don't expect the spare money in your pocket to get an awesome ride. Use the strategies below to build a smart decision as you save up for a year or two–or even a couple weeks while you eat Ramen.
My current daily driver/enduro bike is on its 6th year, both seatstays are cracked from rock-strikes, as is one of the chainstays and the head tube (straight up tree-slam at Highland last year). Enamel and prayers keep it riding great so I'm sure it'll make it through this year - damnit.
Looks ugly, but it's holding. Gunnar Waldman photo.
The longer I keep it going the better value it is year-over-year. When I do buy a new "A" bike, I want to get something quality enough to get me through 5 or 6 seasons.
I was interviewing the product managers at GT, Cannondale and Trek for an upcoming article and they were nice enough to lend insight to this piece as well. They feel the optimum window for value bike purchase is every 3-5 years (though now is good, of course) - meaning that's how you'll get great technology you would have paid 8k for a couple years ago at a fraction of the cost - that's still compatible with current available parts.
Anyway, here's some guidelines to help maximize value for when you do pull the trigger.
#1: There's the popular phrase; Light, Strong, Cheap–pick two out of three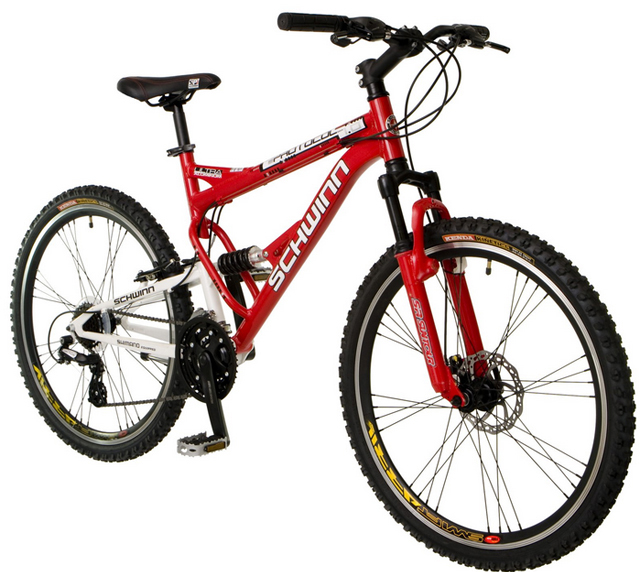 You can be cheap, just don't be this cheap. Just don't do it–you won't like it for even a second.
Cheap is just what we individually can afford. We all have our number, stick to that as best you can and if you're into gravity, focus your spend toward strong, if you're more XC, focus it to light. As prices get higher, extra money is mostly about saving weight and adjust-ability, and ROI on that is biggest for riders at the top end of their game. But if you're at the top end of your game you've probably shifted all life priorities to spend any money you have on cycling, and we don't need to have this discussion.
On the flip-side, while cheap can also come with strong, you don't want to drag around a 50lb pig.
You might get the bike you want at your price by delaying a nice add-on like a dropper post or chain guide for a few months. Take the long view, remember, this is your bike for years.
#2: Find the lowest price-point that keeps a company's top frame design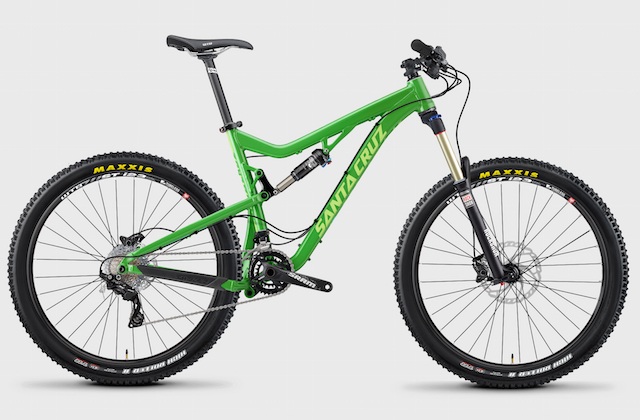 The lowest spec model of Santa Cruz's popular Bronson bike still packs the company's well-regarded VPP suspension design while coming in $5,000 less than the top model in the line. Santa Cruz photo.
Many manufacturers have an "A" suspension design, like Giant's Maestro or Santa Cruz's VPP, and then will go to a cheaper single-pivot design or easier frame angles at lower price points (not hating on single-pivot, they're just easier to make). Try to keep money in the higher end suspension technology. Then:
Figure out if you can live with some heavier (cheaper) frame materials that still use that same design. Instead of a full carbon frame, a carbon front-end with an aluminum rear triangle or an all-aluminum frame. These have the same geometry and design as the costly frame, just a bit more weight. Marketing aside, aluminum is still awesome.
Trek's MTB Brand Manager feels making a decision based on each brand's unique advantages, like Trek's Active Braking Pivot or RE:aktiv suspension damping or GT's new AOS carries more value than the direct-to-consumer site's approach of delivering a top component spec with less frame-design advantages.
#3: Get the most trickle-down technology on parts spec, maintaining some semblance of strength and lightness: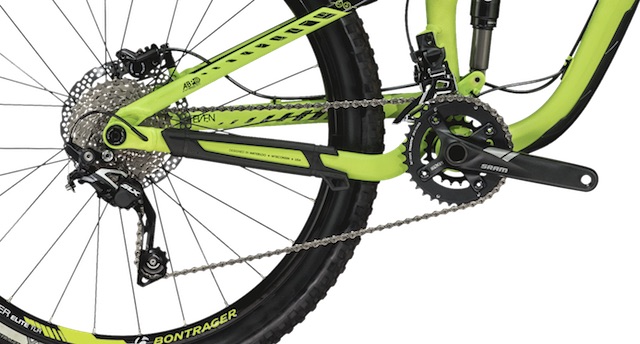 Shimano's lower-end SLX groupset has nearly identical performance to the most experience XTR pieces with only a slight weight penalty. Trek Bikes photo.
The same is true with drive-train and components. Look for a manufacturer's cheapest groupset that has interchangeable technology with its top end. All parts break or wear out (ALL of them, I promise) as you become a better rider. Swap out for lighter, better stuff as you go.
SRAM's new GX1 1x11 drivetrain has a lot of the tech and gear range of the XX1 and XO1 lines at an affordable price point.

SRAM's GX1 offers up the company's 1X11 drivetrain at a more affordable price. Sram photo

Shimano Deore and SLX drive trains and brakes are also great. If you see a bike spec'd with these, it's just fine.
When upgrading stuff, weigh your options. For a single-chain ring drive train, think about evolving your 2x10 with a 1X10 one-up or e-thirteen cog rather than a pricey new 1x11 system. A new SRAM XX1 drive train is thousands, but the one-up just means replacing 15 and 17t cogs from a 10-speed cassette with a 16 and adding a 42 tooth cog, then installing a narrow-wide chain ring up front. All that is about $200 and a little bit of fiddling on your part.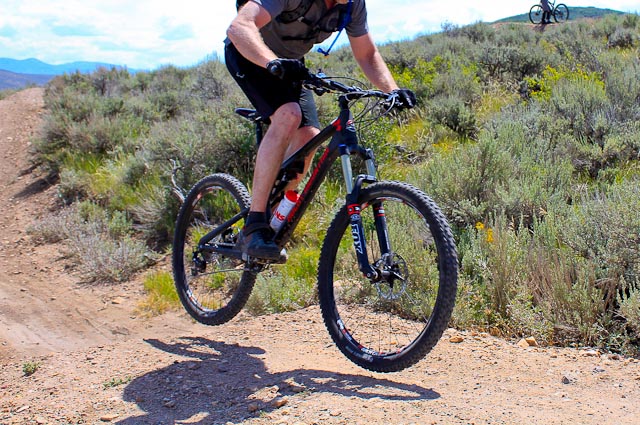 Kashima coating looks cool, but most will get far more out of having their suspension set up properly. Ryan Dunfee photo.
Give up Kashima coating on Fox suspension. Truthfully, when I've gotten the settings and PSI right on a fork, it has meant MUCH more than the coating.
The guys at GT and Cannondale were very adamant about the fact that on the lower price points they really try to spend on a few choice components (usually the ones harder to replace) as well as maintain good specs on things that don't cost more, like short stems and wide handlebars.
#4: Buy it right the first time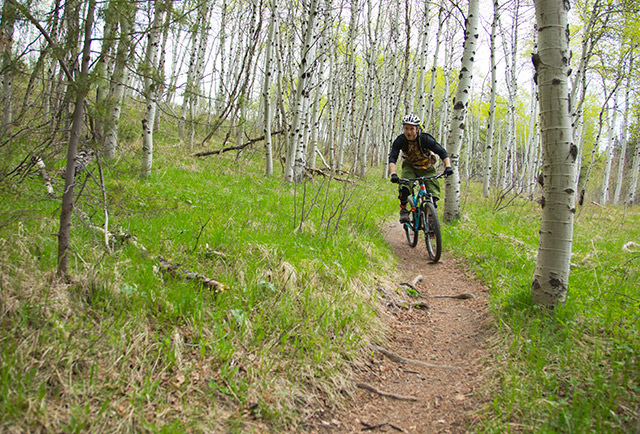 Get on as many bikes as humanly possible before pulling the trigger on one. And definitely get a good sense for what size works best for you. Austin Hopkins photo.
At every opportunity, get on bikes of different sizes, shapes, prices and ride them. Buying a bike is a major investment and you need meaningful time on the product to be smart about your purchase. You don't want to buy something on impulse and find out it's not what you need (or the wrong size) and then have to unload it. Individual demo days are usually listed on manufacturer's websites and large expos like Outerbike or NEMBA Fest are fantastic opportunities to test bikes side by side. Check with your local shop, too, to see if the brands they work with are offering any local demo days.
I'm sure certain regional product reps are already sick of me. Or maybe they just think I'm cheap and looking to ride for free (which is true, the more miles I can put in on someone else's bike, the less wear and tear on mine). Seriously, this is an issue the industry is wrestling with, people need to get on the bikes to buy them. I've got my list of top three that I'll jump on when the best opportunity presents itself.
Also, keep up with component reviews and know which roll-outs are evolutionary and which are revolutionary (remember, you're going to go through a few sets of components over the life of the bike).
#5: Be opportunistic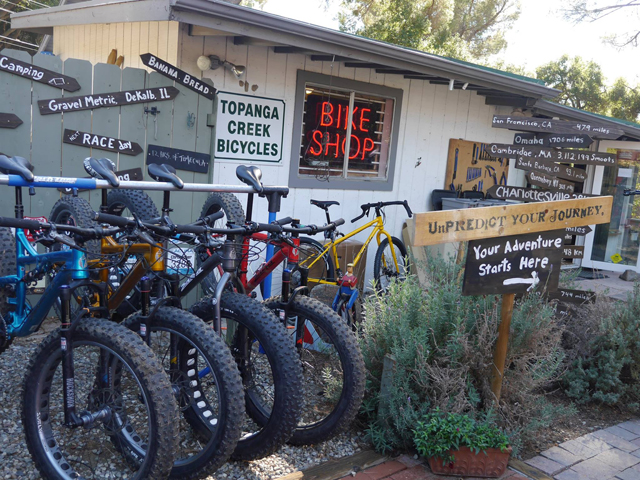 Get in good with your local shop and they'll be more apt to keep their eyes out for you and offer deals. Topanga Creek Bicycles photo.
If you have a good relationship with your local shop (and you SHOULD, damnit–more on that later), let them know what you're looking for and what your number is. They'll reach out when something right comes through their door, or when they're ready to drop the price on what you've had your eye on. I can't stress this enough, be cool to your local bike shop and they'll be cool to you. Good ones want repeat customers.
Buy last year's model in the winter. Just like cars, shops want to get old inventory out the door when sales are slow. Sites like Competitive Cyclist (there are a ton of other sites too), or even the manufacturers themselves, will give deep discounts over the winter. If you ride an XL or S frame, you'll definitely find great deals (DON'T buy the wrong size for price).
If one of your friends or a guy from your shop is a one-season-and-done kind of guy, buy his used bike. He's probably OCD and has obsessed over it. There's also a lot of regional exchanges like northeast bike classifieds or the Pinkbike classifieds where you can find something close to you to check out in person.
If you feel you know what you're doing, and the the local shop can't connect the dots, buy used on eBay or Pinkbike. I've done this a couple times with good results, but the horror stories are out there. Regardless, do enough homework to know what a really good deal is–that way you can pull the trigger fast when you see it.
Bottom Line: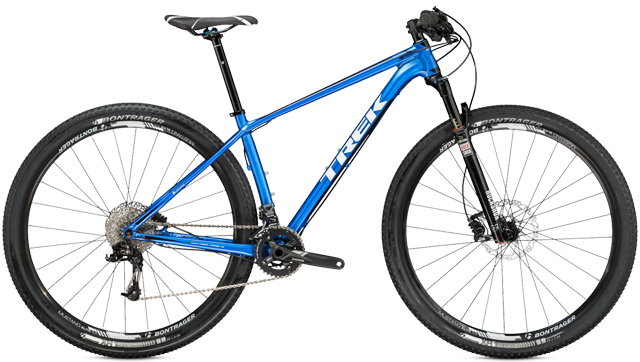 Superfly 29er: good components, good frame design. Boom. This one retails for about $1,900.
According to all the product managers, and me, you can get an awesome bike for around $1,000. ESPECIALLY, they say, if you buy a hardtail or are ok with 26" wheels (I'm on the fence about this one, yes 26ers ride great, but I'm not so convinced buying a wheel size that's on its way out is a great idea).
They don't change geometry anymore for lower end bikes like a lot of manufacturers used to (to make value bikes more 'easy-going' - though you'll still see that sometimes).
The GT and Cannondale guys said it's a point of pride to make a great bike at a solid price for the guy that wants to do everything, they just have to put more thought into prioritizing what spec to spend that limited amount of money on when designing a bike for the lower price-point.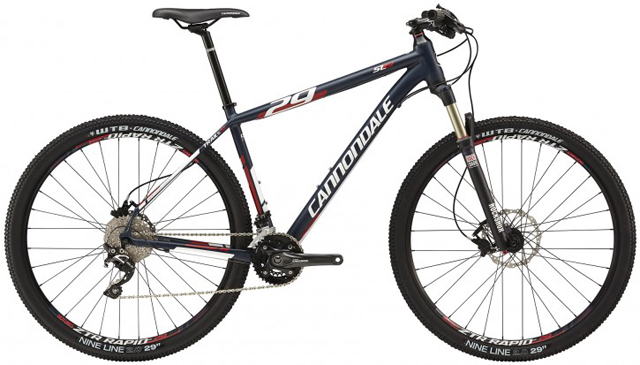 Cannondale's SL29 has a rockshox fork and nice tires for a decent price at around $1800.
For a full-suspension bike, you do get a value-jump when you go to 2k-3k range. Sorry, that's the deal. And, of course, very often you'll see larger manufacturers like Giant or Trek able to deliver better value at this price point (with some carbon creeping into the frames even at this level) because of their scale. But, there are mini-major manufacturers that understand it's smart to build sales volume at this level (GT, Felt etc.), so look at them. And boutique brands like Santa Cruz deliver great designs in all-aluminum versions. Again, aluminum is still awesome.
Of course, once you get several years of solid riding under your belt and are irrevocably addicted, high-end shit is like nirvana (and you'll be better able to appreciate the difference) but, seriously, be wise.
We'll also take a look at how to save money year over year on other parts of the sport as well as the right type and length of travel bike in future articles.
From The Column: The Goods
READ THE STORY
For those of us who love to spend our summers ripping singletrack until the sun goes down, now's a great time to support those who make that all possible: our local trailbuilders. As much as we take it for granted, those perfectly sculpted jumps and berms don't just take care of themselves, and our trailbuilders could always use a little help to fund the awesome projects they are working on. Whether you live in the Tetons, the PNW, or anywhere with riding, a donation to your local crews goes
READ THE STORY
Level up your tailgating with these handy essentials. Katie Lozancich photo. When I first started mountain biking, I was driving a beat-up little Ford Taurus. Every time I wanted to ride, I had to take the front wheel off and wiggle the bike onto the backseat. It was a hassle, but it got the job done. I recently made the upgrade to a truck—like the rest of Jackson Hole's residents—and to say that I'm excited is an understatement. No more sketchy trunk-mounted bike racks or trying to
READ THE STORY
This week in Women in the Mountains, we sat down with director and filmmaker Analise Cleopatra. Cleopatra co-directed the short film 'Pedal Through' which explores the strength and healing that comes from pushing yourself in the outdoors. Alisa Geiser photo. Even though her body was exhausted from her first day of pedaling the Three Sisters Three Rivers bikepacking route in Central Oregon, Analise Cleopatra couldn't bring herself to fall asleep just yet. It was a crystal clear evening,