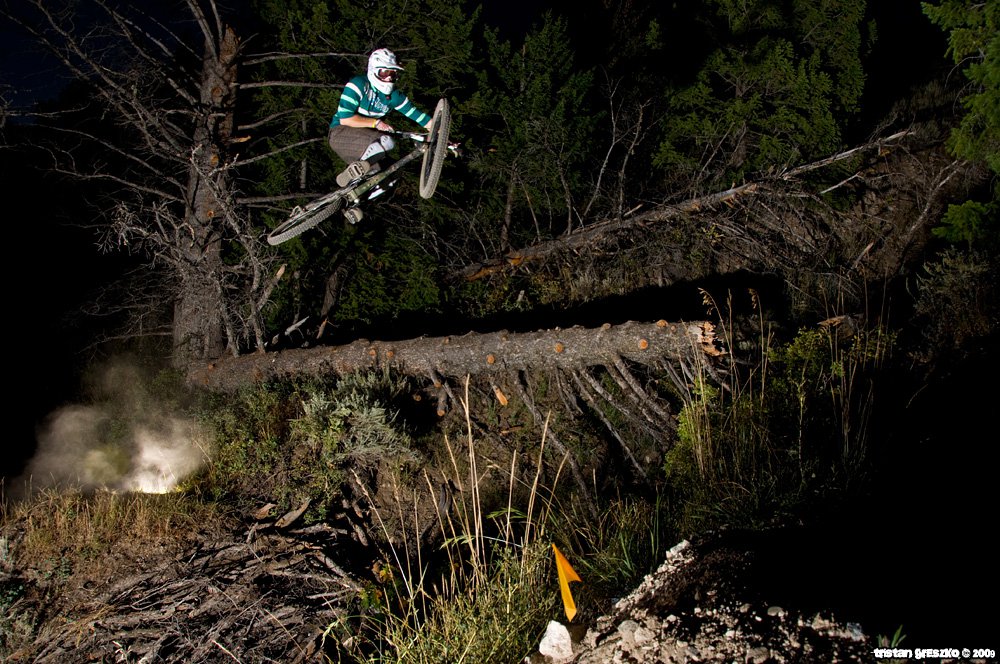 Jackson Hole might be known for backcountry pow, but its downhill bike trail system off Teton Pass is one of the best in the country. Tristan Greszko photo via Teton Freedom Riders.
Downhill bike shuttle trail meccas are something like the hot weather version of powder stashes: hush-hush details, secrecy, and occasional vagueness. Yet, most of the best trails built around road shuttle systems are grassroots efforts, funded by donations and run by dedicated volunteers who work with local land managers, property owners, and the community. These crews develop sustainable trail building skills, and basically, slave away on so many levels to create areas that are fun and that they are proud of – and they want to share the trail and the stoke.
Luckily, for the greater good of downhill biking, keeping the best downhill trails off the radar lacks the pathological obsession that skiers have with keeping secrets: because the brown pow of summer stays good run after run after run, all day, day after day. And let's face it, the more bikers there are, the more support there is for intelligent trail building and developing good relationships between land managers and non-biking recreationalists with the biking community, something that desperately still needs to happen in a lot of places, unfortunately.
Every year it seems there are more and more places with incredible trails that aren't lift served and which (after you donate a little cash to the local trail builder efforts) are free for everyone. With that said, we decided to highlight the charms and histories of a few select known, and not so known, but all worthwhile destinations to set out for, with a bunch of friends and big bikes piled into trucks.
#1: Teton Pass, Wyoming
Teton Pass, just outside of Jackson, Wyoming, already on the map as a paradise of easy access for backcountry skiing, but the same goes for downhill biking. You can thank a group of motivated local bikers who formed the Teton Freedom Riders. After building secretive, illegal trails that dropped straight down to the valley floor for a few years, they cleaned up, became a non-profit, and worked with local trail advocates and progressive land managers from the Bridger-Teton National Forest to build the nation's first (legal) downhill-bike only trail network on public land and minimize user conflict.
After setting a wonderful community example for everyone else (i.e. land managers around the nation who are sure DH bike trails lead to the gates of hell) with their blood, sweat, tears, pickaxes, and negotiating skills on the level of high-ranking diplomats (except they actually accomplished something) the Freedom Riders and everyone else are able to currently spend their days enjoying the fruits of that labor: filling trucks with long-travel DH bikes worth a year's rent in Nebraska, and driving endlessly up Highway 22, the perfect recreation corridor.
RELATED: Learn how to drift corners like a BOSS with Steve Smith
Three parking lots (mid, upper, and summit) drop bikers either at the start of trails like Fuzzy Bunny (don't be misled – it's not fuzzy, easy, or for bunnies) from the upper lot, or at the beginning of a 30-40 minute hike-a-bike (or a wretched, but doable pedal on a big bike) from the summit lot to Black Canyon or Lithium. The lower lot accesses a slew of shorter, jump trails, such as Jimmy's Mom, that are easily lapped over and over again with a shuttle vehicle, or by hitching up the pass…a popular method of getting back up.
Teton Pass is unique in that there are a lot of multi-use and DH trails crammed into a small space – but the trails are well-signed, so pay attention, respect the community order and be courteous, so that everyone in this highly trafficked spot stays happy.
For local etiquette and info, directions, and maps before you go up to ride, stop in at the Freedom Rider hub of Wilson Backcountry Sports at the base of the pass in Wilson. The Bridger-Teton National Forest has an easy trail map, and TetonMTB.com has individual trail descriptions as well.
#2: Leavenworth, Washington
While pretty much all of the Pacific Northwest is littered with incredible bike trails to ride or shuttle, because clearly everyone there is a master trailbuilder and/or pro level rider, Leavenworth is a super fun place to base your bike trip with plenty of its own super legit trails, and within striking distance of other worthy clusters of trails you can shuttle.
Leavenworth, the scene is long, exciting, well-built ridgeline trails. The ambitious local DH scene has seen to some fabulous, sometimes scary creations: excellent shuttling to fun, legal downhills like Rosy Boa and Ribbed, and flow trails. There's also some other long, rather exciting rides, with technical terrain, steeps, and big patches of slick rock, that drop along said ridgelines and that you can shuttle up via some usually very, very, rutted dirt access roads.
They are not that easy to find, so local beta is key in Leavenworth, so hit up Das Rad Haus for friendly tips on finding trails, maps, responsible riding, and other trail and or beer drinking info . MTB Project has a great roundup of the Leavenworth trails as well.
#3: Virgin, Utah
A tiny, isolated outpost in dusty southern Utah not too far north of the Arizona border, this place is chock full of things that are nothing short of epic, terrifying, bike adventures, one after the next.
There's the shuttling: the massively long, intense Flying Monkey trail is legendary, where the access road deposits you at the rim of the trail, and you more or less instantly begin an unrelenting, technical, exposed, slightly dizzying but oh so exciting descent. Other nearby famed trails that will turn you pale and puckered are nearby Nephi's Twist, or take a break from the sheer terror and recoup on Earn 'Em. Not too far away (under a half hour depending on where exactly you start from) is more awesome riding, at the Grafton and Gooseberry Mesa networks, which you can also shuttle and which signify that you should plan to spend more than a weekend checking out this place.
There are also hike-a-bike options galore, where you can add new sorts of terror into your rides, but, which you should not skip at least experimenting with. This is because just outside of Virgin is the site of the old Red Bull rampage, and a big network of completely insane trails that you drag your bike up, and that come back down the dusty, rock ridge formations to the road, dropping down over cliffs, through (or over, depending upon who you are) small canyons, and steep pitches.
Although the area lies right along Zion National Park, there is BLM land everywhere, making car camping a piece of cake, and with a supply of food and beer you are really in freeride bike paradise. Hit up Zion Cycles in nearby Springdale, Utah for detailed directions, conditions, and local up to the minute beta and maps.
#4: Black Rock, Oregon
Black Rock is yet another special area that exists because of another group of well-organized bikers who are supremely dedicated, savvy riders, who found a spot that would make their perfect downhill trail paradise, and made it happen. The Black Rock Mountain Biking Association worked with the Oregon Department of Forestry to create a fun, something-for-everyone biking spot, with a shuttle road, hike-a-bike, and incredible downhill trails through the lush Oregon forests on perfect tacky dirt.
RELATED: The 16 miles and 4,300 vertical feet of the Downieville Downhill should be on your bucket list
The area has everything from flow trails to massive features, and steep, technical, long descents. The trails are long, the features are big, and everything is well maintained (so follow the simple guidelines laid out, and keep the rulers of this awesome little place happy). Currently sporting seven trails for varying abilities, Black Rock is another gem… although among many in the PNW, it's a special little mecca.
You can contact the Black Rock gurus at brmba.org for trail conditions and shuttle road status, at brmba.admin@gmail.com, pick up a trail map at Santiam Bicycle in Salem, Oregon, or at the grocery shop in Falls City.
#5: NELSON, British Columbia
There is such a ridiculous amount of insane downhill riding in British Columbia that is not actually the Whistler go-to, from Mount Seven in Golden BC, to the trails in Fernie, the massive trail mecca around Squamish, and well, the list goes on and on. But the little bohemian ski town that in winter is home to Whitewater Ski Resort is of course an amazing little off the radar place full of super badass adrenaline athletes. So of course they'd build themselves a super sick and exciting summer playground. The mountainsides around Nelson are covered in full-on downhill awesomeness, built to the standards of the Nelson locals – by the Nelson locals, aka volunteers.
Rooty, rocky, and steep, Nelson hosts all of the classic themes of downhill biking. The Nelson Cycling Club produces a Nelson Mountain Bike Guide book, which you can buy in town, and get more than enough beta from local bike shops like the Sacred Ride.
READ THE STORY
With the 20th anniversary of Red Bull Rampage just a few short weeks away, we finally got the list for who will be riding this year! The list includes the top 10 from last time, plus five wildcards and five alternates. We're stoked to see some familiar names, as well as two rookies in the mix! As always, the invite-only list was put together by a committee of former competitors, judges, pros, and industry experts based on competition results and video parts. The competition format will remain
READ THE STORY
Dre Hestler - BC Bike Race Photo: Mark Warner Andreas "Dre" Hestler is a co-founder of the BC Bike Race; one of the world's most popular mountain bike stage races. He's also an old buddy of Brett's and shares how his experience as an XC racer, winning multiple National Championships and attending the inaugural mountain bike event at the 1996 Olympics, naturally led to creating the "Ultimate Singletrack Experience", in BC, which will be entering into it's 14th year.
READ THE STORY
Thomas Vanderham Photo: Mark Warner Thomas Vanderham joins Brett to talk about his mountain bike career from being, "The Kid" to now having two of his own. He tells stories of his first bike experiences growing in Edmonton, and on the North Shore, as well as an hilarious story of his first sponsored bike frame that turned out to be a Tippie hand-me-down. The guys talk about Vanderham's many Rampage experiences, shooting with Sterling Lawrence, injuries, family life and