Editor's Note: For this week's Women in the Mountains column, we have a guest writer in the form of Climbing Magazine Senior Editor Julie Ellison, who tells us why she thinks women are rad to be around in the mountains, and about the ever growing populace of "hard-charging bitches."
A skier for more than 25 years, Jackie Bradley skins the ridgeline to Iceland's highest peak. Julie Ellison Photo
I've always been skeptical about the idea of "girl power" in the mountains. Okay, I'll be the first to admit that I loved the Spice Girls as a tween, but I always identified the best with Sporty Spice, the tomboy of the group. I didn't really understand the whole makeup, shopping, and clothes obsession. And still today, "getting ready" for me means picking up the least crumpled t-shirt from my floor and pulling on the jeans I was wearing yesterday.
So when it came to playing outside, it never mattered to me if I were recreating with men or women. Mostly, I just wanted to hang out and get rad with other laid-back folks, be they male or female. Plus, the odds have always been stacked against us ladies; the ratio in rock climbing is about five men for every one woman, so chances are pretty good that your climbing partner will be a guy. Snow sports are slightly better, with the SnowSports Industries of America reporting that during the 2012/13 season, 60% of alpine skiers were men and 67% of snowboarders were men.
Rock climbing is a sport where the ratio of men to women is about 5:1, but more role models in adventure sports could mean more ladies crushing. Here, Jess Oldwyn goes for it in Moab, Utah. Julie Ellison photo.
But now that I'm a little older and have spent far more time playing outside, I've experienced firsthand the ego-driven pissing contests that can happen for no good reason between men.
I'm starting to get on board with the whole women in the mountains movement, because let's face it: mountain women are fucking rad. With tons of women's-only outdoor education programs, sick chick-flicks like Lynsey Dyer's Pretty Faces (no rom-coms here!), lady-specific media outlets such as awesome blogs, and a rapidly growing populace of hard-charging bitches, it's a great time to be a badass female adventurer.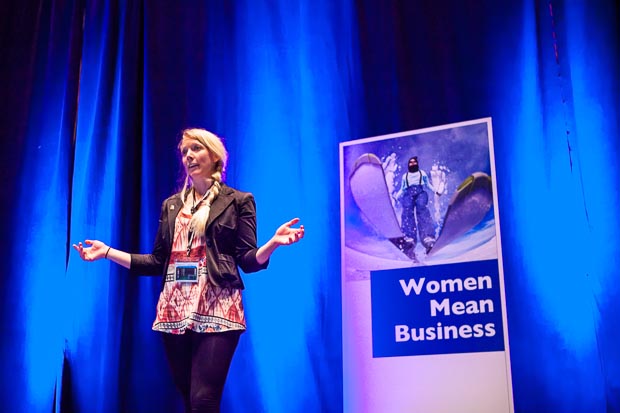 Annelise Loevlie, the CEO of Colorado-based Icelantic skis, gives the keynote address at the Outdoor Industries Women's Coalition banquet. Rad chicks like Loevlie are leading the charge for women in the outdoors. Julie Ellison Photo
And it's going to get even better, too, because just last month, some big promises to women were made by some major players. Jerry Stritzke, the CEO and president of REI, announced a pledge of $1.5 million to the Outdoor Industries Women's Coalition to help advance female leadership in the outdoors. Around the same time, President Barack Obama announced in the annual State of the Union address that he wanted to make women's progress in the workplace a priority for the rest of his term.
Just think about it: We, the women in the mountains, will also be the women in charge.
To put it simply, we'll see more women in positions of outdoor leadership, e.g., CEOs of outdoor brands, IFMGA-certified guides, avalanche-safety educators, etc. More women will be making the decisions, meaning more women will be fighting for guess who? Women. Just think about it: We, the women in the mountains, will also be the women in charge.
So name your favorite, most awe-inspiring woman who is a hard-charger outdoors. Now think about her qualities and WHY you admire her. Is she:
#1: Tough?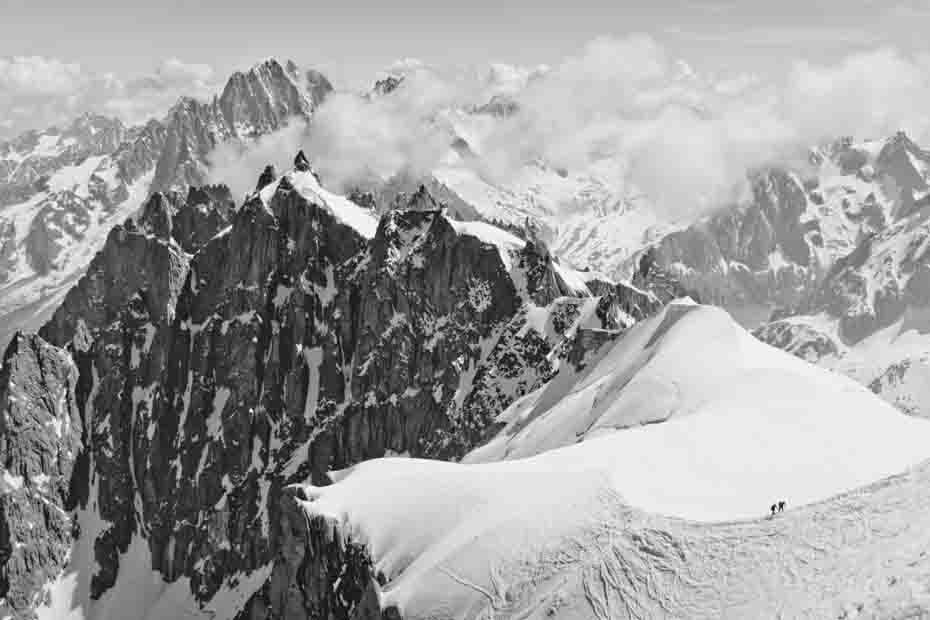 Mountaineering is a sport where there are very few women, but the ladies who do climb these high peaks, including the pictured French Alps, are probably the toughest of them all. Julie Ellison Photo
She can handle a 14-hour day of crushing single-track and wrenching her hands into painful cracks. She hasn't had fun until she walks away with some bruised shins and scabby knees. She probably carries more than half her body weight in a pack without complaining.
#2: Kinda excited to get dirty?
Lily Thaisz takes in the fresh alpine air in the rugged San Juan Mountains new Telluride, Colorado. Julie Ellison photo.
You're psyched you haven't showered for 10 days, but then you realize she's already gone 15. Her style always includes a beanie or hat of some sort, but that's only to hide her unwashed tresses. She's well-versed in the mountaineer's shower and the alpine bath.
#3: A total badass?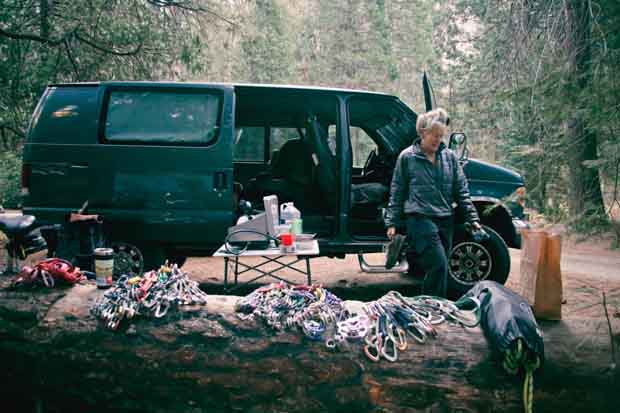 Yosemite Valley is a proving ground for all climbers, both men and women, and Robin McBeth is ready to take on the challenge as she racks up for a full day of climbing. Julie Ellison photo.
You can't help but admire the things she's accomplished outdoors. She climbs 15-pitch alpine routes 10 miles from the road, hucks big cliffs in the backcountry, and chugs a cold PBR faster than anyone. Her Instagram looks like an outdoor adventurer's visual bucket list.
#4: Ridiculously nice, kind, and generous?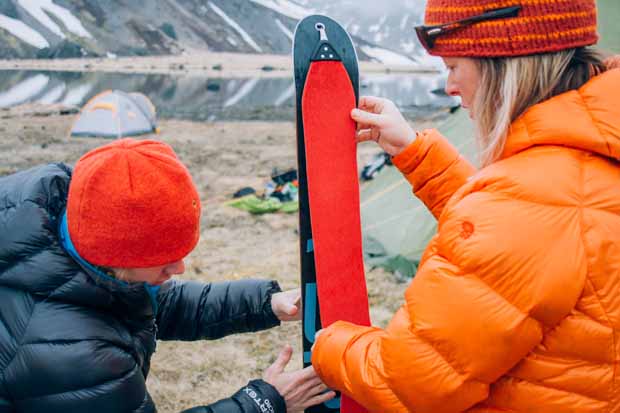 Backcountry partners for almost 10 years, Kelly Bastone and Kristin Hostetter are always ready to help each other out. Here they line up skins on a brand-new pair of skis. Julie Ellison photo.
She's always the first to cheer you on when you send it—and then when you fail. When you're out of food with a long descent ahead, she tosses you her last bar without you even asking. She's always ready to share a filling meal, a warm tent, and even the last beer.
#5: A dog lover, a defender of nature, and health addict?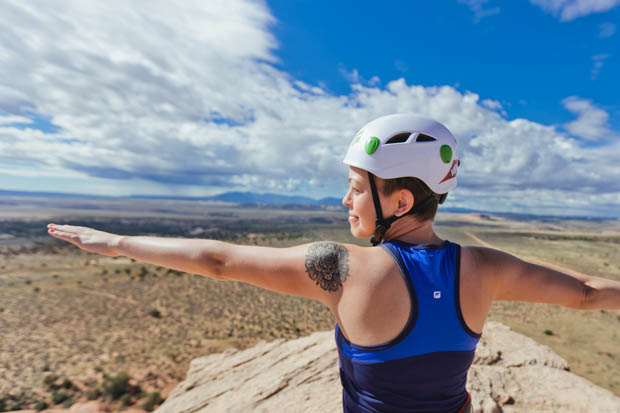 Get it in where you can—Katie Campbell practices a little yoga after summiting Looking Glass Rock in Moab, Utah. Julie Ellison photo.
This means she cares about other living beings, our planet, and her own body and mind; she's part of the solution, not part of the problem. She understands and has a strong grasp on the keys to happiness.
#6: Bold?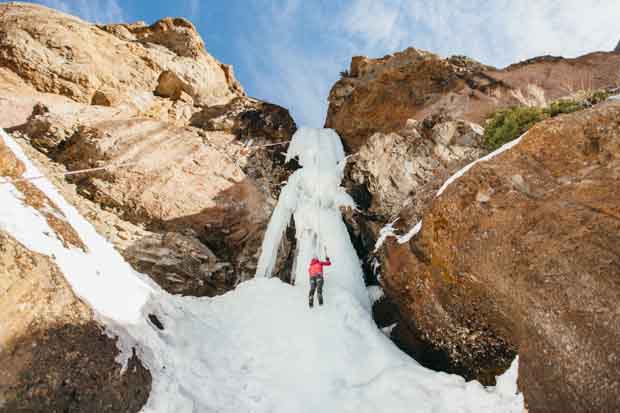 Women's-specific outdoor programs, like this women's ice climbing clinic at the Bozeman Ice Festival, are growing in number, and with new commitments to advance female leadership, they will hopefully become more accessible to ladies of all ability levels. Julie Ellison Photo
She drops in first, begs for the sharp end, and seemingly knows no fear, but that doesn't mean she's stupid. Her avy knowledge trumps every dude in the group and she checks the snowpack regularly. But when something is possibly out of her league, she's smart enough to back off, even if it means sacrificing the summit.
I'd bet my beloved backcountry ski setup that your chosen mountain woman has most—if not all—of those qualities. Whether she's your best friend, your favorite adventuring partner, or just someone you look up to, she's definitely the type of woman we would all want calling the shots.
-Julie Ellison, Senior Editor, Climbing Magazine
From The Column: Women in the Mountains
READ THE STORY
If the world's most famous ski resort, Whistler Blackcomb, hasn't been on your bucket list, you're probably doing the whole skiing thing wrong. The numbers are staggering: 8,171 acres, 200+ trails, 5,000+ vertical feet, 460+ inches of snowfall: you get the idea. The place is massive, but of course it takes a keen eye and some strong legs to figure out how to navigate it well and find the best stashes, both on and off the mountain. We caught up with our friend, Whistler local and
READ THE STORY
The lofty idea to link together Mt. Hood's Timberline Ski Area and the town of Government Camp came one step closer to reality with the recent acquisition of Summit Ski Area by Timberline. According to KATU news, on Tuesday the tiny ski hill was purchased by Timberline with the hopes that it can expand the accessibility of skiing and riding at the Mount Hood area. Before any addition of a gondola or tram, Timberline is focused on keeping Summit affordable and expanding its
READ THE STORY
The Freeride World Tour has announced seven more riders to be added to next year's competition as wild cards. Wild cards are granted to exceptional athletes, competitors recovering from injuries from last season, and local riders across all disciplines. In case you missed it, Tanner Hall, the skiboss himself, was announced as a Wild Card in May. Additionally, the FWT has announced the following list:Injury Wild Cards Carl Régner (SWE-Ski Men) will receive an injury wild card after breaking