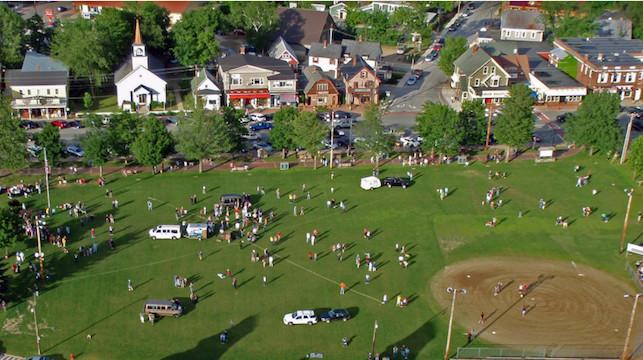 North Conway, New Hampshire, pollutes less carbon than almost any other mountain town in America. Town of North Conway photo.
When we set out on our quest to find the mountain towns with the smallest carbon footprint, it was not an easy task. The hardest factor was to find a common denominator for all of these different areas. That's when we discovered an interactive map of the United States created by researchers at the University of California at Berkeley, who weighed over 37 variables including household energy use, consumer expenditures, and transportation to provide the average metric tons of carbon pollution produced by each household in every county in the United States. We used this data to rank over 30 mountain towns and, as a jumping-off point, to discover what is going on in these mountain communities.
We discovered that two factors–transportation and housing–contribute more to the carbon footprint of mountain communities than any other factor. This usually stems from an inadequate public transit system and large vacation homes that make up large parts of the housing stocks of mountain communities.
Earlier this spring, we put on a list of the 10 most polluting mountain towns in America, which featured a surprising mix of mountain communities, many of whom pride themselves on their sustainability programs and initiatives. What both this lists paint is a picture of an energy landscape more complicated than it might seem at first glance.
#10: Waitsfield, Vermont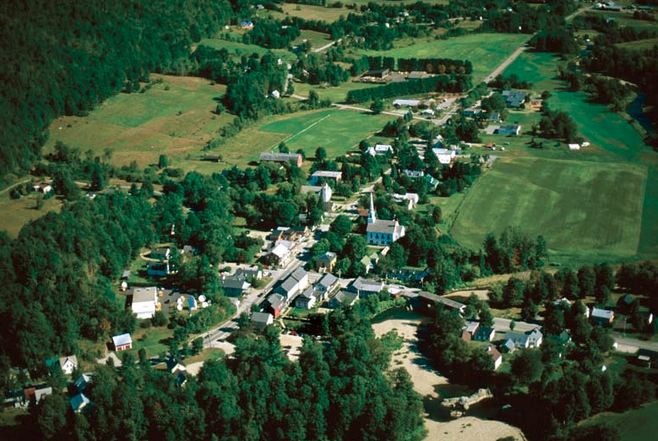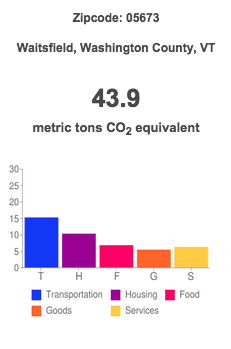 Rounding out the top of the list with 43.9 tons of carbon pollution (Salt Lake City was ranked the most polluting ski town in America, with a staggering 58 tons of carbon dioxide pollution per household) is Waitsfield, Vermont, home to Mad River Glen. Waitsfield makes impressive strides in providing local government with the tools to implement environmentally friendly practices.
The town's Conversation Commission is comprised of nine educated individuals whose duties range from studying convenient and efficient energy resources to cooperating with the local legislative body, planning commission, zoning board, etc. in order to guarantee that the town is taking comprehensive steps to minimize their carbon footprint.
Vermont as a state has the lowest CO2 pollution from electricity generation of any state in the country, getting 70% of its electricity from nuclear power–a higher percentage than any other state–and another 20% from hydro.
#9: Skykomish/Steven's Pass, Washington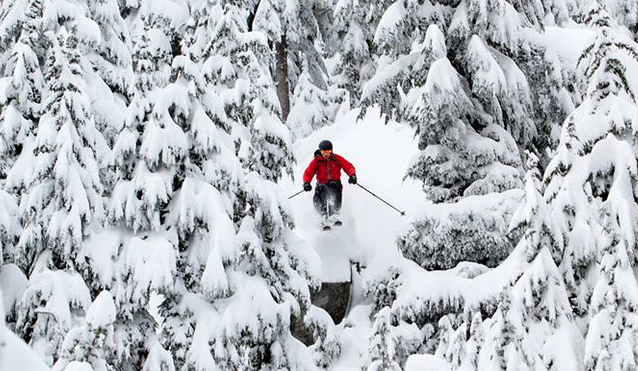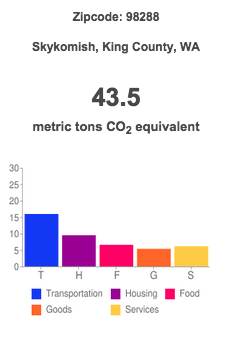 Skykomish, Washington home to Steven's Pass, have plenty of hardware to back up their number nine spot on this list. They won the NSAA Golden Eagle Award for Overall Environmental Excellence in 2012 and have been nominated over six times for variety of environmental awards from the NSAA. They are not resting on their laurels, and have implemented a large swath of sustainable initiatives, including a transit fleet for employees that logs over two million miles annually, clean-burning vehicles, a non-idling campaign, and a ride-sharing plan to reduce cars on Stevens Pass Highway.
The most significant stat that I read while researching this piece was from Stevens Pass' 2011 sustainability report. Not only do they acknowledge the impacts global warming will have on the area, they also concluded that they only release .0068 pounds of CO2 per visitor to the mountain. This is an extremely small amount, and definitely deserves a round of applause.
#8: Bozeman, Montana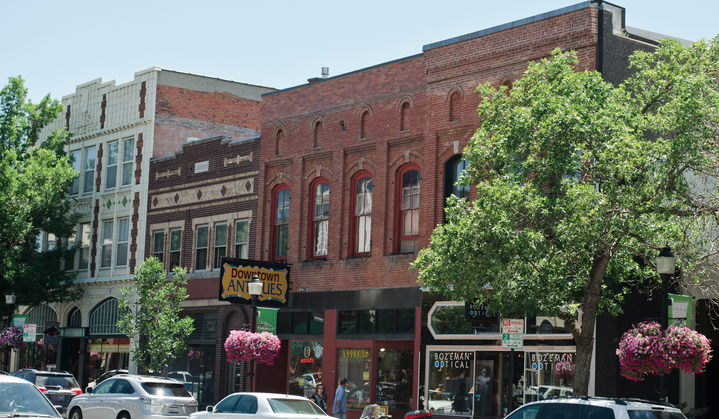 Bozeman's environmental efforts are largely the result of the Bozeman Climate Partners, "an energized community-based project designed to highlight the good conservation work being done in Bozeman and to encourage others to join in reducing our carbon footprint". The BCP incorporates resources and provides solutions for business and residents alike ranging from small scale to utility-sized options for clean energy, efficient transportation, food and water waste, and sustainable building practices. However, not only do they offer practical services, they provide key information on the local impacts of climate change, something that surprisingly hasn't shown up on this list yet. Understanding and acknowledging exactly how carbon pollution will impact a community is a necessary step in changing harmful habits and policies.
Clearly the town has set a standard for sustainable practices, and it has definitely inspired a number of environmentally conscious businesses across the city which aid in everything from building green houses to providing renewable energy sources. Who knew BROSman had so many eco conscious bros?
SEE ALSO: The 10 most polluting mountain towns in America
Despite holding some of the largest deposits of coal and crude oil in the Lower 48, it's good to see that Montana is moving in the right direction, and it will be interesting to see whether or not the state meets its goal of supplying 15% of its electricity from renewable sources by the end of this year.
#7: Ketchum, Idaho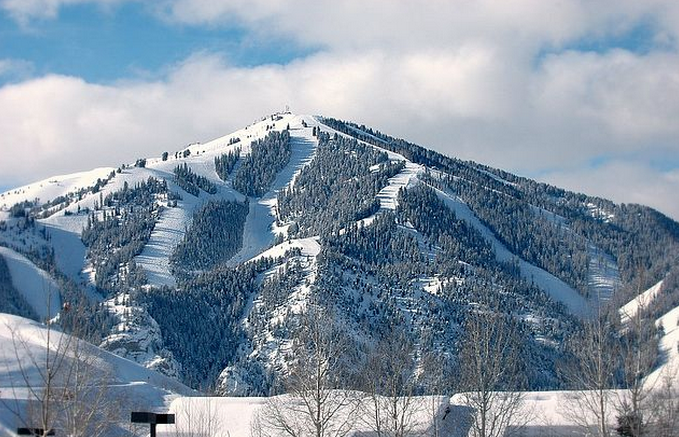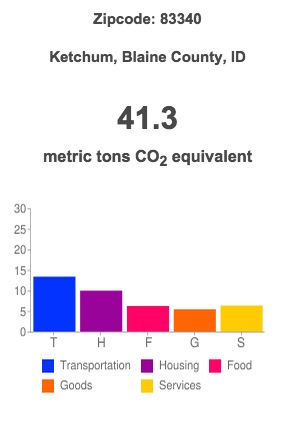 Sun Valley–otherwise known as Ketchum (although Sun Valley is also technically a town)–comes in at number 7 on our list. Ketchum is able to avoid the common carbon pollution pitfall of transportation, with over a fifth of their population walking to and from work–almost double that of any other town on this list–and less than half driving alone. These numbers are no doubt reflective of the easily walkable town.
However, it isn't just the physical characteristics that lend Ketchum to a smaller carbon footprint, as Sun Valley Resort has implemented environmentally-friendly practices in a number of their facilities, resulting in an "A" grade in environmental stewardship from the Ski Area Citizen's Coalition. This high mark is based off of nearly 40 environmental criteria that range from protecting surrounding ecosystems to environmental policy positions.
Despite getting almost 80% of its electricity from renewable sources, including lots of hydro and a growing number of wind turbines, Idaho also manages to enjoy the fourth-lowest electricity prices of any state in the country.
#6/5: South Lake Tahoe, California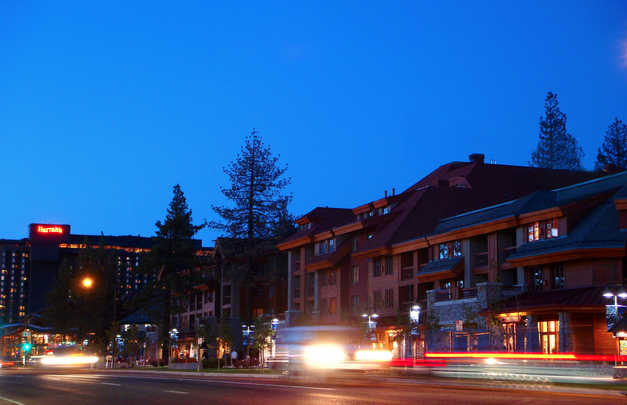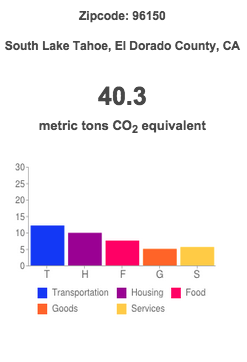 South Lake Tahoe clearly wants to keep Tahoe blue, with both local governmental efforts and applicable every day lifestyle changes. The Town itself has prioritized both enforcing and encouraging more sustainable practices, such as banning plastic bags, providing alternate transportation, and administering sustainable business initiatives. Furthermore, these resources provide step by step instructions and easily implemented tips to decrease carbon pollution from a number of familiar culprits, such as transportation and waste, and it seems that residents have taken note.
With 15% of residents carpooling, nearly double that of any other town on the list, and convenient options for efficient travel, South Lake Tahoe has managed to decrease its transportation pollution. California as a whole also has the second-lowest energy consumption per capita of any state in the Union.
#5/6: Killington, Vermont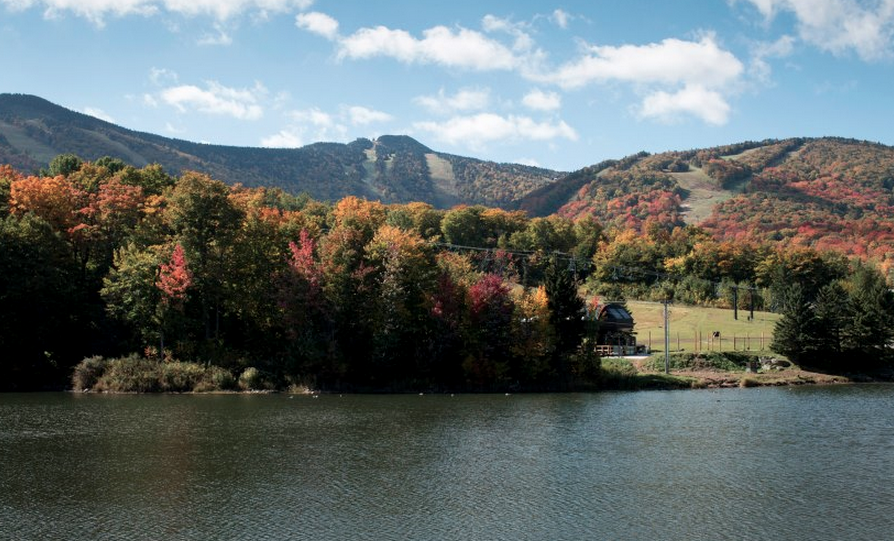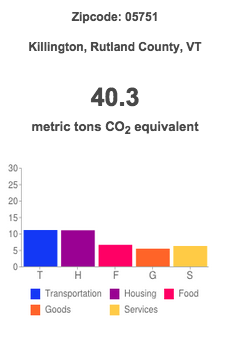 It is no surprise that Killington came in tied for fifth on this list, considering that it is home to the proud recipient of Vermont's Overall Greenest Resort for 2014. The EPA has highlighted Killington's substantial sustainability efforts over the years, in particular the implementation of 400 energy efficient snow guns and electric car charging stations. Considering that transportation is generally the primary culprit for carbon pollution in mountain towns, it's also important to note the resort's encouragement of more sustainable driving practices.
However, it isn't just the ski area implementing more sustainable practices. The town itself has partnered with organizations like Efficiency Vermont, a service that aims to provide more efficient, and in turn more affordable, options for Vermont's residences, homes, businesses and communities.
#4: Kingfield/Carrabassatt Valley, Maine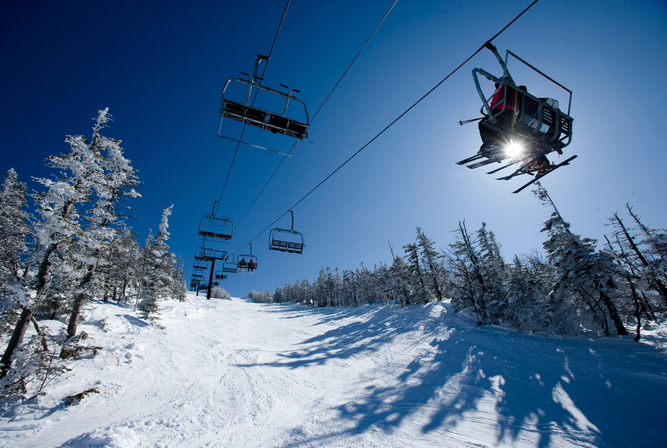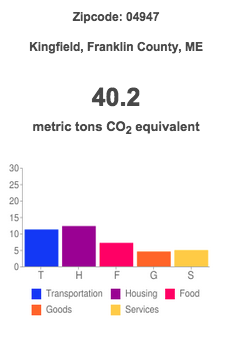 Sugarloaf is the largest ski resort east of the Mississippi in terms of skiable terrain and snowmaking. They have the ability to make snow for 95% of the resort's trails, a potentially enormous amount of energy use. As part of their Sugarloaf 2020 plan, the resort is investing $1 million in low energy snow guns that use 90% less compressed air, traditionally one of the most energy inefficient parts of the snowmaking process. They have also replaced all of the water pumps with energy efficient model, and forged a partnership with the Carrabassett Valley to create new bus routes between the town and the resort–perhaps part of the reason why transportation is a smaller part of the overall carbon pollution than in most other mountain towns.
In the state of Maine, over half the electricity generated comes from renewable sources, including hydro, wood, and wind power.
#3: Taos, New Mexico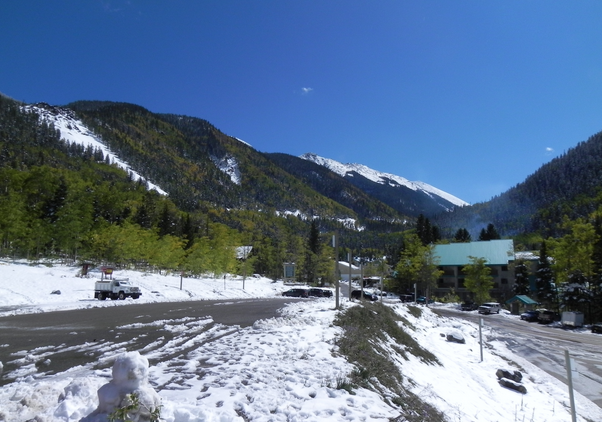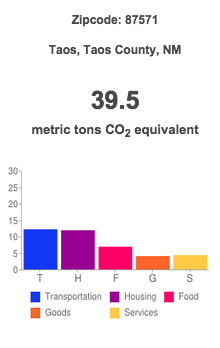 Taos Ski Valley is traditionally known for its steep skiing, but the town itself is fast establishing itself as one of the United States' centers for green design. According to Taos' Chamber of Commerce, there are over 10 firms devoted to green design. The desert landscape and architecture influences these building trends, and it does not hurt that the University of New Mexico-Taos' Green Trades Training Center is only a half an hour drive away.
Taos Ski Valley bought carbon credits to offset their operations and recently purchased low pollution snowmobiles and snowcats. The resort also emphasizes other green initiatives including recycling. Water that is sold on the mountain comes in a cardboard container, like a juice box, that can be recycled. It's also noteworthy that Taos is on this list despite the fact that the majority of power for electricity in New Mexico comes from burning coal.
#2: North Conway, New Hampshire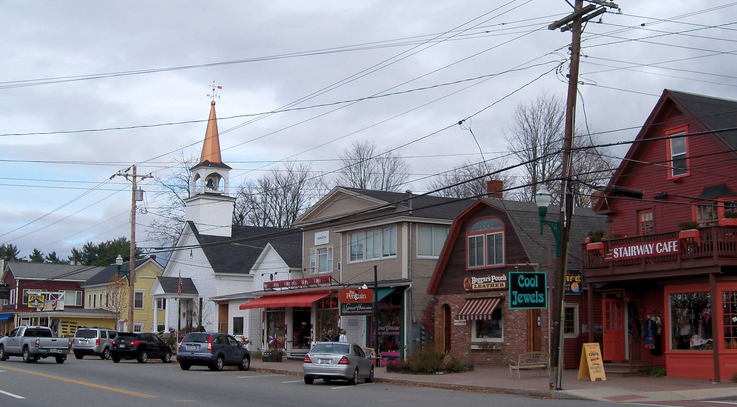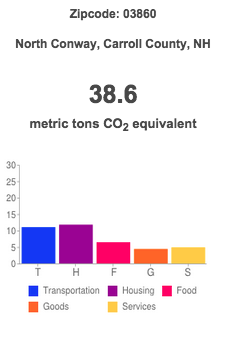 With 38.6 metric tons of carbon produced per household North Conway makes their way onto this list in second place. This small town in the White Mountains is home to Cranmore Mountain Resort, which in 2003 was the first ski area east of the Mississippi to implement the use of biodiesel in its operations. The small resort currently uses 150 high-efficiency snowmaking towers, up 70 from last year.
The resort also participated in a nationally-awarded program put together by the New Hampshire Electricity Cooperative to help the resort reduce its energy consumption by applying new, efficient technologies and participating in a demand response program. Cranmore's Operations Director, Jimmy Mersereau, received a post-humous Lifetime Achievement Award in 2010 from the Environmental Protection Agency for his efforts at the resort. Live Free or Die, but also do your best to be green, will be the state's new, less license plate-worthy moto.
#1: Mammoth, California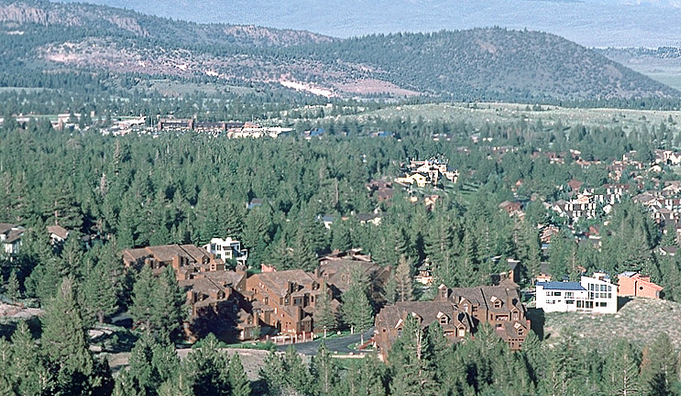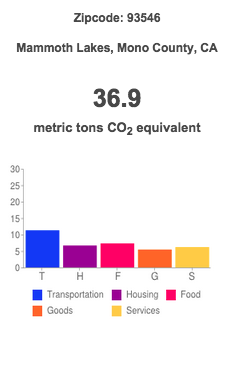 Mammoth has garnered the number one spot on this list with only 36.9 metric tons of carbon pollution being emitted per household. This is far below any other ski town we looked at for this list. The resort earned a NSAA Silver Eagle Award for Excellence in Water Conservation and is using sustainable development, regulatory compliance, education, and continual improvement to help guide their environmental decisions
In the winter months, a large amount of bus lines operate, including one that runs until two in the morning, meaning that aprés revelers can get a good buzz on and not have to worry about driving. Less than half the population drives to work alone, and 45.5% of Mammoth Lakes only owns one car. Compare this to Telluride, where 29.7% of population owns 3 or more cars. It really shows that so much of our consumption in the U.S. comes from transportation–a sticky problem to solve as so much of the mountain lifestyle in the States is structured around owning a car.
-co-written by Jonathan Desabris & Hillary Saunders