The self-built tiny home Brittany Gibeau shares with her husband and TGR cinematographer Dan in Jackson Hole.
It's February in Wyoming. The morning is so new that the sun has yet to hint at its eventual appearance on the horizon, and I am only awake because I am cold. My nose feels frozen, the blankets around me cold to the touch, and as my eyes adjust to the darkness, I can see my breath drifting in the air all inside my house, which I estimate is 35 degrees and dropping. My husband, Dan, is on a trip for work filming another segment for TGR, which means I am alone with the cats, who have buried themselves in the down comforter.
The hard-working electric space heater, which normally emits a reassuring hum as it keeps the house twice as warm, is silent. Upon further investigation, my heart sinks to discover the heater is not the problem. Its operation has been made impossible by the inexplicable absence of electricity. Unwilling to determine the source of the electrical malfunction without the use of natural light, I ignite the propane boat heater on the wall in an attempt to chase the cold away. The house, a meager 172 square feet and insulated with two inches of closed cell-spray foam insulation, has proven inexpensive and effortless to heat–assuming everything is working properly.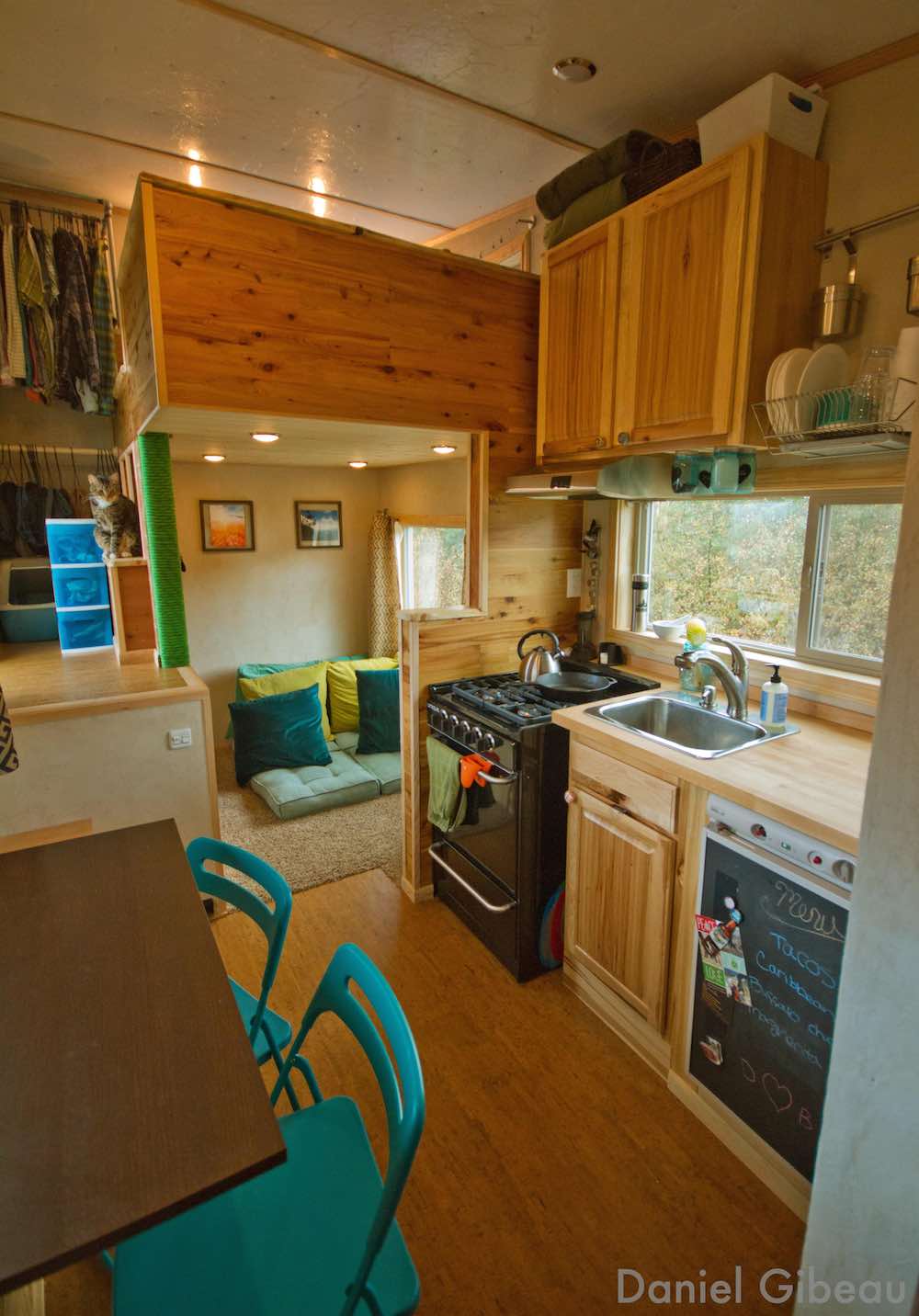 Tiny house glamor shot! The Lucky House is very photogenic, and extremely space-efficient. The bedroom sits above, lofted and out of sight from the kitchen.
Seven steps later and I have walked from one end of the house to the other, the glow of the fire a promise the small space will be warm in a hurry, when I hear the unmistakable sound of a flame abruptly extinguished. The weather, catalyst to our greatest problems, ensures such a small house is left at the mercy of Mother Nature, which means feeling like the target of every storm's fury. Fire cannot function without oxygen, and I finally understand this tiny house is losing tonight's battle with the elements. I open the blue door of my hand-built home into what has morphed from a seemingly high-pressure night into whiteout conditions, complete with a wind chill my phone informs me is ten below zero. My first instinct is to smile–the reaction of a skier with nowhere to be but the mountain–but still, I must uncover the chimney on the roof so the air can get back in and my cats don't turn to blocks of ice. My boots, which might as well be moccasins, fill with snow as I trudge through the darkness and thigh-deep powder towards a ladder. As I climb awkwardly and very alone onto the icy slanted roof I cannot help but wonder, "What they hell am I doing?"
While the tub/shower was borrowed from an RV design, the Lucky House is devoid of any tacky RV stylings.
The rather abrupt decision to build our tiny house, which we call the Lucky House, came during a practical discussion about the future as we neared the end of the lease on our apartment. An acute awareness of the credit owed to the mountains we live amongst for our immutable happiness makes choosing Jackson Hole effortless; however, maintaining a foothold in paradise is not without its challenges. Those who have made peace with seeking fulfillment through outdoor recreation over opportunities found in some metropolis have also agreed to certain sacrifices. This promises that life will never be dull, but at times it can be exhausting. Living in a ski town means there are plenty of jobs but few careers, renting a room could mean shelling out $1000 a month, and that purchasing a single-family home requires a minimum of half a million dollars.
To make the most of the headroom, a standard couch was passed over for floor pillows.
Stitching together a supportable existence while leaving time for adventure is every mountain dweller's task, and the freedom to get creative comes from the unfeasibility of a conventional lifestyle. It's normal to bounce between four different jobs depending on the season. It's not unusual to spend time living out of your tent, your car, or twenty miles away over a treacherous pass. By the winter of 2013, Dan and I were tired of serial renting but were not ready to be tied down with a mortgage, which meant we were trying to avoid the Jackson housing scene altogether. Wanting to travel for months at a time, cats in tow, without paying rent, while at the same time decreasing our environmental impact, made a self-built tiny house our only feasible option. The fact I had yet to operate a power tool seemed a minor inconvenience at the time the decision was made.
Building The Tiny House
What Dan and Brittany started with: a trailer bed and a blank canvas.
A storage unit filled, the truck in tip-top shape, and my job left behind, by May 1 st we were towing a brand new flatbed trailer to the Front Range of Colorado, where Dan's parents had agreed to let us set up shop in their backyard for the summer. Over the course of four and a half months, despite temperatures in the hundreds and winds regularly reaching upwards of 35 miles per hour, Dan, my brother Tucker, and myself (along with the help of a few very patient friends and family members) built the Lucky House. While there are no codes to follow when working on a tiny house, we built it as if there were, which included hiring a professional for electricity, plumbing, and propane.
For the structure of the house we followed plans designed by Laird Herbert, founder of a small company out of the Yukon called Leaf House, which specializes in cold climate tiny living. The plans included a fairly comprehensive supply list whose many items I was alarmingly unfamiliar with, so in addition to watching countless YouTube videos, I researched the items on the list until I understood what each material was, when we needed it, where to get it, and how to install it.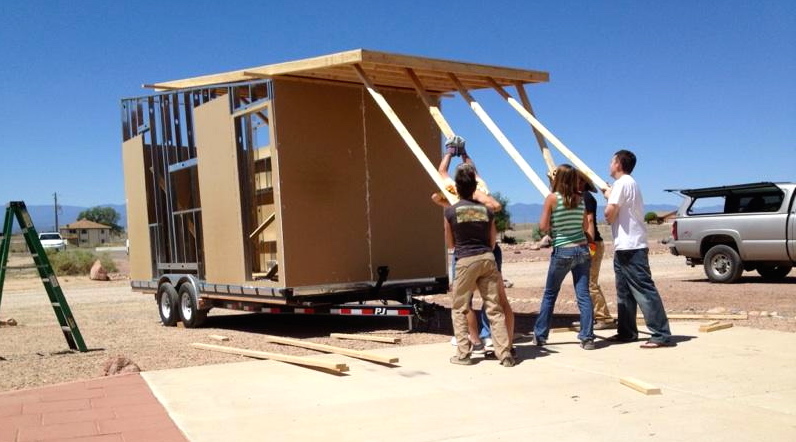 Sliding the roof on very, very slowly.
In the end, it is the odd mix of materials and the versatility of the Lucky House that make it unique, even for a tiny house. The house is considered off the grid, as everything essential requiring electricity, such as lights, a water pump, and fans, are powered by four AGM gel batteries charged through two rooftop solar panel, although, in the winter we prefer to plug into a 110-volt outlet so we can power conventional appliances like a space heater. In an effort to continue in the vein of self-sufficiency, we never considered anything except a composting toilet. After weeding through countless tales of waterless toilet horrors and successes, the homemade variety presented itself as the simplest and most hygienic, so we fashioned a toilet ourselves using a colossal Colman cooler as the structure.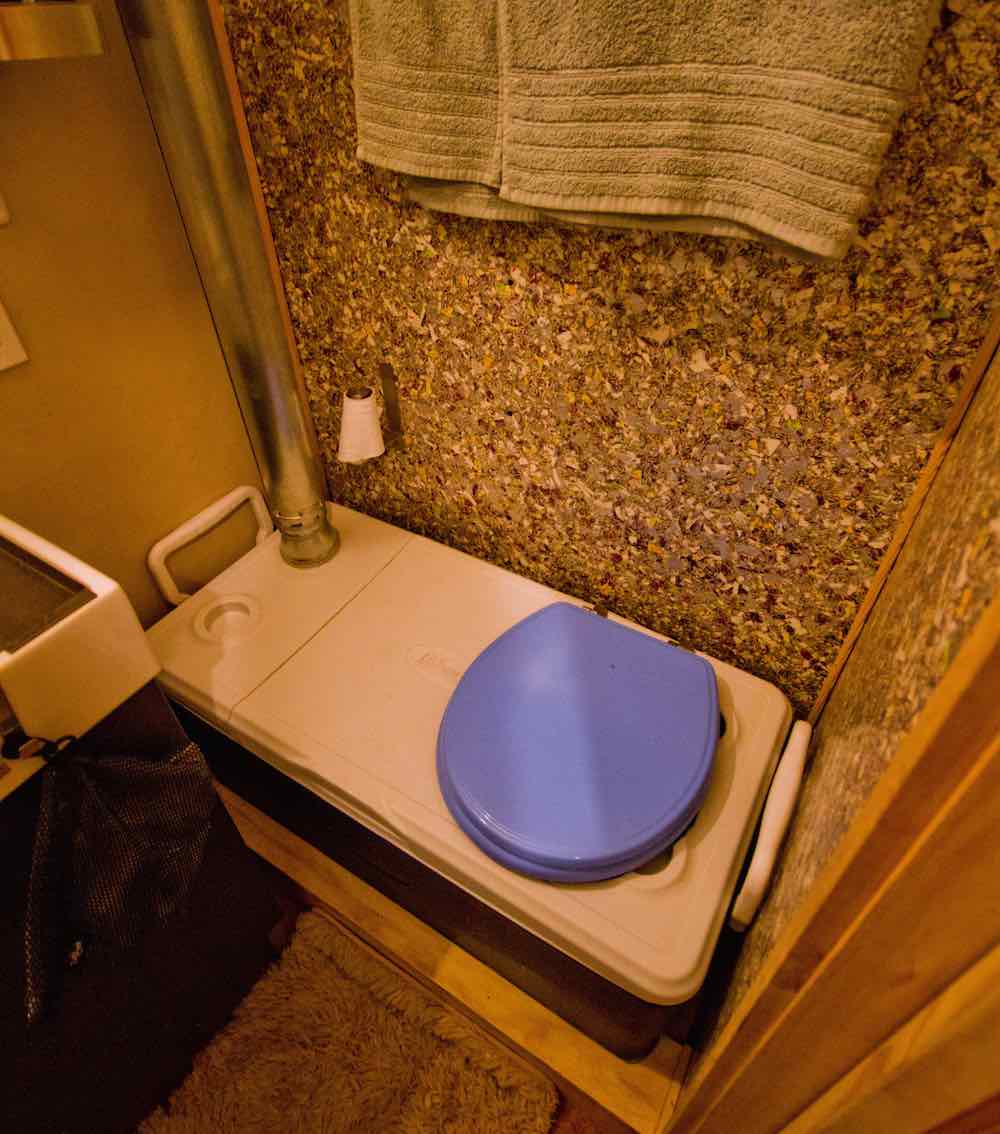 Dan and Brittany opted for a homemade composting toilet, which they fashioned out of a Colman cooler. Not the ventilation duct on the left.
In the bathroom, in addition to the toilet, are a sink and a miniature RV bathtub/shower combo, which are supplied with water either through the 35 gallon tank in a closet or externally through a hose connecting the house to a water spigot. The kitchen is equipped with a 24-inch gas range, a fridge/freezer capable of running off the power source of our choice (AC, DC, or propane), a rather large sink, a propane-fueled hot water heater, and numerous Ikea-supplied storage options. While minor hiccups have presented themselves during the first year in the house (the water pipes near the fridge vent froze early in the winter, inspiring us to install a light bulb in the same compartment to give off heat) everything works well even during the harshest winter months.
Building A House Out of "Trash"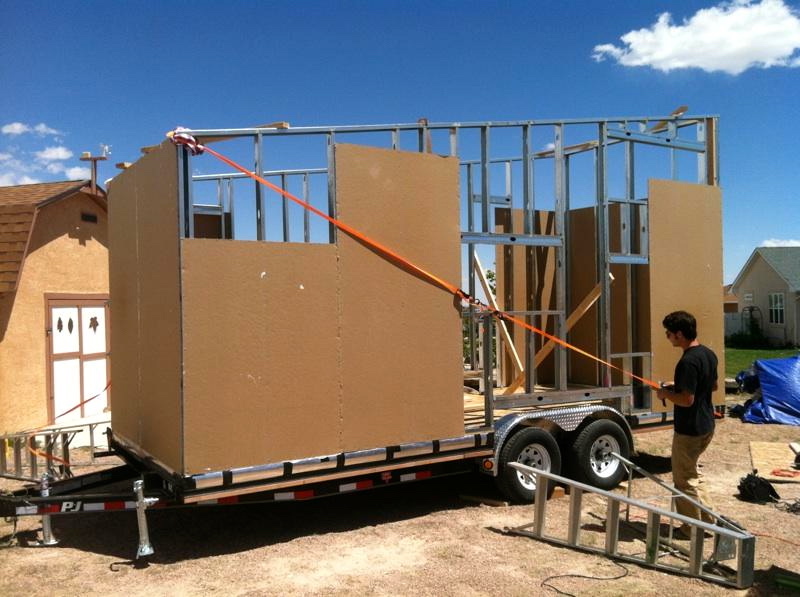 Steel was chosen for the framing to keep things relatively light.
Dan likes to joke the house is made mostly of trash, and while an obvious exaggeration, the statement is not entirely untrue. We tried to incorporate materials considered sustainable whenever possible (cork floors, carpet made from plastic bottles, clay wall-finish, and siding made of Colorado pine trees met by an early death thanks to the pine beetle, to name a few), but the most notable of the batch is a product called ReWall, which hails from a small company in Des Moines, Iowa. This newfangled material is made through a non-toxic process in which shredded pieces of Tetra Pak packaging (milk, juice, and ice cream cartons, for example) are pressed into 4x8 sheets using heat. ReWall is fairly lightweight and flexible, provides high levels of insulation and sound proofing, is fire and water resistant, and comparable in cost to other products with similar intended uses. With great success, we used ReWall for our exterior sheathing, interior walls, and ceiling.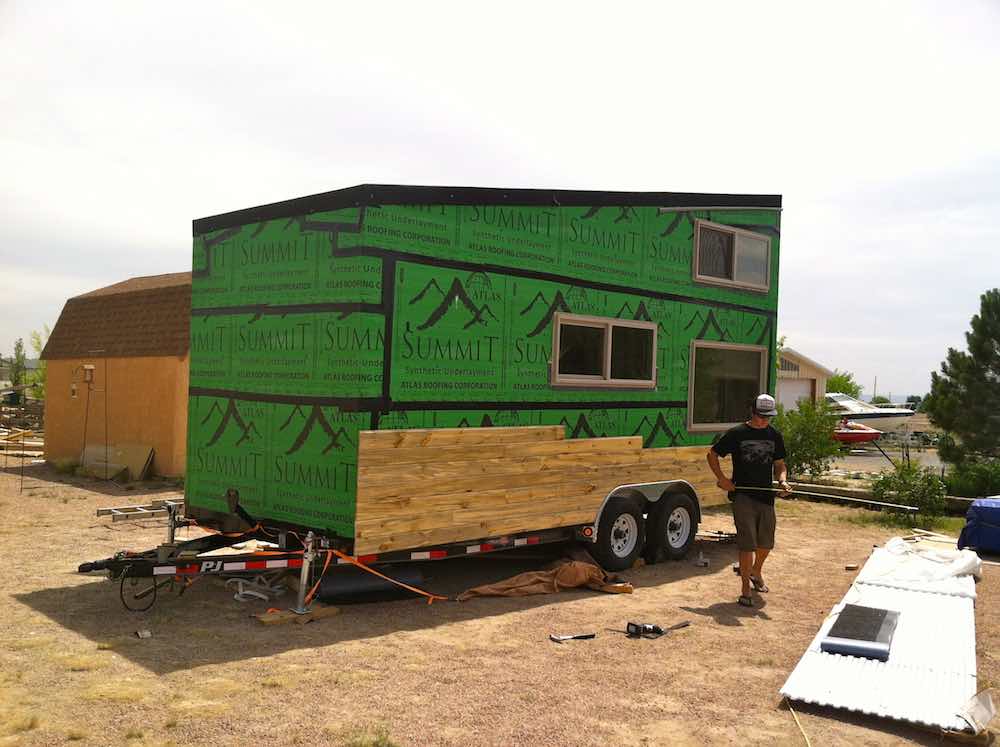 ReWall, a recycled non-toxic material, was used for most of the insulation.
Three novices building a house together at times seemed a foolish approach and we often joked our motto should be "making the possible impossible" as working backwards from our mistakes was not uncommon. The first time it rained and water did not come pouring in through the ceiling was a day of mixed relief and astonishment familiar to any self-taught builder. Still, we churned out a quality tiny house and with similar determination anyone else could do the same.
Keep A Flexible Budget & Schedule
My first piece of advice to anyone considering a tiny house, especially those with limited construction experience, is to begin with a flexible budget and schedule, as both are influenced by many uncontrolled variables. While our timeframe was certainly affected by mistakes triggered by inexperience, the majority of setbacks were thanks to extreme weather, missing, late, or broken materials, the same for hired professionals, and the inevitable near-mental breakdowns.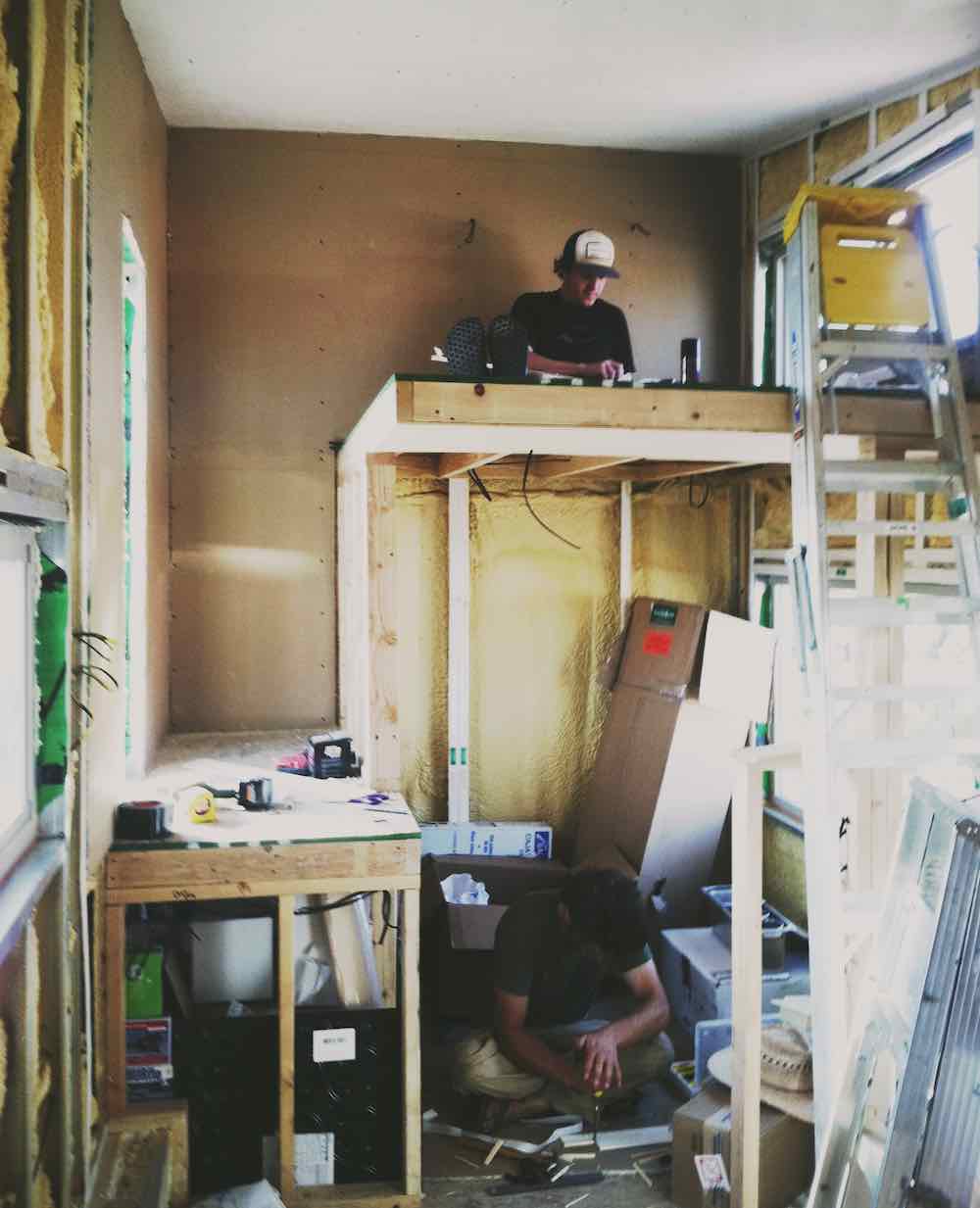 Dan and a friend build out the interior space, adding a lofted bed to the highest part of the interior.
Just as accurate time management is problematic, so is estimating a budget, as predicting exactly how much of something you will end up using is an imperfect science. For example, in the beginning we never would have guessed we would spend $500 on screws and nails alone, but we did. During our initial research, we came across several fairly basic tiny houses supposedly built for $20,000, but by the time we added solar, propane appliances necessary for off-grid living, and a variety of high-end non-toxic materials, our house cost closer to twice that amount.
But some ways to save money include shopping at retailers like ReStore where scrap or used building materials are sold, utilizing friends and family members willing to help, and building near a city, so as to have access to a wide variety of inexpensive materials.
Legalize (and Insure) It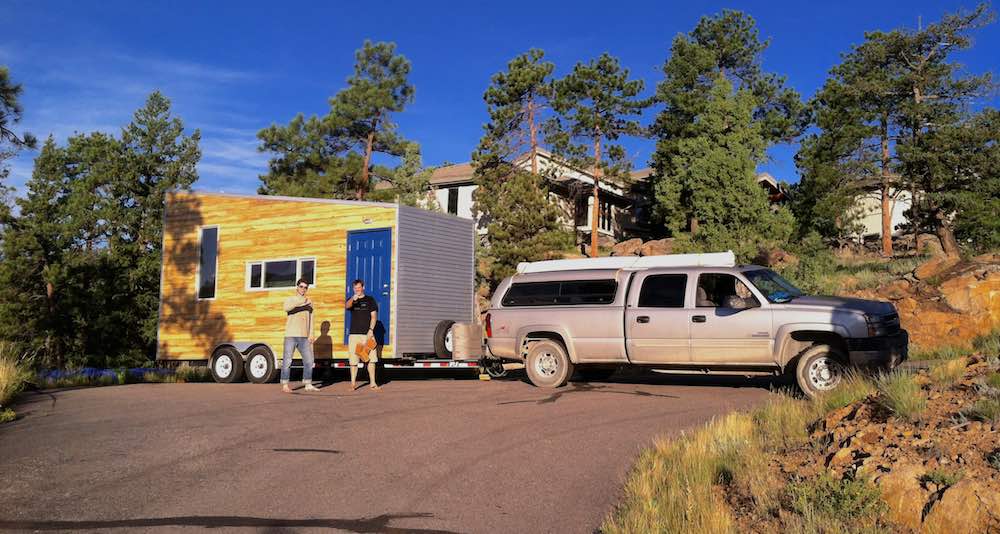 The Lucky House upon completion at Dan's parents' home in Colorado.
After that last borderline emotional swipe of the credit card at Home Depot, the new homeowner must turn some attention to insuring and registering their new investment. As far as I know, many tiny houses are uninsured simply because insurance companies are unwilling to offer a policy on something many have never heard of and thus are unable to classify. Through a family member's recommendation, we were able to find an insurance agent out of Minneapolis who spent a significant amount of time tracking down a policy. While difficult, finding coverage is not impossible, and as tiny houses become more common, so will insurance policies.
Registration, on the other hand, was a breeze and while I have never heard of anyone having a registration issue, I cannot help but think our pleasant experience was in part due to the kind ladies at the Teton County Clerk's office. Although initially unfamiliar with the concept of a house secured to a trailer, they were unfazed when we showed up asking to change our recently registered flatbed trailer to that of a modified structure, and merely required us to obtain a VIN inspection, produce the receipts from the project to prove we had paid taxes, and write a check for $400. We are now registered in Wyoming as a house trailer.
But Where To Park It?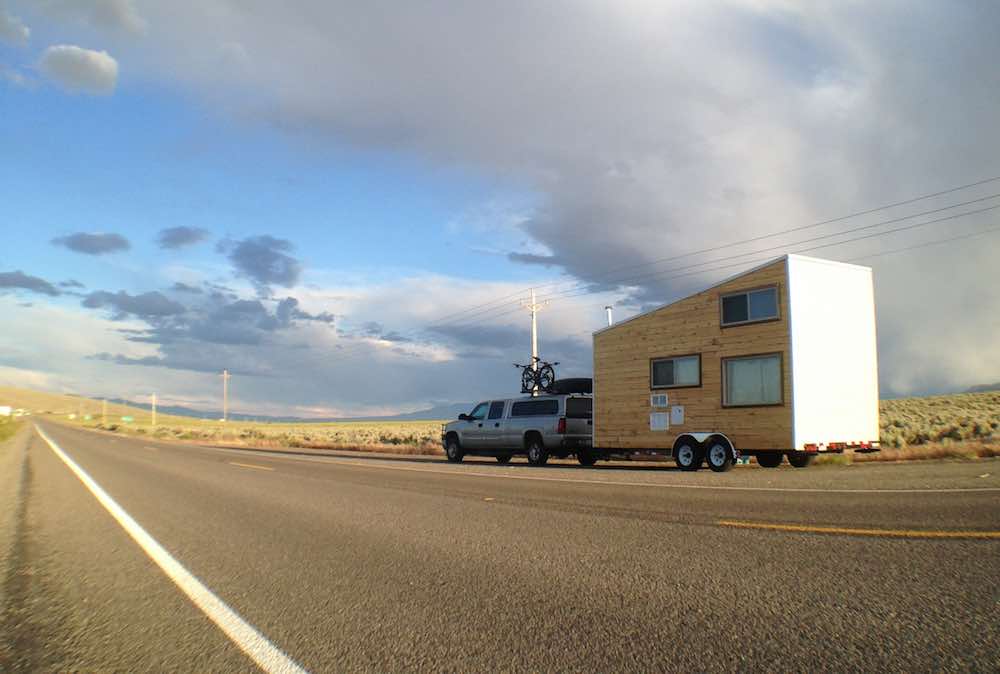 The Lucky House was designed for the road, but finding a more permanent parking spot for it in Jackson Hole was a challenge.
Through our travels the Lucky House seems to inspire a positive reaction in people from all walks of life, but what everyone wants to know is where we are allowed to park, a tough question as the laws vary drastically from place to place. For many, a tiny house is an especially practical option because zoning regulations in numerous communities are bypassed when a structure is on wheels and without a foundation or the need for building codes.
In other towns, however, laws exist to prevent people from living outside of a property's primary structure. When researching our house, we approached our local planning and building department, who were caught so off guard they were unclear themselves on where parking is permitted; although, they could tell us several places where we were not allowed. Those looking to live permanently in an established tiny house could, in many neighborhoods, purchase a piece of land that, once equipped with water and sewer hookups as well as electricity (depending on solar capabilities), would make a fine place to call home.
In the off seasons, the Gibeaus borrow friends' driveway space to stay local to the Jackson area.
In the winter we are lucky enough to park in a quiet RV campground minutes from the Jackson Hole tram and during off-season months, we spend time in the backyards of friends. All 9,000 pounds of our tiny house was born to travel, so during the summer we toured all over the Rockies, our enormous truck leading the way. We now know that, on a calm day, traveling 50 miles per hour down the highway is reasonable (Dan says 55), the trailer is highly maneuverable when parking at National Forest campgrounds as long as the ground clearance does not exceed four inches, and going faster than 25 miles per hour over a steep mountain pass causes the coolant system in our poor truck to complain in misery.
Life with a tiny house does come with unavoidable waves of anxiety forcing you to wonder if you've made a terrible mistake. But there are also moments spent sitting by the campfire, your home parked at the end of some dirt road, the backdrop of mountains serving as inspiration beneath a sky unburdened by light pollution, and you cannot help but feel as if you have it made.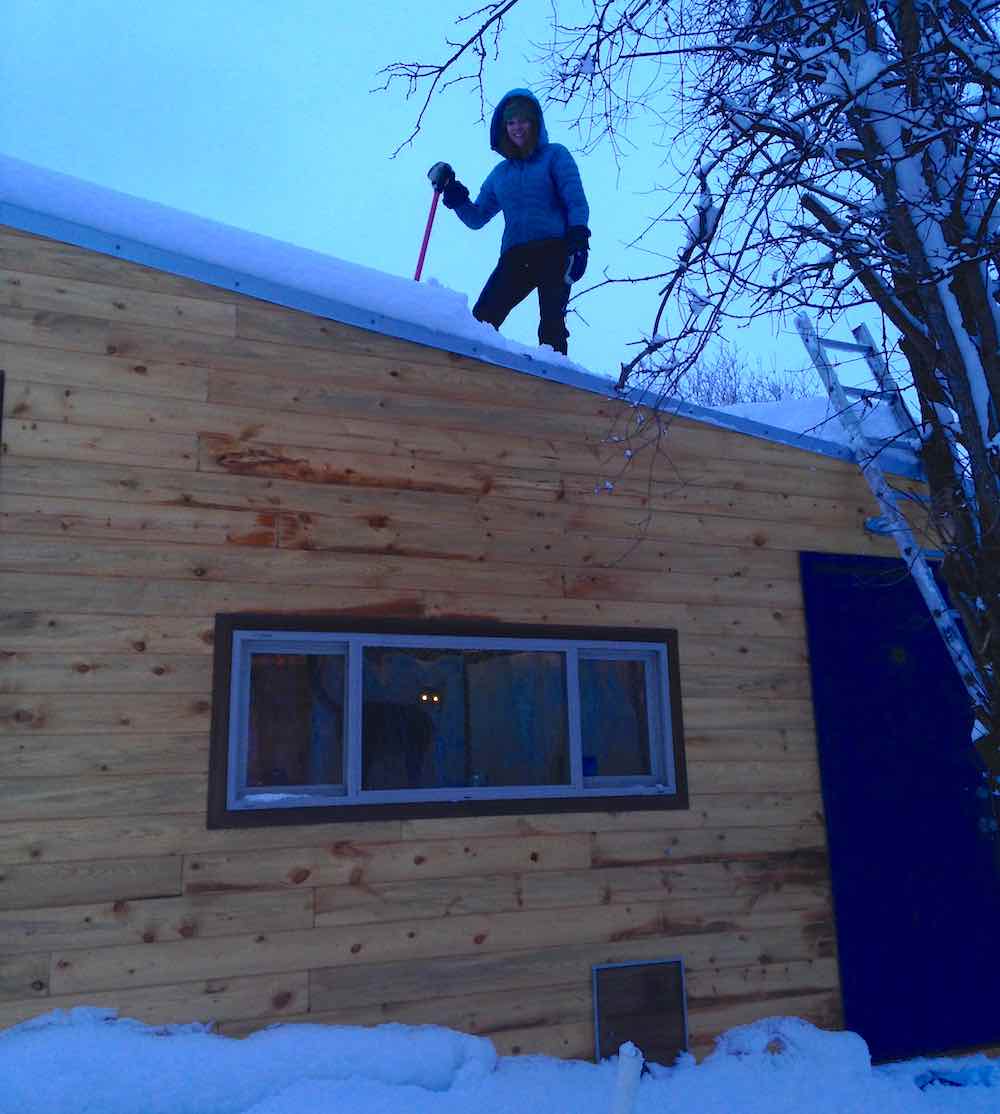 Brittany shovels snow off the roof during last February's epic snow cycle.
Back to that cold February morning. I'm on the roof with a shovel trying to push piles of snow over the edge while maintaining a grip on the slippery corrugated metal beneath my feet. I work for a few minutes, my headlamp illuminating the falling flakes attempting to undermine my efforts, and maybe it's the exercise-induced endorphins, but I am suddenly very aware of a happiness evidenced by the unexpected smile on my face. On top of the roof making breathing room for the fireplace was not where I saw myself at 4:30 this morning, but the price for the lifestyle, which would cease to exist if it were not for efforts like these, seems fair.
Eventually, soaking wet but feeling accomplished, I make my way back inside where I light the fireplace and watch it burst to life with a newfound confidence. The snow, disguised as the enemy only moments ago, is suddenly my good fortune, and with powder waiting under the still unlit skies I try to catch a few more minutes of sleep, skiing on my mind.
5 Considerations For A Cold-Climate Tiny House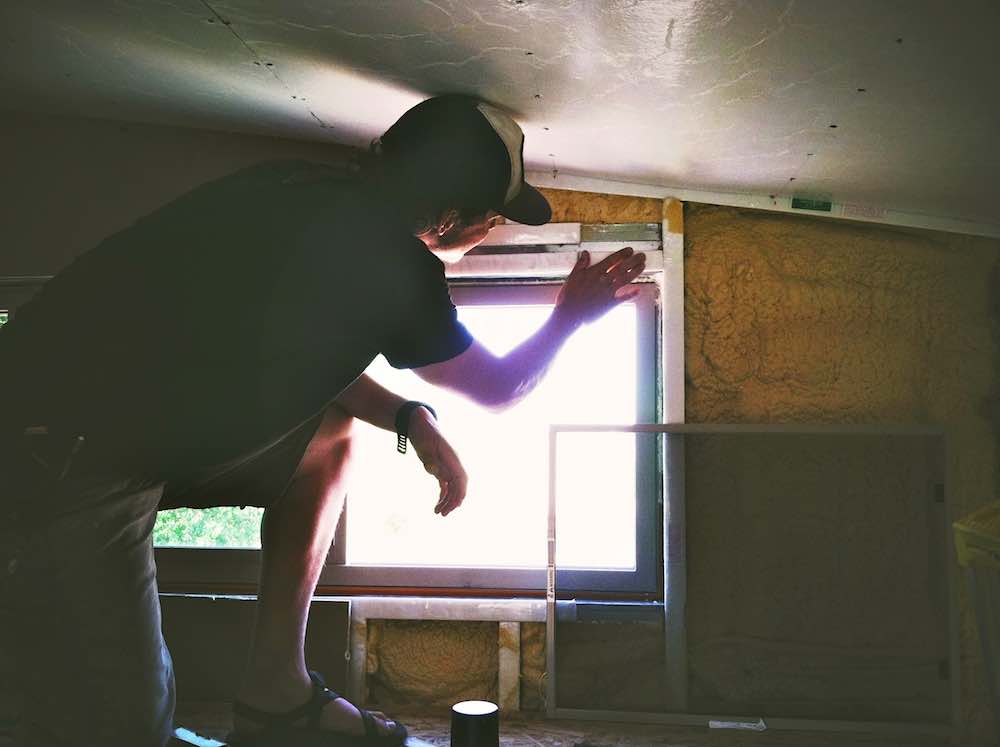 #1: Understand how the materials within the walls make up a system to keep the interior warm. While choosing the right method of insulation is important for keeping a house cozy during harsh winters, knowing how the materials you use for the frame, the exterior sheathing, and interior wall material all work together to determine an R-value (the measure of thermal resistance) is key.
For example, our frame is steel, making it lightweight and conducive to traveling, but had we not used a material between the studs and the interior walls, we would have lost all of our heat through the metal, regardless of the insulation, so we used aerogel strips called Thermablok (perfect for tiny houses) as a barrier.
#2: Incorporate proper ventilation. Ventilation was a huge challenge for us, because when building a tiny house you have only two options for airflow: RV-style holes in the roof with flimsy plastic covers that become useless with the addition of snow, or a duct system with a fan typical of a conventional house. The issue with all residential fans is they run on AC electricity, and we needed DC-powered fans so we could operate off-grid on 12 volts, which meant we had to get creative.
We ended up using PVC pipe to build ducts venting to the outside and installed 12 volt boat bilge fans disguised with wood and vent covers on the interior end. We used several appliances meant for boats as they are generally 12 volt.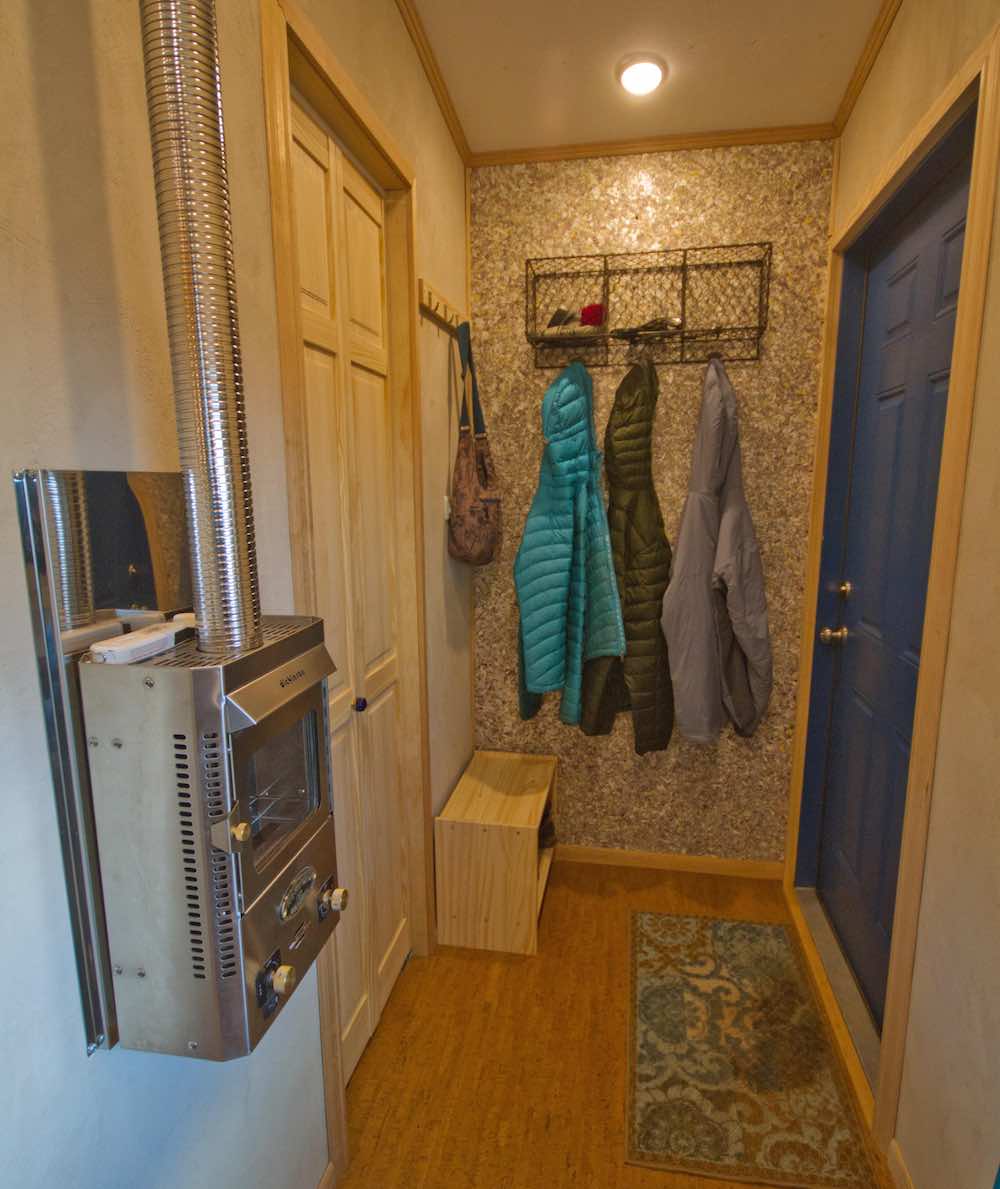 The mudroom, with the propane stove on the left borrowed from a boat design.
#3: Select an appropriate method of heating. There are so many options to heat a tiny house, no one better than the other, but many factors must be weighed before choosing one. Options include propane RV heaters, which are expensive to buy and operate but have thermostats. You can get propane wall-mounted heaters utilizing a flame (typically designed for boats) that while powerful, are expensive, do not have thermostats, and are not technically supposed to be left unattended. Then there are electric space heaters, which do have thermostats, are inexpensive, but require 110 volts of electricity. Finally there are wood burning stoves, which come with their own messes and risks. We utilize an electric heater in the winter, and a propane boat stove the rest of the time.
#4: Do not install water pipes in any exterior walls or they will freeze. In a tiny house, I recommend using PEX piping, which is made from a flexible rubber-like material and unlikely to burst if frozen. Still, it is important to install all pipes on the inside of the walls rather than behind drywall or paneling as in a conventional house. Ours run within certain walls, but interior ones only, as well as behind kitchen cabinets, and underneath the bathtub and two sinks.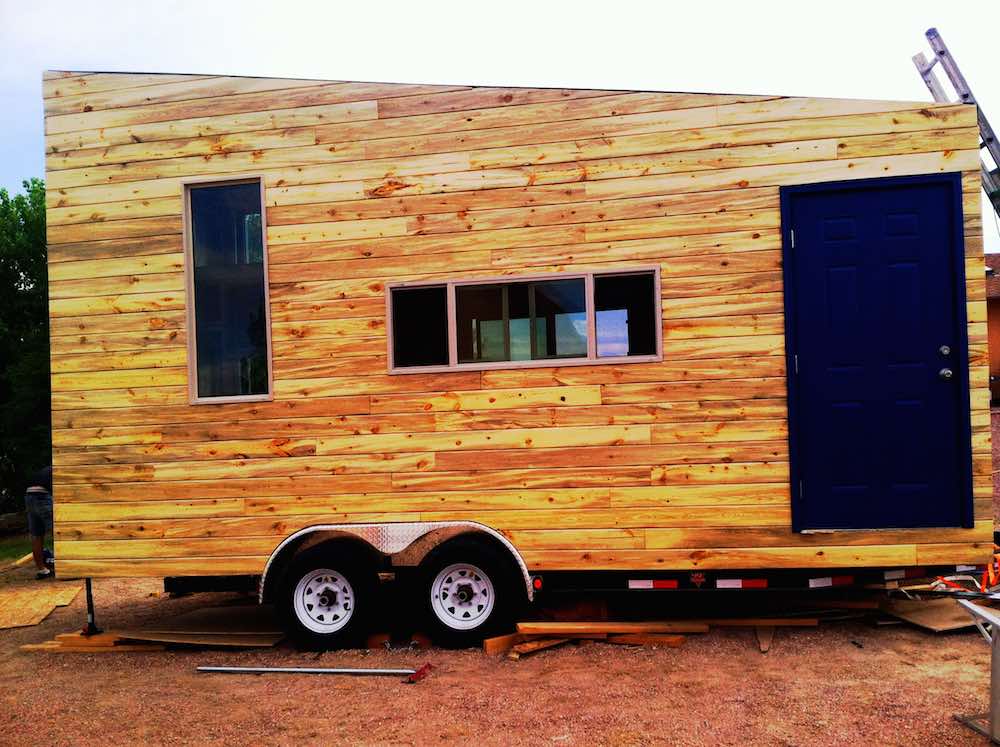 #5: Do not underestimate the need to finish exterior wood. Living in an extreme climate can mean exposing a house to lots of moisture, causing an adverse effect on wood siding but which can be mitigated through a thorough application of an exterior finish. The two weeks we spent killing brain cells as we sanded and stained our wood using a toxic high quality exterior finish was the worst of the whole summer, but completely necessary.
Even with three coats of clear sealant on both sides of each piece of wood ,the siding has visible water damage after just one year. Expect to refinish every two years or so.
Helpful Links For Building Your Tiny House:
Leaf House. Where we bought our plans)
The ReWall Company. Manufacturers of recycled board meant for walls and similar applications.
Blue Knight Group. For information regarding the pine beetle pandemic in the Rocky Mountains as well as blue pine buyers info.
Thermablok. NASA-developed technology we used to address thermal bridging between our studs and interior walls.
AFM Safecoat. Non-toxic line of products we used to stain, paint, and seal everything on the inside so no off-gasing is occurring from toxic building materials.
Green Building Advisor. A great site for eco-friendly construction info, products, and forums.
Dickinson Marine. Manufacturer of the propane fireplace we have.
Humanure Handbook. Everything you need to know about composting toilets
American Clay. Manufacturer of the wall texturizing material we used.
Unique Off-Grid. Manufacturer of the gas cooking range we have, which happens to be the only one on the market like it.
Wholesale Marine. A great website for 12-volt appliances, solar accessories, and handy products for making tiny living easier
From The Column: Base Camp
READ THE STORY
Elite rock climbers are a funny bunch. Unlike most other world-class athletes out there, the path to joining the ranks of the best climbers in the world is not very straightforward. The metrics of success in the sport are so undefined that the background stories of each character could not be more different. However, when it comes time to push the limits of the sport, like when climbing's pre-eminent power couple Emily Harrington and Adrian Ballinger teamed up to tackle a massive big-wall
READ THE STORY
The feeling of being in over your head is one that many of us have felt at one point or another. To be in over your head in a whitewater kayak is an entirely different feeling. The gripping feeling of having to paddle downstream in a headspace riddled by fear is not one easily comparable to many others. To amplify that by taking away road access, food, unpredictable weather conditions, and spotty communication is unthinkable even to the best of kayakers. But that's what Nouria Newman, Ben
READ THE STORY
Canyon Bicycles has announced that US-based investments firms LRMR Ventures and SC Holdings have bought into a strategic equity investment in the German bike manufacturer. LRMR Ventures is owned by global basketball icon Lebron James and sports executive Maverick Carter. James has long shown an interest in the power of bikes, including riding his bike to games in 2012, taking a minority stake in Cannondale in 2007, creating King for Kid's Bike-a-Thon in 2008, and promoting cycling with the