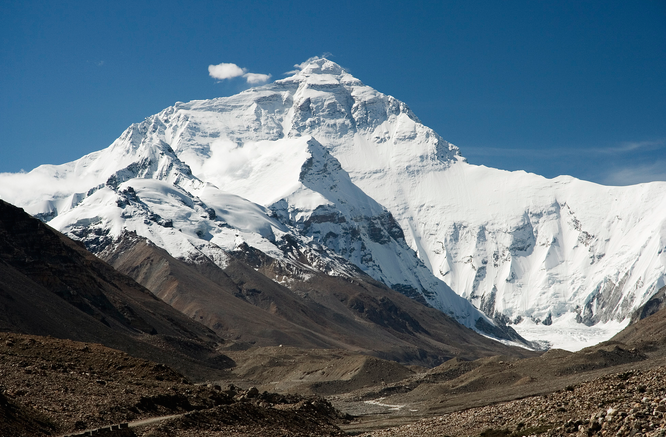 The North Side of Everest. Wikimedia Commons Photo
Nima Tsering, head of the Tibetan Mountaineering Association has officially closed the North Side of Mt. Everest and all other mountains in Tibet for the remainder of the climbing season. Tsering cited solidarity with the ongoing tragedy in Nepal and the high risk of another large magnitude earthquake as the two main reasons. Beijing based geologists predict the chance of another large earthquake in the area at 50%. Now 25 teams and 300 people on the North side of the mountain must figure out a way to return home.
On the Nepalese side of Everest the climbing season is over as well. "Besides the rather obvious and glaring philosophical difficulties of pursuing a recreational venture in the midst of a national and local disaster, there are the on-the-ground mountaineering realities that will not permit us to look upward again. We have no viable route through the Khumbu Icefall and the Earth is still shaking" stated Rainier Mountaineering Inc. guide Dave Hahn in a U.S. News Story. Most Everest summits occur during May 10th-20th, and aside from the ethical dilemma raised above, it would be impossible to rebuild the infrastructure on the mountain to support a successful summit.
Our thoughts and prayers are with everyone affected by this tragedy. Get involved with relief efforts here.
READ THE STORY
Source: besthealthcaredegress.com RELATED: The Ultimate Animal Video Encounters To understand how these numbers compare to more "natural" causes, see this US data from the Center For Disease Control. For parents wanting a more focused guide to youth activities, take a look at this data on sports injuries compiled by Stanford Children's Hospital. More data on 20th century death statistics from the World Health Organization visualized by informationisbeautiful.net
READ THE STORY
The summit of Denali looms more than 20,000 feet in the air. It is the centerpiece of Alaska's 6,000-acre Denali National Park and Preserve. Reaching the top can take skilled mountaineers weeks. The routes are long, technical and arduous, and to make matters worse they are all peppered with human feces. Truly. From 1951 to 2012, 36,000 climbers have set out to summit Denali. Michael Loso, a National Park Service geologist, has calculated that in that time those mountaineers have left behind
READ THE STORY
This past fall, Jimmy Chin and his wife and co-director Elizabeth Chai Vasarhelyi wowed the world with their film , depicting Alex Honnold's free solo ascent of El Capitan. The film blew our collective minds, showing Honnold's athletic and mental prowess as a climber (ripped abs and all). But, arguably even more impressive is the fact that Chin and an often-sizeable production crew were up there with Honnold as he climbed, rigging equipment and capturing the feat as it unfolded. It's no