Editor's Note: We are starting a new column here at TGR called "Women in the Mountains." Every week, we'll be sharing the stories of women who are getting out there, inspiring others, and making a difference. For our second story, I took some time to interview the girls behind the headwear company Skida – three young entrepreneurs who aren't just creating trendy winterwear, but also making sure that their business allows them to pursue any and all adventures that come their way.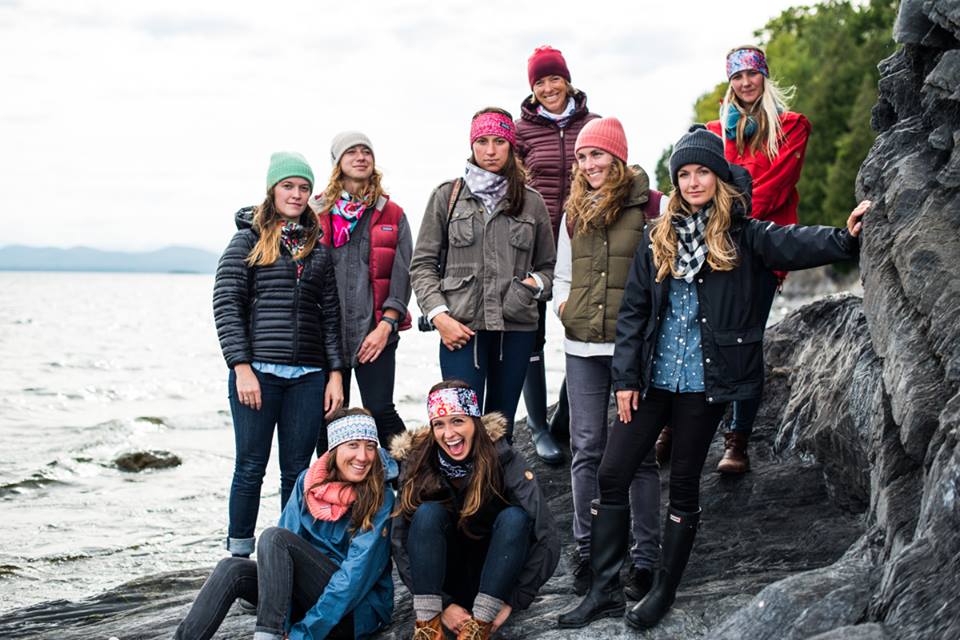 Corinne and friends rock some Skida gear. Photo Ali Kaukas
Skida founder Corinne Prevot knows hats. And she wears a lot of them, both literally and figuratively. In her 23 years this far, she's been a student, a Division I athlete, a skier, a business owner, and perhaps most notably, an entrepreneur.
Seven years ago, as a junior at Burke Mountain Academy in Vermont, Corinne began making hats and headbands for herself and her teammates; experimenting with a sewing machine, fun patterns, and different materials. Slowly but surely, people began to recognize the style at various ski races around New England.
"People would come up to me and say, I'll buy one. And I would be like, what? You don't have to pay," Corinne said in our interview last week.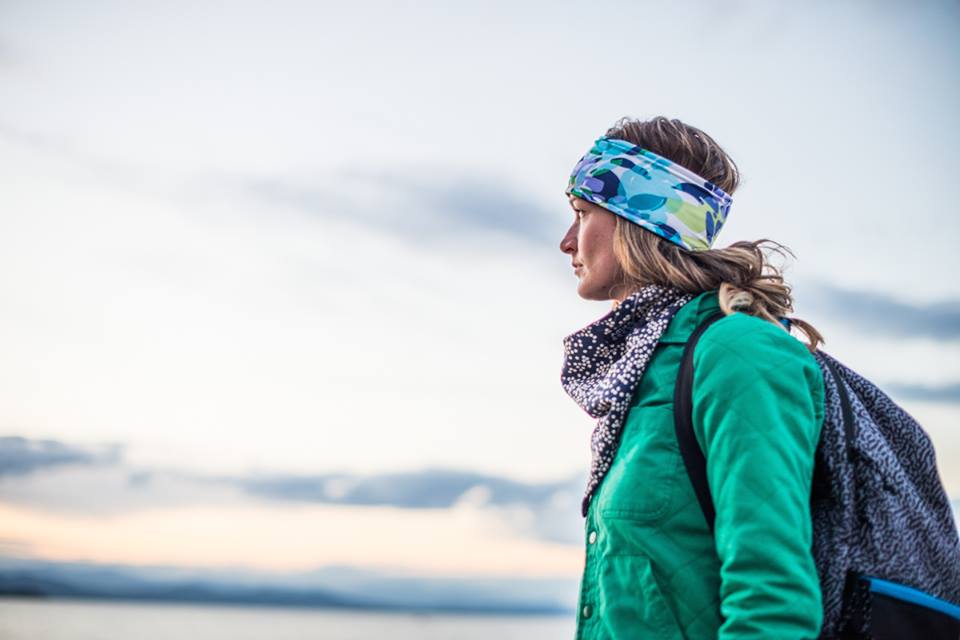 Photo: Ali Kaukas
The next thing she knew, she was making a profit, selling to not just friends and family, but random individuals, various teams, and now, retail shops around the country. And thus, Skida was born. In fact, while I was talking to her she had just closed a big sales order with Teton Village Sports here in Jackson Hole.
The idea for Skida emerged during her high school years, but as Corinne entered school at Middlebury College, the concept and business truly started to take off. The roles and responsibilities began to pile on as she juggled academics with athletics and a quickly growing company.
"My mother Margie is my secret weapon," Corinne explained. "She helped me get through the four years at Midd, she was the one back home doing all the shipping and managing the back end of the business. I was doing all the front-end work and every year there was more and more demand. Overall, the whole thing grew organically because I was able to respond to clients passively with relatively impromptu planning and action."
"I kind of have a different approach to business," she said, laughing.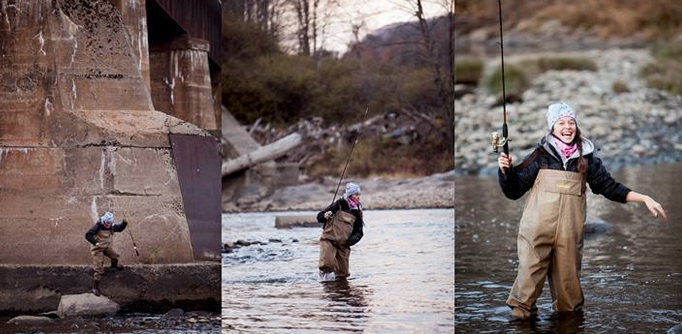 Fly fishing in Vermont. Photo: Mark Oliver
Skida sales started in the back of a car in northern Vermont and expanded rapidly. Since then, Corinne has done a lot of learning. During her time at Middlebury, she took a class on entrepreneurship in which she built a business plan for Skida, one that she has more or less stuck with over the past few years as her company as grown. Since graduating Middlebury in 2013, she moved operations from her college apartment to a larger space in Burlington, Vermont, where she and her team — three girls all between the ages of 22 and 23 — work everyday. Being in Burlington also means they're close to the local Northern Vermont seamstresses that actually create the product.
"Entrepreneurship means a lot of different things to different people. To me, it's an extension of the things I love. I'm lucky enough to throw all of that into my business and have it all come together as one cohesive unit."
And her work has paid off. Since its conception, Skida has been featured in Forbes Magazine and most recently as a part of Martha Stewart's American Made Awards.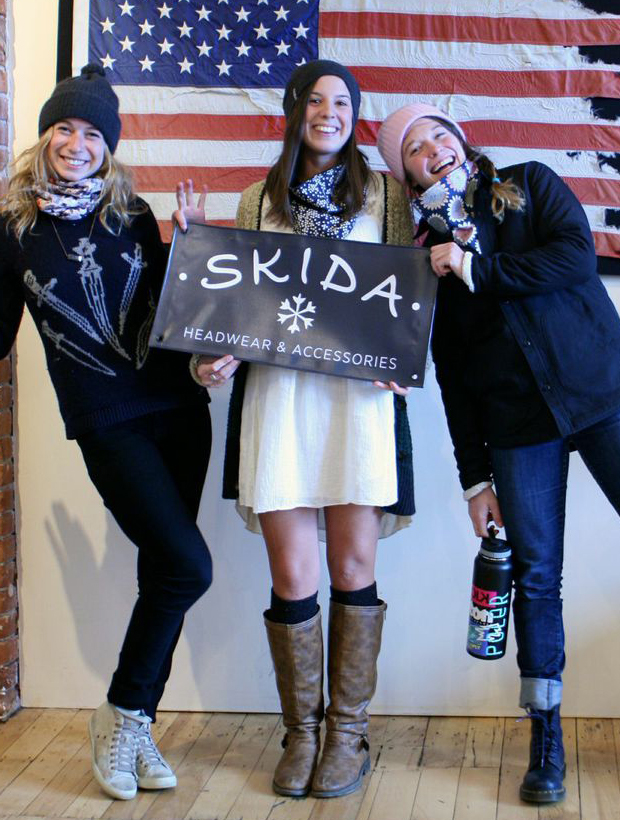 The Skida Team, Corinne, Sarah, & Caitlin at their office in Burlington, VT. Photo: Skida
As Skida has grown, so has the logistical need for help with sales and general operations. Within the past year, the Skida team has expanded to include two more, Caitlin Mitchell, 23 and Sarah Micioni, 22. Both have connections to Vermont – Caitlin grew up skiing and racing in Vermont, and Sarah is a recent graduate from St. Michael's College in Burlington.
Caitlin joined the Skida team about a year ago. "I majored in civil engineering and realized after college that was not the exact route I wanted to take. So I began to dabble in the idea of the outdoor industry, and, after graduating, thought I'd go see what's going on in Burlington. The next thing I knew I was moving in with Corinne and working at Skida as the wholesale manager."
Between the three of them, the Skida girls have had their trials and tribulations: everything from losing a Thule box somewhere in Idaho on the way to SIA, to learning from error. "The hardest part of working here has probably been realizing that mistakes are okay. I played lacrosse in college, and if you messed up, you were done." Caitlin said. "Because Skida is such an organically grown company and because we're still learning how to perfect the business, it's taken some time to realize that mistakes can be positive."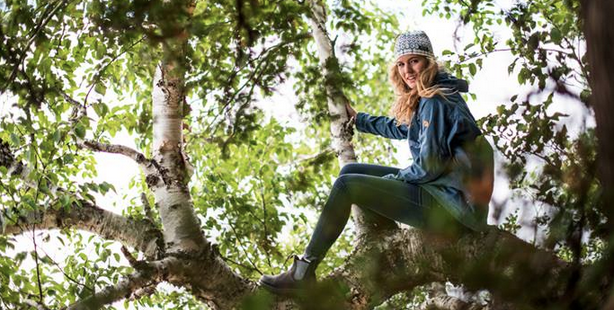 Photo: Ali Kaukas
Sarah, the operations manager, grew up in New Jersey but gravitated toward Vermont in order to be closer to the mountains. "I was trying to find a job post grad when I got a call from Corinne – my friend had given her my number. Ten minutes later I got off the phone with her, twenty minutes later she interviewed me in a coffee shop, and thirty minutes later she offered me the job."
Though the girls run a tight ship for being so comparatively young for the industry, Caitlin, Sarah, and Corinne's passion isn't business – it's skiing. And snowboarding. And mountain biking. And all the rope-swinging, bush-whacking, outdoor debauchery that comes with living in the heart of the Green Mountains in Vermont.
"Inspiration is something we talk about a lot." Caitlin explained. "Living in Vermont is definitely a huge draw for inspiration. Skiing, and the mountains, that's my happy place. The fact that the direct product of all our hard work is something that we get to use day in day out – that's what's helped turn this from a job to a passion for me."
"The biggest takeaway from this whole experience is that I'm creating exactly what I want and doing exactly what I want to do." Corinne said. "This business was created from the ground up. We work our butts off so we can take days off, make our own schedule, and get out there to do what we really love."
---
Like the column? Check out our first story on professional skier, Caroline Gleich here!
---
From The Column: Women in the Mountains
READ THE STORY
As we've written about–and as you're probably aware if you fancy yourself much of a skier or snowboarder–much of North America has had a pretty abysmal start to the ski season so far. One place that hasn't had a poor start, however, is Whistler Blackcomb up in British Columbia. And as the saying goes, apparently the rich get richer because a massive storm is rolling into the Whistler region that will potentially drop 57 inches of fresh snow by Tuesday morning, according to snow-forecast.com
READ THE STORY
Jackson Hole, WY- A distraught local "bro" told TGR Friday that–despite destroying a new set of yet-unreleased 2019 skis on a scree field–he is determined to ride the busted planks all season to capitalize on valuable social media exposure. Wilson, WY resident Julius Jenkins, 24, told TGR reporters he was searching for the "steep and deep" outside of Jackson Hole Mountain Resort boundaries this morning when he bombed through a barely covered patch of rock fragments, completely ruining his
READ THE STORY
A post shared by gus kenworthy (@guskenworthy) on Jan 22, 2018 at 2:23pm PST On Monday, Team USA athletes took to Instagram to share the styles they will be wearing during on Friday, February 9th during the opening ceremonies to the 2018 PyeongChang Winter Olympics. Skier Gus Kenworthy and snowboarder Jamie Anderson were among those who shared the outfits across social media. And so far, we here at the TGR staff are kind of....on the fence about the whole thing? A