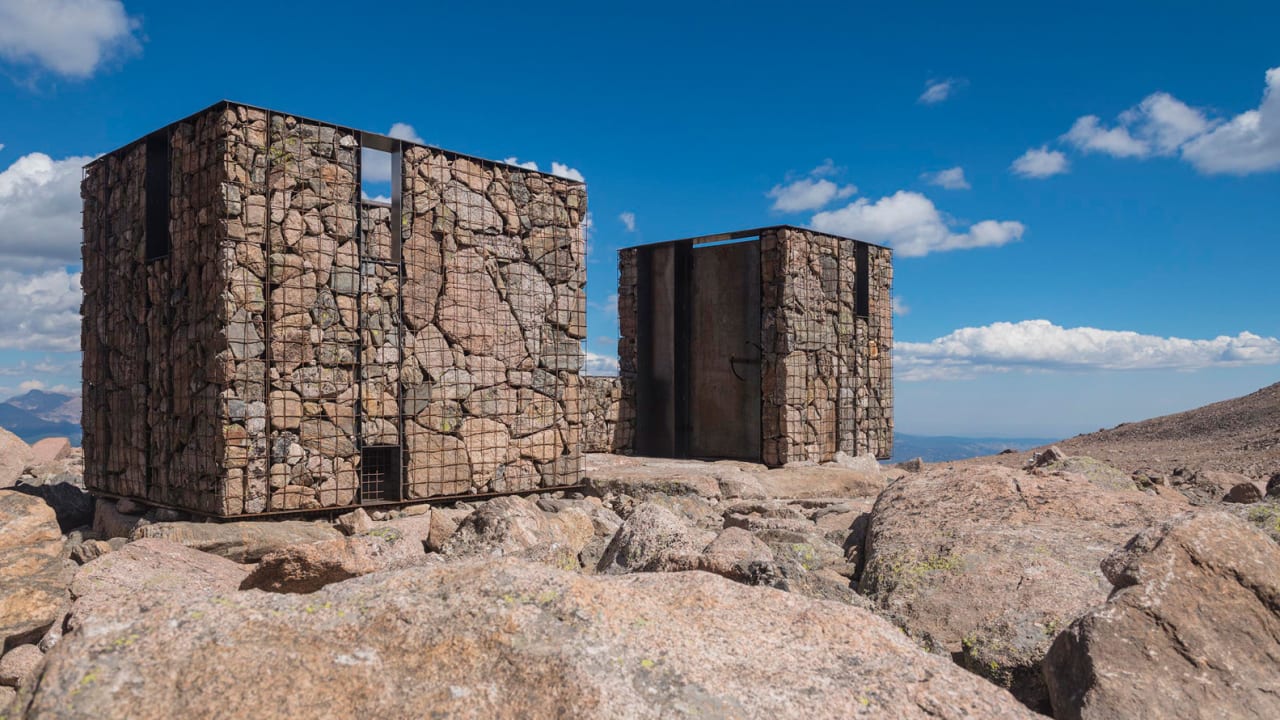 Beautiful and functional—what more could you want from an outhouse. AIA Photo.
Rocky Mountain National Park's new outhouses are the shit. Seriously, they're such a big deal that they were awarded The American Institute of Architects (AIA) Small Project Award. According to the AIA, the park's new outhouses stemmed from a special collaboration between the NPS and ColoradoBuildingWorkshop, which is part of CU Denver's design-build program. Together they created the shiny new Longs Peak Toilets, which at first glance feel more like an abstract art installation than a toilet. These boxy and rocky structures tastefully mirror its nearby surroundings so that they're not a complete eyesore on the way up to RMNP's Longs Peak.
But this design is being celebrated for more than its aesthetic, it also has a minimal human footprint. The main foundation is built from "gabions", which are these metal cages subsequently filled with rocks from the surrounding area. After building materials were helicoptered in and llamas and mules brought all the other necessities, it only took students eight days to construct the outhouses in the middle of the backcountry. Their estimate is that with this design, the impact on the environment was reduced by 33%.
While this hype might appear a bit much for a loo, many national parks are in a poo crisis. Mount Whitney started a "Pack Out Your Poo Policy" in 2007 because human waste was accumulating faster than it could biodegrade. In Denali, it's estimated that from 1951 to 2012, 215,000 pounds of poop have piled up on the mountain. So in the end, smart solutions to human waste management are beneficial to everybody.
The design mirrors its surroundings, so it doesn't feel out of place. AIA Photo.
In RMNP's case, visitation has doubled, and with severely outdated toilets rangers found themselves constantly hauling waste down the mountain through the use of llamas. These new toilets give them a leg up on the poo dilemma, starting with its new design. It drains out the urine—similar to how any mammal would go in nature—which leaves only dry waste to be retrieved. It's a similar system used in Rainier's camp toilets and the outhouse on Angel's Landing in Zion.
Plus, the best part about the toilets is they've got an open-air roof. Now you can revel in the Milky Way while doing the deed.
READ THE STORY
Deadly flash flood swept through the Grand Canyon last week, leaving many injured and one dead. | Benji Xie photo. After an exceptionally dry summer, the Grand Canyon received a heavy amount of rain this past week...enough rain to cause a flash flood. During the hot and dry summer period, the region's ground is unable to absorb large amounts of water, causing runoff that ultimately floods canyons. Last Wednesday evening, a flood hit the Tatahatso camp on the Colorado River where 30
READ THE STORY
California's Caldor Fire is just one of many burning rampantly across the West, but just took an ominous turn as it heads straight to Lake Tahoe. As of Monday morning, residents of South Lake Tahoe stand under mandatory evacuation orders with the fire racing towards the lake. On Sunday evening, photographers captured the fire burning through Sierra-at-Tahoe ski resort. Luckily no major structure damage was reported, but images show the ski area's snowmaking guns spraying water on massive
READ THE STORY
There are currently 107 wildfires burning nationwide, with large ones in California blanketing Nevada, Utah, and Colorado with dense and unhealthy smoke. | Breezometer map. This past weekend felt pretty apocalyptic across the West, with skies turning orange, ash depositing on surfaces, and air quality indexes so bad that many of us were warned to avoid going outside. In fact, Denver and Salt Lake City were both ranked at the top of the list of worldwide air pollution. Here in Jackson