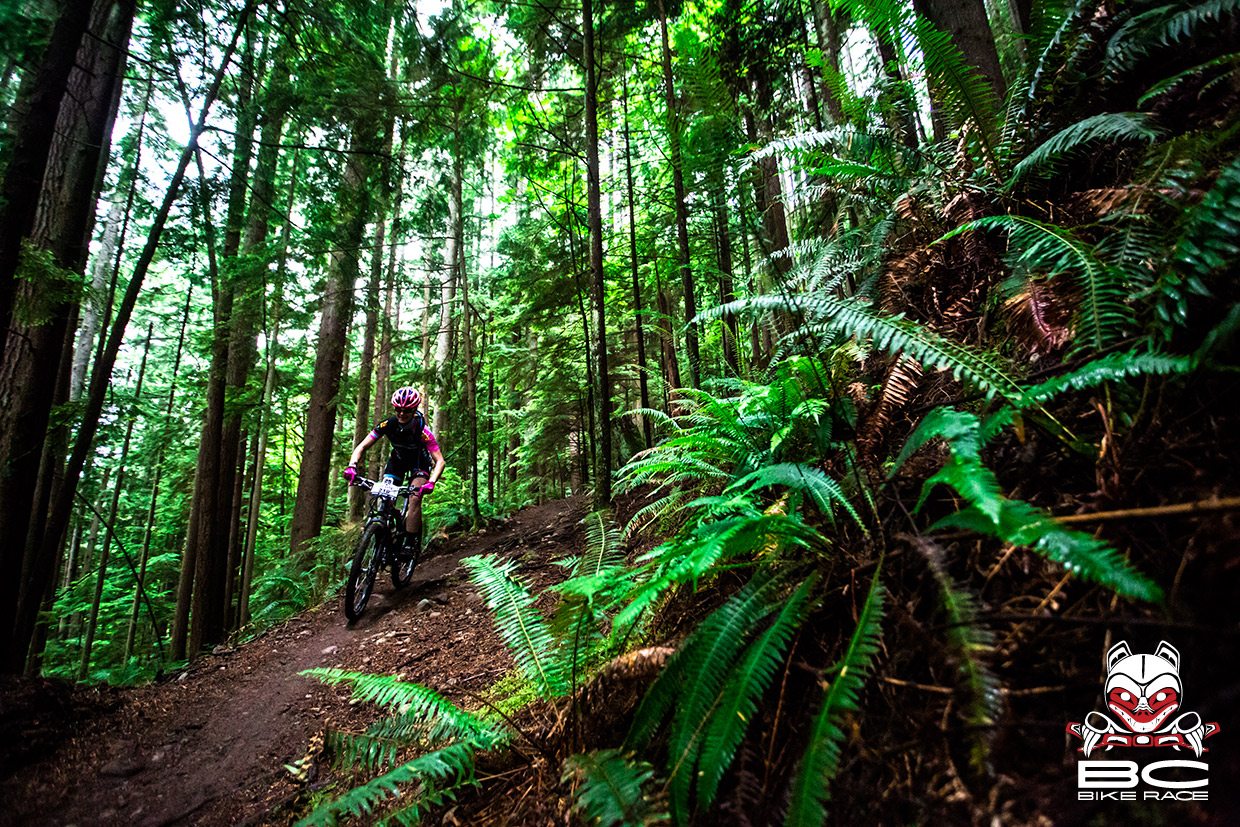 TGR Contributor Kris Gross learned the hard way how brutal BC's legendary singletrack can be. Todd Weselake/BC Bike Race photo.
I signed up for the 2014 BC (British Columbia) Bike Race on August 14, 2013–the same week Katy Perry released her single Roar. She was coming out of a breakup and in a sense, so was I. Mountain biking and I had gone our separate ways, but some major life changes had re-lit the spark. So to honor my renewed commitment to the sport/lifestyle/love affair, I clicked "submit" on my registration for the number-one item on my bucket list.
With views like these, the sufferfest almost seems warranted. Todd Weselake/BC Bike Race photo.
From that day on, every day I did something to get ready for the BC Bike Race. Roar was a playlist staple for those countless hill laps and intervals when only a she-power pop song would suffice. And training was just the beginning of what I had to consider. Equipment, logistics, and organizing my support team (read: mom, dad and husband) kept BCBR on the tip of my tongue and at the front of my mind. I was drunk with it.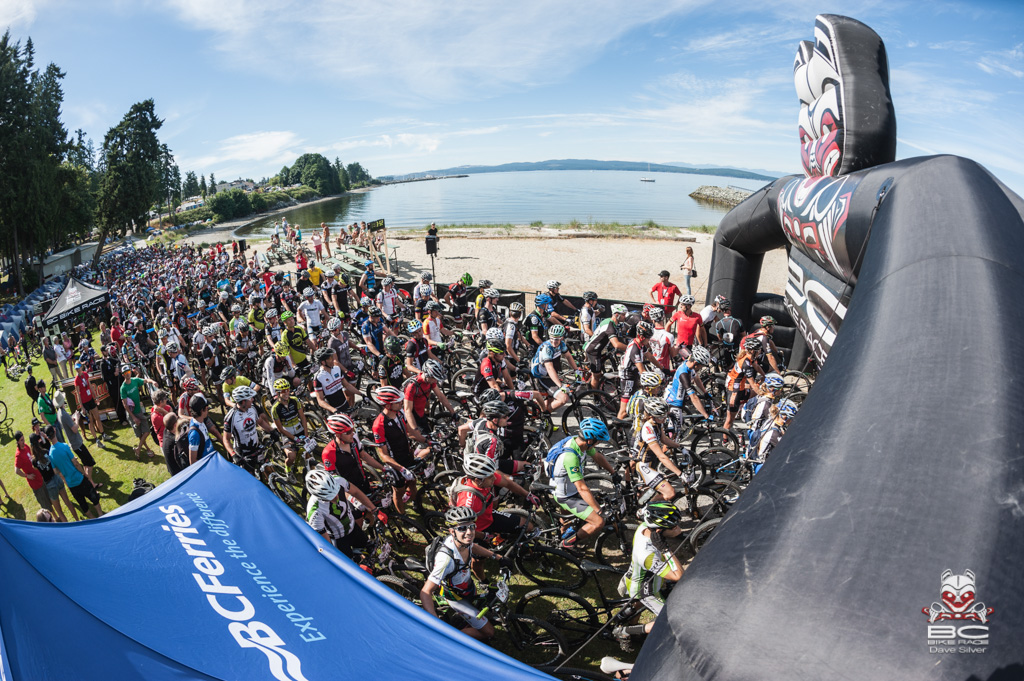 7 days, 200 miles, and 30,000 vertical feet: the BC Bike Race is simply no joke. Dave Silver/BC Bike Race photo.
However, in all the prep and planning, there was one thing that never crossed my mind: DNF. And when I eventually crashed-breaking my hand and ending my dream of finishing this legendary race-it still seemed outside the realm of possibility. I'm sure it was the same for the other 54 people who shared my fate out of the 603 who started the race on June 29th. By the time the race made it way through the North Shore, Vancouver Island, BC's legendary costal trails, and finally Whistler, countless more were held together only by a creative arrangement of splints, bandages and kinesio tape. No doubt about it, with 30,000 feet of climbing and just under 200 miles to cover–75 percent of which is considered the best singletrack in the world–this seven-day stage race is one not to be taken lightly.
There was one thing that never crossed my mind: DNF. And when I eventually crashed-breaking my hand and ending my dream of finishing this legendary race-it still seemed outside the realm of possibility.
Let's call it a blessing then that I will be planning a return campaign on this unfinished business, armed with a pack of lessons thanks to all I learned in the first two stages (plus 20 kilometers) I experienced in 2014. Here is some of what I found out.
Tip #1: Pick Your Bike Well (And Make It Light)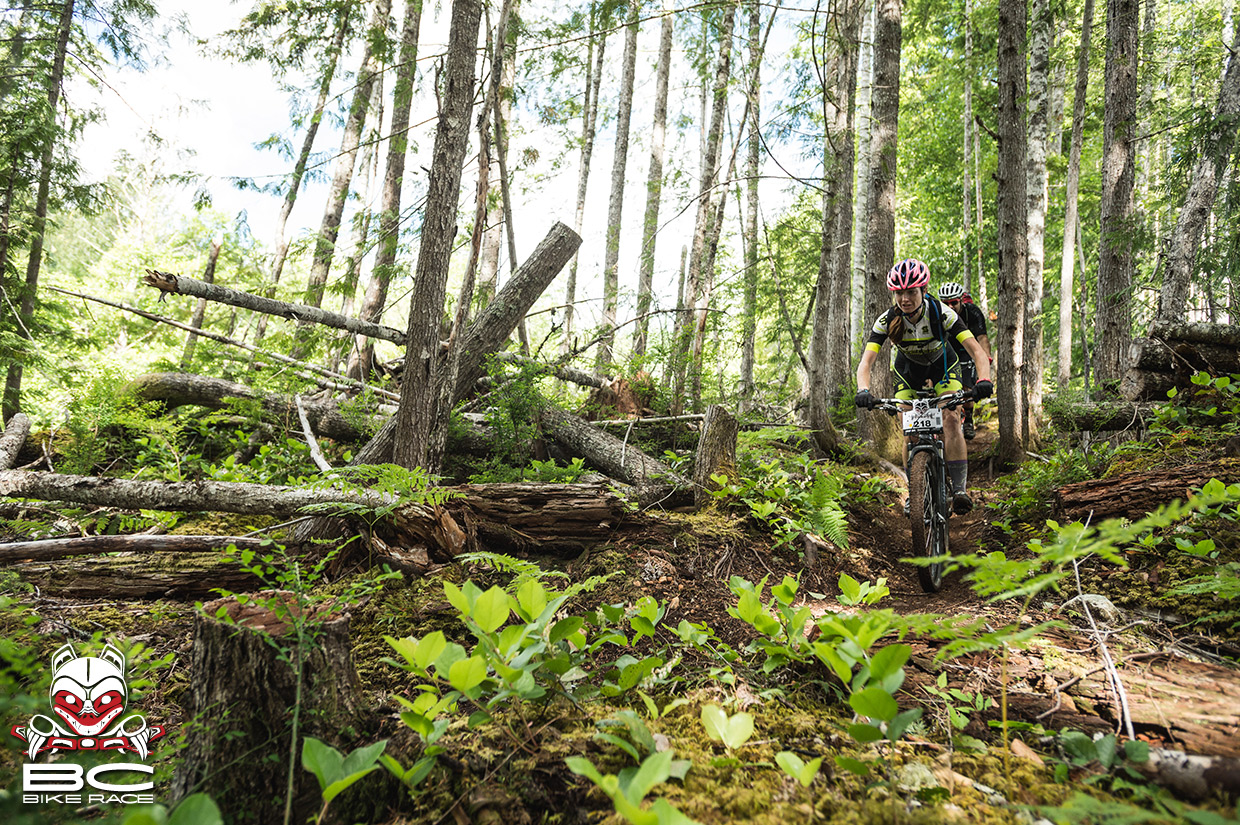 Kris rode a Trek 26'er–forbidden wheel size territory (as far as the trendiest common wisdom goes) for a long-distance XC race–but weight made the difference. Dave Silver/BC Bike Race photo.
"Is that a 26er?" she asked with a Kiwi accent as I rolled past. "We should start a support group!" Though I never got to get #BCBR26ers going, I did see quite a few of us still rocking the "outdated" wheel size. Bike choice was a tough one and wheel size was definitely one of the factors on my mind. In the end, it was my trusty 2011 Trek Top Fuel 9.8 WSD that I packed up–triple chain ring, 26-inch wheels and just a little more than 24 pounds. The other choice was a Juliana Furtado Primeiro, complete with 650b wheels, dropper post, triple chain ring and a weight of 28 pounds. The weight was its undoing for me, knowing that climbing was among my strengths. But for the first two stages, I was kicking myself. The Trek made me feel like I'd brought a knife to a gunfight–when my stretched-out geometry met the steep and gnarly singletrack of the North Shore, I could just barely get behind my saddle. But on stage three, I had the perfect bike and judging by the profiles of the remaining stages, it would have been the right choice for those as well.
From flow to climbing and rooty downhill gnar, your bike has to handle a lot over seven days. Todd Weselake/BC Bike Race photo.
For next year, I would bring my Trek again in a pinch, but if I had my choice, my BCBR bike would weigh 24 pounds or less. It would come equipped with four-inch travel suspension in the front and back, as well as 27.5-inch wheels and a double chain ring. And, it would have a dropper post to get me through those first two technical stages (and for good times on the enduro sections).
Tip #2: Pick Your Tires (One That'll Last)
This is a question that racers ask so frequently, the BCBR team addressed it in a special video tutorial (above). I decided to go with Schwalbe's Racing Ralphs with the extra protection of the snakeskin sidewall. I was tempted by a more aggressive tread pattern, but knowing the tacky glory of BC's dirt, I felt I could get away with a racier profile. I selected the beefy, tubeless 2.25s to handle the roots and rocks, especially since I would be running short-travel suspension. From a muddy stage one, to dusty fire roads and technical trails on stage two, and rooty technical singletrack on stage three, these tires worked great for me. I would be confident choosing them again.
Tip #3: Line Up Worry-Free Transportation & Accommodations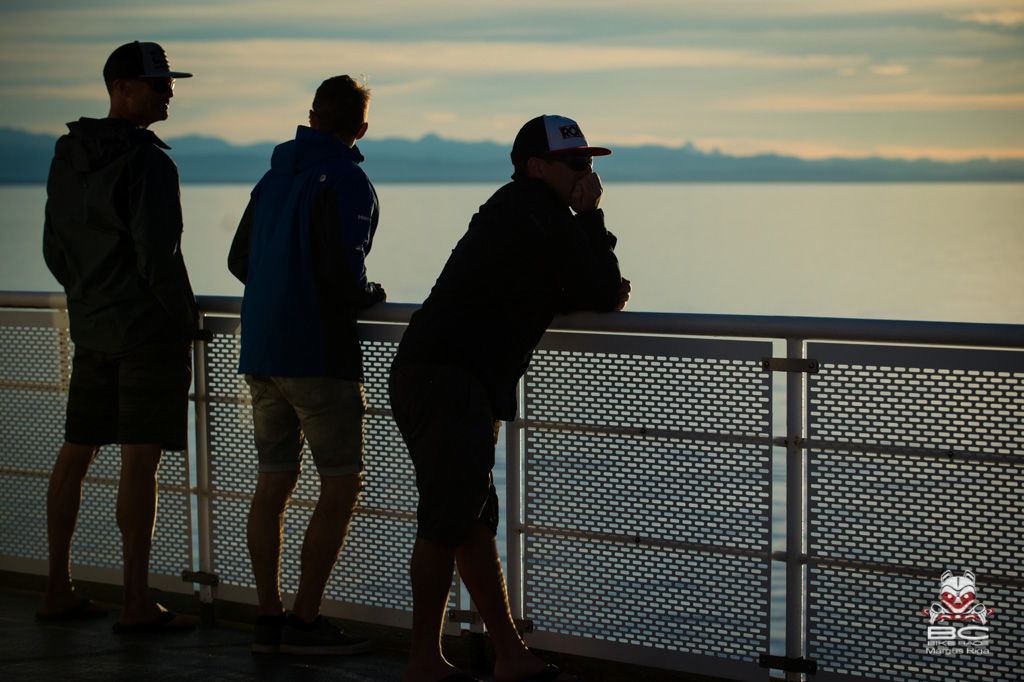 Enjoying the view from the ferry transfer between stages. BC Bike Race photo. Margus Riga/BC Bike Race photo.
Once you cross the finish line on day one, you are in the care of the BC Bike Race. Hand your cleaned-up bike to a volunteer who will pack it into the trucks. Catch a bus to a ferry, grab your duffle from the trucks at the other end and settle in until the next stage. Packing up camp, staff, volunteers and 600 racers is no small feat, and the BC Bike Race–earning logistics expertise since it started in 2007–runs like a well-oiled machine with Tour de France-level professionalism and infrastructure. But don't be surprised if you have a long wait between buses and ferries. Make sure you have layers, food, and money to buy more food so you're prepared. And "The Stick" will help you get a jump on recovery.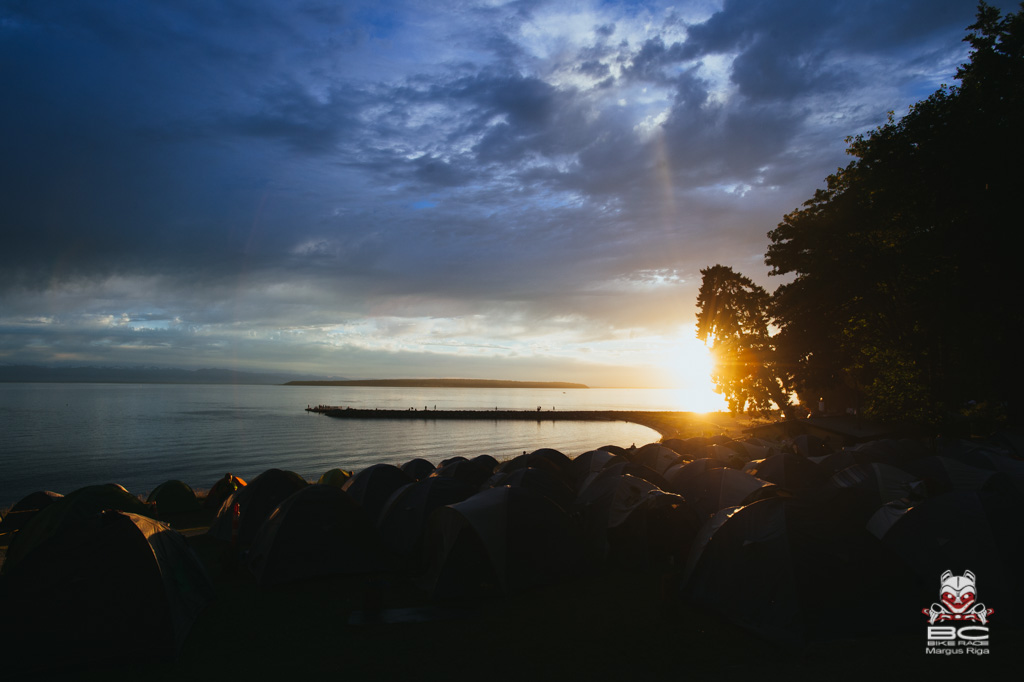 Sun sets on BC Bike Race's tent city. Margus Riga/BC Bike Race photo.
For many of the participants, the BC Bike Race is all about the experience, on the bike and off, and base camp is part of that. Beers on the beach, swapping stories at dinner, and sleeping under the stars is half the fun. But for those that came for more hardware than the coveted finisher's belt buckle, sleeping in a tent didn't make the itinerary—each top contender was equipped with a support crew, and a stack of hotel reservations or an RV.
I learned from experience that my body does not bounce back from a night camping on the ground like it used to. It was important to me to be my best in honor of all I'd invested in the race, so I decided the tent city wasn't for me, either. I was incredibly lucky to convince my family to come along for this crazy adventure, so renting an RV worked wonderfully, and we found full hook-up sites close by each base camp. We had an awesome time and I slept comfortably, even despite my dad's pride over his ability to pass gas (though snoring was a problem in both the RV and tent city).
---
Too much cross country for ya? Check out Evel Knievel's Urban Downhill, with friggin' gap jumps over snake pits and mountain lions!
---
Of course, our first time RV-ing was not without challenges! Once, we got stuck under a storefront awning in Squamish. The kitchen latches were a bit screwy so more than once, we were careening down the highway while cupboards and drawers flew open–my husband became really good at tying canoe knots while standing in a moving vehicle. I became really good at self-soothing. For next year, since they have miraculously agreed to do this all again, we'll get something smaller than the 33-foot behemoth we rented this year. That should make ferry bookings easier as well.
Tip #4: Dial In Your Food Supply (The Race's Is Expensive But Worth It)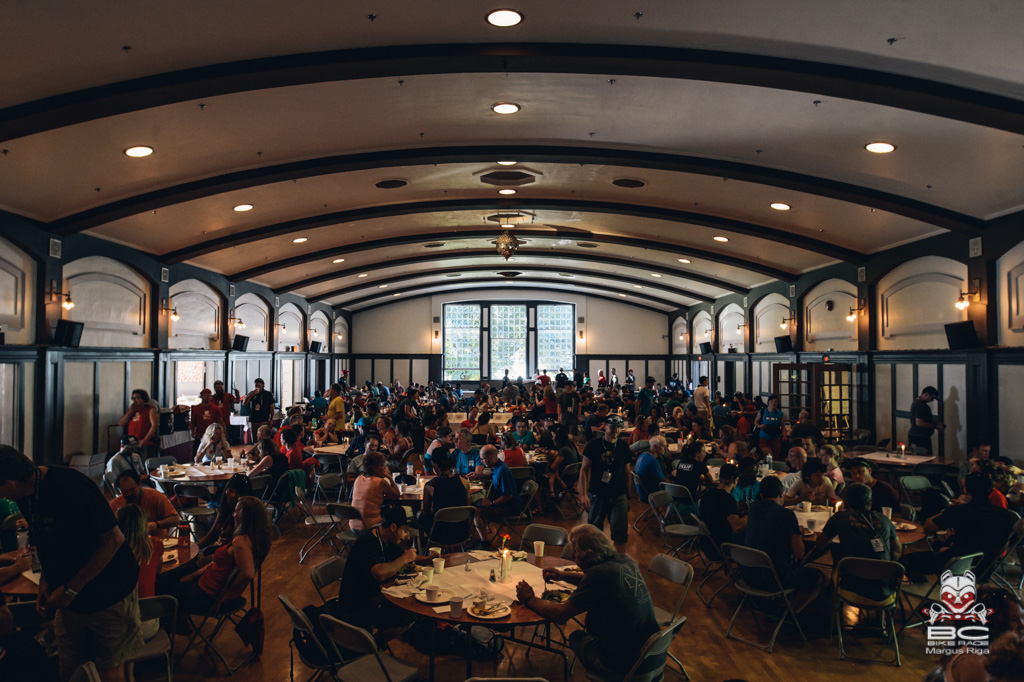 Expensive, but excellent and stress-free, food awaits in the Race's dining halls. Margus Riga/BC Bike Race photo.
The BCBR has a meal plan available that got rave reviews from all I spoke with on quantity, quality and variety, though there were a couple complaints about cost. If you average it out, each meal will run you over $30. But weigh that against the benefits of knowing where, when and what your food is every day—and the chance to break bread with your fellow racers—and I think it's probably a wash. There are also some options "a la carte" in each host community, and even at the finishing areas. However if you're a person with food sensitivities or allergies (like me), you'll want to consider taking care of your own cooking. Hats off to my secret weapon, Mom, who helped me stay fueled for the race and hives-free.
Tip #5: Pack Light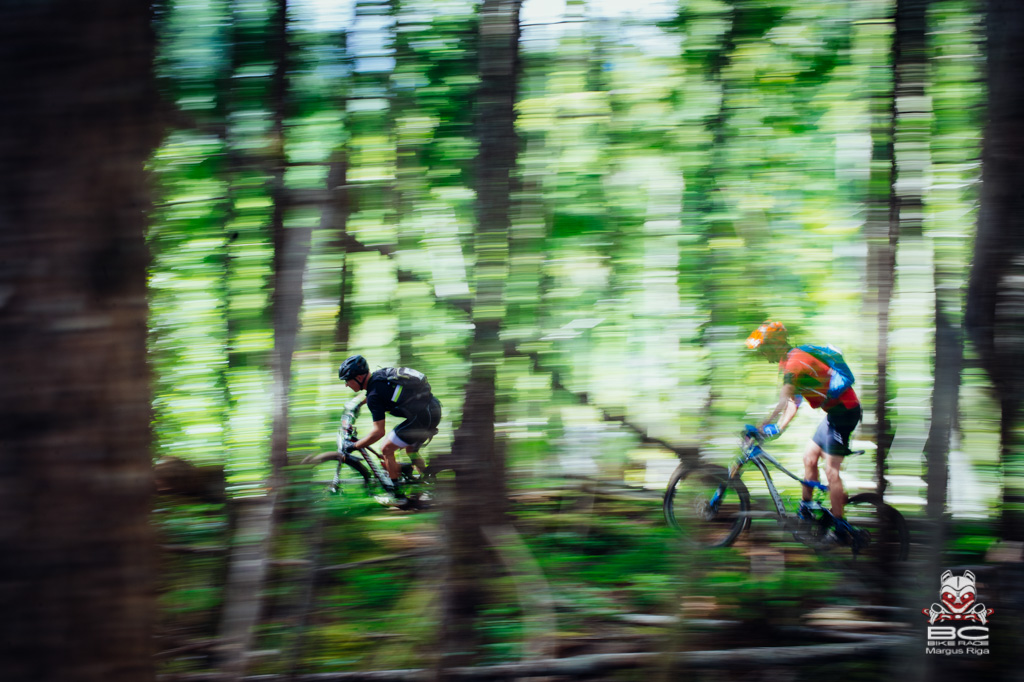 If you're burning singletrack for seven days in a row, dress slacks are the last thing you'll need to pack. Margus Riga/BC Bike Race photo.
Everything you need for the week must fit in a 90-liter roller bag. I overdid it on both clothing and equipment. Next time, I will keep it to one of each layer–i.e. one pants, one shorts, one t-shirt (okay, maybe two t-shirts), one yoga kit (the race offers daily yoga!), one light jacket, etc., but skip the hoodie because the race provided the nicest one I've ever owned.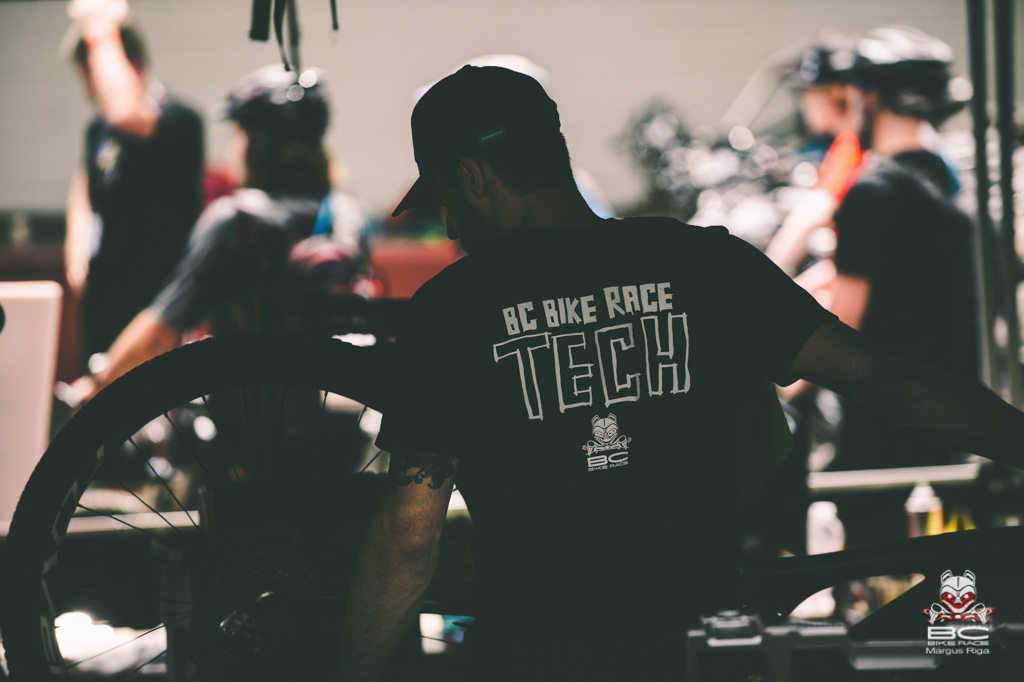 For a price, top-notch techs await to get your bike back to fighting form between stages-i.e. graveyard shift wrenching sessions. Margus Riga/BC Bike Race photo.
For the bike, I tried to bring every spare I could think of. But I never opened the box because when I needed service, I just washed the bike and handed it over to the amazing crew at Obsession: Bikes. I wouldn't see it again until the next morning at the start line. Next time, I'll bring the important bits like derailleur hangers that are small and bike-specific, but I'll leave the rest at home. Budget some extra funds as these services do come at a premium — but for the top-notch job they did, and on seemingly impossible timelines (they worked through the night, every night), I can certainly forgive the mark up.
Tip #6: Realize You Might Not Finish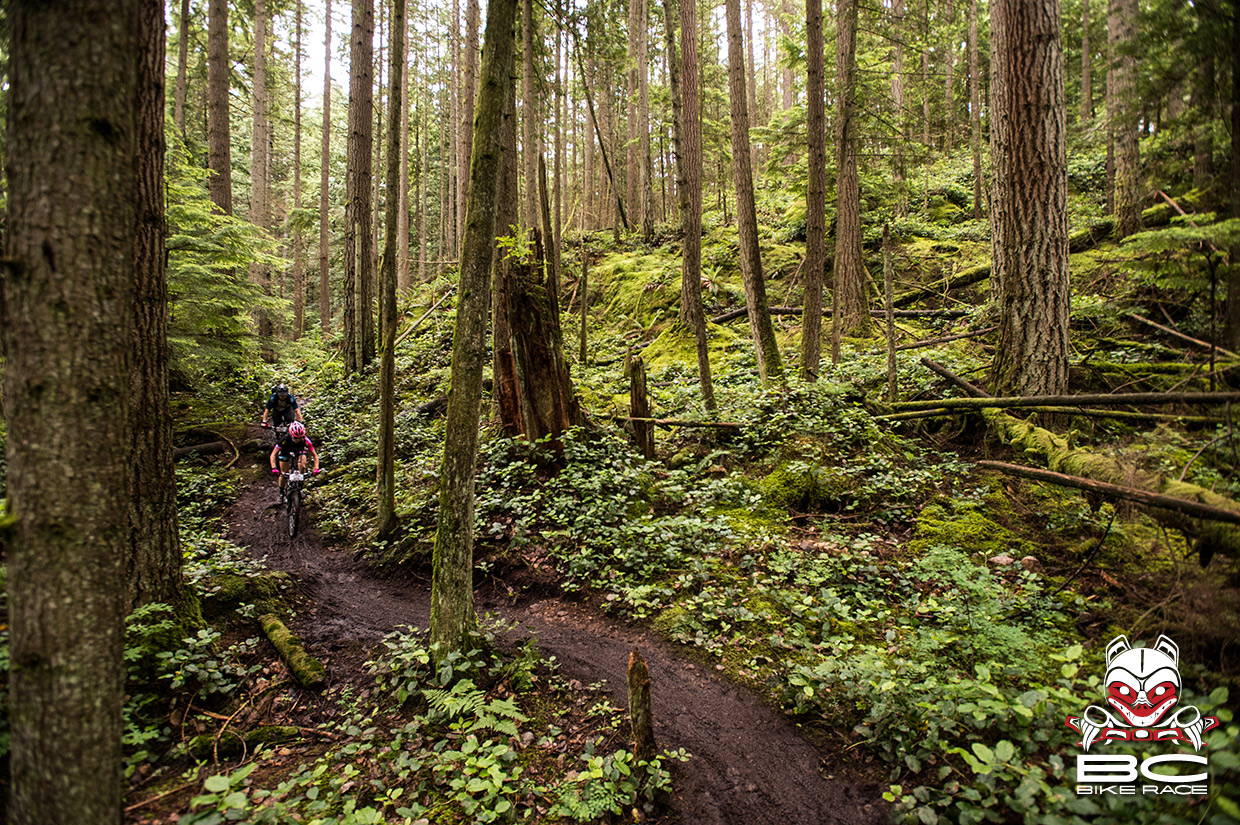 Kris working through one of the first stages of the BC Bike Race despite the mud. BC Bike Race photo.
The first stages were amazing, but challenging — I had to put every muscle and thought into the technical sections, or else end up in the bushes. On stage three in Powell River, I found my mojo again. The stage featured a lot of roots and flowy singletrack, and I was loving it. The group of Kiwis I was riding with kept an awesome pace, and we started catching riders off the back of the group ahead. Then it was my turn to make a pass. "Do you want to come around?" he asked, and halfway through saying, "No thanks, not just yet," my front wheel found a slick root hidden in the loam and I went down. Only, there was a stump concealed by the ferns and my face was coming right for it. Out came my hand. I knew right away it was broken. In an instant, all of the balls I'd been juggling for almost a year to make this race happen — family, friends, work, intervals, hills, races — came crashing to the ground with me. It was over. What a feeling. You can't even believe it, because a second ago, you were having the time of your life.
...and it all comes crashing down. Boo hoo. Sheree Lake photo.
I tried a few different methods of ignoring my predicament so I could continue, but since I didn't hit my head, it was still working (sort of) and I realized trying to ride the best singletrack in the world with just my left hand was a bad idea. I got into the waiting medic truck [where a stiff Scotch was also waiting-thank you BCBR!] and was reminded of our medic team leader's advice on Day Zero at the safety meeting. "Don't eat shit," he bellowed. He was reminding us to wash our hands to avoid getting diarrhea in base camp. But I see he had another point now: crashing. I will try not to do that again next year. Fingers crossed (once they're out of the cast). For the rest of the week, we followed along in our RV cheering on the racers, enjoying our own schedule, falling in love with British Columbia, and eating a 22-pound Chinook my dad caught, prepared in every way you can think of.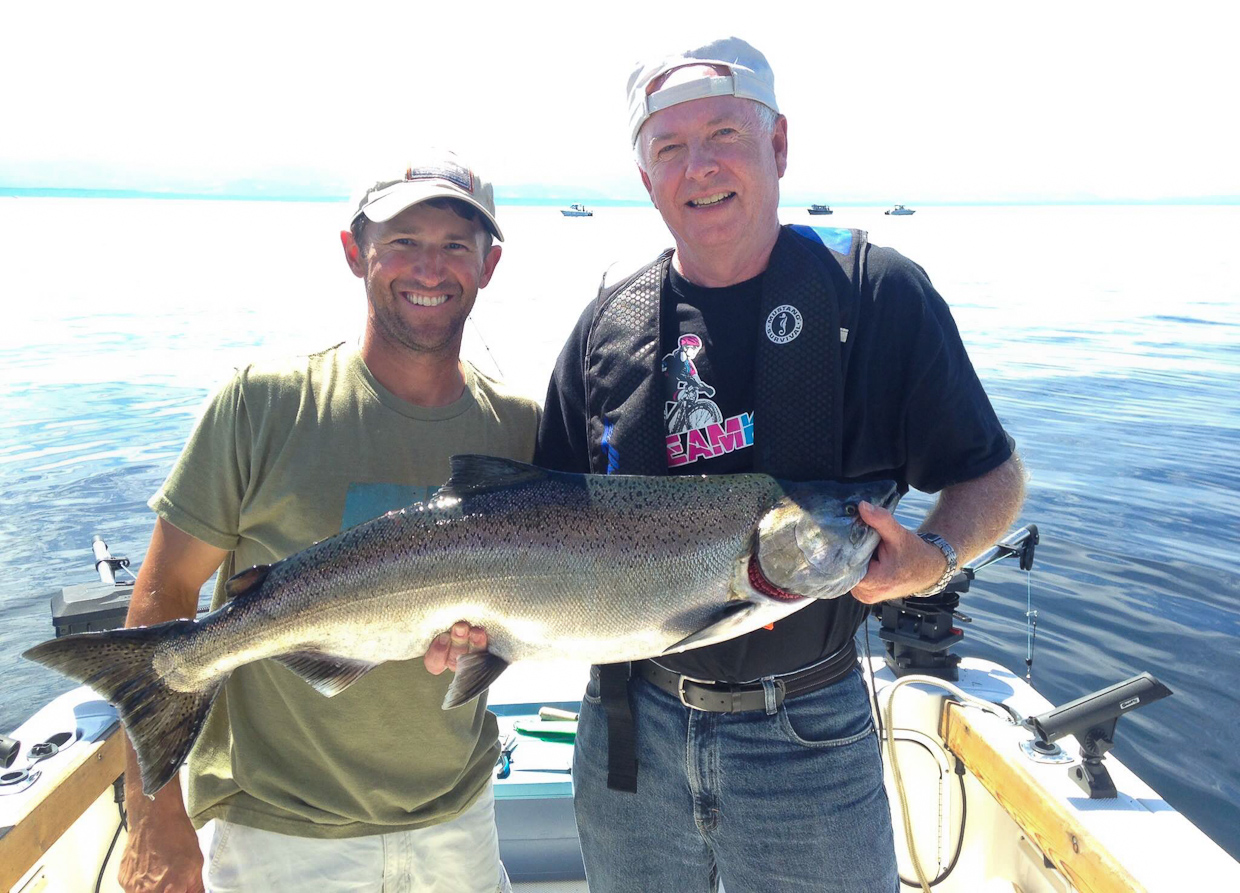 Captain Dean and Papa Lake holding it down for the team on the waterfront.... Gerhard Gross photo.
Now the healing begins, the learning continues and the planning resumes. Another year of base miles, hills and intervals. Another year of "I can't, I'm training." And another crack at the ultimate singletrack experience. It wouldn't be XC without an uphill battle. That's racing.
READ THE STORY
On December 31st, 1967, Evel Knievel famously cleared the fountains outside of Caesars Palace, but then crashed onto his face, broke a bunch of bones, and was in a coma for over three weeks. It was a cringeworthy moment to say the least. The jump over Caesars fountain has remained infamous. It's only been successfully reattempted once by Evel Knievel's son, Robbie Knievel, in 1989. That might change this Sunday, though, when X-Games legend Travis Pastrana takes us all back to the Vegas
READ THE STORY
Absolutely classic riding in Colorado's Elk Mountains. Jake Fojtik photo. Here's a quick history lesson. In the late 1970's, Crested Butte was already considered the Mecca of mountain biking. While Marin County, California may have had the bikes, Crested Butte certainly had the trails. The tiny town, right smack in the middle of Colorado's Elk Mountains, paved the way for modern mountain biking, blazing trails high into the mountains surrounding town, all focused on one thing: two-wheeled